The Hindu Lead Article (A welcome debate on electoral reforms) – Jul 12, 2019
On July 3, a short-duration discussion in the Rajya Sabha on electoral reforms attracted my attention. For further reading, visit "The Hindu". Below is today's advanced word list-1 for The Hindu Lead Article (A welcome debate on electoral reforms) – Jul 12, 2019.
To read this article, click here.
This preview is provided here with permission.  
Courtesy: The Hindu
Today's Advanced Word List 1 for The Hindu Lead Article (A welcome debate on electoral reforms) – Jul 12, 2019
:
constructive (adjective) – useful/helpful, productive

, practical/effective/beneficial.

passionate (adjective) – impassioned, emotional, spirited.
vocal (adjective) – outspoken, forthright, direct/candid.
hearten (verb) – encourage, cheer up, comfort.
ideological (adjective) – dogmatic, doctrinal.
surrogate (noun) – substitute

, proxy, replacement

/agent

, representative.

tenure (noun) – term, period, time.
provision (noun) – term, clause, requirement.
naive (adjective) – denoting (someone's) lack of experience/knowledge; inexperienced/natural, innocent.
collegium (noun) – The collegium system is the one in which the Chief Justice of India and a forum of four senior most judges of the Supreme Court recommend appointments & transfers of judges. There is no mention of the collegium in the Constitution of India.
chronic (adjective) – constant

, continuing, unending, persistent.

crippling (adjective) – ruining/destroying, weakening, paralyzing.
think tank (noun) – a panel of experts.
regressive (adjective) – retrograde, retrogressive, unprogressive/negative.

electoral bond

 (noun) – an electoral bond is designed to be a bearer instrument like a Promissory Note — in effect, it will be similar to a bank note that is payable to the bearer on demand and free of interest. It can be purchased by any citizen of India or a body incorporated in India. it allows limitless, secret donations to political parties, including (and especially) by corporations.
farce (noun) – absurdity, sham, pretence/false display.
crowdfunding (noun) – getting a large number of people to give small amounts of money to finance a business project or cause.
cap (verb) – limit, restrict, put a ceiling on.
unrealistic (adjective) – impractical, idealistic, unworkable.
in accordance with (phrase) – in agreement with, in conformity with, in line with.
passionately (adverb) – intensely

, impassionedly, ardently, 

advocate (verb) – support, champion, uphold.
assert (verb) – declare, state, claim.
strengthen (verb) – reinforce, make stronger, shore up.

Voter Verifiable Paper Audit Trail (VVPAT)

 – it is a method of providing feedback to voters using a ballot-less voting system. it consists of physical paper records of voter ballots as voters have cast them on an electronic voting system.
fatigue (noun) – lack of energy, weariness, overtiredness.
call for (phrasal verb) – require, necessitate, demand.
white paper (noun) – a government report that informs people concisely about a complex issue.
deliberation (noun) – careful consideration, thought/thinking, contemplation.
vehemently (adverb) – forcefully, fiercely/vigorously, intensely.
accountability (noun) – responsibility, liability, answerability.
precedence (noun) – priority, superiority, primacy.
proportional representation (noun) – an electoral system in which parties gain seats in Parliament in proportion to the number of votes it received in an election.
put forth (verb) – suggest, advise, propose.
first past the post (phrase) – it is an electoral system in which a candidate with the most votes in each constituency wins and becomes the MP/MLA for that seat.
fidelity (noun) – accuracy, exactness, precision.
radical (adjective) – unusual

, irregular, atypical

.
binding (adjective) – compulsory, mandatory, statutory.
advisory (noun) – statement, declaration, message.
advocacy (noun) – endorsement, approval; backing/supporting.
advocate (noun) – champion

, upholder, supporter/proponent.

broad-based (adjective) – wide-ranging, general.
recalcitrant (adjective) – wilful, uncooperative, obstinately disobedient.
music to one's ears (phrase) – very pleasant, gratifying/satisfying to hear.
obsession (noun) – passion, enthusiasm, preoccupation.
deliberate (verb) – think about

, ponder, consider.

concrete (adjective) – definite, specific, conclusive.
Note:  
 1. Click each one of the words above for their definition, more synonyms, pronunciation, example sentences, phrases, derivatives, origin and etc from http://www.oxforddictionaries.com/.bigotry

, narrow-mindedness
2. Definitions (elementary level) & Synonyms provided for the words above are my personal work and not that of Oxford University Press. Tentative definitions/meanings are provided for study purpose only and they may vary in different context. 
3. This word list is for personal use only. Reproduction in any format and/or Commercial use of it is/are strictly prohibited.
Today's Advanc
ed Word List 1 for The Hindu Lead Article (A welcome debate on electoral reforms) – Jul 12, 2019
: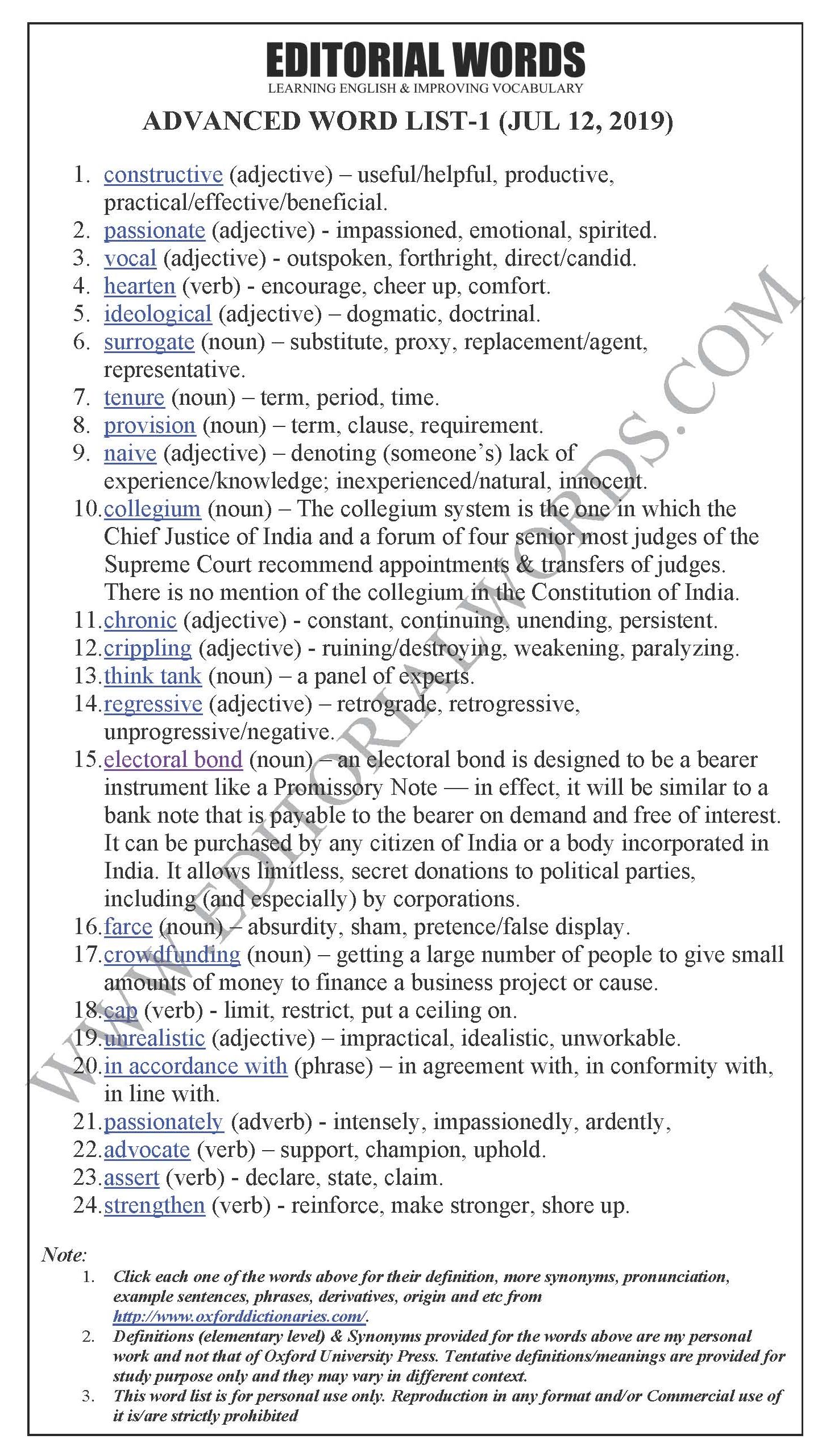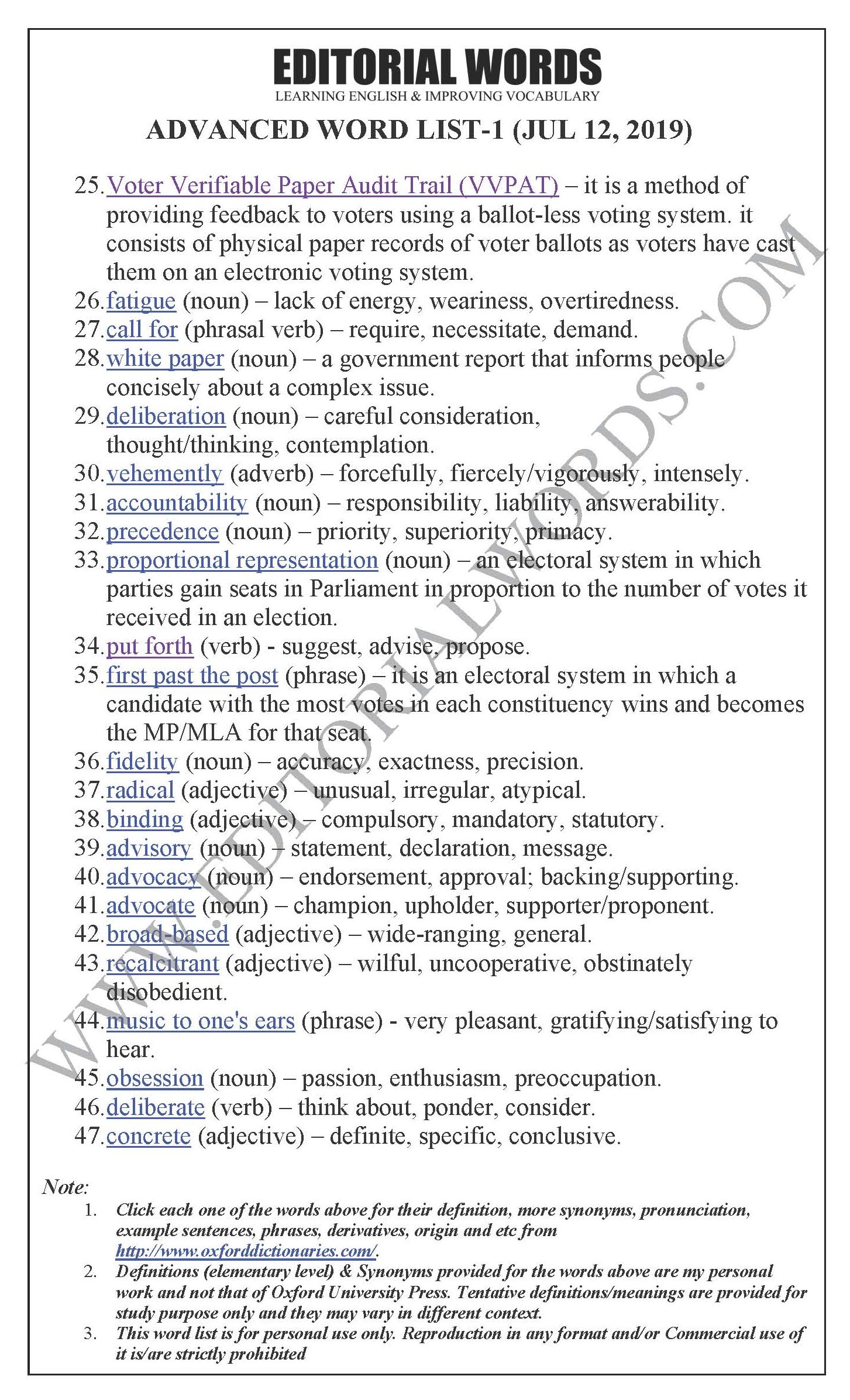 "Phrasal Verbs" We Learnt Last Week
"Idioms & Phrases" We Learnt Last Week
"Important Definitions" We Learnt Last Week
Recent Word Lists For The Hindu Editorial Articles
Recent Advanced Word Lists For The Hindu Lead Articles