The Hindu Editorial (Aftershocks in Goa) – Jul 13, 2019
The near liquidation of the Congress legislature party in Goa,… For further reading, visit "The Hindu". Below is today's word list-1 for The Hindu Editorial (Aftershocks in Goa) – Jul 13, 2019.
To read this article, click here.
This preview is provided here with permission.
Courtesy: The Hindu
Today's word list-1 for The Hindu Editorial (Aftershocks in Goa) – Jul 13, 2019:
aftershock (noun) – a smaller earthquake that follows a larger earthquake; repercussion

, aftermath, consequence. 

slide (noun) – fall, drop, slump/decline.
defection (noun) – desertion, absconding, decamping.
shrink (verb) – reduce, decrease, lessen.
unseemly (adjective) – improper, inappropriate, undignified.
fashion (noun) – manner

, way, method.

liquidation (noun) – collapse, close-down, closure/termination.
on the heels of (phrase) – very soon after something, following closely after something.
rebellion (noun) – dissent, nonconformity

, defiance/subversion.

tailspin (noun) – the condition of increasing disorder, disruption & panic.
cobble together (phrasal verb) – prepare hastily, put together roughly, patch together.

as things stand

 (phrase) – in the present situation.
defector (noun) – dissenter, heretic, nonconformist.

Anti-defection law

 (noun) – The 10th Schedule to the Constitution, popularly referred to as the 'Anti-Defection Law,' was inserted by the 52nd Amendment in 1985. The grounds of disqualification are specified in Paragraph 2 of the 10th Schedule. A member would incur a disqualification under paragraph 2 (1) (a) when he "voluntarily gives up his membership of a party" and under 2 (1) (b) when he/she votes (or abstains from voting) contrary to the directive issued by the party. (Courtesy: The Hindu).
turn something on its head (phrase) – change something completely opposite to its originals.
in the making (phrase) – developing, up and coming, budding

, burgeoning.

bid (noun) – attempt, effort, endeavour/try.
dash (verb) – destroy, wreck, ruin/spoil/thwart.
descending (verb) – declining, sinking, dipping.
opportunism (noun) – expediency/exploitation, taking advantage, pragmatism.
impel (verb) – incite, prompt, drive.
lure (verb) – tempt

, attract, persuade/coax.

polar (adjective) – extreme, diametrically opposed, contradictory.
lower the bars (phrase) – lower the standards.
apparently (adverb) – seemingly, evidently, ostensibly.
swiftly (adverb) – quickly, rapidly, fast.
hail (verb) – acclaim, praise/applaud, commend.
build (on) (phrasal verb) – develop, expand, enlarge (using something as a foundation).
inherent (adjective) – intrinsic/innate; basic/fundamental, implicit.
contradiction (noun) – disagreement, opposition, inconsistency; rebuttal/negation.
spectrum (noun) – range

, gamut, sweep; 

a wide range of positions, opinions, etc. between two extreme points.
dynasty (noun) – family, line, succession.
opportunistic (adjective) – opportunistic/selfish, egocentric, inward-looking.
devoid of (noun) – lacking, without, free of/free from.
augment (verb) – upgrade, boost, improve.
plank (noun) – a fundamental & important point/principle on which something (political program, policy, etc) is based on.
bleak (adjective) – unpromising, unfavourable, disadvantageous.
renunciation (noun) – resignation, relinquishment, giving up.
churn (noun) – disorder, confusion, mess up.
rid (verb) – clear

, free, make free, cleanse.

tag (noun) – identity, label, name.
rudderless (adjective) – lacking a sense of principles.
successor (noun) – heir, next-in-line, descendant.
scion (noun) – descendant

, offshoot, heir of a family).

harbinger (noun) – indicator, announcer, herald.
grace (noun) – courtesy

, courteousness/politeness, good manners.
Note:  
 1. Click each one of the words above for their definition, more synonyms, pronunciation, example sentences, phrases, derivatives, origin and etc from http://www.oxforddictionaries.com/.bigotry

, narrow-mindedness
2. Definitions (elementary level) & Synonyms provided for the words above are my personal work and not that of Oxford University Press. Tentative definitions/meanings are provided for study purpose only and they may vary in different context. 
3. This word list is for personal use only. Reproduction in any format and/or Commercial use of it is/are strictly prohibited.
Today's word list-1 The Hindu Editorial (Aftershocks in Goa) – Jul 13, 2019
: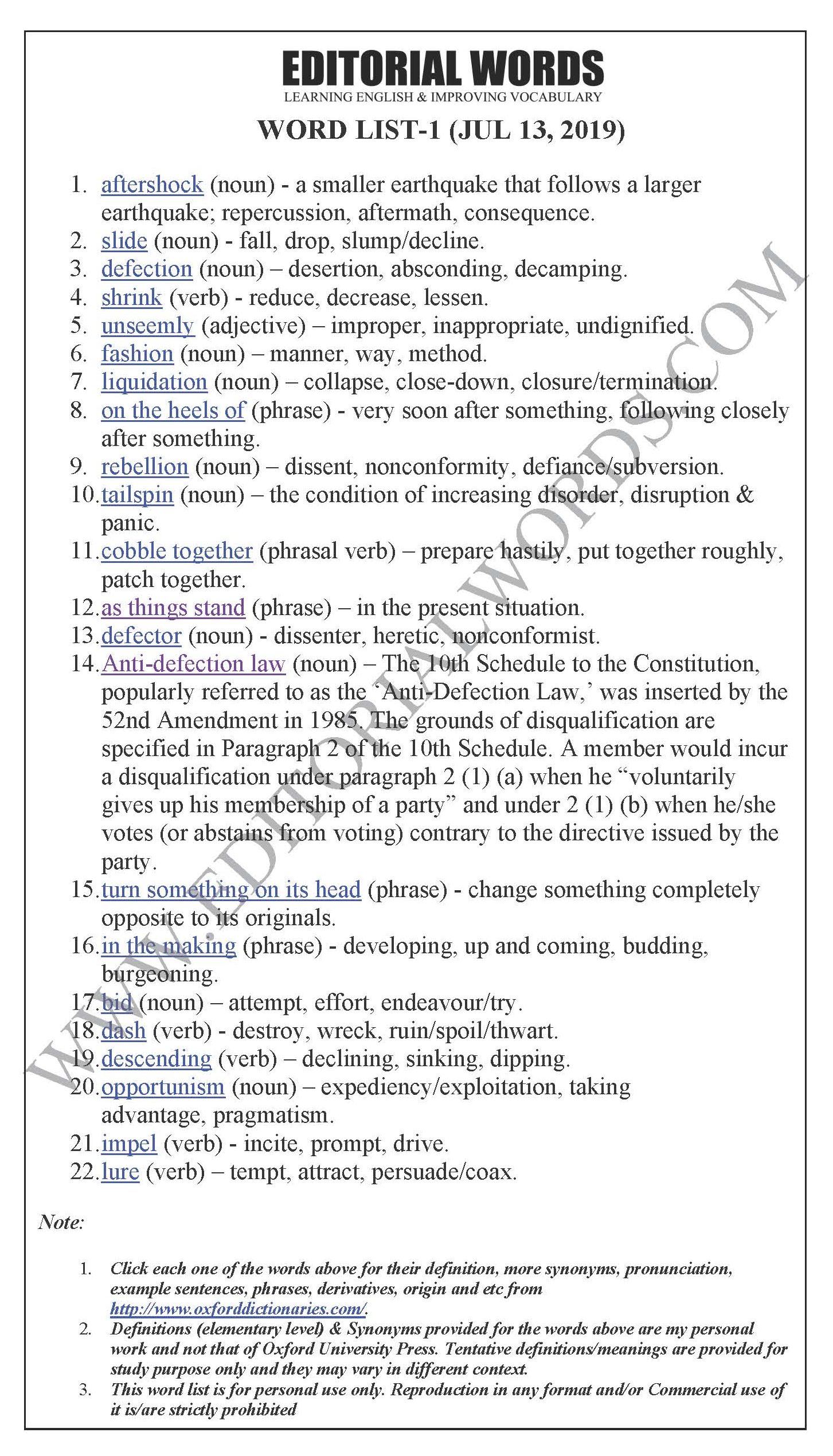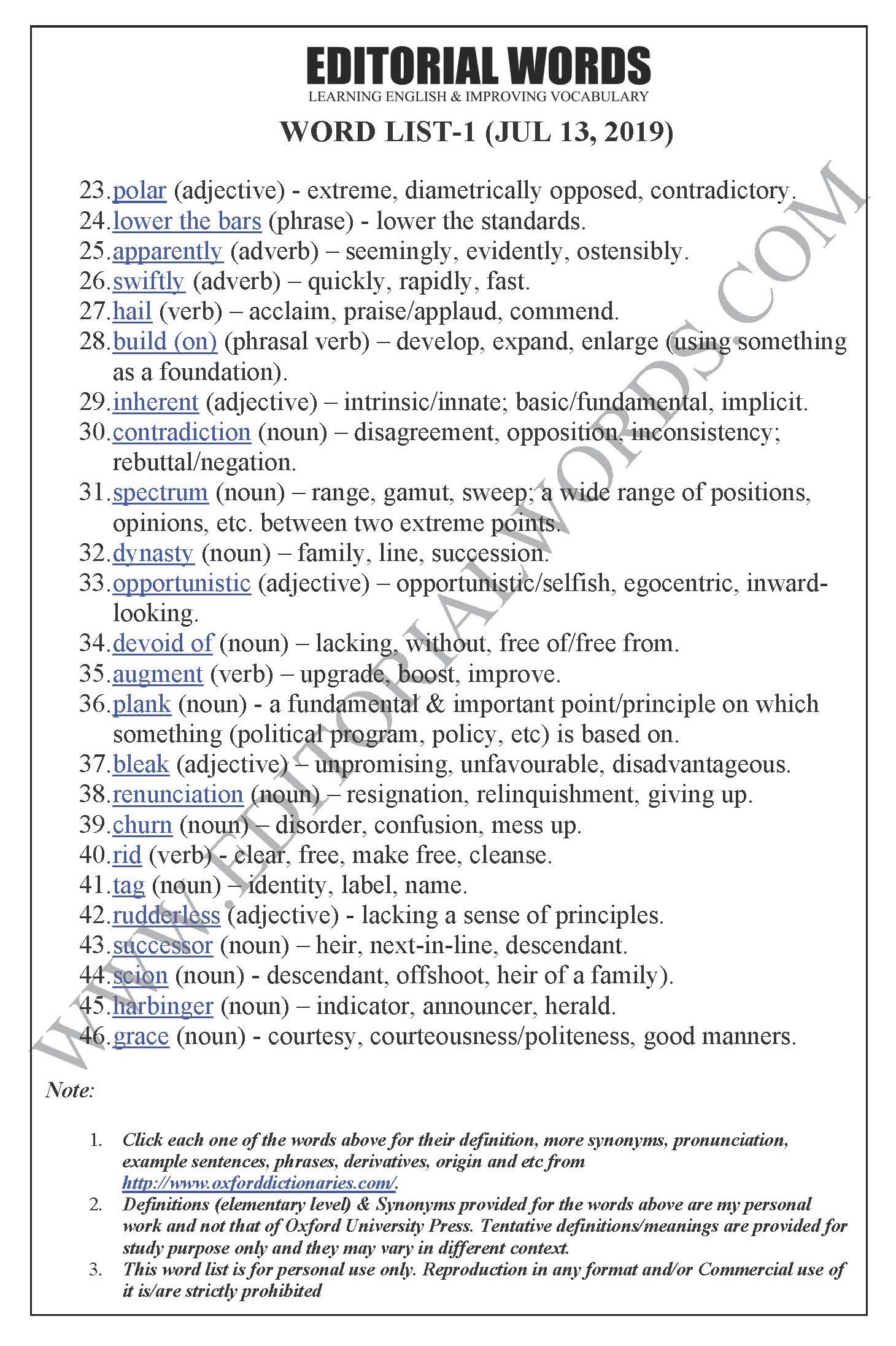 "Phrasal Verbs" We Learnt Last Week
"Idioms & Phrases" We Learnt Last Week
"Important Definitions" We Learnt Last Week
Recent Word Lists For The Hindu Editorial Articles
Recent Advanced Word Lists For The Hindu Lead Articles