The Hindu Editorial (Takeover fears) – Apr 21, 2020
The government's decision to ban foreign direct investments (FDI) through the automatic route from neighbouring countries… For further reading, visit "The Hindu". Below is today's word list-1 for The Hindu Editorial (Takeover fears) – Apr 21, 2020.
To read this article, click here.
This preview is provided here with permission.
Courtesy: The Hindu
Today's word list-1 for The Hindu Editorial (Takeover fears) – Apr 21, 2020
takeover (noun) – gaining of control

, change of ownership, acquisition.

nuanced (adjective) – delicate, subtle.

foreign direct investment

 (FDI) (noun) – Investment from one country into another (normally by companies rather than governments) that involves establishing operations or acquiring tangible assets, including stakes in other businesses.
raise eyebrows (phrase) – show surprise.
exploit (verb) – take advantage of

, make use of, utilize.

depressed (adjective) – weakened, impaired, debilitated, distressed, sluggish.
lockdown (noun) – an emergency protocol implemented by the authorities that prevents people from leaving from a place; An extended state of confinement/encirclement/isolation of a person by the authority.
pick up (phrasal verb) – acquire, obtain, buy something.

equity interest

(noun) – the ownership share of a shareholder in a business; the amount of equity a single person holds in a business.
opportunistic (adjective) – opportunistic/selfish, egocentric, inward-looking.
fish (verb) – try to get

, seek to obtain, make a bid, search, look.

in need of (phrase) – requiring help, in want of, needing something.

COVID-19

(noun) – coronavirus disease 2019.
scenario (noun) – situation.

upcurve

(noun) – an upward curve (path/line in a graph).
brick-and-mortar (phrase) – used to represent a business that operates traditionally from a building/place (rather than online).
fintech (noun) – it is the shortened version of the phrase Financial Technology, which is now used to describe businesses that offer financial services using software and modern technology.
a host of (noun) – lot, large number, great quantity.
curb (verb) – restrain, control, contain, stifle, check.
on the cards (phrase) – likely

, possible, expected, in the offing.

excuse (noun) – reason.
pull the trigger (phrase) – to make a final decision or commit to a course of action.
apparatus (noun) – a complicated structure/network/system of a organization.
probably (adverb) – most likely, in all likelihood

, all things considered, perhaps.

greenfield (adjective) – new facility; relating to the new (production) facility that has never been used for any development (whereas brownfield means existing facility).
keep out (phrasal verb) – exclude, deny access to, prohibit.
purview (noun) – range, scope, ambit.
pose (verb) – raise, ask, put (a question/matter for consideration).

to the contrary

(phrase) – in an opposite manner.
distinction (noun) – difference, variation, contrast.

venture capital fund

 (noun) – a sum of money investors commit for investment in early-stage companies.
plug (verb) – stop, seal, close.
send out (phrasal verb) – give out, announce, deliver/release.
missive (noun) – message

, report, notification announcement (a along, official report).

custodian (noun) – curator, guardian; caretaker

/protector.

holdings (noun) – a quantity of shares held in a company by a particular shareholder. An amount of a particular type of investment owned by a person or organization.

listed entity

(noun) – an entity whose shares are listed on a stock exchange for public trading.

cash burn

(noun) – 'cash burn' is the rate at which a company uses up its capital to run its day-to-day operations. 'Cash burn rate' is a metric that measures how the company's net cash position has changed over a time period, usually in a month.
tap (verb) – make use of, put to use, use, utilize.

top-up investment

(noun) – an (additional or extra) investment made by an investor into an entity over and above their existing investment.
Note:  
 1. Click each one of the words above for their definition, more synonyms, pronunciation, example sentences, phrases, derivatives, origin and etc from http://www.oxforddictionaries.com/.
2. Definitions (elementary level) & Synonyms provided for the words above are my personal work and not that of Oxford University Press. Tentative definitions/meanings are provided for study purpose only and they may vary in different context. 
3. This word list is for personal use only. Reproduction in any format and/or Commercial use of it is/are strictly prohibited.
Today's word list-1 The Hindu Editorial (Takeover fears) – Apr 21, 2020
: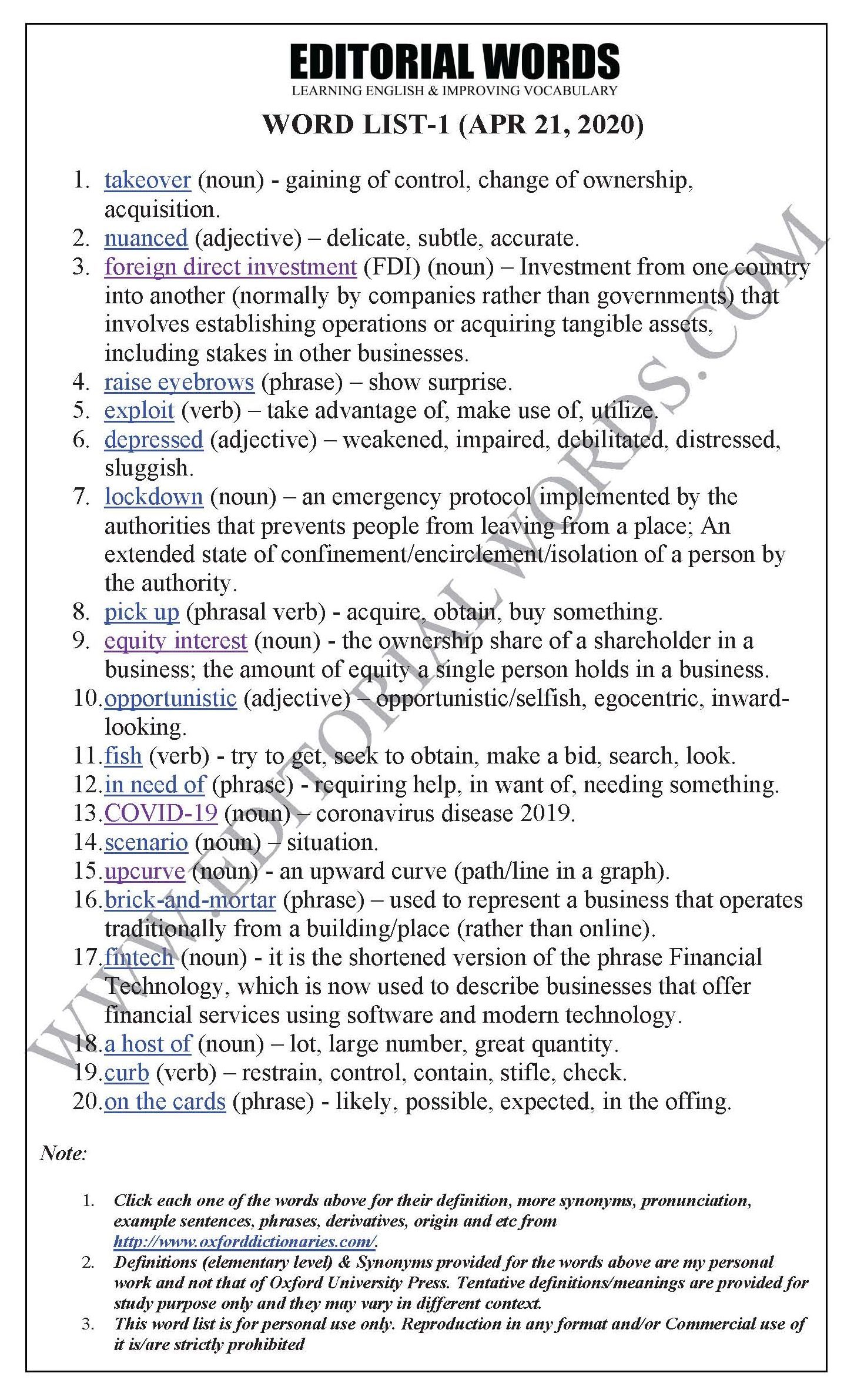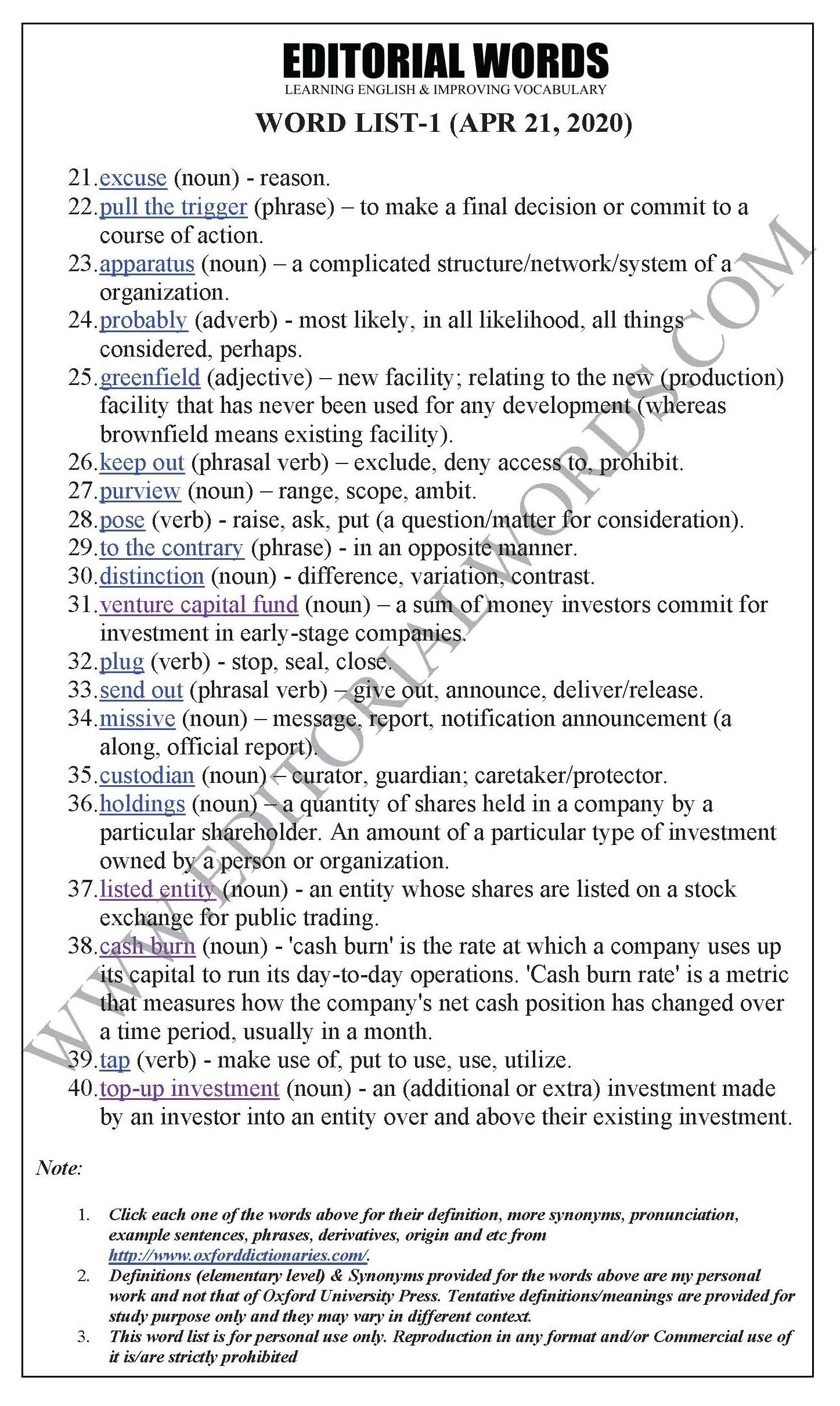 "Phrasal Verbs" We Learnt Last Week
"Idioms & Phrases" We Learnt Last Week
"Important Definitions" We Learnt Last Wek
Recent Word Lists For The Hindu Editorial Articles
Recent Advanced Word Lists For The Hindu Lead Articles