The Hindu Editorial (Moon rising) – Apr 21, 2020
South Korea's President Moon Jae-in, whose government's handling of the COVID-19 pandemic won acclaim,… For further reading, visit "The Hindu". Below is today's word list-2 for The Hindu Editorial (Moon rising) – Apr 21, 2020.
To read this article, click here.
This preview is provided here with permission.
Courtesy: The Hindu
Today's word list-2 for The Hindu Editorial (Moon rising) – Apr 21, 2020:
expedite (verb) – 

accelerate, 

speed up

, quicken.

COVID-19

 (noun) – coronavirus disease 2019.
pandemic (noun) – the worldwide spread of a new disease; The illness spreads around the world and typically affects a large number of people across a wide area.
acclaim (noun) – praise, commendation, applause.
score (verb) – get, gain, achieve, attain.
go ahead (phrasal verb) – to proceed, to continue to do something, to start/begin to do something.
stringent (adjective) – strict/stern, severe, tough/rigorous.
in place (phrase) – established, set up.
command (verb) – receive, be given, get/gain, obtain.
mark (verb) – indicate, signify, identify, represent.
substantial (adjective) – considerable, significant, large.
turnaround (noun) – an unexpected change.
break out (phrasal verb) – flare up, begin/start suddenly, erupt/burst out.
amid (preposition) – in the middle of, surrounded by; during.
allegation (noun) – charge, accusation, indictment.
rapprochement (noun) – reconciliation, reuniting, restoration of harmony, compromise/understanding.
legislative (adjective) – governmental, parliamentary, administrative.
bottleneck (noun) – a condition which appears as not solvable and so delays the process; snag, difficulty/problem.
arguably (adverb) – possibly

, conceivably, maybe, potentially.

pose (verb) – raise, ask, put (a question/matter for consideration).
political will (noun) – political intention/desire (to complete a scheme/project even if it is not admired/welcomed in the beginning).
normalcy (noun) – a normal condition; normality, regularity.
impatience (noun) – restlessness, hastiness, quickness.
disruption (noun) – disturbance, disarrangement, interruption.
thaw (noun) – an increase in friendliness.
demilitarised (adjective) – relating to an area wherein all military forces are removed.
blitz (noun) – all-out effort

, exertion/struggle, endeavour

.

endeavour (noun) –  

attempt, effort, try; struggle.

fraught with (adjective) – full of

, filled with, loaded with

.
amenable to (adjective) – 

receptive, responsive, reactive.

foremost (adverb) – in the first place.
implications (noun) – consequence/outcome, ramification, repercussion.
alliance (noun) – association, partnership, connection.
hostage (noun) – captive, prisoner, detainee; a person under custody of someone as security for performance against a demand/pledge; pawn

, security.

peninsula (noun) – an area of land almost surrounded by water (on three sides) and one side attached to the mainland.
denuclearisation (noun) – the act of removing nuclear weapons from a place.
stand-off (noun) – deadlock, stalemate, impasse, standstill (in a dispute/conflict).
stall (verb) – check, stop, halt, restrict.
summit (noun) – meeting, conference.
break down (phrasal verb) – fail, fall through, be unsuccessful, come to nothing.
vague (adjective) – imprecise

, inexact, unclear, uncertain.

deadlock (noun) – stalemate, impasse, checkmate/stand-off.
insist on (verb) – ask for, request, press/push for.
crippling (adjective) – weakening, impairing, paralyzing.
sanctions (noun) – action taken, or an order given to force a country to obey international laws by limiting or stopping trade with that country, by not allowing economic aid for that country, etc (Courtesy: VOA Learning English).
precondition (noun) – necessary condition, requirement, necessity.
harp on (phrasal verb) – talk or write/complain continuously and lengthy on a particular subject.
paradoxically (adverb) – contradictorily

, inconsistently, incongruously.

collective (adjective) – combined, united, cooperative (by all the members of a group).
confront (verb) – deal with, tackle, address, face up to.

unfolding

(adjective) – developing, growing, emerging, transpiring.
avenue (noun) – line/way

, path, direction (of approaching a problem).

realpolitik (noun) – realistic and practical politics (German word).
therein (adverb) – in that place.
a ray of hope (phrase) – something which gives a slight hope in a difficult situation.
make the most of (phrase) – use something to the best advantage.
Note:  
 1. Click each one of the words above for their definition, more synonyms, pronunciation, example sentences, phrases, derivatives, origin and etc from http://www.oxforddictionaries.com/.
2. Definitions (elementary level) & Synonyms provided for the words above are my personal work and not that of Oxford University Press. Tentative definitions/meanings are provided for study purpose only and they may vary in different context. 
3. This word list is for personal use only. Reproduction in any format and/or Commercial use of it is/are strictly prohibited.
Today's word list-2 The Hindu Editorial (Moon rising) – Apr 21, 2020
: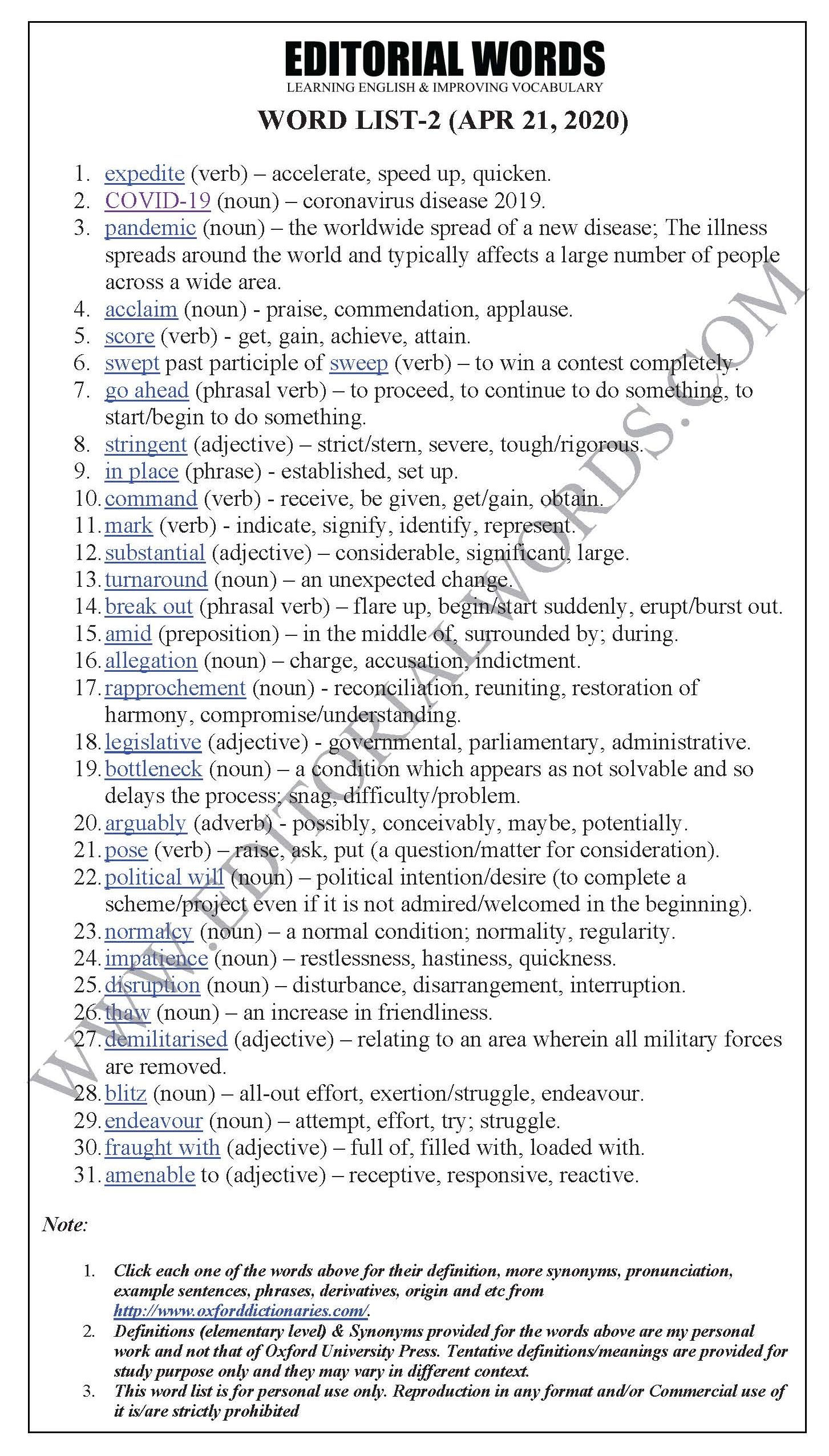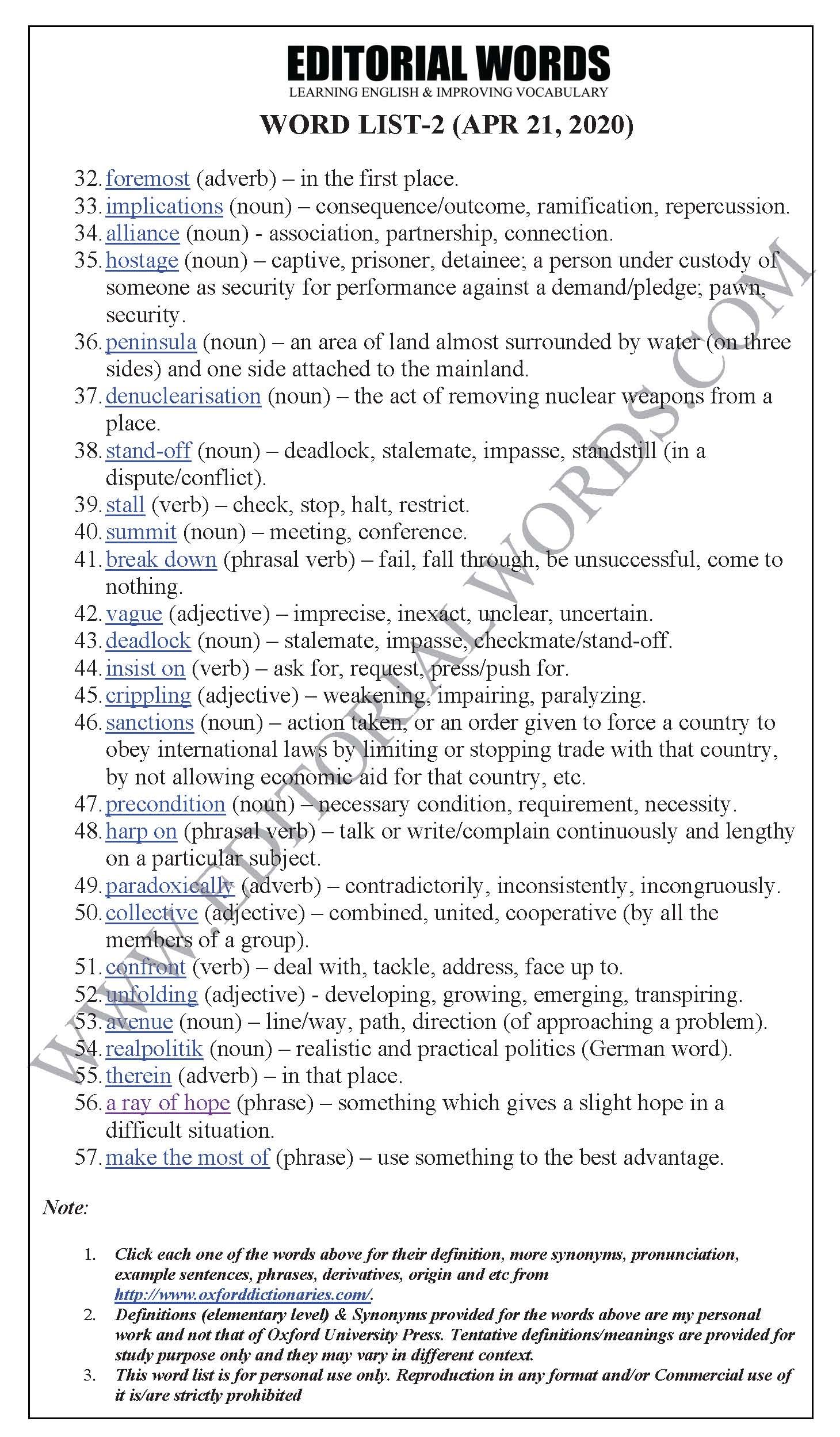 "Phrasal Verbs" We Learnt Last Week
"Idioms & Phrases" We Learnt Last Week
"Important Definitions" We Learnt Last Wek
Recent Word Lists For The Hindu Editorial Articles
Recent Advanced Word Lists For The Hindu Lead Articles