The Hindu Editorial (Seeking to secure) – Sep 23, 2019
Ever since the Centre and the States passed the landmark legislation in 2016 adopting a single countrywide Goods and Services Tax (GST),… For further reading, visit "The Hindu". Below is today's word list-2 for The Hindu Editorial (Seeking to secure)- Sep 23, 2019.
To read this article, click here.
This preview is provided here with permission.
Courtesy: The Hindu
Today's word list-2 for The Hindu Editorial (Seeking to secure) – Sep 23, 2019:
seek (verb) – ask for

, request, 

appeal for

.

oversee (verb) – supervise, administer, manage.
have one's hands full (phrase) – occupied in, engaged in, involved in.
onerous (adjective) – arduous, demanding, tough/formidable.
lay out (phrasal verb) – outline, draw up, formulate.
stakeholder (noun) – a person with an interest in something.
legacy tax/duty (noun) – inheritance tax; a tax paid by a person who inherits money or property of a person who has died.
legacy (noun) – footprint, effect/outcome (something received from a predecessor or from the past).
subsume (verb) – include, encompass, incorporate.
teething troubles (plural noun) – teething problems/issues; temporary problems to be faced while starting a new project.
optimal (adjective) – finest, greatest, most favourable.
abiding (adjective) – long-lasting, permanent, stable.
loophole (noun) – an ambiguity in the law; flaw/fault, defect.
unscrupulous (adjective) – unprincipled, unethical, immoral.
exploit (verb) – take advantage of

, make use of, misuse/ill-treat.

ought to (modal verb) – must, should.
accrue (verb) – accumulate, collect, gather.
illicit (adjective) – illegal

, unlawful, illegitimate.

breathtaking (adjective) – stunning, shocking, staggering, astounding/astonishing.
unearth (verb) – detect, discover, find out.
connive (verb) – disregard, overlook, deliberately ignore.
fraudulent (adjective) – untrustworthy, dishonest, deceitful/untruthful.

tax credit

(noun) – an amount of money that taxpayers can subtract from taxes owed to the government.
avail (verb) – use

, make use of, take advantage of, utilize.

non-existent (verb) – not present, not existing; non practical/notional.
fictitious (adjective) – false/fake, counterfeit, fabricated.
roll-out (noun) – official launch/introduction.
in principle (phrase) – generally, by and large; theoretically.
appraise (verb) – assess, evaluate, judge.
biometric (adjective) – relating to the metrics with human (physical & behavioural) characteristics used for identification and access control.

composition scheme

(noun) – an option available to a registered taxpayer who have a turnover below Rs. 75 lakhs annually.
authenticate (verb) – verify, validate, confirm/certify.
swiftly (adverb) – quickly, rapidly, fast.
becalmed (adjective) – at a standstill, at a halt, unmoving; stranded/stuck.
forego (verb) – alternative spelling of forgo; give up/abandon, relinquish, renounce.
coffers (noun) – funds, reserves/resources, treasury/exchequer.
Note:  
 1. Click each one of the words above for their definition, more synonyms, pronunciation, example sentences, phrases, derivatives, origin and etc from http://www.oxforddictionaries.com/.bigotry

, narrow-mindedness
2. Definitions (elementary level) & Synonyms provided for the words above are my personal work and not that of Oxford University Press. Tentative definitions/meanings are provided for study purpose only and they may vary in different context. 
3. This word list is for personal use only. Reproduction in any format and/or Commercial use of it is/are strictly prohibited.
Today's word list-2 The Hindu Editorial (Seeking to secure) – Sep 23, 2019
: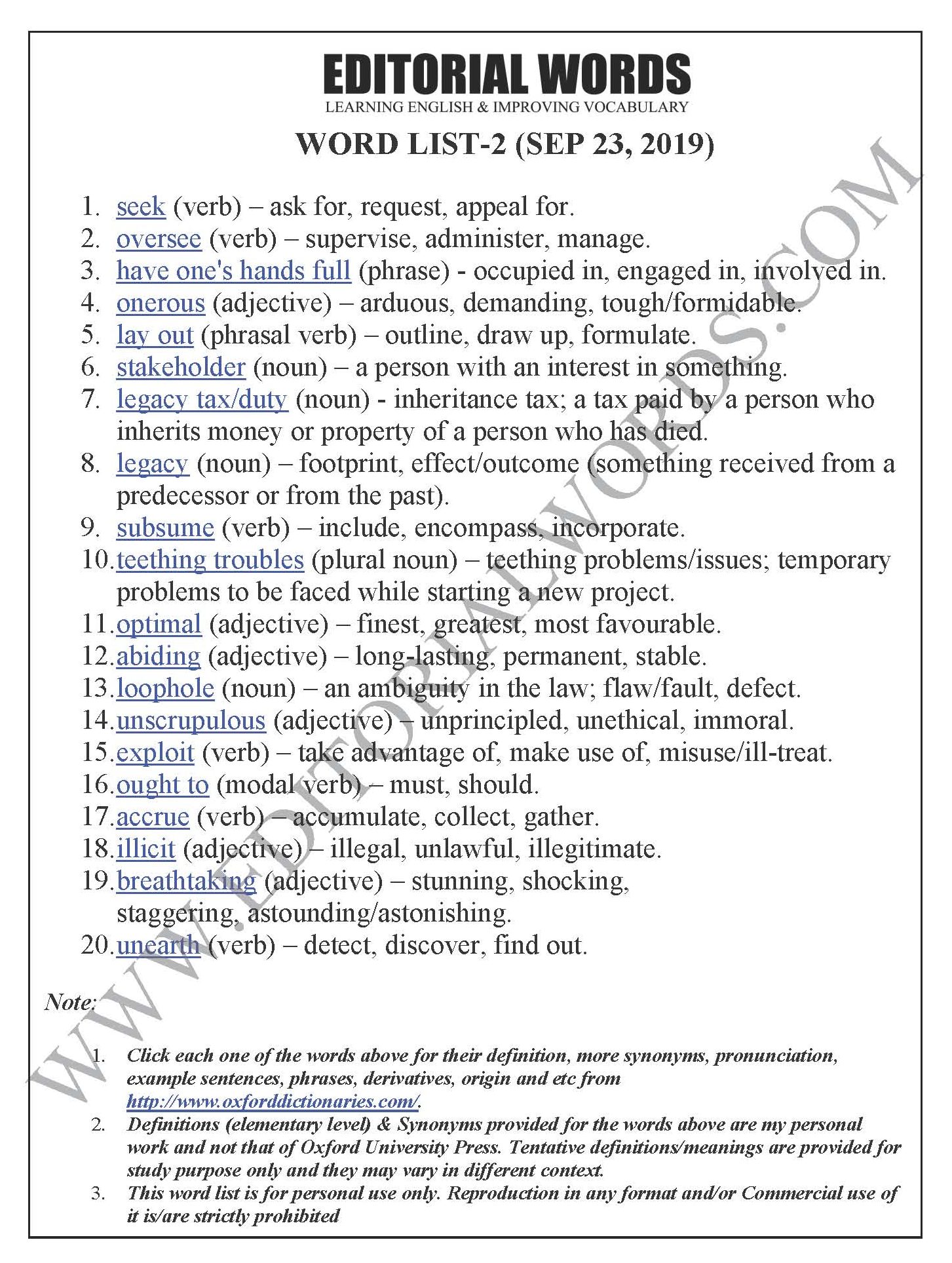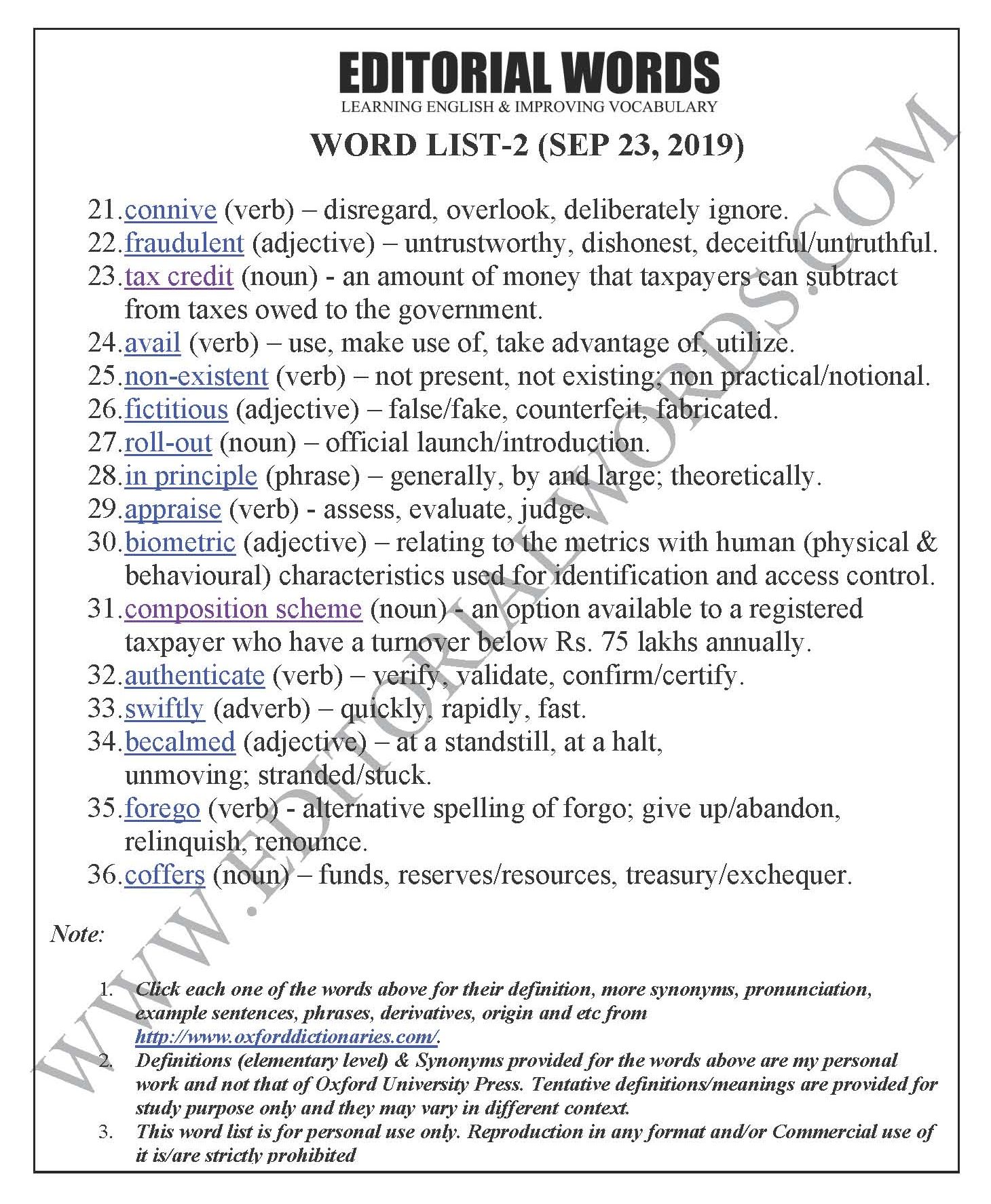 "Phrasal Verbs" We Learnt Last Week
"Idioms & Phrases" We Learnt Last Week
"Important Definitions" We Learnt Last Week
Recent Word Lists For The Hindu Editorial Articles
Recent Advanced Word Lists For The Hindu Lead Articles