The Hindu Lead Article (The nationalist hindrance to climate actions) – Sep 23, 2019
Can global diplomatic jaw-boning backed by an upsurge of popular youth mobilisation shift the hard economic and political calculus of nations… For further reading, visit "The Hindu". Below is today's advanced word list-1 for The Hindu Lead Article (The nationalist hindrance to climate actions) – Sep 23, 2019.
To read this article, click here.
This preview is provided here with permission.  
Courtesy: The Hindu
Today's Advanced Word List 1 for The Hindu Lead Article (The nationalist hindrance to climate actions) – Sep 23, 2019
:
hindrance (noun) – obstacle, impediment, block.
hand out (phrasal verb) – distribute, dispense, give out.
diplomatic (adjective) – (delicate & sensitive) consular, foreign-policy, political.
jaw-bone (noun) – one's position/authority used to pressure (someone) to do something.
back (verb) – support, endorse, uphold.
upsurge (noun) – growth

, rise, enlargement, expansion.

mobilisation (noun) – the act of bringing people/resources together for a particular cause.
seek (verb) – try

, attempt, aim.

pull off (phrasal verb) – achieve, succeed in, accomplish.
feat (noun) – achievement, accomplishment, triumph.
spur (verb) – stimulate, prompt, propel.
pledge (noun) – promise, word, undertaking/commitment.

climate change

 (noun) – a long-term change in the Earth's climate, or of a region on Earth (Courtesy: NASA).
in the face of (phrase) – despite, notwithstanding, regardless of.
mounting (adjective) – increasing, growing, escalating.
stake (noun) – share, interest, involvement/concern.
amid (preposition) – in the middle of, surrounded by; during.
drumroll (noun) – drum-beating; enthusiasm, vehement support; it figuratively means bringing something to public's attention/notice.
dawn (noun) – beginning

, start, inception/conception.

implications (noun) – consequence/outcome, ramification, repercussion.

heat wave

 (noun) – (a long period of) hot weather, hotness, humidity.
stem (verb) – stop, restrict, control.
upwelling (noun) – gathering strength.
inaction (noun) – negligence, disregard, apathy.
inimical (adjective) – hostile, unfriendly, opposed/unfavourable.
roll back (phrasal verb) – reverse, cancel, repeal/rescind.
pursue (verb) – engage in, follow, conduct.
conducive (adjective) – good for

, helpful to, 

favourable

/beneficial/advantageous.

swing/turn the tide (phrase) – reverse the trend of events.
pin hopes on (phrase) – have confidence or trust in someone; rely on, believe in, put one's faith in.

Paris Agreement/Accord

 (noun) – The Paris Agreement builds upon the Convention (agreement) and for the first time brings all nations into a common cause to undertake ambitious efforts to combat climate change and adapt to its effects, with enhanced support to assist developing countries to do so.
champion (noun) – advocate

, proponent, supporter.

step up (phrasal verb) – increase, intensify, escalate.
underwhelm (verb) – unsatisfactory, not exciting, disappointing.

net carbon neutral

(noun) – the sum of emissions and uptake of carbon through 'sinks' such as forests is zero.
carbon sink (noun) – also known as carbon sequestration; a natural environment (forest or reservoir) which absorbs and stores carbon (greenhouse gases) from the atmosphere and thereby maintain a balance. (carbon sequestration is the process by which the forest removes and stores carbon from the atmosphere).
entrenched (adjective) – ingrained, established, embedded.
suasion (noun) – coercion, inducement, prompting.
realm (noun) – area, field, domain (of activity).
diplomacy (noun) – international politics

, foreign affairs, foreign policy.

portfolio (noun) – a range of products/services offered.
resilient (adjective) – strong, durable, sturdy.
vulnerable (adjective) – weak, unprotected, feeble.
status quo (noun) – the present situation, the current state, the existing state of affairs.
greenhouse gas (noun) – heat trapping gas; a gas (such as water vapor, carbon dioxide, methane, nitrous oxide, etc) in the atmosphere that absorbs and emits radiation, causing greenhouse effect and warming of Earth's temperature. (Courtesy: VOA Learning English).
renewable energy (noun) – energy generated from the natural resources (such as water, wind, solar energy)
muddy the waters (phrase) – make the issue more complicated.
fossil fuel (noun) – non renewable resources (or fossil fuels such as coal, oil and natural gas are formed from the buried /deposited organic materials).
inevitable (adjective) – necessary

, compulsory, required

.
incoherent (adjective) – unclear, confused, muddled.
at best (phrase) – only

, merely, simply.

coherently (adverb) – logically, rationally, conceptually.
laggard (noun) –  someone who makes slow process.
jostle (verb) – battle, struggle, scramble.
override (verb) – disregard/ignore, pay no heed to, overrule/reject (a view, idea, suggestion etc).
congruent (adjective) – in agreement, in harmony, in consistent.
enlightened (adjective) – educated/learned, wise, literate, intellectual

.

urbanisation (noun) – a process of creating urban areas.
Note:  
 1. Click each one of the words above for their definition, more synonyms, pronunciation, example sentences, phrases, derivatives, origin and etc from http://www.oxforddictionaries.com/.bigotry

, narrow-mindedness
2. Definitions (elementary level) & Synonyms provided for the words above are my personal work and not that of Oxford University Press. Tentative definitions/meanings are provided for study purpose only and they may vary in different context. 
3. This word list is for personal use only. Reproduction in any format and/or Commercial use of it is/are strictly prohibited.
Today's Advanc
ed Word List 1 for The Hindu Lead Article (The nationalist hindrance to climate actions) – Sep 23, 2019
: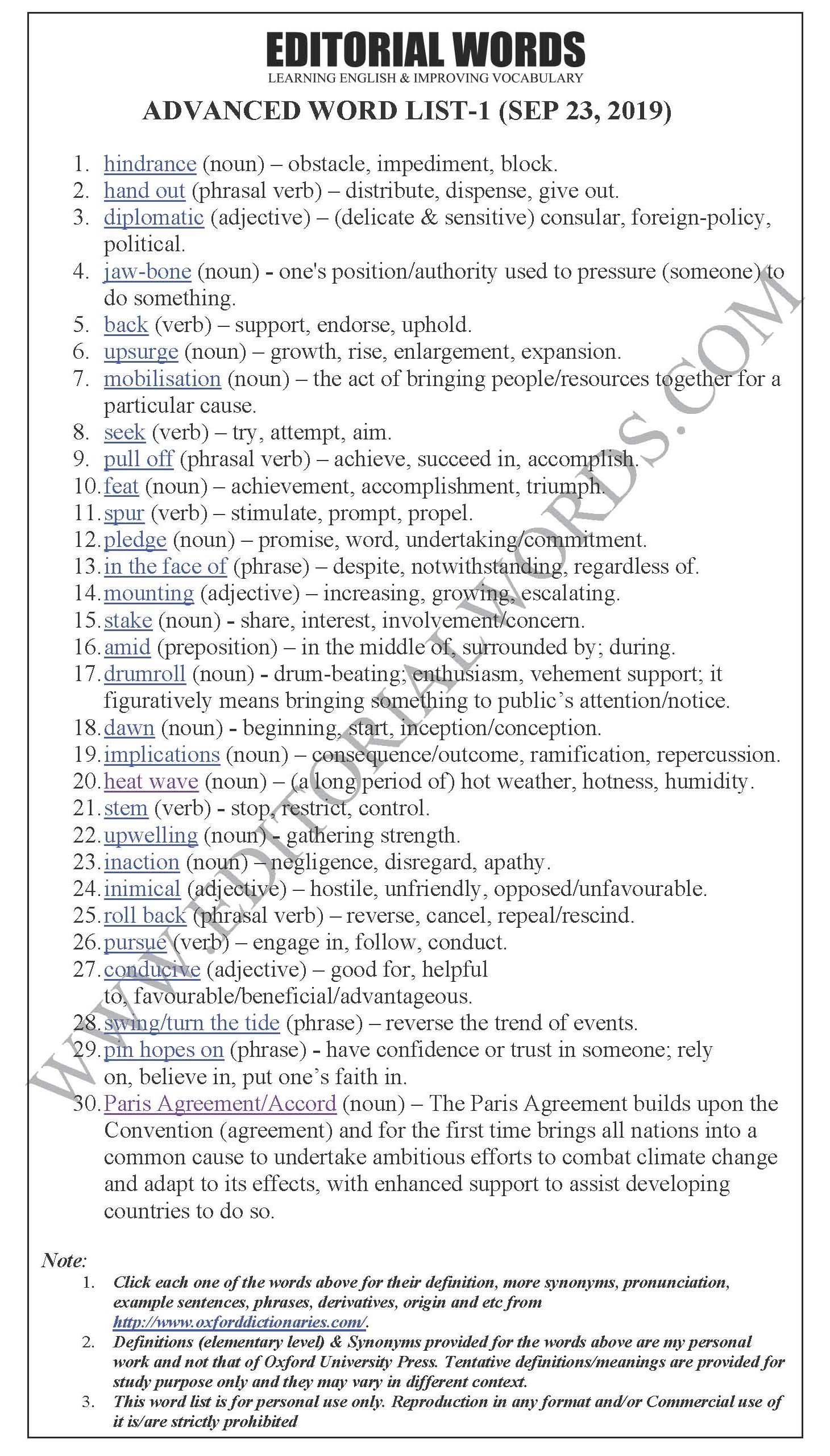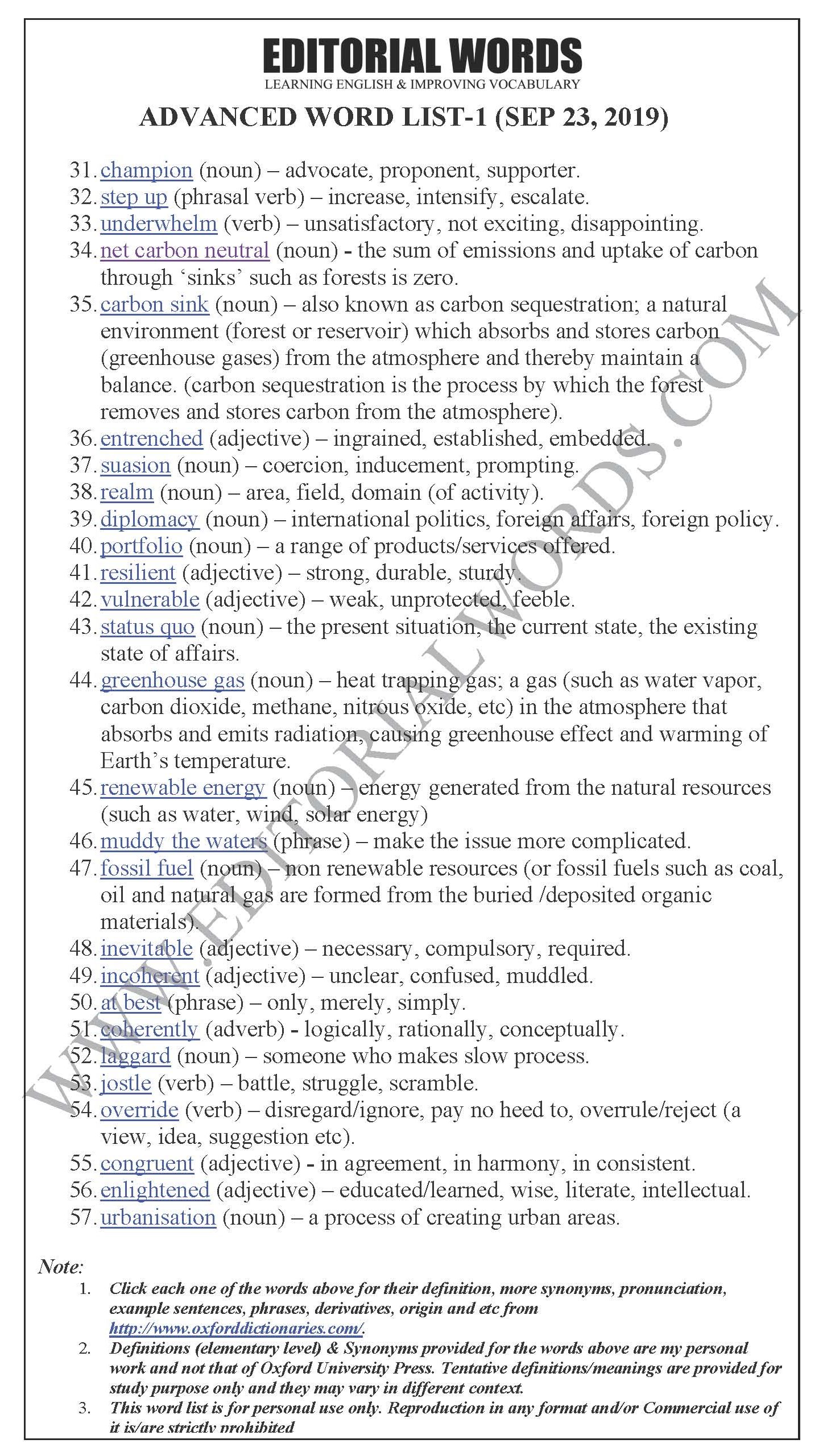 "Phrasal Verbs" We Learnt Last Week
"Idioms & Phrases" We Learnt Last Week
"Important Definitions" We Learnt Last Week
Recent Word Lists For The Hindu Editorial Articles
Recent Advanced Word Lists For The Hindu Lead Articles