The Hindu Editorial (Protection for protectors) – Apr 24, 2020
Since the first case of novel coronavirus infection in India was reported in end-January,… For further reading, visit "The Hindu". Below is today's word list-1 for The Hindu Editorial (Protection for protectors) – Apr 24, 2020.
To read this article, click here.
This preview is provided here with permission.
Courtesy: The Hindu
Today's word list-1 for The Hindu Editorial (Protection for protectors) – Apr 24, 2020
novel coronavirus

 (nCoV) (SARS-CoV-2) (noun) – a new strain (type/variety) coronavirus that has not been previously identified in humans. (Courtesy: WHO)
be subjected to (verb) – put through, undergo, experience (something difficult or unpleasant).
in the line of duty (phrase) – while someone is doing his/her's job.
personnel (noun) – staff, employees, workforce.
locality (noun) – surrounding area, neighbourhood.
premises (noun) – 

buildings.

condemn (verb) – criticize, censure, rebuke/reprimand.
on the ground (phrase) – in a situation/place where things are happening really/practically.
dastardly (adjective) – wicked/evil, heinous, wrongful.
neurosurgeon (noun) – a physician who specializes in surgery on the brain and other parts of the nervous system.

COVID-19

(noun) – coronavirus disease 2019.
complication (noun) – In medicine, an unanticipated problem that arises following, and is a result of, a procedure, treatment, or illness.
conscience (noun) – moral sense; morals, beliefs, values/ethics, principles.
belated (adjective) – late, behind time, not on time/delayed.
promulgate (verb) – enact, implement, enforce, put into effect.
ordinance (noun) – order, rule, act.
epidemic (noun) – widespread disease

/illness; outbreak, plague, scourge

.

cognisable offence/crime

 (noun) – an offence for which, a police officer without any warrant has authority to arrest and to start an investigation with or without the permission of a court.
commendable (adjective) – admirable, praiseworthy, laudable.
outbreak (noun) – sudden appearance/occurrence (of a disease); outburst, epidemic.
ignorance (noun) – incomprehension

, unawareness, lack of knowledge.

colour (noun) – character; identification, linkage.
congregation (noun) – gathering

, assembly, meeting, conference.

come forward (phrasal verb) – volunteer, step forward.
stigma (noun) – shame, disgrace, dishonour.
isolation (noun) – separation

, quarantine.

compliance (noun) – conformity, observation, adherence.
shutdown (noun) – closure of a (complete) system; closing down, winding up.
unwittingly (adverb) – 

inadvertently

, 

unknowingly, unintentionally.

psychosis (noun) – mental illness, hysteria, instability, distraction.
induce (verb) – bring about, cause, effect, result in.
counterproductive (adjective) – harmful, damaging, dangerous/destructive.
stereotype (verb) – conventionalize, standardize, categorize.
shun (verb) – avoid

, ignore, reject, eschew.

infectious (adjective) – communicable, transmittable, spreadable.

personal protective equipment

 (PPE) (noun) – safety gear; protective clothing, helmets, masks, goggles, gloves or other garments or equipment designed to protect the wearer's body from injury/disease.
scarce (adjective) – insufficient, deficient, inadequate.
empathy (noun) – compassion, sympathy, feeling, concern, kindness.
compassion (noun) – consideration, sympathy, understanding, empathy

.

unmitigated (adjective) – absolute

, complete/total, unconditional, categorical.

symbolic (adjective) – serving as a symbol; emblematic, suggestive, illustrative.
gesture (noun) – action, deed, sign.
recognition (noun) – appreciation

, gratitude, thanks, acclaim/credit

.
bolster (verb) – fortify, support, reinforce/buttress.
morale (noun) – 

self-confidence, spirit, hope, determination, optimism.

as much as (phrase) – the same quantity as.
Note:  
 1. Click each one of the words above for their definition, more synonyms, pronunciation, example sentences, phrases, derivatives, origin and etc from http://www.oxforddictionaries.com/.
2. Definitions (elementary level) & Synonyms provided for the words above are my personal work and not that of Oxford University Press. Tentative definitions/meanings are provided for study purpose only and they may vary in different context. 
3. This word list is for personal use only. Reproduction in any format and/or Commercial use of it is/are strictly prohibited.
Today's word list-1 The Hindu Editorial (Protection for protectors) – Apr 24, 2020
: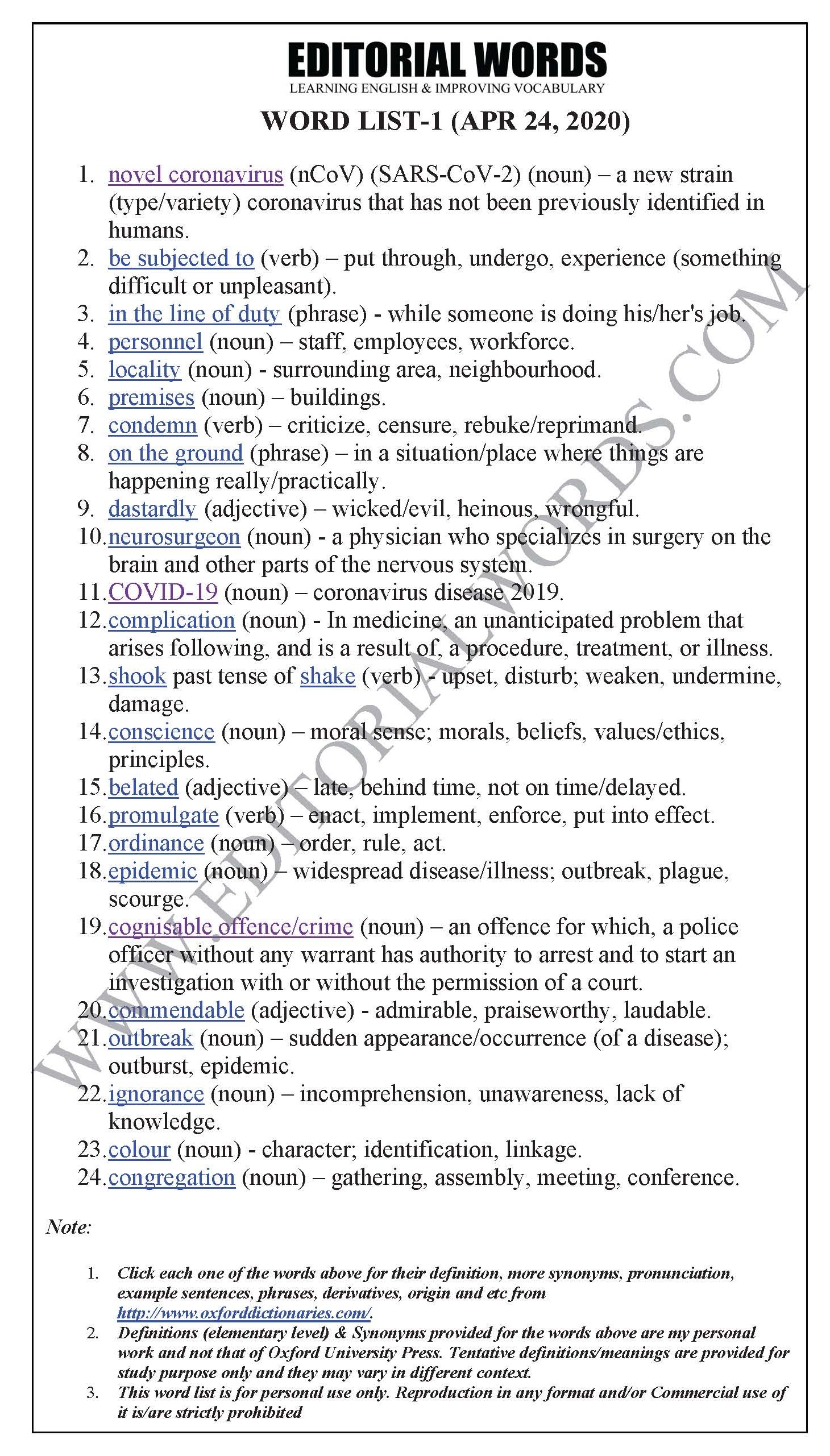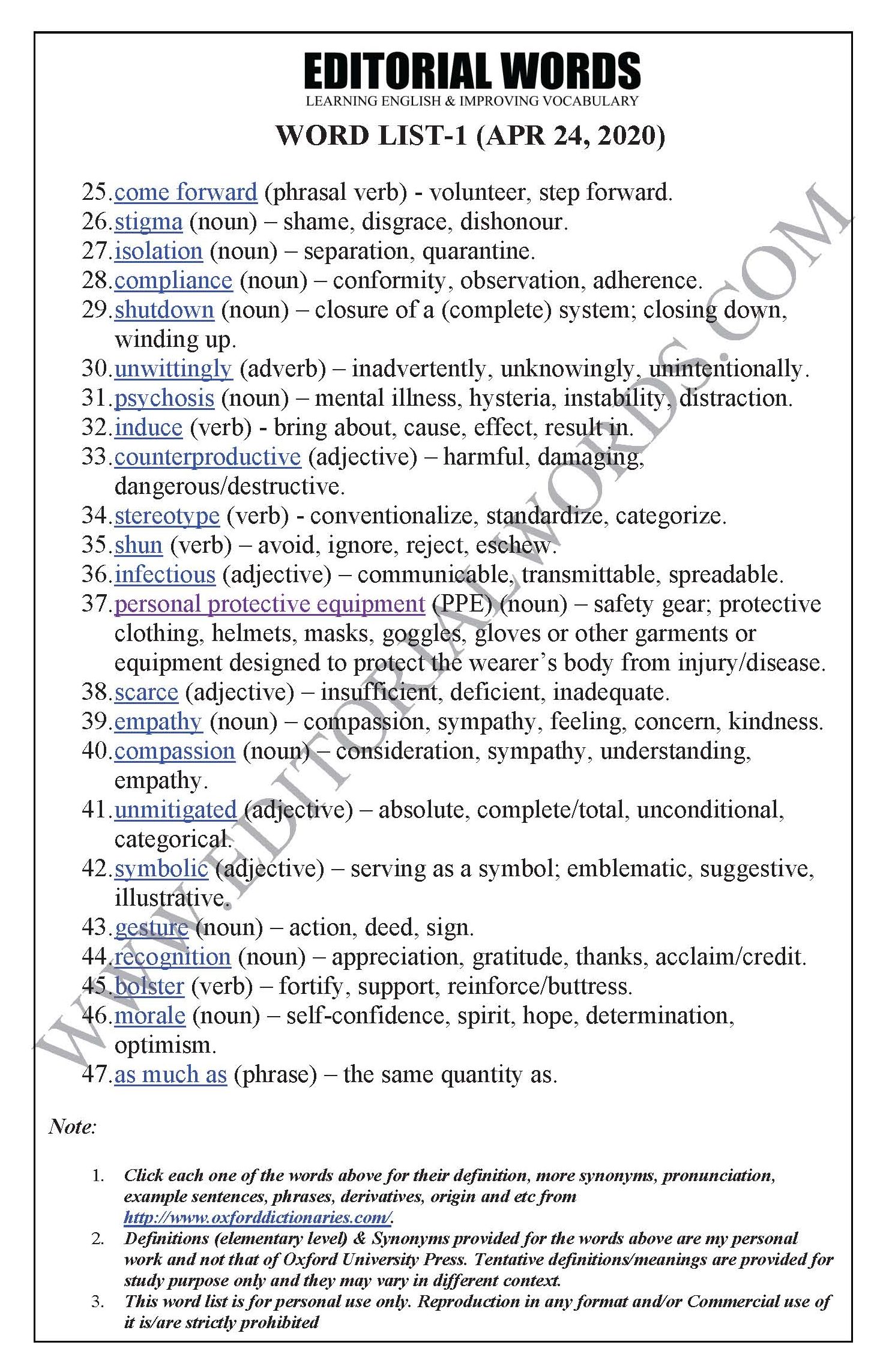 "Phrasal Verbs" We Learnt Last Week
"Idioms & Phrases" We Learnt Last Week
"Important Definitions" We Learnt Last Wek
Recent Word Lists For The Hindu Editorial Articles
Recent Advanced Word Lists For The Hindu Lead Articles