The Hindu Editorial (Not their business) – Sep 28, 2019
The statement issued by the Organisation of Islamic Co-operation's Kashmir Contact Group calling on India to "rescind its actions revoking Article 370", among other stipulations,… For further reading, visit "The Hindu". Below is today's word list-1 for The Hindu Editorial (Not their business) – Sep 28, 2019.
To read this article, click here.
This preview is provided here with permission.
Courtesy: The Hindu
Today's word list-1 for The Hindu Editorial (Not their business) – Sep 28, 2019:
pronouncement (noun) – (

formal) 

announcement

, declaration, statement.

call on (phrasal verb) – appeal to

, ask, request. 

rescind (verb) – revoke, repeal, cancel/reverse.
revoke (verb) – cancel, repeal, abrogate.
stipulation (noun) – condition, requirement, provision.
dubious (adjective) – suspicious, questionable, unreliable.
relevance (noun) – significance, importance, appropriateness.
raison d'être (noun) – responsibility

, duty, obligation.

benefactor (noun) – patron, sponsor/advocate, supporter/promoter.
reflect (verb) – reveal, disclose, exhibit.
confer (verb) – grant, bestow, present/give.
fatuous (adjective) – foolish, stupid, idiotic.
meddle (verb) – handle, interfere intrude/intervene unwantedly.
envoy (noun) – ambassador, diplomat, consul.
amount to (verb) – be regarded as, be equivalent/equal to, be tantamount to.
seek (verb) – try

, attempt, aim.

geopolitical (adjective) – relating to (the study of) the effects of geography (human and physical) on politics and international relations.
admit (verb) – acknowledge, accept, confess.
back (verb) – support, endorse, uphold.
abjure (verb) – renounce, relinquish, reject/forgo.
colour (noun) – difference, dissimilarity, contrast.
ardent (adjective) – passionate, enthusiastic, dedicated.
backer (noun) – supporter, upholder, defender.
put together (phrasal verb) – assemble, organize, arrange.
Note:  
 1. Click each one of the words above for their definition, more synonyms, pronunciation, example sentences, phrases, derivatives, origin and etc from http://www.oxforddictionaries.com/.bigotry

, narrow-mindedness
2. Definitions (elementary level) & Synonyms provided for the words above are my personal work and not that of Oxford University Press. Tentative definitions/meanings are provided for study purpose only and they may vary in different context. 
3. This word list is for personal use only. Reproduction in any format and/or Commercial use of it is/are strictly prohibited.
Today's word list-1 The Hindu Editorial (Not their business) – Sep 28, 2019
: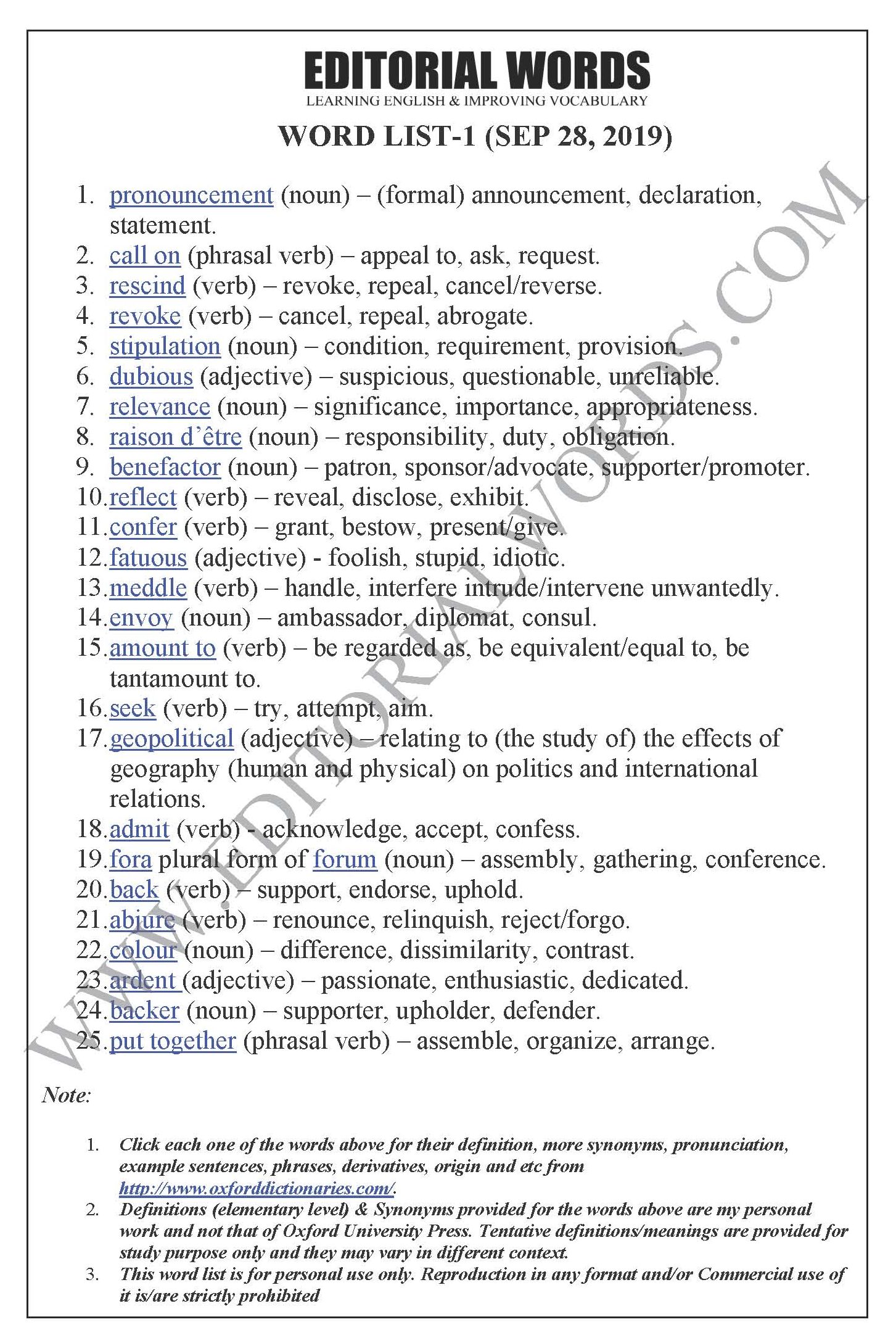 "Phrasal Verbs" We Learnt Last Week
"Idioms & Phrases" We Learnt Last Week
"Important Definitions" We Learnt Last Week
Recent Word Lists For The Hindu Editorial Articles
Recent Advanced Word Lists For The Hindu Lead Articles