The Hindu Lead Article (Childhoods lost in a troubled paradise) – Sep 27, 2019
Every third child in Shopian district, Jammu and Kashmir (J&K), has a clinically diagnosable mental disorder,… For further reading, visit "The Hindu". Below is today's advanced word list-1 for The Hindu Lead Article (Childhoods lost in a troubled paradise) – Sep 27, 2019.
To read this article, click here.
This preview is provided here with permission.  
Courtesy: The Hindu
Today's Advanced Word List 1 for The Hindu Lead Article (Childhoods lost in a troubled paradise) – Sep 27, 2019
:
traumatise (verb) – appal, horrify, distress; to make someone upset mentally & emotionally.
perpetual (adjective) – continuous, unceasing; sustained.
pick up (phrasal verb) – detain, take into custody, take prisoner.
disastrous (adjective) – devastating

, ravaging, ruinous.

detention (noun) – confinement/incarceration, captivity, custody.
chronicle (verb) – record

, report, write down, document

.
scores of (noun) – a lot, a large number of, a great quantity of.
whisk away (verb) – to take/move (something or someone) from one place to another place suddenly & quickly.
first-hand (adjective) – personally or directly experienced or involved in something.
account (noun) – report, narrative, statement.
haunting (adjective) – evocative/emotive, moving/touching, unforgettable.
spectre (noun) – threat, menace, danger/

peril

.
breach (noun) – contravention

, violation, breaking, non-observance.

next of kin (noun) – closest relative

, closest relation, nearest blood relation.

thereof (adverb) – of that, of something which is just mentioned.
pawn (verb) – puppet; used for other's purposes.
gut (verb) – devastate

, destroy, demolish/ruin.

perpetuate (verb) – maintain, continue, keep alive.
trauma (noun) – torment, distress, suffering.
bitterness (noun) – hostility, dissatisfaction, discontent.
accountability (noun) – responsibility, liability, answerability.
detainee (noun) – a person in custody, prisoner, convict.
convention (noun) – 

practice, rule, observance, ordinance.

to begin with (phrase) – at first, at the outset, at the beginning.
juvenile (adjective) – young, teenage, underage.
take into account (phrase) – consider, respect, have regard to.
rehabilitation (noun) – the action of bringing (someone or something) back to a normal.
ratify (verb) – justify, approve, confirm.
last resort (phrase) – a final thing/person helps when all else has failed; final hope.
blanket (adjective) – total, complete, comprehensive

.

unrest (noun) – disruption

, chaos, agitation, trouble/turmoil.

personnel (noun) – employees/staff, workforce.
arbitrary (adjective) – capricious, personal (whim/choice), erratic/irregular.
sledgehammer (modifier) – powerful; forceful; ruthless (tool).
comprehensive (adjective) – all-inclusive, extensive, all-embracing wide-ranging.
override (verb) – disregard/ignore, pay no heed to, overrule/reject (a view, idea, suggestion etc).
scare (verb) – alarm, worry, frighten.
lest (conjunction) – 

just in case, for fear that, in order to avoid.

caught in a crossfire

 (phrase) – get involved in an (argumentative &) unpleasant/difficult situation.
aggrieved (adjective) – distressed, upset, unhappy.
redressal (noun) – compensation, retribution/remedy; justice.
abrogate (verb) – cancel, abolish, revoke, repeal.
habeas corpus (noun) – Latin phrase meaning literally "that you have the body". The court order to bring the person (in custody/detention) to the court to decide on the imprisonment is legal or illegal.
respondent (noun) – disputant, claimant, complainant.
adjourn (verb) – postpone, put off, defer/delay.
anticipate (verb) – expect, foresee, precede.
contingency (noun) – planning, prearrangement, arrangements.
empower (verb) – authorize, allow, entitle.
allegation (noun) – charge, accusation, indictment.
massacre (noun) – carnage, mass murder, mass killing.
resort to (verb) – use, utilize, turn to.
brutalize (verb) – attack, abuse, assault,/beat.
spiral (noun) – growth

, rise, enlargement, expansion

.
inhabitant (noun) – native community, local people, (permanent) resident/dweller.
omission (noun) – negligence, something neglected.
tolerance (noun) – forbearance

, liberality, open-mindedness.

amount to (verb) – be regarded as, be equivalent/equal to, be tantamount to.
aggravated (adjective) – serious, worsened, exacerbated.
under the shadow of (phrase) – in danger of something.
caregiver (noun) – attendant, aide/helper, personal assistant.
sibling (noun) – brother or sister.
strain (noun) – pressure, stress

, 

demand/burden.
snatch away (verb) – seize, capture, take hold of.
interrogation (noun) – 

cross-questioning, cross-examination, probing.

internalise (verb) – accept/agree, personalise, embody.
privy to (adjective) – aware of, acquainted with, informed of.
look forward to (phrasal verb) – anticipate, wait for, expect.
curb (noun) – restraint, restriction, control.
inhumane (adjective) – vicious/cruel, brutal, barbaric.
speak out (phrasal verb) – speak publicly.
complicit (adjective) – associated/partnered with others in a wrongful/illegal activity.
apparatus (noun) – a complicated structure/network/system of a organization.
Note:  
 1. Click each one of the words above for their definition, more synonyms, pronunciation, example sentences, phrases, derivatives, origin and etc from http://www.oxforddictionaries.com/.bigotry

, narrow-mindedness
2. Definitions (elementary level) & Synonyms provided for the words above are my personal work and not that of Oxford University Press. Tentative definitions/meanings are provided for study purpose only and they may vary in different context. 
3. This word list is for personal use only. Reproduction in any format and/or Commercial use of it is/are strictly prohibited.
Today's Advanc
ed Word List 1 for The Hindu Lead Article (Childhoods lost in a troubled paradise) – Sep 27, 2019
: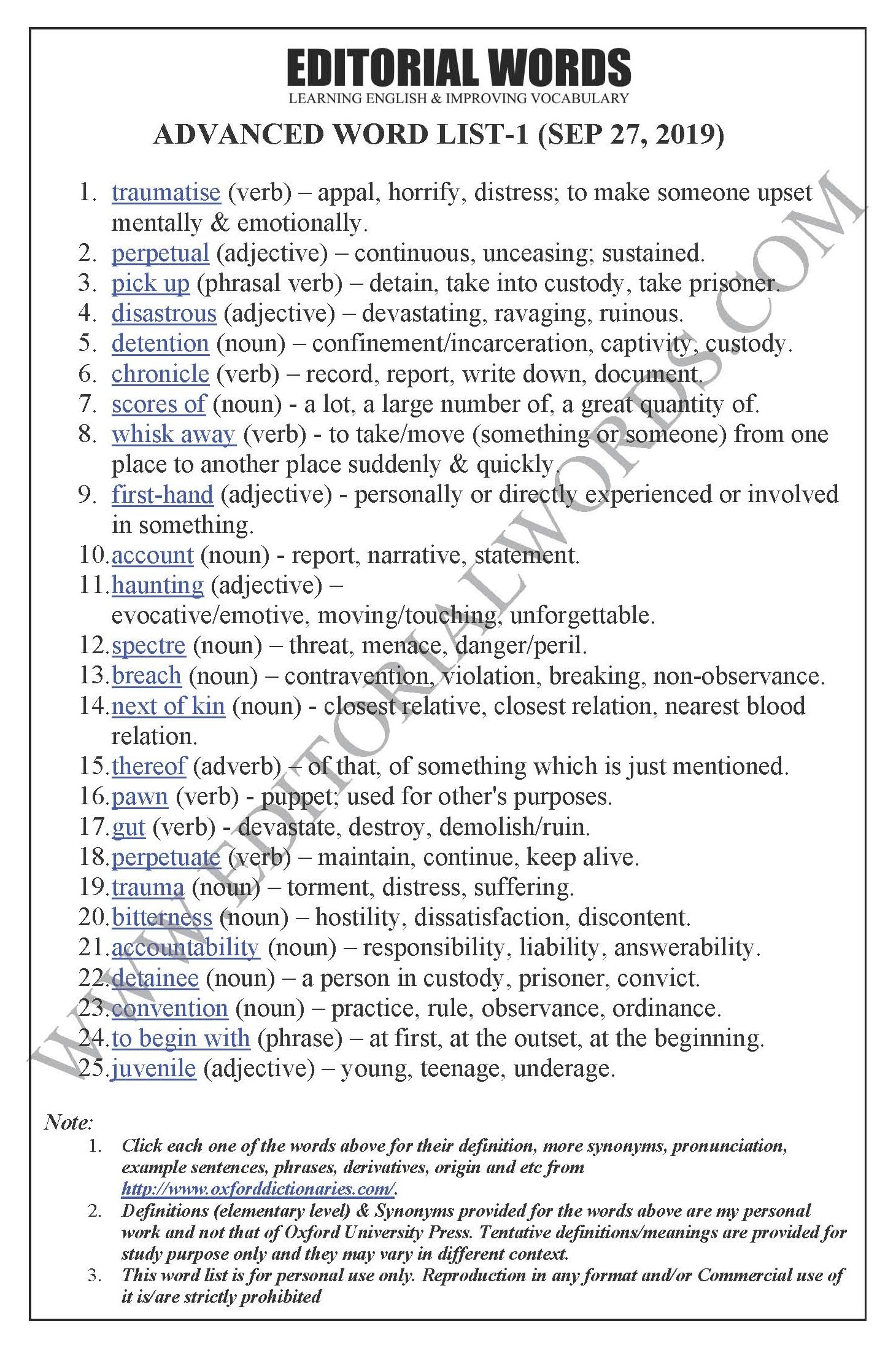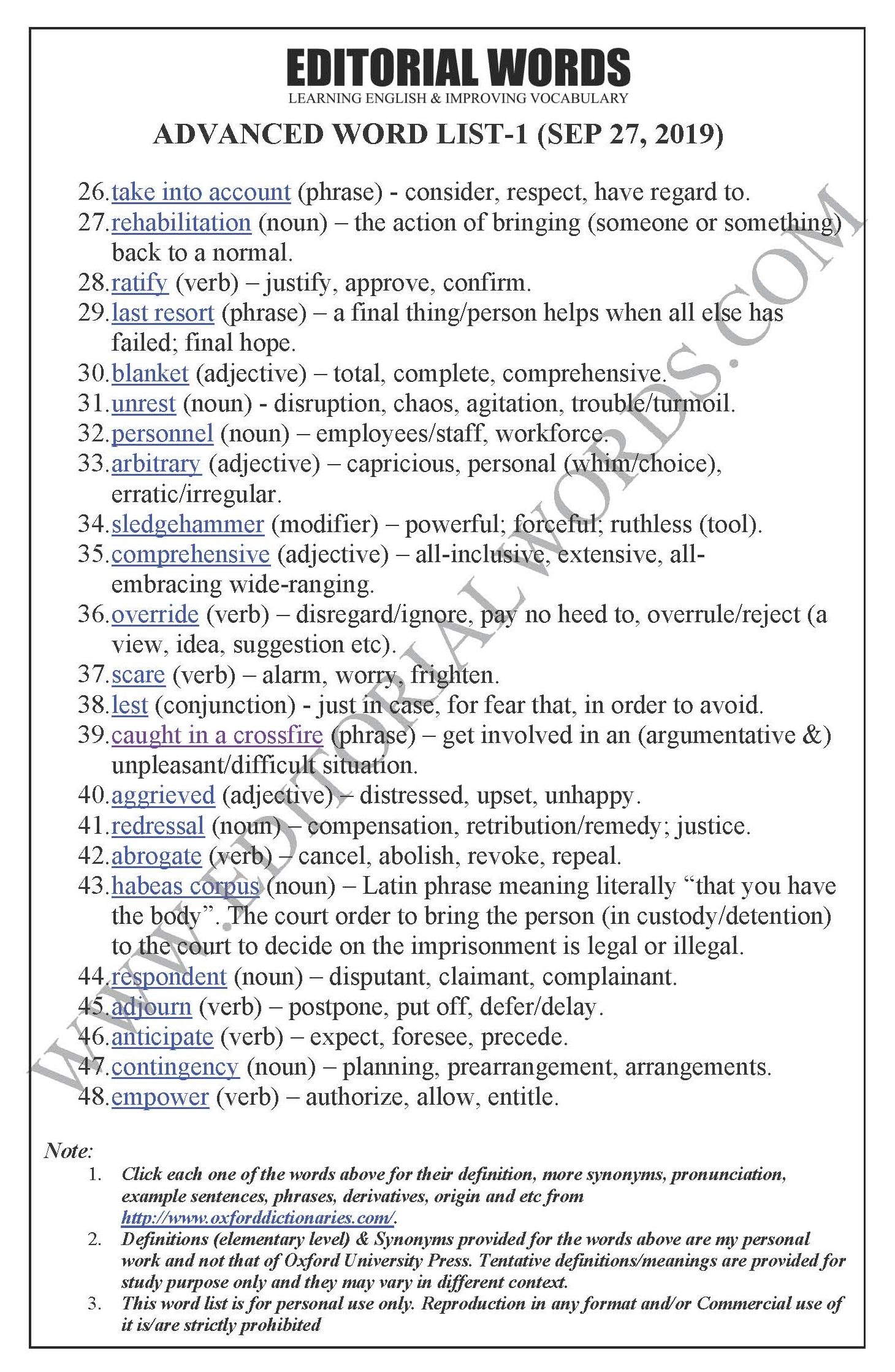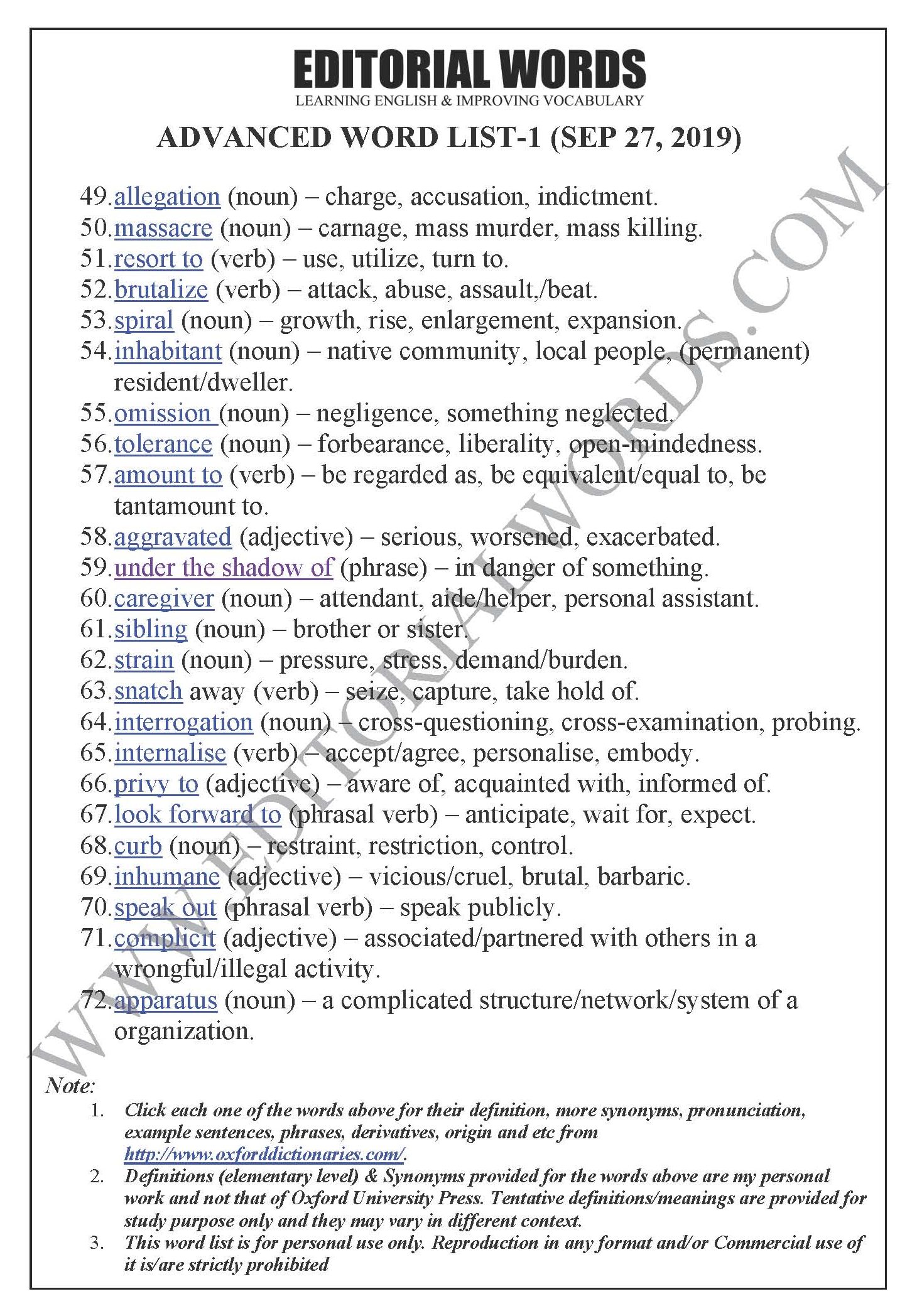 "Phrasal Verbs" We Learnt Last Week
"Idioms & Phrases" We Learnt Last Week
"Important Definitions" We Learnt Last Week
Recent Word Lists For The Hindu Editorial Articles
Recent Advanced Word Lists For The Hindu Lead Articles