The Hindu Lead Article (The occasion to revisit the sovereign's role) – Apr 21, 2020
Let us make no mistake. COVID-19 is forcing a paradigm shift. We are unlikely to return to a pre-coronavirus homeostasis after the war against it is won. For further reading, visit "The Hindu". Below is today's advanced word list-1 for The Hindu Lead Article (The occasion to revisit the sovereign's role) – Apr 21, 2020.
To read this article, click here.
This preview is provided here with permission.  
Courtesy: The Hindu
Today's Advanced Word List 1 for The Hindu Lead Article (The occasion to revisit the sovereign's role) – Apr 21, 2020
:
sovereign (noun) – independent state (country); head of state.
discourse (noun) – a formal discussion.
make no mistake (phrase) – used to demonstrate that you are sure about something.

COVID-19

 (noun) – coronavirus disease 2019.
paradigm shift (noun) – a fundamental and important change with new ideas/thinking.
homeostasis (noun) – the ability to maintain a relatively stable internal state that continues despite changes in the world outside. All living organisms, from plants to people, must regulate their internal environment to process energy and ultimately survive. It refers to stability, balance, or equilibrium within a cell or the body. Humans' internal body temperature is a great example of homeostasis.
devastation (noun) – destruction, damage, havoc/wreckage.

novel coronavirus

 (nCoV) (SARS-CoV-2) (noun) – a new strain (type/variety) coronavirus that has not been previously identified in humans. (Courtesy: WHO)
unleash (verb) – let loose, release, set free.
annihilation (noun) – destruction, elimination, eradication, wiping out.
on the cards (phrase) – likely to happen

, possible, expected, in the offing.

vaccine (noun) – a biological preparation that improves immunity to a particular disease.
taming (noun) – controlling something dangerous; making something less powerful.
outbreak (noun) – sudden appearance/occurrence (of a disease); outburst, epidemic.
probability (noun) – possibility, expectation, chance, probable event.
humanity (noun) – humankind, the human race, people.
global warming (noun) – it is the unusually rapid increase in Earth's average surface temperature over the past century primarily due to the greenhouse gases released as people burn fossil fuels.
armageddon (noun) – a final battle or conflict (highly destructive/catastrophic).
casualty (noun) – victim

, fatality, mortality. 

far-away (adjective) – distant

, far off, remote.

rescue (verb) – save (from danger).
fend for oneself (verb) – take care of oneself, look after oneself, manage by oneself.
defining moment (noun) – a point in life when someone is urged to make an important decision, or when someone experience something that fundamentally changes everything.
recession (noun) – economic decline, downturn, slump.
lockdown (noun) – an emergency protocol implemented by the authorities that prevents people from leaving from a place; An extended state of confinement/encirclement/isolation of a person by the authority.
contract (verb) – decline, decrease

, diminish, reduce.

as much as

(phrase) – almost.
proportion (noun) – size, ratio; magnitude.
fortunate (adjective) – lucky, blessed.
spiral (verb) – increase rapidly, rise rapidly, leap up, escalate.
contraction (noun) – decline

, decrease, reduction.

short-lived (adjective) – brief

, short, short-term, temporary.

architecture (noun) – structure, construction, formation.
mores (noun) – customs

, conventions, practices, way of life.

on trial

(phrase) – being tested for suitability.
up for (phrase) – being considered for, available for.
wish away (phrasal verb) – try to stop/eliminate something (problem) just by wishing that it did not exist.
probable (adjective) – possible, likely, predictable.
intellectual (noun) – learned person, well educated person, academic, scholar.
compound (verb) – aggravate, worsen, intensify, make worse.
seize (verb) – take hold of, grasp, grab, capture (suddenly).
embark on (phrasal verb) – start, begin, initiate/commence.
paradigm (noun) – model, pattern/example; world view.
aftermath (noun) – consequences, effects, results, repercussions.
come under (phrasal verb) – be subjected to.
ride (verb) – move, progress, proceed.
cut down (phrasal verb) – bring down, fell, demolish, knock down, bulldoze.
putative (adjective) – supposed/claimed, commonly regarded, generally considered.
capitalism (noun) – an economic system based on the private ownership; private enterprise, private ownership.
disgrace (noun) – dishonour

, shame, ignominy, discredit.

entrepreneur (noun) – businessman, businesswoman, business person.

unicorn

(noun) – a privately held startup company with a current valuation of US$1 billion or more.

soonicorn

(noun) – startup company with the potential to become unicorn.
demigod (adjective) – greatly admired or respected (status).
willy-nilly (adverb) – whether one likes it or not, one way or the other, 

of necessity, necessarily; randomly.

sign up (phrasal verb) – commit, conclude, agree (formally).
creed (noun) – system of belief

, set of principles, beliefs.

state actor

 (noun) – a person who is acting on behalf of a governmental body.
non-state actor (noun) – an individual or organization that has significant political influence.
stress test (noun) – a test to analyse the function of a system when it is subjected to more pressure.
as far as (phrase) – to the degree/extent that.
retreat (noun) – withdrawal

, pulling back.

trim (verb) – reduce

, decrease, scale down.

caveat (noun) – warning, 

caution, condition.

safety net (noun) – something which gives protection against misfortune or difficulty.
human face (noun) – a human quality or character (otherwise it will be considered as careless, pointless).

reforms with a human face

(phrase) – benefits or advantages of reforms must reach the poorest sections of the society, alleviate their poverty and eliminate their ignorance & sufferings, otherwise such reforms will be considered as useless/careless/worthless).
fall by the wayside (phrase) – fail to continue in an attempt/try.
lurch (noun) – move unsteadily, stagger

, stumble.

unapologetic (adjective) – not showing regret or shame.
shrink (verb) – lessen, reduce, decrease.
half-hearted (adjective) – cursory/casual, artificial/superficial

, uninterested.

dysfunctional (adjective) – not functioning/working normally or properly; troubled, unsettled, flawed.
account (noun) – narrative, report, explanation, interpretation.
dismal (adjective) – bad, poor, awful/terrible.
backdrop (noun) – situation, scenario, context.
ideological (adjective) – relating to a system of ideas.
ecosystem (noun) – complex situation/environment.
de facto (adjective) – Latin, literally 'of fact'; existing, actual, effective.
downsize (verb) – reduce

, cut down, decrease, lessen.

abdication (noun) – disowning, rejection, refusal/avoidance.
legitimacy (noun) – authority, lawfulness, legality; justification, validity.
articulate (adjective) – effective, persuasive, coherent/united (people).
upwardly mobile (adjective) – moving into a higher social position/status.
evangelist (noun) – advocate

, champion, supporter (of a particular cause).

advocate (noun) – upholder, supporter, backer, proponent.
interrogate (verb) – probe, cross-question, cross-examine.
discredited (adjective) – dishonoured, degraded, lowered.
calibrate (verb) – carefully assess, regulate, adjust.

holy cow

(noun) – an exclamation of surprise/excitement/shock.
state sector (noun) – public sector.
simplistic (adjective) – oversimple/oversimplified, schematic, facile.
shallow (adjective) – insubstantial, superficial, insignificant, empty, trivial.
take hold (phrase) – begin to have an effect.
privilege (verb) – give a special advantage.
transact (verb) – negotiate

, conduct, carry out.

idiom (noun) – mode of expression, expression, language.
conclave (noun) – meeting, gathering, assembly/conference.
render (verb) – make, cause to be, cause to become.
bear the brunt (phrase) – to suffer or endure the worst part of something (force/burden/pressure) when a very bad or unpleasant thing happens.
consequence (noun) – outcome, ramification, repercussion.

unorganised sector

(noun) – unorganized sector means an enterprise owned by individuals or self-employed workers and engaged in the production or sale of goods or providing service of any kind whatsoever,
and where the enterprise employs workers, the number of such workers is less than ten.
pay a price (phrase) – experience the bad/unpleasant result of something.
unbearable (adjective) – intolerable

, insufferable, unsupportable, unmanageable.

strand (verb) – get stuck, be in a place (unable to move).
blues (noun) – depression

, sadness, unhappiness.

pullout (noun) – departure, retirement, retreat, disengagement.
strand (noun) – element

, aspect, factor/feature

.
out of one's depth (phrase) – (of a difficult situation) beyond one's ability to deal with.
from time to time (phrase) – sometimes, occasionally, irregularly.
feeble (adjective) – weak, powerless, ineffective.
grave (adjective) – 

terrible, awful, alarming, gloomy

.
the marginalised (noun) – people who are treated as insignificant, treated as unimportant, neglected.
lubricate (verb) – make smooth, ease, facilitate.

stimulus package

 (noun) – an attempt by the government to boost economic growth and save their country from a financial crisis by involving tax cuts, lowering interest rates and increasing government spending.
beef up (phrasal verb) – strengthen, reinforce, consolidate, improve.
self-defeating (adjective) – futile, pointless, useless.
convulsion (noun) – (political) upheaval, agitation, disturbance/disorder.
body politic (noun) – all citizens of a nation collectively.
in the wake of (phrase) – as a result of some event, especially an unpleasant one; aftermath, as a consequence of.
forfeit (verb) – lose, give up, renounce, be stripped of, deprived of.
vigorous (adjective) – strenuous

, powerful, potent, forceful.

collective (adjective) – combined, united/joint, cooperative (by all people as a group).
inequality (noun) – Inequality is simply defined as "the state of not being equal, especially in status, rights and opportunities"; imbalance, unevenness, disproportion, disparity

.

deprived (adjective) – disadvantaged

, underprivileged, poverty-stricken, impoverished.

efficacy (noun) – effectiveness, efficiency, power/ability to give estimated results.
the equation (noun) – the situation, the problem, the predicament.
the executive (noun) – the executive is a branch of government which enforces the law as written by the legislature and interpreted by the judiciary.
lens (noun) – evaluation, analysis, assessment, judgement.
atrophied (adjective) – relating to something wasted away/lost productiveness/potency due to neglect/disregard.
enfeebled (adjective) – weaken, debilitated, crippled, disabled.
at the coalface (phrase) – engaged in work directly (instead of in a managerial position).
scrutinise (verb) – examine carefully, inspect; investigate.
outrage (noun) – indignation, fury, anger.
arrest (verb) – stop, halt, end.
ought to (modal verb) – must, should.
squander (verb) – waste, misspend, misuse.
lean on (phrasal verb) – depend, rely, have every confidence in.
Note:  
 1. Click each one of the words above for their definition, more synonyms, pronunciation, example sentences, phrases, derivatives, origin and etc from http://www.oxforddictionaries.com/.
2. Definitions (elementary level) & Synonyms provided for the words above are my personal work and not that of Oxford University Press. Tentative definitions/meanings are provided for study purpose only and they may vary in different context. 
3. This word list is for personal use only. Reproduction in any format and/or Commercial use of it is/are strictly prohibited.
Today's Advanc
ed Word List 1 for The Hindu Lead Article (The occasion to revisit the sovereign's role) – Apr 21, 2020
: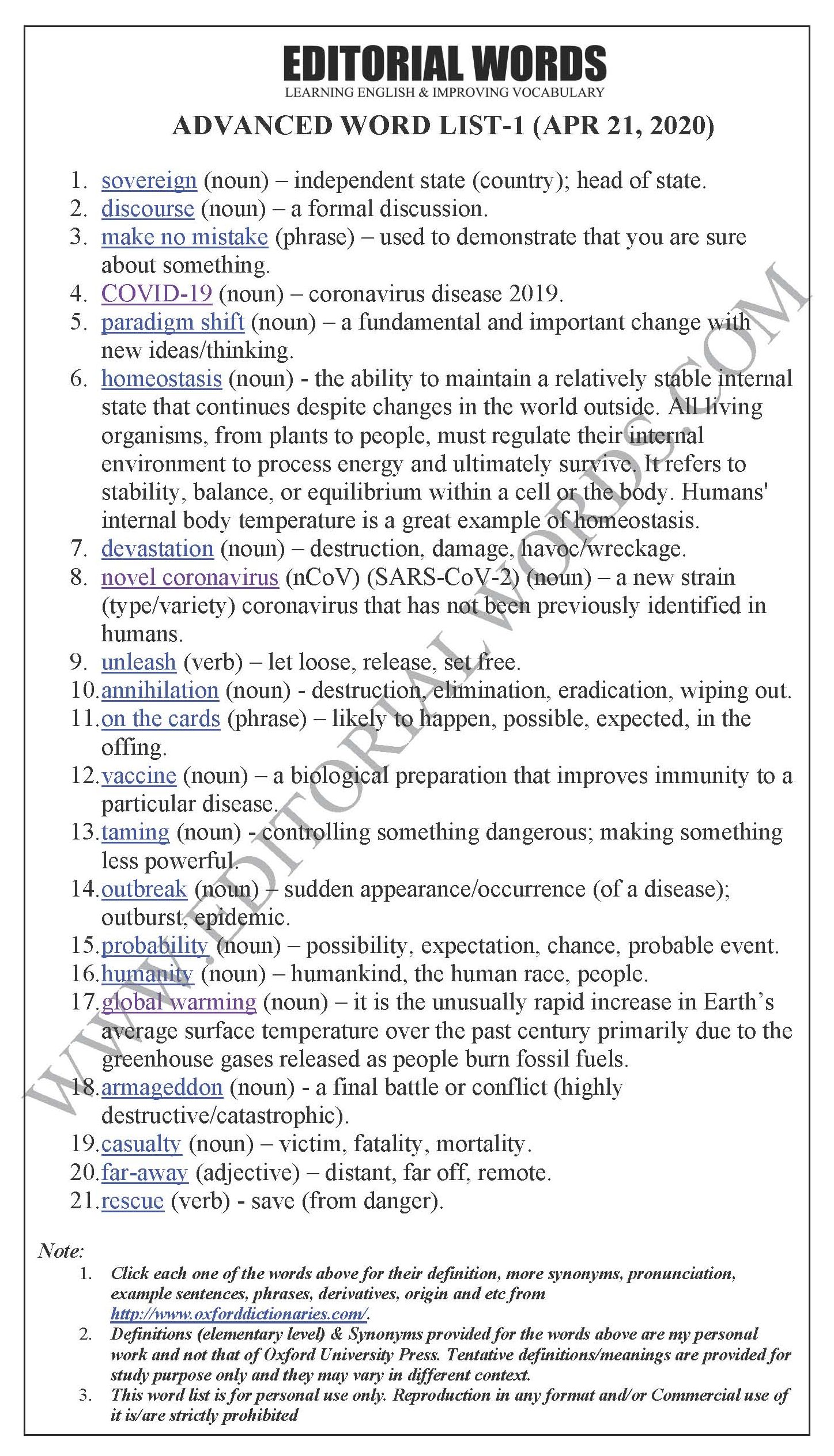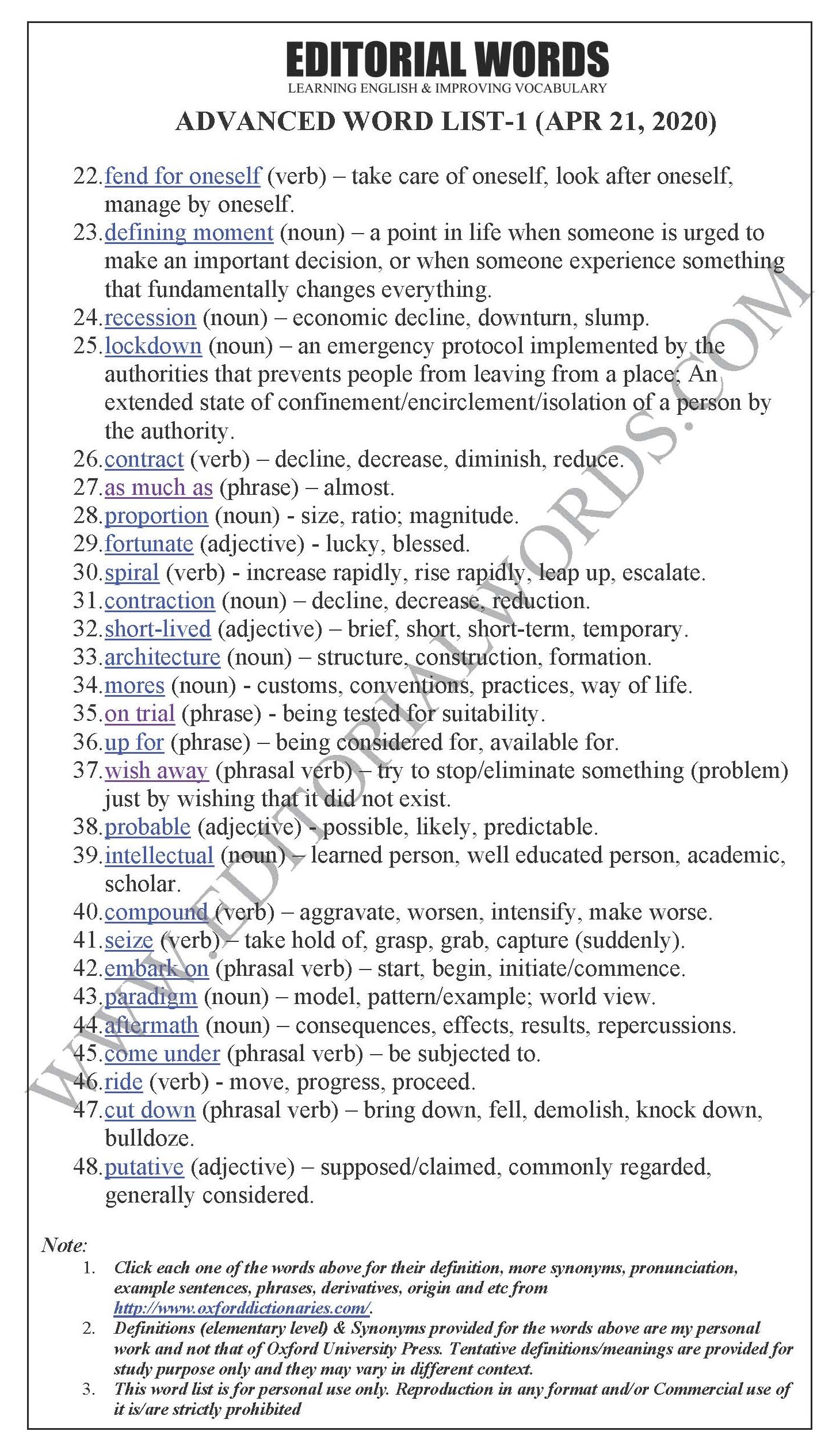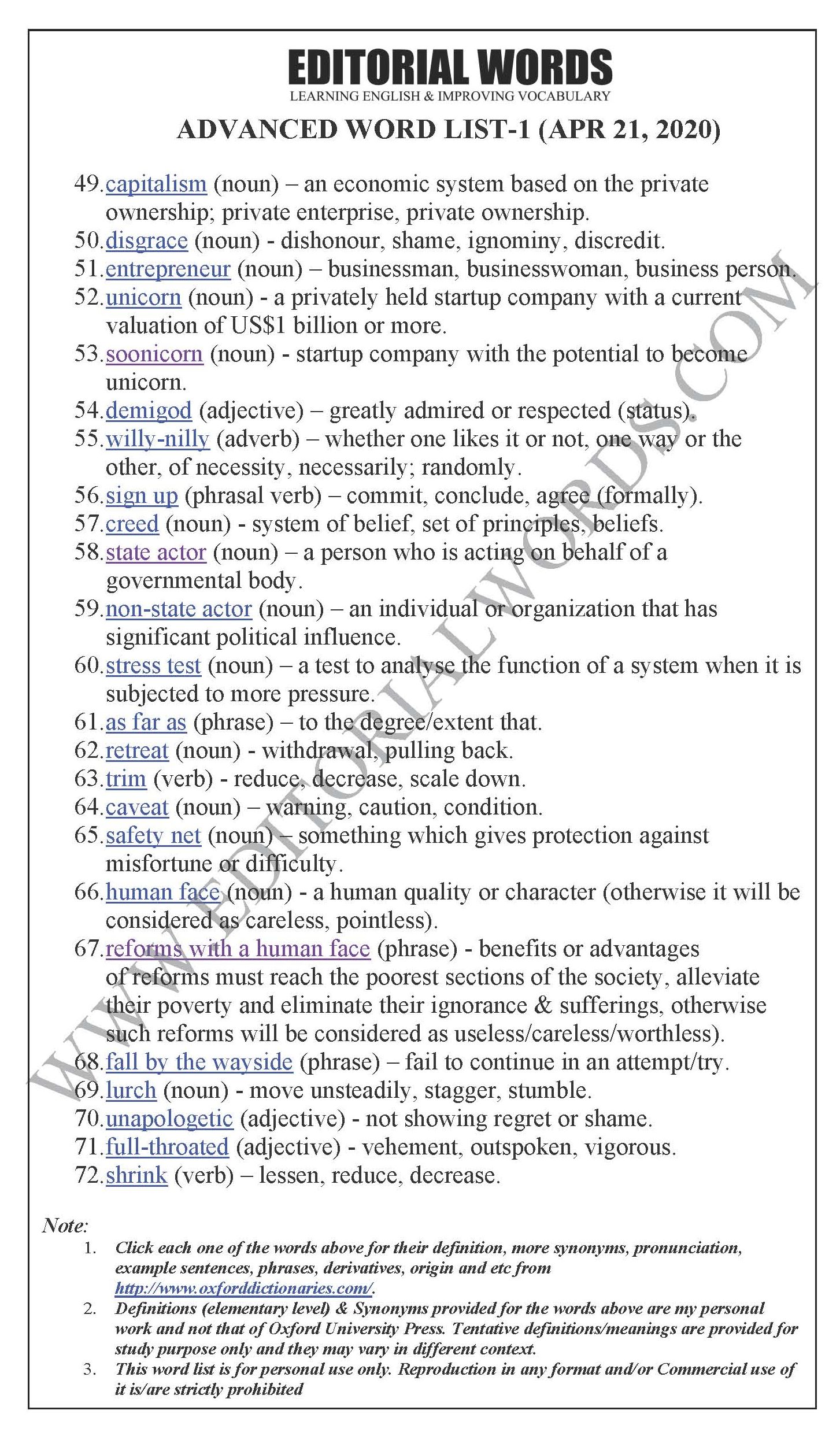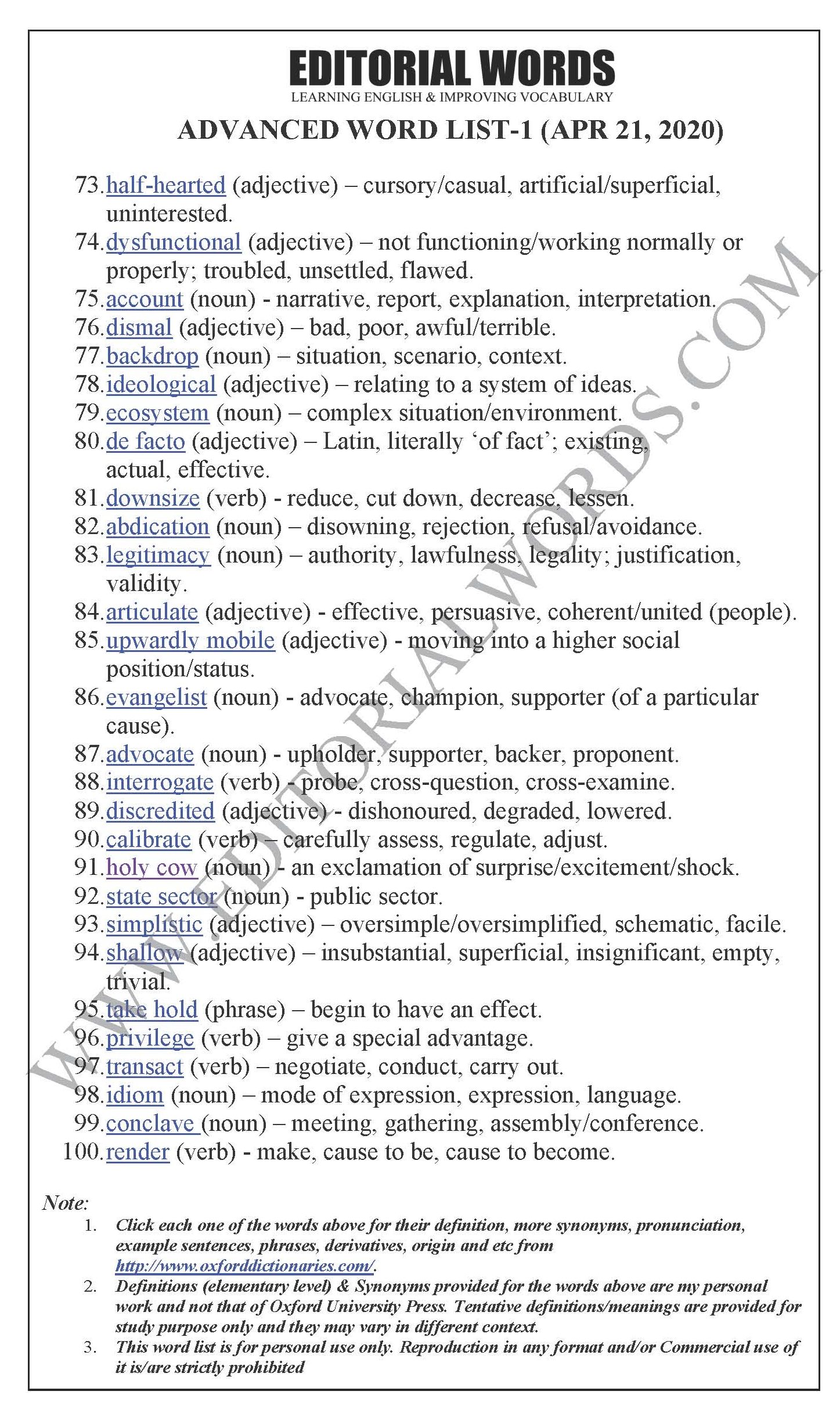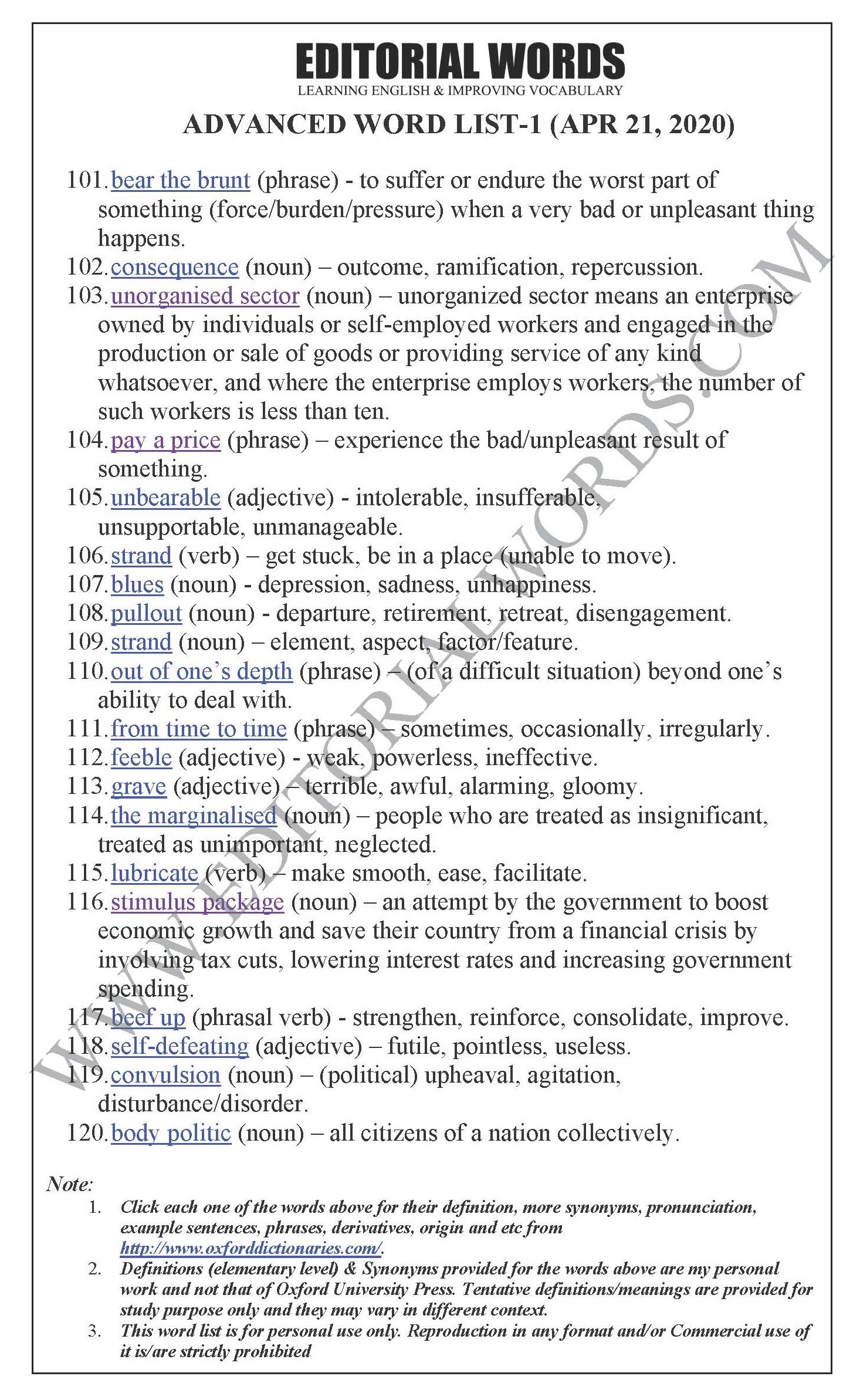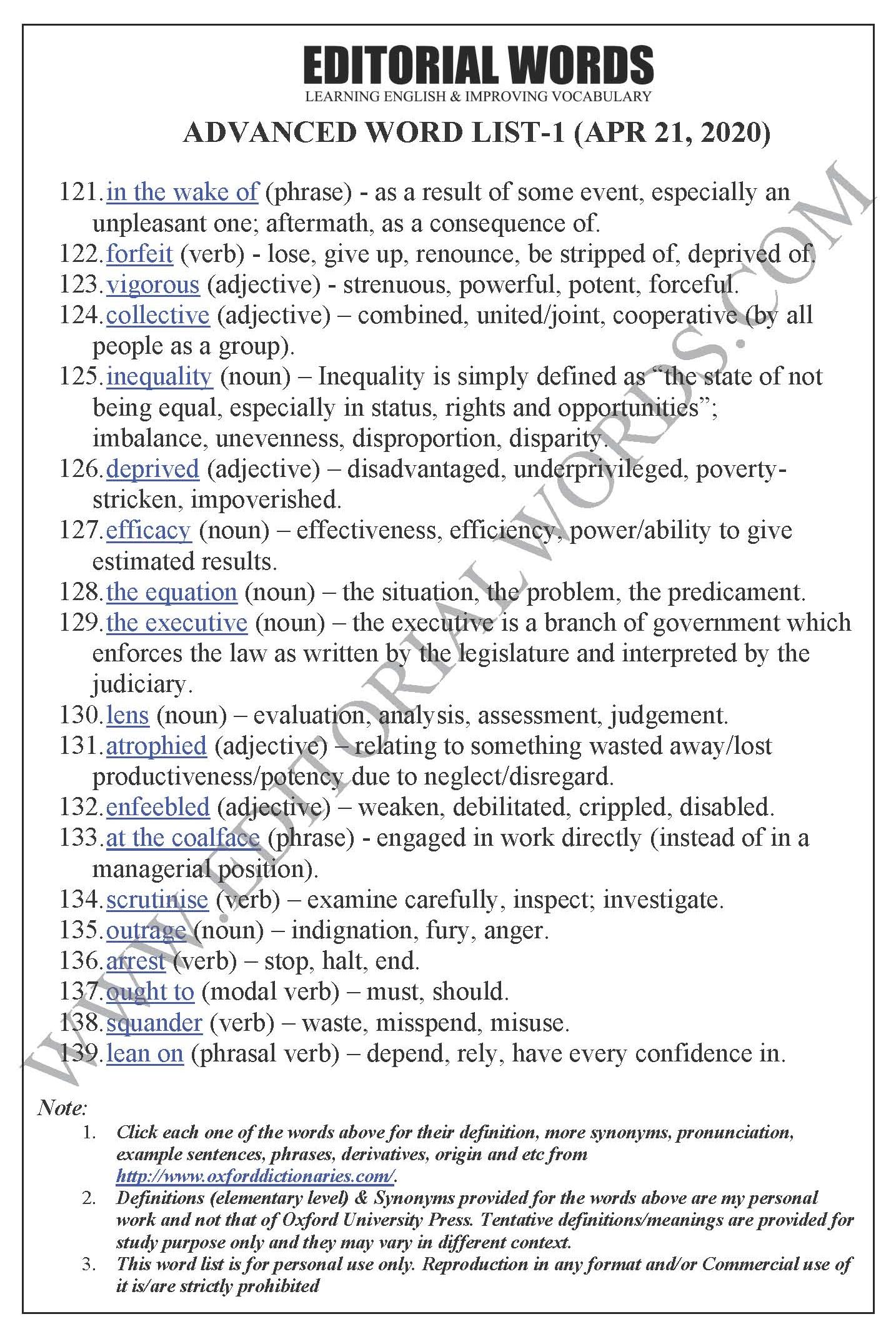 "Phrasal Verbs" We Learnt Last Week
"Idioms & Phrases" We Learnt Last Week
"Important Definitions" We Learnt Last Week
Recent Word Lists For The Hindu Editorial Articles
Recent Advanced Word Lists For The Hindu Lead Articles