The Hindu Editorial (Heavy weight) – Jul 06, 2021
The crisis in the Congress in Punjab has been smouldering beneath the surface for a long time, before the current eruption. For further reading, visit "The Hindu". Below is today's word list-1 for The Hindu Editorial (Heavy weight) – Jul 06, 2021.
To read this article, click here.
This preview is provided here with permission.
Courtesy: The Hindu
The Hindu Editorial (Heavy weight) – Jul 06, 2021:
heavy weight (noun) – very important person, leader.

born out of

(phrase) – has happened due to (something).
smoulder (verb) – fume, burn, simmer, exist unseen.
beneath (preposition) – under.
eruption (noun) – outbreak, outburst, explosion, flare-up, sudden appearance, upsurge.
invincible (adjective) – unconquerable, unbeatable, indomitable.
be poised (verb) – position oneself

, ready oneself, prepare oneself, get into position.

consecutive (adjective) – successive, continuous.
due (adjective) – expected

, anticipated.

relentless (adjective) – continuing, constant, continuous, non-stop, unabating, unceasing.
cast a long shadow on (phrase) – spoil/diminish (something).
prospects (noun) – possibilities

, chances, opportunities, expectations.

hopper (noun) – a person who hops (jumps).
drive (verb) – force, compel, impel, prompt.
by default (phrase) – due to a lack of opposition.
champion (noun) – advocate

, proponent, promoter, supporter.

resentment (noun) – bitterness

, indignation, irritation, enmity, hatred/hate.

unilateralism (noun) – a method of taking decisions individually without considering others.
sole (adjective) – only, exclusive.
architect (noun) – originator, creator, founder.
march (noun) – progress

, progression, passage.

streak (noun) – element

, vein, trace (of a particular quality in someone's character).

arrogance (noun) – hubris, egotism, self-importance, sense of superiority.
probably (adverb) – most likely, in all likelihood

, all things considered, perhaps.

head and shoulders above (phrase) – outclass

, surpass, be superior to, be better than, outshine, overshadow.

open up (phrasal verb) – become/make available; become/make present.
of one's own (phrase) – belongs or relates to oneself only.
indispensability (noun) – absolute necessity, vital importance, essential requirement, requisite.
rung (noun) – level

, rank, position, grade, echelon (in a hierarchical structure).

humiliation (noun) – embarrassment, disgrace, dishonour, shame, indignity, ignominy, loss of pride, loss of face.
at the hand of (phrase) – caused by, done by.
bureaucrat (noun) – a powerful officer, public/government servant, office-bearer, civil servant, functionary, mandarin.
overshadow (verb) – outdo, outclass, outstrip, outshine; dominate.
giant (adjective) – a very large, mighty, mammoth.
come under (phrasal verb) – be subjected to.
scrutiny (noun) – examination, inspection, investigation.
unchecked (adjective) – uncontrolled

, unconstrained, unrestricted.

trafficking (noun) – the activity of buying and selling goods/animal/people illegally; (illegal/illicit) trading, dealing.
expose (verb) – 

reveal, show, display, exhibit, unveil.

a chink in someone's armour (phrase) – a weak point/fault in someone's character, arguments & etc., 

which can be used to attack/criticize

them easily.
face (with) (verb) – beset

, worry, distress, trouble, bother, confront, burden.

Pandora (proper noun) – In Greek mythology, the first woman.
Pandora's box (noun) – (figuratively) a source of something (problems, troubles, difficulties, etc.).
deliberation (noun) – long consideration, thought/thinking, careful discussion, contemplation.
detractor (noun) – critic, fault-finder, censurer.
open season (noun) – a period/length of time in which all restrictions are abandoned (temporarily).
unmistakable (adjective) – noticeable, evident, distinctive, well defined.
oblique (adjective) – indirect

, implicit, implied.

endorsement (noun) – support, backing, approval.
entrant (noun) – new member, newcomer.
cushy (adjective) – easy

, undemanding, untaxing/untiring, comfortable.

stopover (noun) – stop, stay, visit.
contemplate (verb) – think about, consider, regard.
detour (noun) – indirect/circuitous route.
lifelong (adjective) – persisting, steady, long-term.
careerist (noun) – a person who is concerned with advancement of their career at the expense of other values.
reputation (noun) –

name, character, standing, stature, status, position.

short temper (noun) – impatience, moodiness, ill nature/temper.
hardly (adverb) – barely, almost not.
critic (noun) – censurer, attacker, fault-finder.
yearn (verb) – long

, wish, crave, desire, want.

churn (noun) – disorder/disorganization, confusion, disruption/chaos.
due to (phrase) – because of, owing to, on account of, as a result of.
agitation (noun) – (public) protest.
ongoing (adjective) – current, existing, continuing.
realignment (noun) – reorganisation, reordering, reshuffle.
alliance (noun) – association, union, partnership.
leave alone (phrase) – abandon, desert.
agitating (adjective) – protesting, distressed, troubled, 

frustrated, fed up

.
at cross purposes (phrase) – conflicting, contrasting, dissimilar.
steer (verb) – guide

, conduct, direct/lead.

distraction (noun) – disturbance, intrusion, interference, obstruction, hindrance.
Note:
 1. Click each one of the words above for their definition, more synonyms, pronunciation, example sentences, phrases, derivatives, origin and etc from http://www.oxforddictionaries.com/.
2. Definitions (elementary level) & Synonyms provided for the words above are my personal work and not that of Oxford University Press. Tentative definitions/meanings are provided for study purpose only and they may vary in a different context. 
3. This word list is for personal use only. Reproduction in any format and/or Commercial use of it is/are strictly prohibited.
The Hindu Editorial (Heavy weight) – Jul 06, 2021: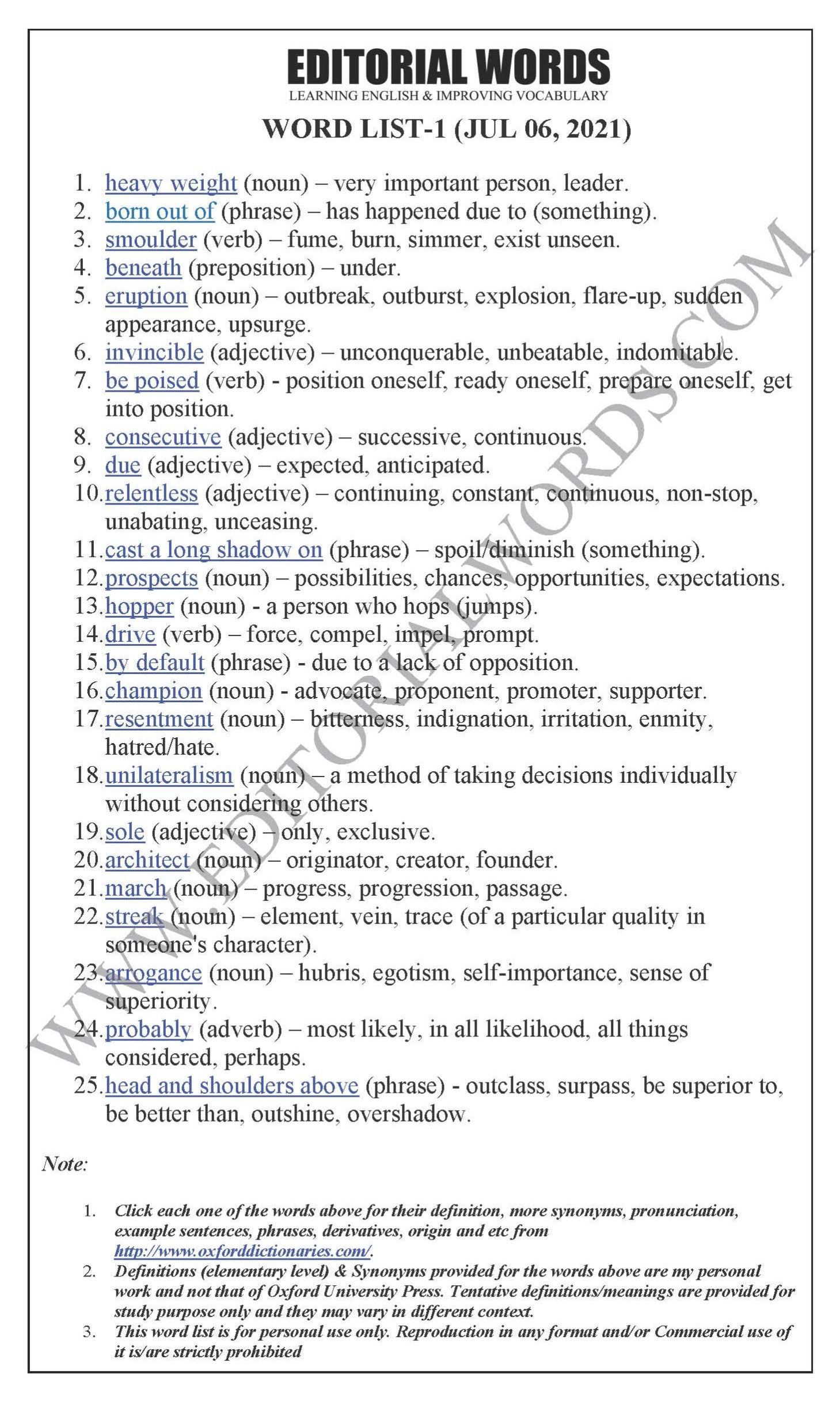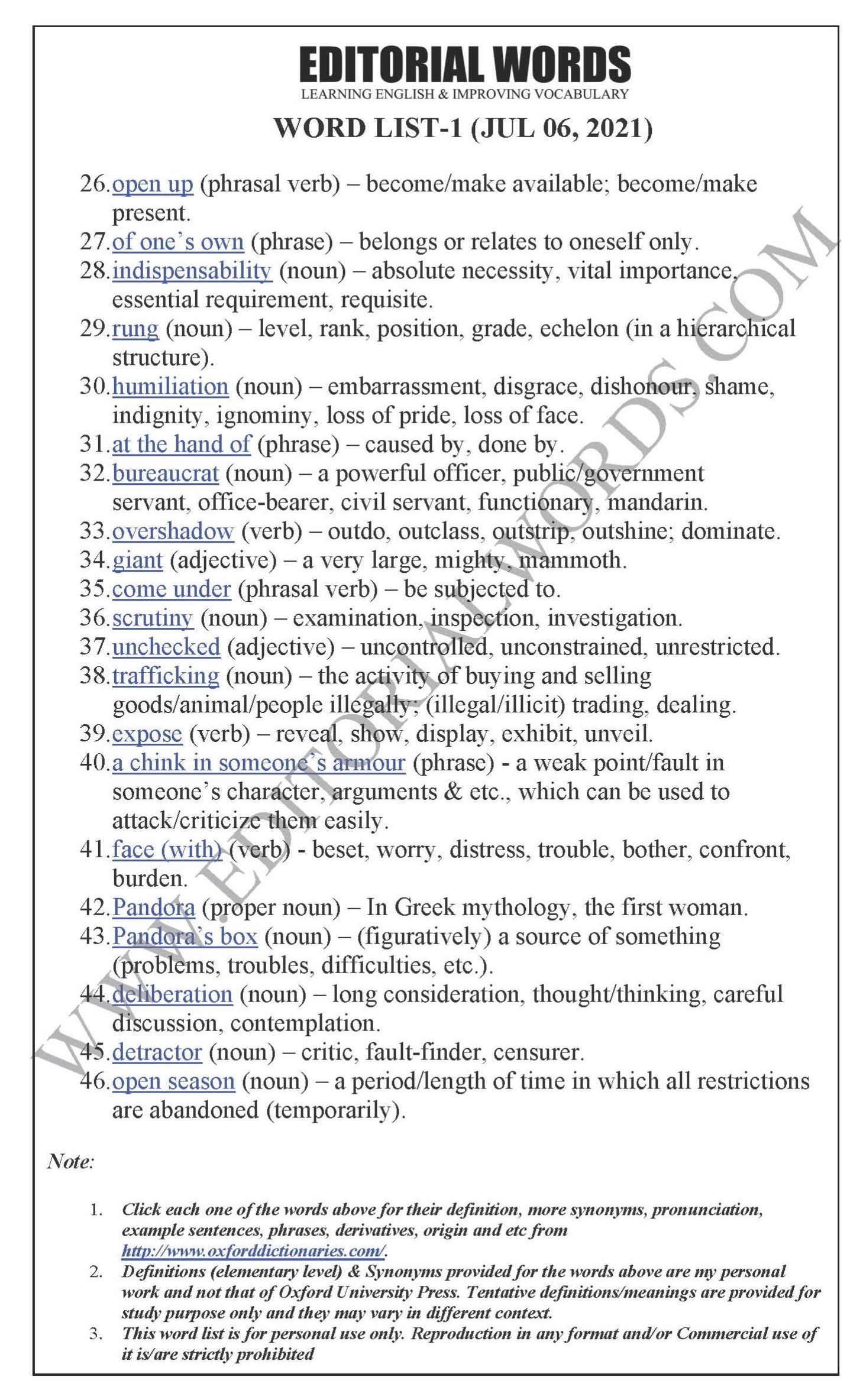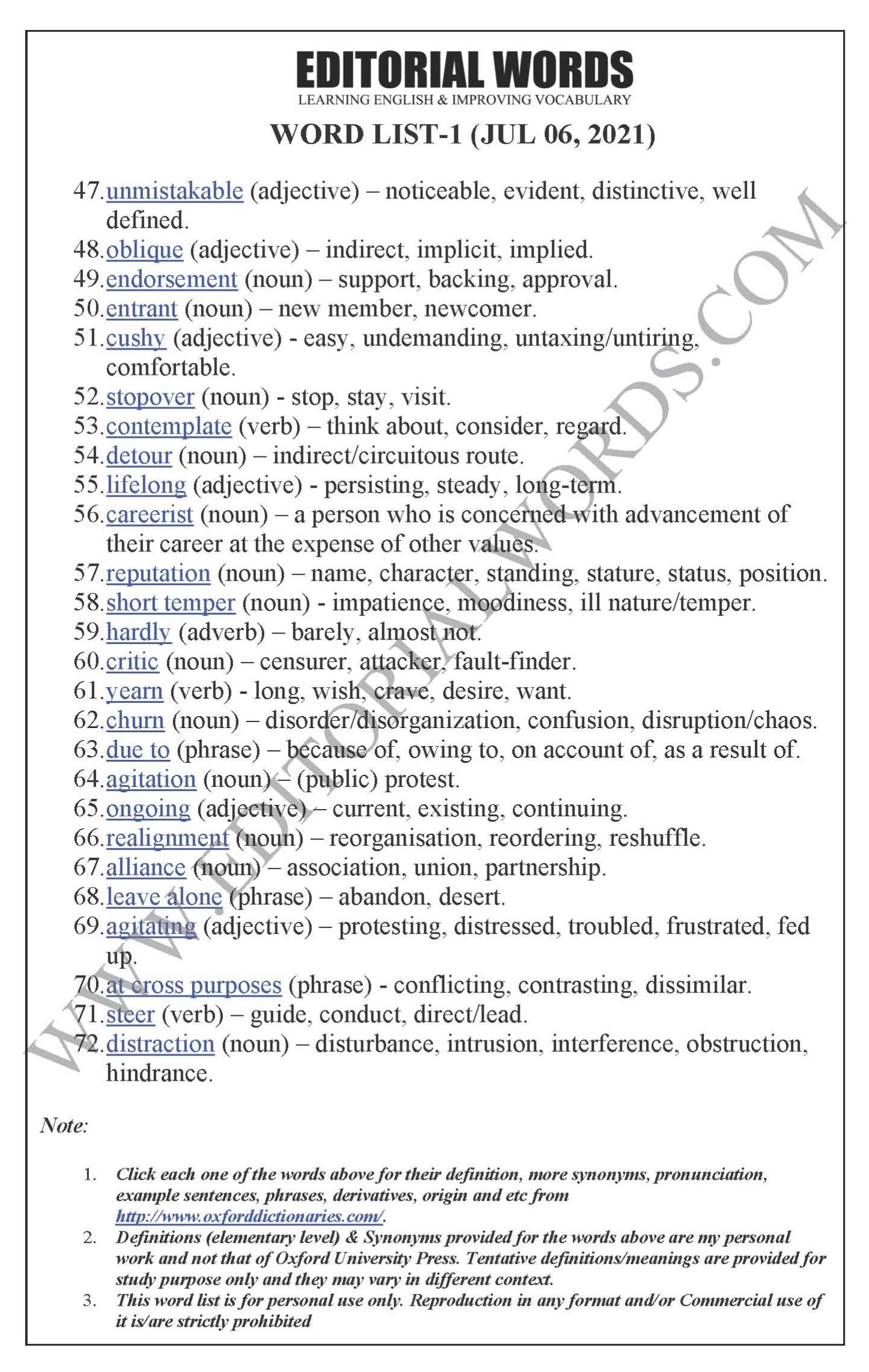 "Phrasal Verbs" We Learnt Last Week
"Idioms & Phrases" We Learnt Last Week
"Important Definitions" We Learnt Last Week
Recent Word Lists For The Hindu Editorial Articles
Recent Advanced Word Lists For The Hindu Lead Articles