The Hindu Editorial (Fresh start) – May 20, 2021
By choosing 17 fresh faces in the new Council of Ministers of 21, the Left Democratic Front (LDF) in Kerala is trying to signal a continuing willingness to evolve as a responsive political organisation. For further reading, visit "The Hindu". Below is today's word list-2 for The Hindu Editorial (Fresh start) – May 20, 2021.
To read this article, click here.
This preview is provided here with permission.
Courtesy: The Hindu
The Hindu Editorial (Fresh start) – May 20, 2021:
guard against (verb) – beware of

, keep watch for, be alert to.

in the hands of

 (phrase) – under the control of; in the possession of.
signal (verb) – indicate

, show, express.

willingness (noun) – readiness

, preparedness, inclination, desire.

evolve (verb) – alter

, change, transform gradually; 

develop, progress, advance gradually.
barring (preposition) – except for

, with the exception of, excepting,

 excluding, omitting, leaving out.
nominee (noun) – candidate.
composition (noun) – formation, arrangement, organization.
broadly (adverb) – generally, predominantly, mainly.
reflect (verb) – indicate

, show, reveal, exhibit.

social diversity

(noun) – a feature of a society which is determined by caste, class, religion, occupational pattern in a given territory.
diversity (noun) – variety, variation, difference.
base (noun) – basis

, bedrock, foundation, rationale.

cost (noun) – loss, suffering, drawback, disadvantage.
reinforce (verb) – strengthen

, fortify, bolster up, underpin

.
judicious (adjective) – wise, sensible, prudent, thoughtful, well-advised.
electorate (noun) – all the people who entitled to vote in an election.
resolve (noun) – determination, willpower, firmness, resolution, courage.
the spotlight (noun) – the public attention, the focus of public/media; the public eye.
set off (phrasal verb) – cause, bring about, begin/start, prompt, trigger.
quarter (noun) – source, place, direction; person.
pandemic (noun) – the worldwide spread of a new disease; The illness spreads around the world and typically affects a large number of people across a wide area.
change horses in midstream (phrase) – change your plan in the middle of something; change your mind in the middle of something.
mettle (noun) – ability, spirit, strength of character, resolve, determination, boldness.
parliamentarian (noun) – a member of a parliament.
merit (verb) – deserve

, justify, be worth, be qualified for, have a right to.

in one's own right (phrase) – due to one's own qualifications/efforts instead of a relationship with someone else.
swearing-in (noun) – an official ceremony in which a person is taking the oath and admitted into a new official job.
optics (noun) – 

(typically in a political situation) the way in which an event is recognized by the public.

in the midst of (phrase) – in the middle of.
untamed (adjective) – wild

, savage, uncontrollable.

lockdown (noun) – an emergency protocol implemented by the authorities that prevents people from leaving from a place; An extended state of confinement/encirclement/isolation of a person by the authority.
misery (noun) – pain, grief, anguish, agony, distress, torment, suffering.
loom (verb) – emerge, appear, become visible, take a threatening shape.
shambles (noun) – complete mess, disorder/disarray, disorganization.
bench (verb) – withdraw (from contesting in an election).
criterion (noun) – basis, standard (criteria is the plural form of criterion).
subsequently (adverb) – eventually, afterwards, later on, in due course.
by way of (phrase) – as a form of.
reiterate (verb) – repeat, say again, restate.
primacy (noun) – importance

, priority, preference.

ironically (adverb) – paradoxically, unexpectedly, strangely.
pack (verb) – fill.
command (verb) – have control of, be the boss of, be in authority over, hold sway over; head

, lead, rule, govern, control

.

open discussion

(noun) – a discussion in which anyone present can speak/say anything on a topic without any constraints.
given (preposition) – considering

, taking into account, bearing in mind

.

sway (noun) – dominion, control, command, power, authority.
onus (noun) – responsibility, duty; burden, liability, obligation.
empower (verb) – 

authorize, entitle, permit, allow.

in a spot (phrase) – in a difficult situation.
bureaucracy (noun) – the officials in a government (as a group).
discipline (verb) – train someone to do something in a controlled way.
Note:
 1. Click each one of the words above for their definition, more synonyms, pronunciation, example sentences, phrases, derivatives, origin and etc from http://www.oxforddictionaries.com/.
2. Definitions (elementary level) & Synonyms provided for the words above are my personal work and not that of Oxford University Press. Tentative definitions/meanings are provided for study purpose only and they may vary in a different context. 
3. This word list is for personal use only. Reproduction in any format and/or Commercial use of it is/are strictly prohibited.
The Hindu Editorial (Fresh start) – May 20, 2021: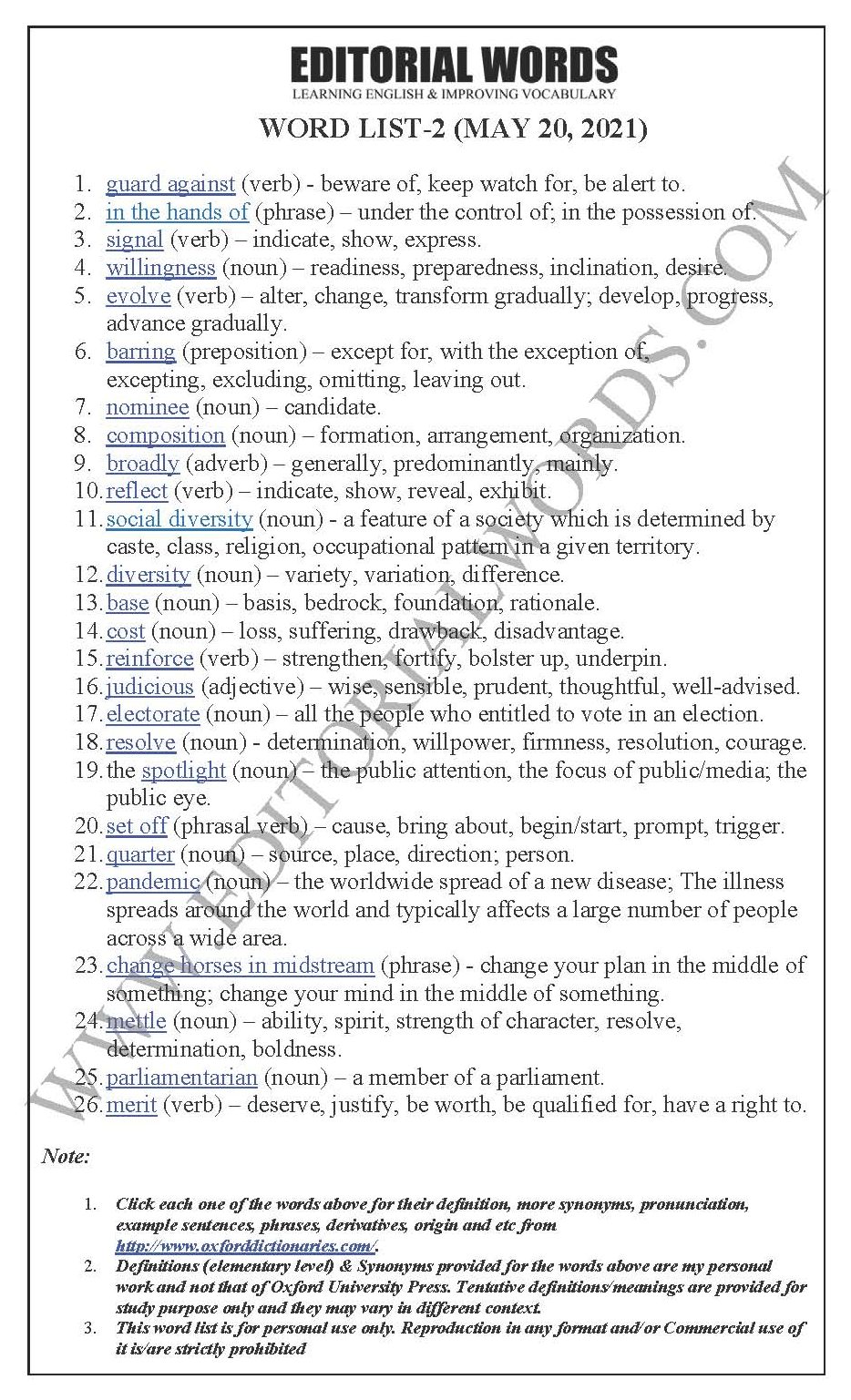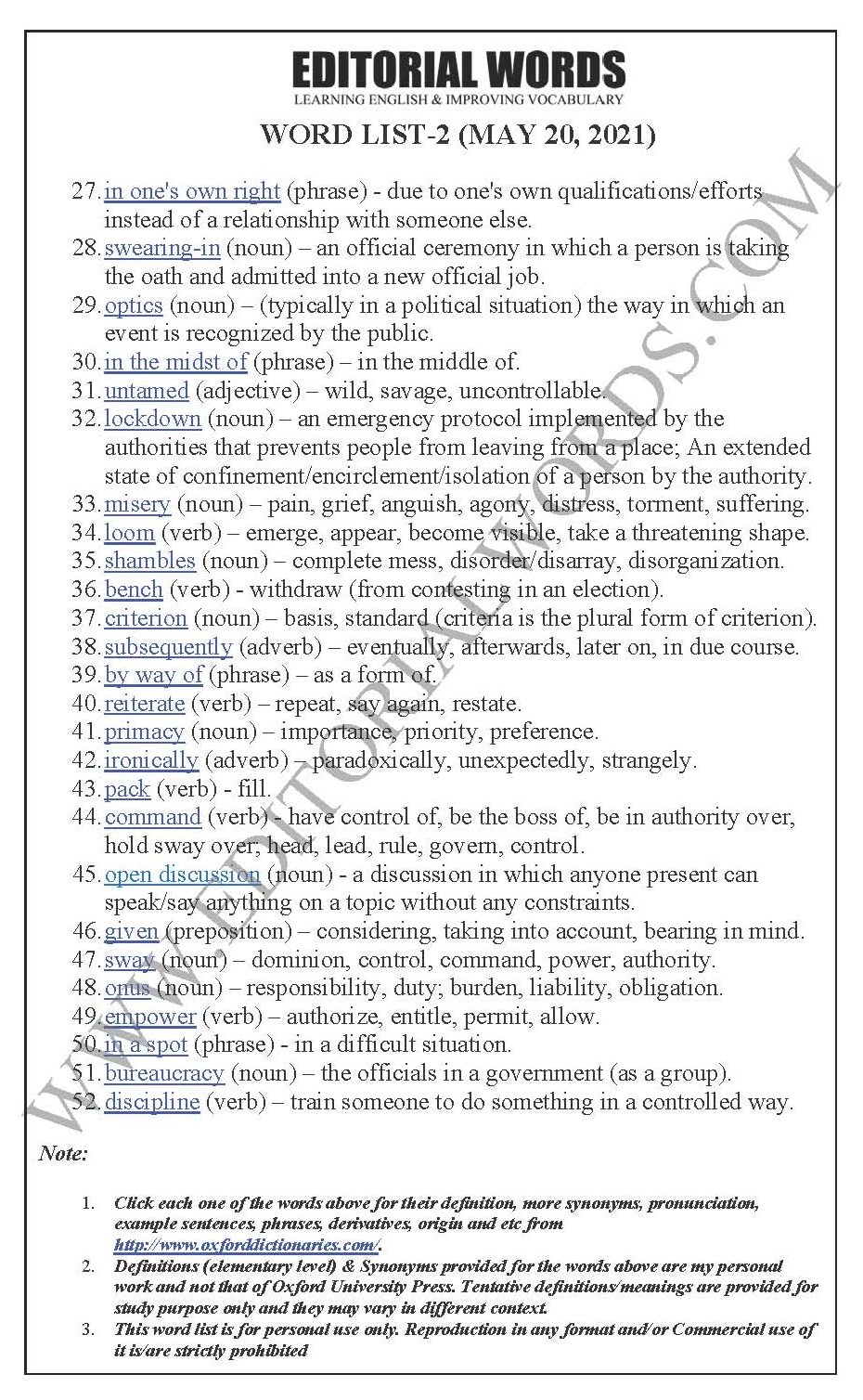 "Phrasal Verbs" We Learnt Last Week 
"Idioms & Phrases" We Learnt Last Week
"Important Definitions" We Learnt Last Week
Recent Word Lists For The Hindu Editorial Articles
Recent Advanced Word Lists For The Hindu Lead Articles