The Hindu Editorial (Bihar blues) – Nov 04, 2020
More than 54% of voters in 94 seats across 17 districts in Bihar voted in the second of the three-phase Assembly election on Tuesday. For further reading, visit "The Hindu". Below is today's word list-2 for The Hindu Editorial (Bihar blues) – Nov 04, 2020.
To read this article, click here.
This preview is provided here with permission.
Courtesy: The Hindu
Today's word list-2 for The Hindu Editorial (Bihar blues) – Nov 04, 2020:
blues (noun) – feelings of depression, feelings of sadness, feelings of unhappiness; misery, sorrow, gloominess.
emotive (adjective) – sensitive, emotional, controversial, inflammatory.
in tandem (phrase) – alongside each other.
articulation (noun) – expression

, revelation, assertion, mention.

livelihood (noun) – means of making a living with the basic necessities (food, water, shelter and clothing); means of support, subsistence, source of income.
witness (verb) – see, observe, view, notice.
alliance (noun) – 

coalition, partnership

.
somersault (noun) – an instance (as in gymnastics) of rotating (jumping/rolling) one's body 360 degree with someone's feet going over one's head; 

gymnastics; flip, turning over 360 degree in the air; (figuratively) an act of changing suddenly from having a particular opinion or policy about something to having a completely different opinion or policy.

incumbent (adjective) – current, present, existing (holder/occupant of an office).
considerably (adverb) – greatly

, very much, a lot.

dissipate (verb) – disappear, vanish, disperse.
unrelenting (adjective) – resolute, determined, tireless, unflagging; continuous, unceasing, persistent.
strike a chord (phrase) – cause someone to remember something related to him/her in a certain way; arouse an emotional feeling to something (either positively or negatively).
on the mat (phrase) – in a 

position

 to 

face

 a 

reprimand/criticism/rebuke; 

become involved in argument/fight about something fiercely.
outmigration (noun) – permanent migration in order to settle elsewhere.
resonate (verb) – resound, reverberate; evoke some feelings/emotions.
swelling (adjective) – growing, increasing, rising.
on the ground (phrase) – in a situation/place where things are happening really/practically.
bank on (phrasal verb) – rely on, depend on; anticipate

, expect.

formidable (adjective) – impressive

, strong, powerful, mighty.

coalition (noun) – alliance

, union, partnership.

"double engine" government theory

 (phrase) – the concept behind "double engine" governments is that the  same party (in this case BJP) should be in power in the state and at the Centre.
pandemic (noun) – the worldwide spread of a new disease; The illness spreads around the world and typically affects a large number of people across a wide area.
underplay (verb) – downplay, understate, de-emphasize.

identity-orientation

(noun) – it refer to the relative importance that individuals place on various (social/ personal) attributes or characteristics when constructing their self-definitions.

identity-oriented

 (adjective) – intended on (social/personal) attributes or characteristics.
mobilisation (noun) – the act of bringing people/resources together for a particular cause.
advance (verb) – promote, support, further, forward.
vocabulary (noun) – the special terms/expressions of a particular field; terminology, language, parlance.
laudatory (adjective) – full of praise, complimentary/admiring, congratulatory.
fraught with (adjective) – full of

, filled with, loaded with

.
take shape (phrase) – become clear/definite, become tangible, fall into place.
on the back foot (phrase) – in a defensive position, off balance, at a disadvantage.
polarise (verb) – separate into two opposing groups.
foment (verb) – instigate, incite, provoke/stir up.
cite (verb) – refer to, adduce, make reference to, invoke.
differentiator (noun) – a distinguishing feature.
tone (noun) – expression, mode of expression; mood, attitude.
considerable (adjective) – substantial, appreciable, significant, much

.

cost (noun) – sacrifice, loss (needed to achieve/get something).

social harmony

(noun) – when people live side by side in peace and mutual respect. (harmony (noun) – unity, solidarity, cooperation, agreement/concord).
norm (noun) – standard, convention, criterion, regulation.
Note:
 1. Click each one of the words above for their definition, more synonyms, pronunciation, example sentences, phrases, derivatives, origin and etc from http://www.oxforddictionaries.com/.
2. Definitions (elementary level) & Synonyms provided for the words above are my personal work and not that of Oxford University Press. Tentative definitions/meanings are provided for study purpose only and they may vary in different context. 
3. This word list is for personal use only. Reproduction in any format and/or Commercial use of it is/are strictly prohibited.
Today's word list-2 The Hindu Editorial (Bihar blues) – Nov 04, 2020
: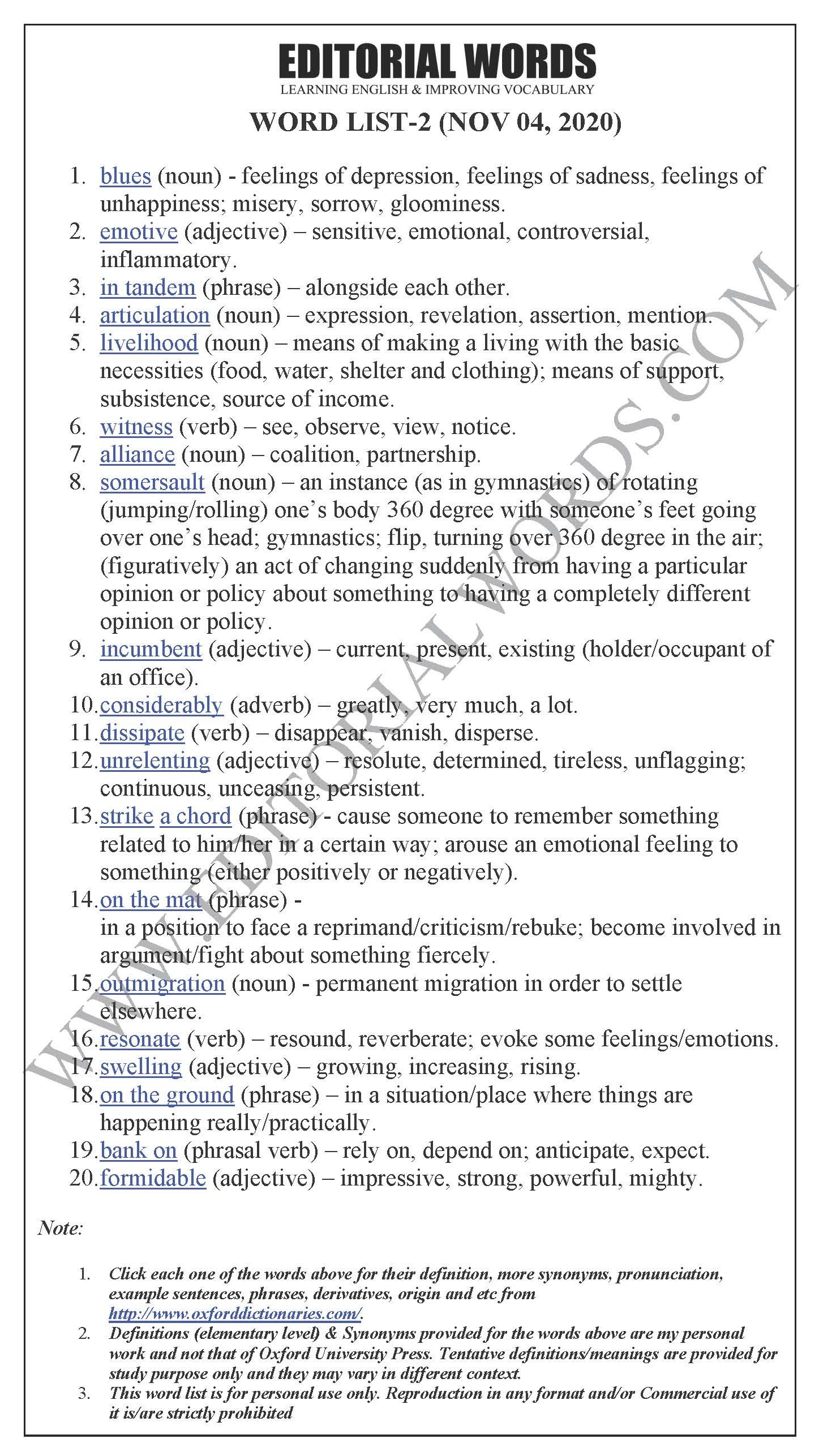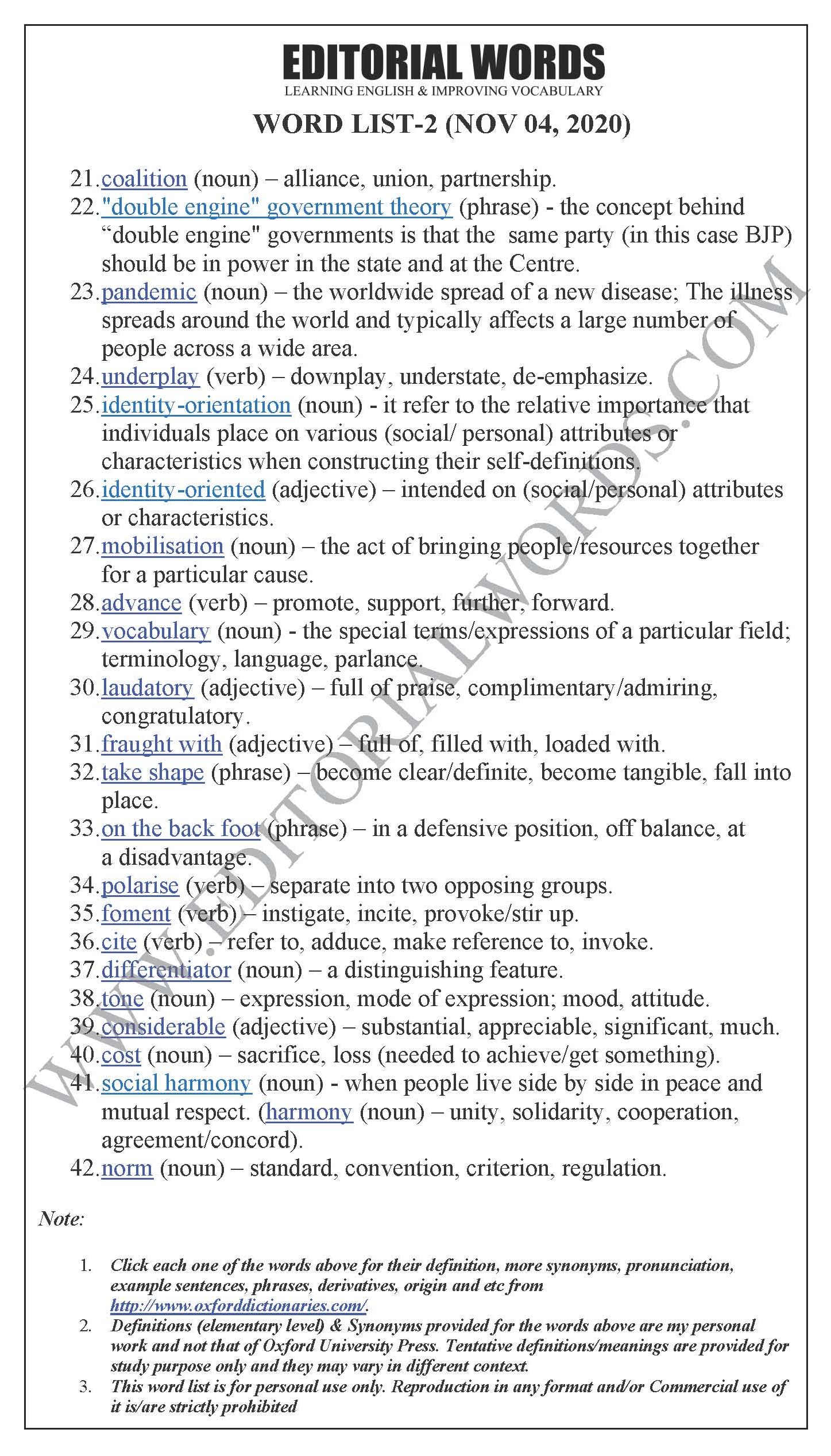 "Phrasal Verbs" We Learnt Last Week 
"Idioms & Phrases" We Learnt Last Week
"Important Definitions" We Learnt Last Week
Recent Word Lists For The Hindu Editorial Articles
Recent Advanced Word Lists For The Hindu Lead Articles