The Hindu Lead Article (A fragile French republic) – Nov 04, 2020
The recent series of terrorist attacks have come at the worst possible time for France. For months, the country has been struggling with a surge in COVID-19 cases. For further reading, visit "The Hindu". Below is today's advanced word list-1 for The Hindu Lead Article (A fragile French republic) – Nov 04,2020.
To read this article, click here.
This preview is provided here with permission.  
Courtesy: The Hindu
Today's Advanced Word List 1 for The Hindu Lead Article (A fragile French republic) – Nov 04, 2020:
fragile (adjective) – easily broken/destroyed, weak, risky, unreliable, insecure.
Laïcité (noun) – French word literally meaning "secularity" (the state of being unrelated/neutral with respect to religion); secularism.
cohesion (noun) – connection, linkage, bond.
surge (noun) – sudden increase, rise, growth.
lockdown (noun) – an emergency protocol implemented by the authorities that prevents people from leaving from a place; An extended state of confinement/encirclement/isolation of a person by the authority.
onerous (adjective) – burdensome, difficult, tough, troublesome, stressful.
paperwork (noun) – official procedure/documentation

, rule, regulation.

greet (verb) – receive

, acknowledge, respond to, react to.

weary (adjective) – tired of, fed up with, sick of/jaded by.
shrug (noun) – an act of shrugging one's shoulders as a sign of disregarding

/dismissing something.

spectre (noun) – prospect or possibility that something unpleasant might happen; threat, menace, danger/peril.
grimly (adverb) – seriously, gloomily, depressingly, threateningly.
accustom to (verb) – adjust, accommodate, adopt.
carousel (noun) – a format that tells a story through multiple images and videos in a single unit.
cordon off (phrasal verb) – to close off an area to prevent people/vehicle from entering it; seal off, fence off, shut off, isolate.
uncertainty (noun) – unpredictability, unreliability, riskiness/precariousness.
perpetrator (noun) – someone who does immoral, harmful and illegal activity; offender, criminal, wrongdoer/evil-doer, culprit.
accompany (verb) – occur with

, be present with, coincide with, coexist with.

sombre (adjective) – serious, stern, grim.
trickle (verb) – come gradually, occur slowly.
pronouncement (noun) – announcement

, proclamation, formal statement.

cynical (adjective) – sceptical, doubtful, distrustful.
take aback (phrasal verb) – surprise

, shock, stun, astonish.

assassination (noun) – murder, killing.
ambush (verb) – attack by surprise

.

behead (verb) – cut off the head of, decapitate, to remove the head of.
genteel (adjective) – correct, well mannered

, respectable, civilized.

suburb (noun) – outlying district, residential area, outskirts.
assailant (noun) – attacker.
long-standing (adjective) – long-established, deep-rooted, fixed, persistent, continuing (for a long time)

.

prophet (noun) – a person who is believed to be sent by God to Earth (to say the things that God wants to tell people).
satirical (adjective) – mocking, ironic, sarcastic/ridiculing.
devastating (adjective) – destructive

, ruinous, disastrous.

stand trial (phrase) – to be brought to a court of law (in order to hear, investigate & pass judgement on).
design (verb) – originate, create, plan, formulate, think up.
reignite (verb) – evoke, call up, rekindle, stir.
in the wake of (phrase) – as a result of some event, especially an unpleasant one; in the aftermath of, as a consequence of, on account of, because of, owing to.
symbolism (noun) – representation of ideas/qualities.
spectacular (adjective) – striking

,

noticeable.
by all accounts (phrase) – supposedly, apparently, seemingly.
exceptional (adjective) – outstanding

, extraordinary, remarkable. 

secularism (noun) – the belief that religion should not have a strong influence in education or other public parts of society.
reflection (noun) –

 indication, display, demonstration.

forefront (noun) – fore, front, front line.
at/in/to the forefront of (phrase) – be in a leading/front/important position in an important activity; spearhead, van guard, front line, leading position.
diverse (adjective) – including people from a range of different social and ethnic backgrounds.

heavy hand

 (noun) – oppression, suppression, repression.
dogma (noun) – principle, rule, tenet.
spearhead (verb) – lead, head (an movement/protest); be in the forefront of.
civilise (verb) – enlighten

, edify, educate, instruct.

decade (noun) – a period of ten years.
myriad (adjective) – a great number, countless, various.
ethnic (adjective) – relating to a population subgroup (cultural

, national, traditional/folk) with a common national or cultural tradition.

notoriously (adverb) – infamously, ill-reputedly, ill-famedly, noticeably (with a bad quality).
embody (verb) – include, incorporate, encompass, integrate.
encompass (verb) – include, subsume, incorporate.
evacuation (noun) – departure

, withdrawal, retreat; abandonment.

liberty (noun) – freedom

, independence.

equality (noun) – fairness

, justness, impartiality.

fraternity (noun) – brotherhood

, solidarity, union, mutual support, friendship

.
progressive (adjective) – forward-looking, forward-thinking, dynamic, advanced.
contemporary (adjective) – modern, present-day.
lofty (adjective) – noble, high, elevated, worthy.
underpin (verb) – support, strengthen, fortify, buttress.
indeed (adverb) – in fact, actually.
reflect (verb) – indicate

, show, reveal, exhibit.

decolonisation (noun) – the process of releasing a state/country (from a colony) to have autonomy and outright independence from the colonial rulers.
unprecedented (adjective) – not done or experienced before.
subsequently (adverb) – afterwards, later on, eventually.
hijab (noun) – a head covering, generally a veil or a scarf, worn in public by some Muslim women.
spur (verb) – motivate, 

stimulate, encourage, urge, galvanize

.
far-right (adjective) – relating to the extreme right wing of a political party or group; extremely conservative, rightist.
stigmatisation (noun) – accusation, cursing, denouncement, discredit/dishonor, disparagement.
immigrant (noun) – non-native, foreigner, migrant.
harden (verb) – toughen, make tough; stiffen.
bulwark (noun) – protector, guard, supporter.
obscurantism (noun) – deliberate obscurity (non-recognition) of something true/facts.
rhetorical (adjective) – relating to the art of speaking or writing effectively & persuasively or impressively (but, often lacking substance); oratorical, overblown, extravagant, bombastic.
take off (phrasal verb) – remove

, discard, divest oneself of, shrug off

.
compromise (noun) – agreement

, deal, understanding, settlement.

acknowledge (verb) – admit

, accept, realize.

double down (phrasal verb) – to be more firm & resolute on something (decided) even if that might be a risky choice; to double or increase a risk involved in doing something.
denounce (verb) – condemn

, criticize, censure.

in the light of (phrase) – considering, taking into account, keeping in mind.
express (adjective) – sole

, specific, particular.

for a start (phrase) – in the first place.
elicit (verb) – obtain, bring forth, bring out, 

extract, evoke.

hostile (adjective) – opposed

, inimical, averse, unsympathetic

.

invocation (noun) – citation

, mention, calling on.

erode (verb) – undermine

, weaken, destroy, spoil

 gradually.
exclusionary (adjective) – alienating, isolating, separating out/sorting out, segregating.
paradoxically (adverb) – contradictorily

, inconsistently, incongruously.

manipulate (verb) – misrepresent, falsify, distort.
pursue (verb) – engage in

, conduct, follow

.
amorphous (adjective) – unstructured, indeterminate, formless/vague.
strip of (verb) – dispossess, deprive, deny/remove, take away from (rank, power, etc.).
render (verb) – make, cause to be, cause to become.
instrument (noun) – mechanism, apparatus, system, means (to achieve/attain something).
Note:  
 1. Click each one of the words above for their definition, more synonyms, pronunciation, example sentences, phrases, derivatives, origin and etc from http://www.oxforddictionaries.com/.
2. Definitions (elementary level) & Synonyms provided for the words above are my personal work and not that of Oxford University Press. Tentative definitions/meanings are provided for study purpose only and they may vary in different context. 
3. This word list is for personal use only. Reproduction in any format and/or Commercial use of it is/are strictly prohibited.
Today's Advanc
ed Word List 1 for The Hindu Lead Article (A fragile French republic) – Nov 04, 2020
: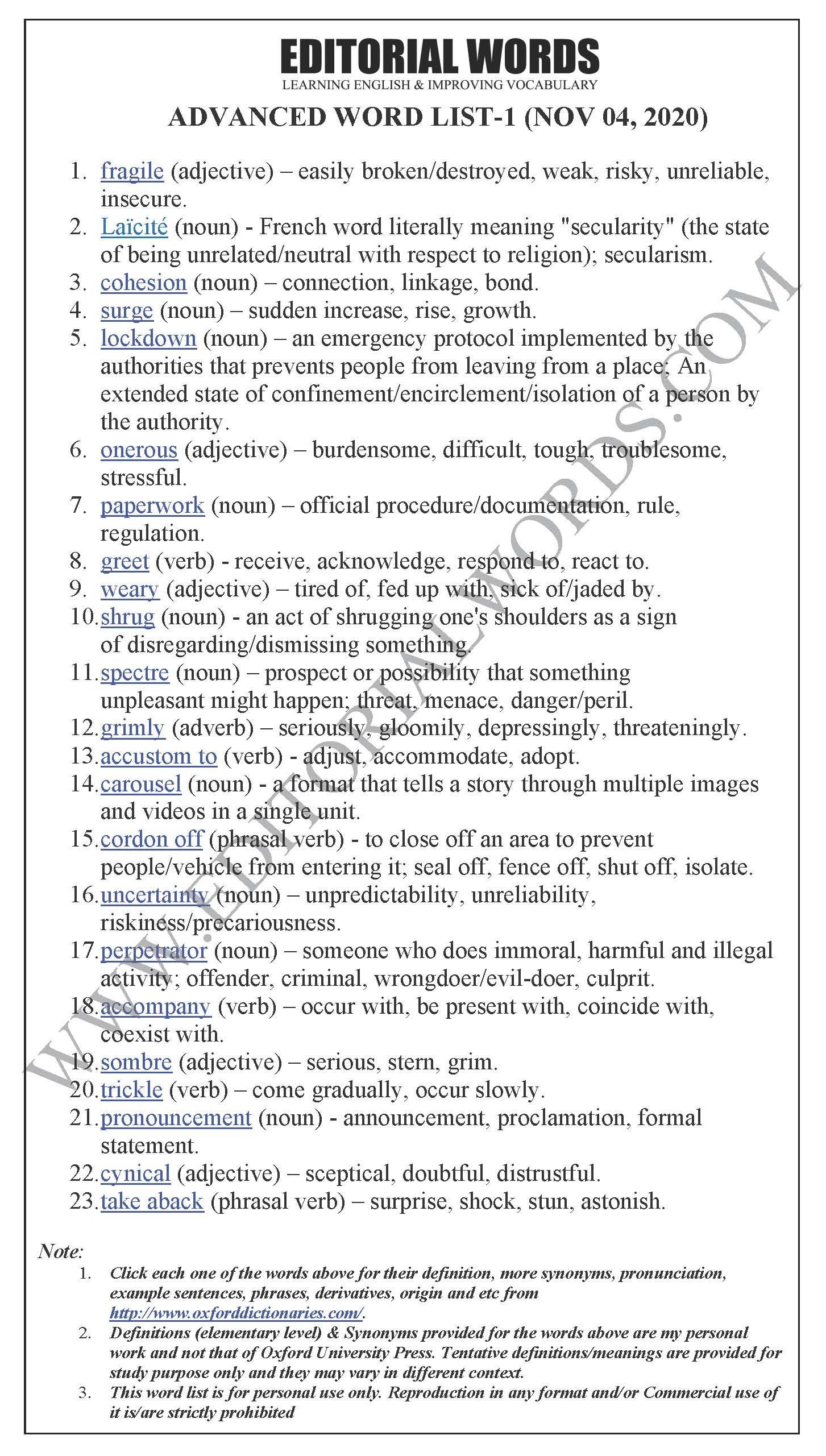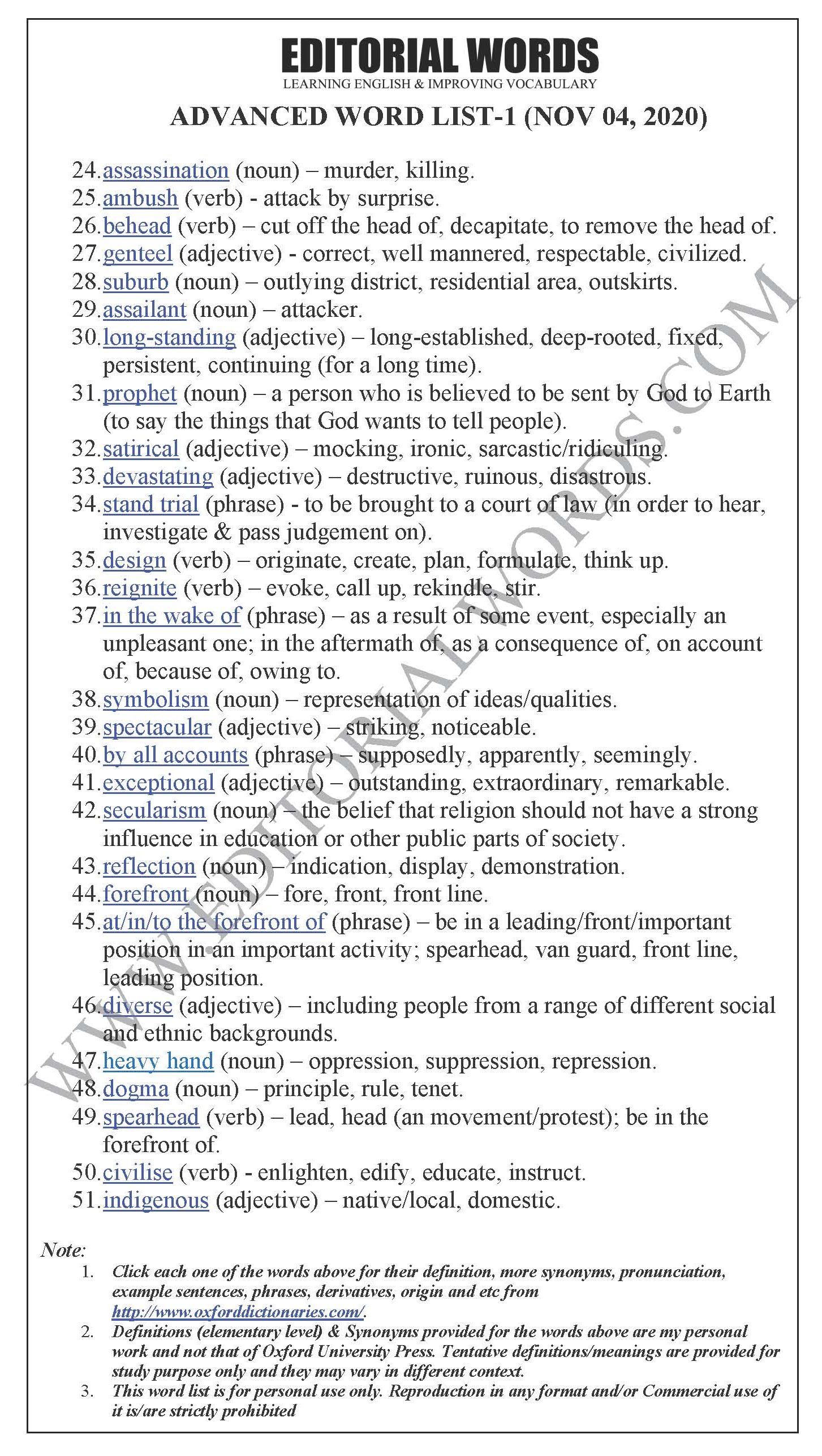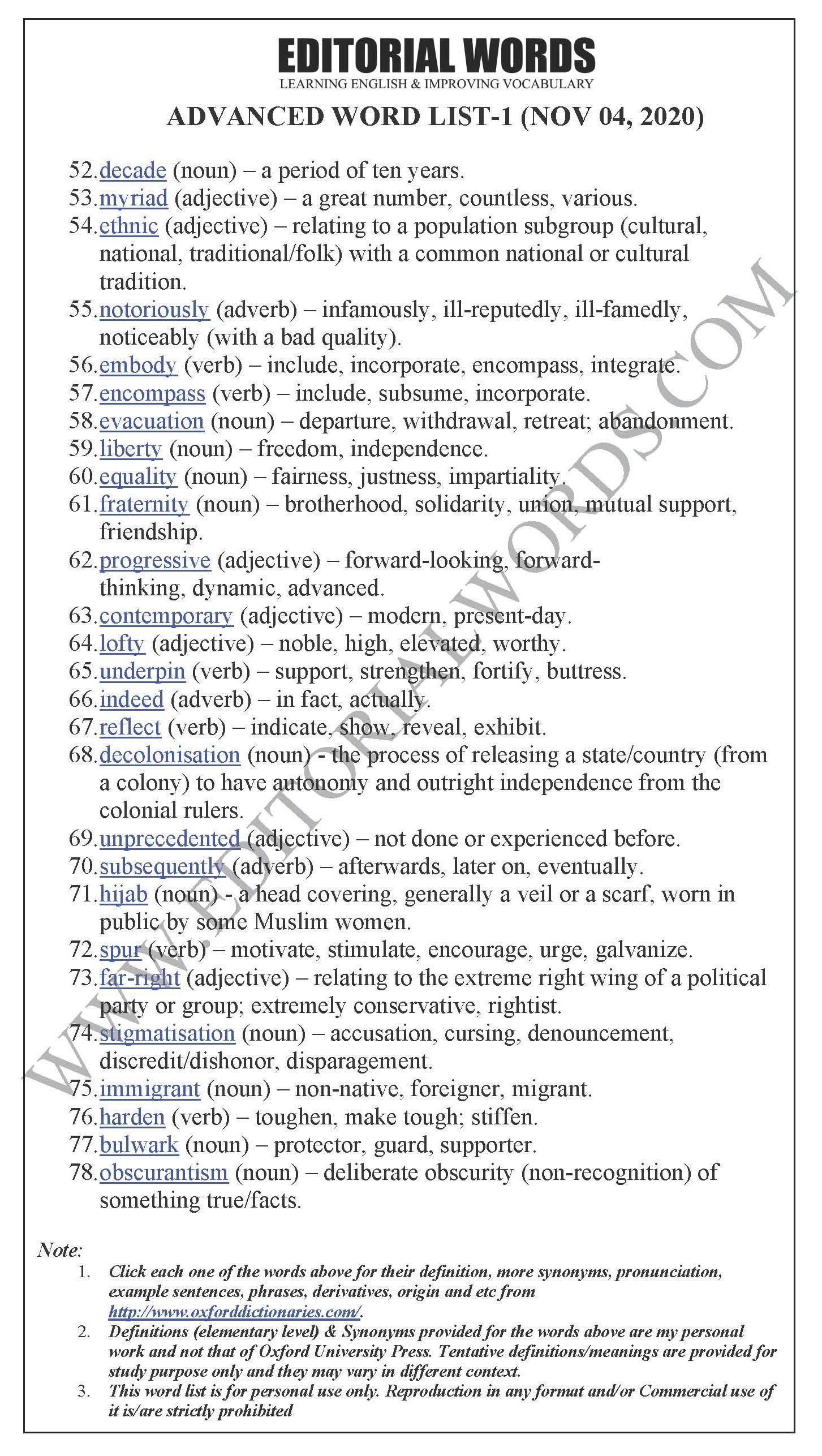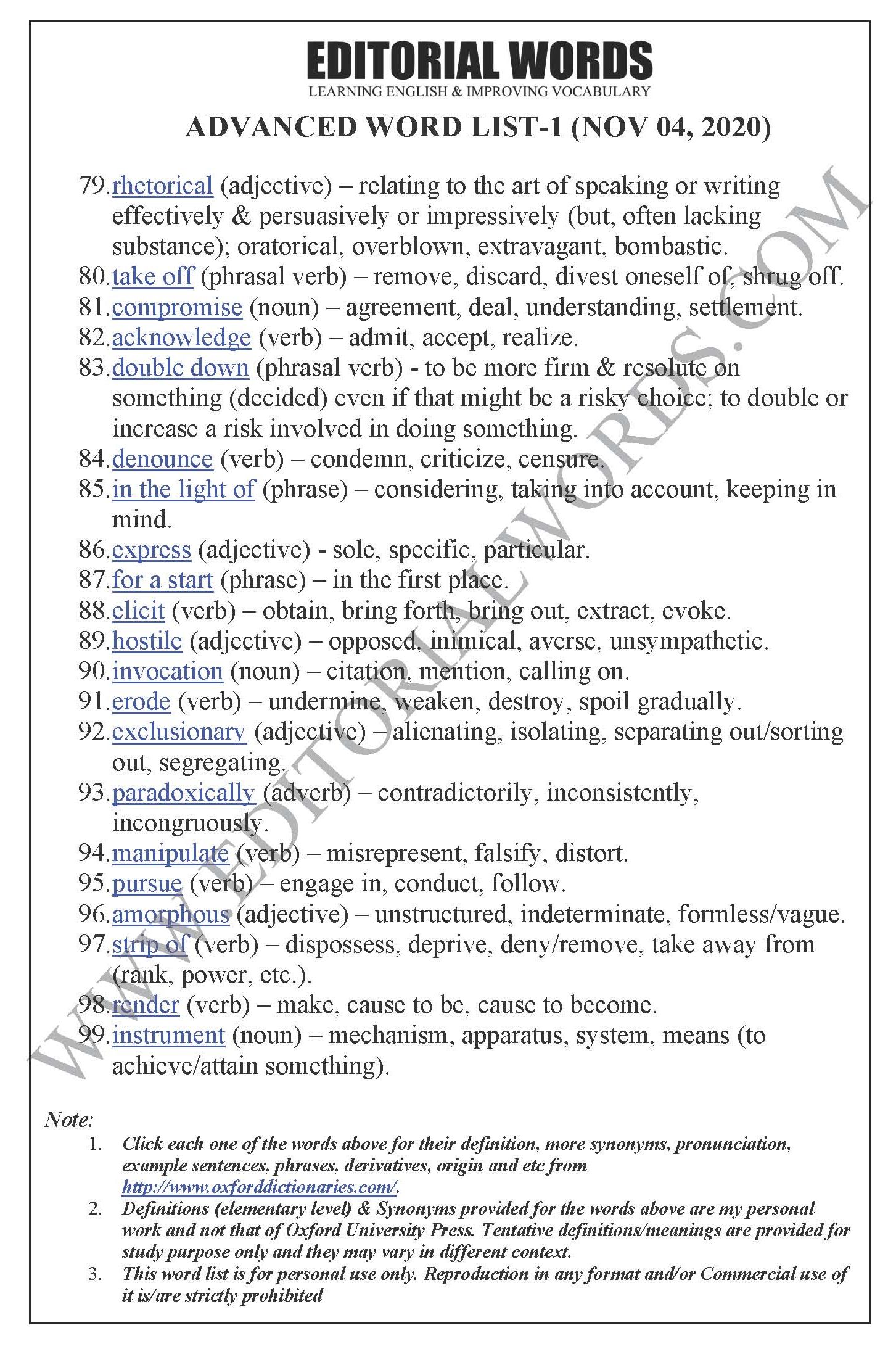 "Phrasal Verbs" We Learnt Last Week
"Idioms & Phrases" We Learnt Last Week
"Important Definitions" We Learnt Last Week
Recent Word Lists For The Hindu Editorial Articles
Recent Advanced Word Lists For The Hindu Lead Articles