The Hindu Editorial (Back to the House) – Nov 12, 2020
Bye-elections do not necessarily generate the same buzz as Assembly elections in India. For further reading, visit "The Hindu". Below is today's word list-2 for The Hindu Editorial (Back to the House) – Nov 12, 2020.
To read this article, click here.
This preview is provided here with permission.
Courtesy: The Hindu
Today's word list-2 for The Hindu Editorial (Back to the House) – Nov 12, 2020:
loyalist (noun) – supporter, admirer, champion.
buzz (noun) – thrill, feeling of euphoria, feeling of excitement.
hold (verb) – conduct, organize, arrange.
incumbent (noun) – the current/present holder/occupant of an office.
move on (phrasal verb) – leave & start doing something new.
decease (verb) – pass away

, die, expire.

incapacitate (verb) – disable, deactivate, become/make unfit.
lack of (noun) – absence, 

deficiency, scarcity, dearth.

enthusiasm (noun) – eagerness, excitement, zeal.
render (verb) – make, cause to be, cause to become.
favour (verb) – support, back, endorse, advocate, espouse.
upset the apple cart (phrase) – foil

, spoil prevent, thwart (a plan).

more so (phrase) – to a greater degree; to a greater extent.
patronage (noun) – support, backing; favouritism, nepotism, partisanship.
influence (verb) – affect, have an effect on, persuade.
rational (adjective) – sensible, logical, reasonable, coherent.
wrinkle (noun) – difficulty, snag, obstacle/drawback.
keenly (adverb) – intensely, enthusiastically.
defection (noun) – desertion, absconding, decamping.
orchestrate (verb) – organize, coordinate, mastermind, engineer, choreograph.
clout (noun) – influence, power, control.
belt (noun) – region

, area, territory, neighbourhood, locality.

besides (preposition/linking adverb) – in addition to

, as well, also.

added (adjective) – increased, enhanced.
solace (noun) – comfort, consolation, support.
wrest (verb) – take back (something with effort).
absolute majority (noun) – majority with more than half (of the seats/members in the legislative assembly).
secure (verb) – protect, fortify, strengthen.
overturn (verb) – invalidate, nullify, cancel; overthrow, topple, bring down.
advertisement (noun) – publicity.
defector (noun) – betrayer, turncoat, traitor.
via (preposition) – through; by means of,  due to, thanks to.
charitable (adjective) – broad-minded, liberal, easy-going, understanding, considerate.
churning (noun) – disturbance, disquiet, unrest, restlessness, agitation.
instability (noun) – uncertainty, unpredictability, lack of stability.
in turn (phrase) – in succession, successively.
ideological (adjective) – relating to a system of ideas.
principled (adjective) – moral, honest, proper, righteous.
campaign (noun) – an organized effort which seeks to influence the decision making progress within a specific group.
make use of (phrase) – utilize

, avail oneself of, employ. 

equation (noun) – association, connection; the situation.
differentiation (noun) – distinction, polarity, separation.
representation (noun) – the act of speaking/serving on someone's behalf.
in the aftermath of (phrase) – as a consequence of, as a result of.

Anti-defection law

 (noun) – The 10th Schedule to the Constitution, popularly referred to as the 'Anti-Defection Law,' was inserted by the 52nd Amendment in 1985. The grounds of disqualification are specified in Paragraph 2 of the 10th Schedule. A member would incur a disqualification under paragraph 2 (1) (a) when he "voluntarily gives up his membership of a party" and under 2 (1) (b) when he/she votes (or abstains from voting) contrary to the directive issued by the party.
mandate (noun) – approval, acceptance, ratification.
do away with (phrasal verb) – abolish, discard, remove.
legislative (adjective) – governmental, parliamentary, law-making, policy-making.
immoral (adjective) – unethical, unprincipled, wrongful/dishonest, bad.
Note:
 1. Click each one of the words above for their definition, more synonyms, pronunciation, example sentences, phrases, derivatives, origin and etc from http://www.oxforddictionaries.com/.
2. Definitions (elementary level) & Synonyms provided for the words above are my personal work and not that of Oxford University Press. Tentative definitions/meanings are provided for study purpose only and they may vary in different context. 
3. This word list is for personal use only. Reproduction in any format and/or Commercial use of it is/are strictly prohibited.
Today's word list-2 The Hindu Editorial (Back to the House) – Nov 12, 2020
: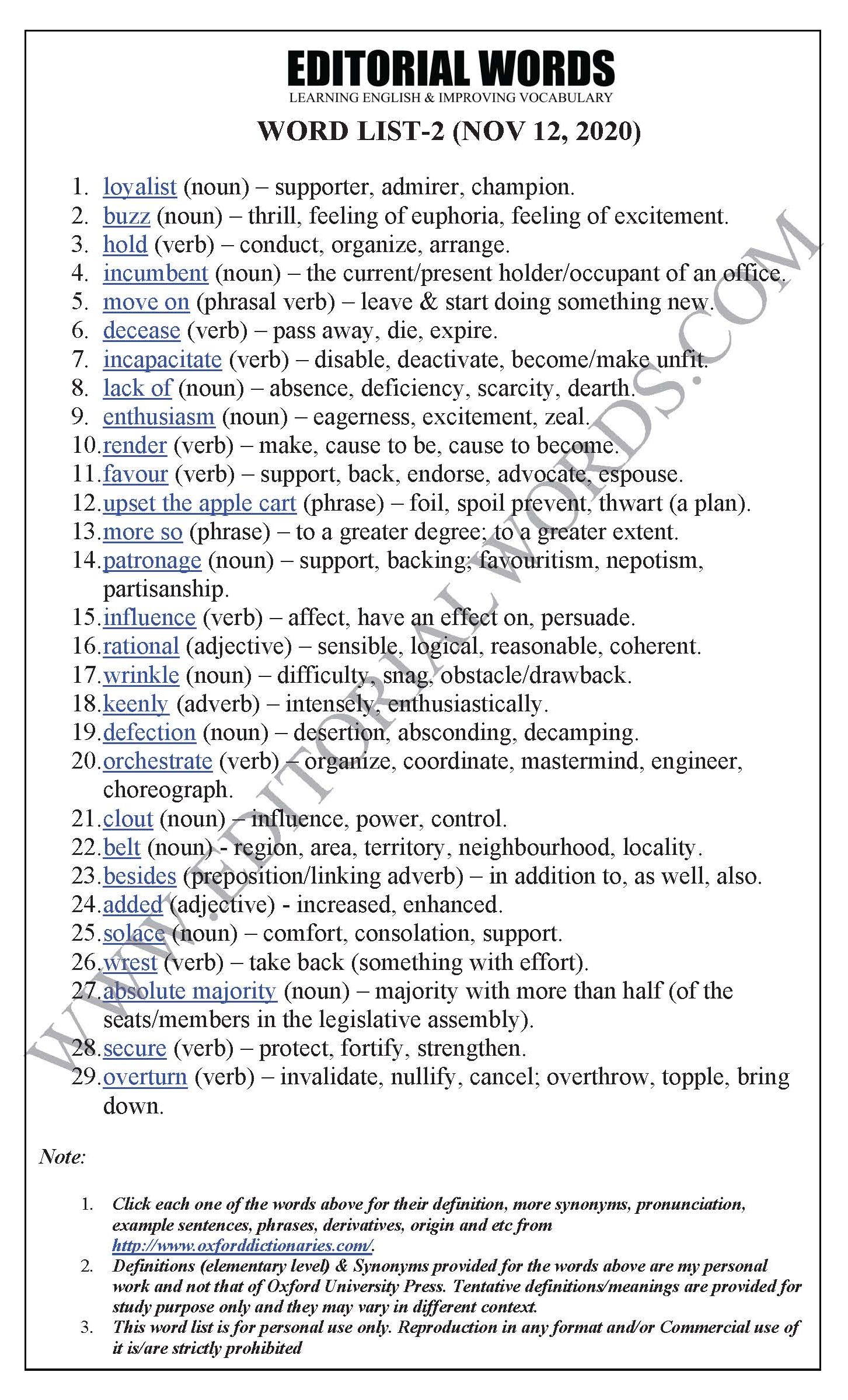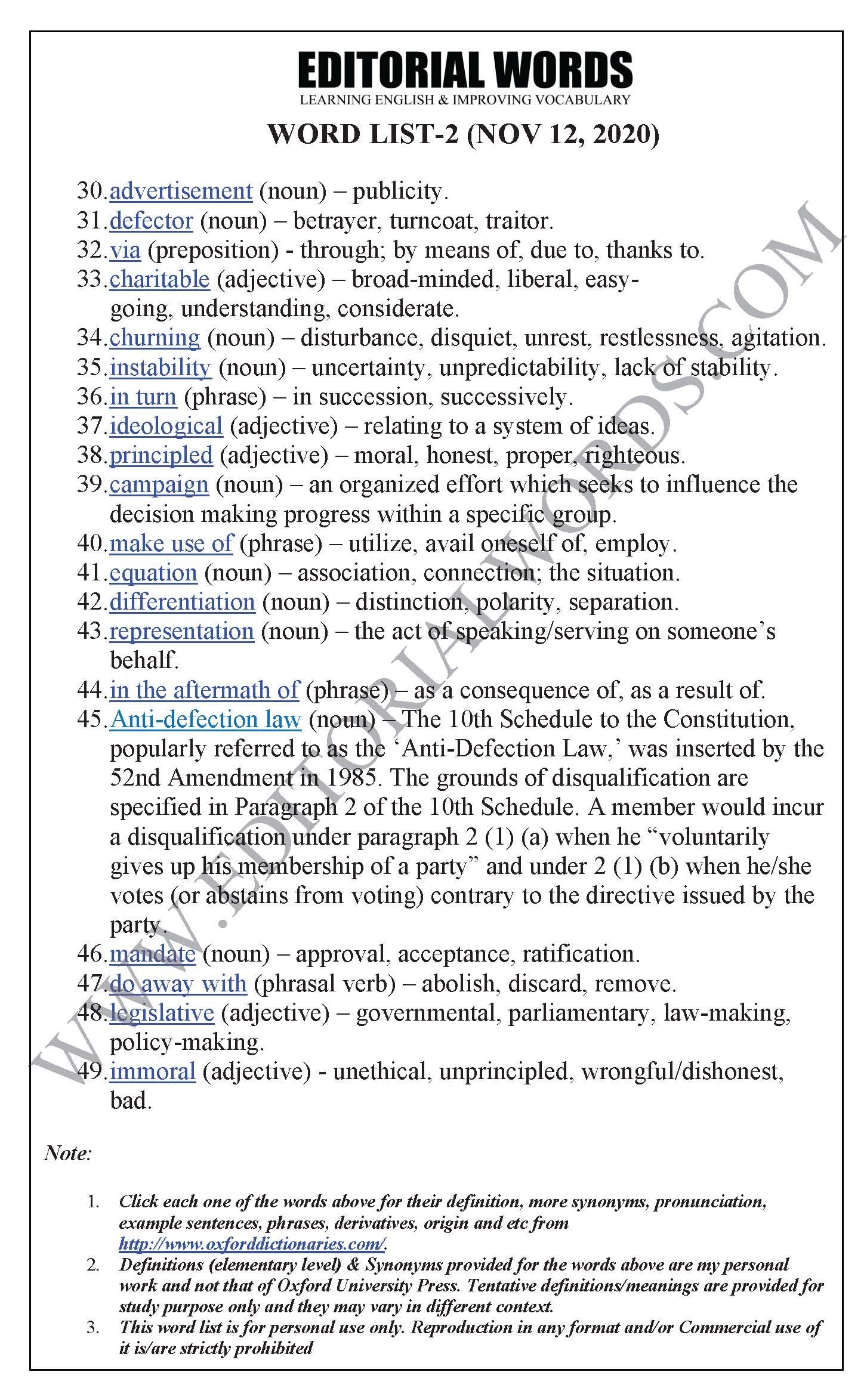 "Phrasal Verbs" We Learnt Last Week 
"Idioms & Phrases" We Learnt Last Week
"Important Definitions" We Learnt Last Week
Recent Word Lists For The Hindu Editorial Articles
Recent Advanced Word Lists For The Hindu Lead Articles