The Hindu Editorial (Weak at the top) – Nov 12, 2020
The NDA has won a slender victory in Bihar, with the BJP displacing the JD(U) as the bigger party within it. For further reading, visit "The Hindu". Below is today's word list-1 for The Hindu Editorial (Weak at the top) – Nov 12, 2020.
To read this article, click here.
This preview is provided here with permission.
Courtesy: The Hindu
Today's word list-1 for The Hindu Editorial (Weak at the top) – Nov 12, 2020:
at the mercy of (phrase) – in the power of, under the control of, unprotected against, defenceless against.
slender (adjective) – modest, slight, scant/little.
alliance (noun) – 

relationship, coalition, union.

sustain (verb) – continue

, carry on, maintain; support, keep up; confirm, validate, uphold.

aggregate (verb) – combine, unite, merge, consolidate.
disparate (adjective) – contrasting, different, dissimilar.
enhanced (adjective) – increased, improved, reinforced, augmented.

social justice

(noun) – it is the view that everyone deserves equal economic, political and social rights and opportunities.
diminished (adjective) – reduce

d, decreased, lessened.

as he is

 (phrase) – what has just been said is also true about someone or something else.

no mean feat/achievement

(phrase) – no small feat/achievement; to be a great achievement.
unmistakable (adjective) – noticeable, evident, distinctive, well defined.
campaign (noun) – an organized effort which seeks to influence the decision making progress within a specific group.
electorate (noun) – all the people who entitled to vote in an election.
battered (adjective) – damaged

, impaired, spoiled

.

image (noun) – public perception

/impression, persona, public face, character/reputation.

queer (verb) – spoil

, damage, impair.

queer someone's pitch/ queer the pitch

 (phrase) – to spoil something that someone had planned to do (in order to achieve something).
considerably (adverb) – greatly

, very much, a lot.

outcome (noun) – result, consequence.
engineering (noun) – masterminding

, orchestration, planning, organization.

flip (verb) – overturn

, turn over, invert, upend.

equation (noun) – the situation; association, connection.
dynamic (noun) – basic/fundamental cause or force which triggers change within a system.
consequently (adverb) – as a result

, therefore, for this reason, because of that.

opportune (adjective) – favourable

, promising, advantageous.

keep on a tight leash

 (phrase) – to 

maintain

 

strict

/

tight

 

control

 over on someone by 

not

 

allowing

 

very

 

much

 

independence or autonomy.

therein (adverb) – in that place/respect.
lie (verb) – be present, exist.
paradox (noun) – contradiction, mystery, conundrum, anomaly.
trailblazer (noun) – pioneer, innovator, pathfinder, groundbreaker.
dictate (verb) – determine

, decide, control/dominate.

terms (noun) – conditions, (agreed) requirements.
subordinate (adjective) – lower, lesser, inferior, minor, supporting.
ally (noun) – 

partner, supporter, confederate.

reconcile (verb) – resolve differences between; settle, sort out, rectify.
likely (adjective) – probable

, distinctly possible, to be expected

.
devoid of (adjective) – lacking, without, free of/free from.
boast (verb) – congratulate oneself, pride oneself on, brag; exaggerate

, overstate.

deprive of (verb) – dispossess

, strip of, deny, prevent from having.

surge (noun) – sudden increase/rise.
indicative (adjective) – expressive, suggestive, characteristic, representative.
resonance (noun) – reverberation, power or ability (to evoke memories/emotions).
demonstration (noun) – proof, validation, confirmation; indication, revelation, display.

come (out) on top

 (phrase) – become more successful to win an election, competition, etc.
undermine (verb) – reduce, diminish, impede, hinder.
pursue (verb) – engage in

, conduct, follow

.
witness (verb) – see, observe, view, notice.
put up (phrasal verb) – display, show (a specific amount of effort in a fight).
spirited (adjective) – energetic, dynamic, vigorous, fiery.
in terms of (phrase) – with regard to, regarding/concerning, in connection with.
consolation (noun) – comforting

, solace, reassurance.

unsure (adjective) – uncertain, dubious

, insecure, doubtful.

authoritative (adjective) – self-assured

, assured, self-confident, confident; reliable, dependable.

spectrum (noun) – wide range, gamut, ambit.
noteworthy (adjective) – worthy of mention, worth taking a look at, interesting, important.
ideology (noun) – beliefs

, ideas, principles.

viable (adjective) – reasonable, achievable, practical.

some distance away

(phrase) – quite far away; quite a long way.
Note:  
 1. Click each one of the words above for their definition, more synonyms, pronunciation, example sentences, phrases, derivatives, origin and etc from http://www.oxforddictionaries.com/.
2. Definitions (elementary level) & Synonyms provided for the words above are my personal work and not that of Oxford University Press. Tentative definitions/meanings are provided for study purpose only and they may vary in different context. 
3. This word list is for personal use only. Reproduction in any format and/or Commercial use of it is/are strictly prohibited.
Today's word list-1 for The Hindu Editorial (Weak at the top) – Nov 12
, 2020
: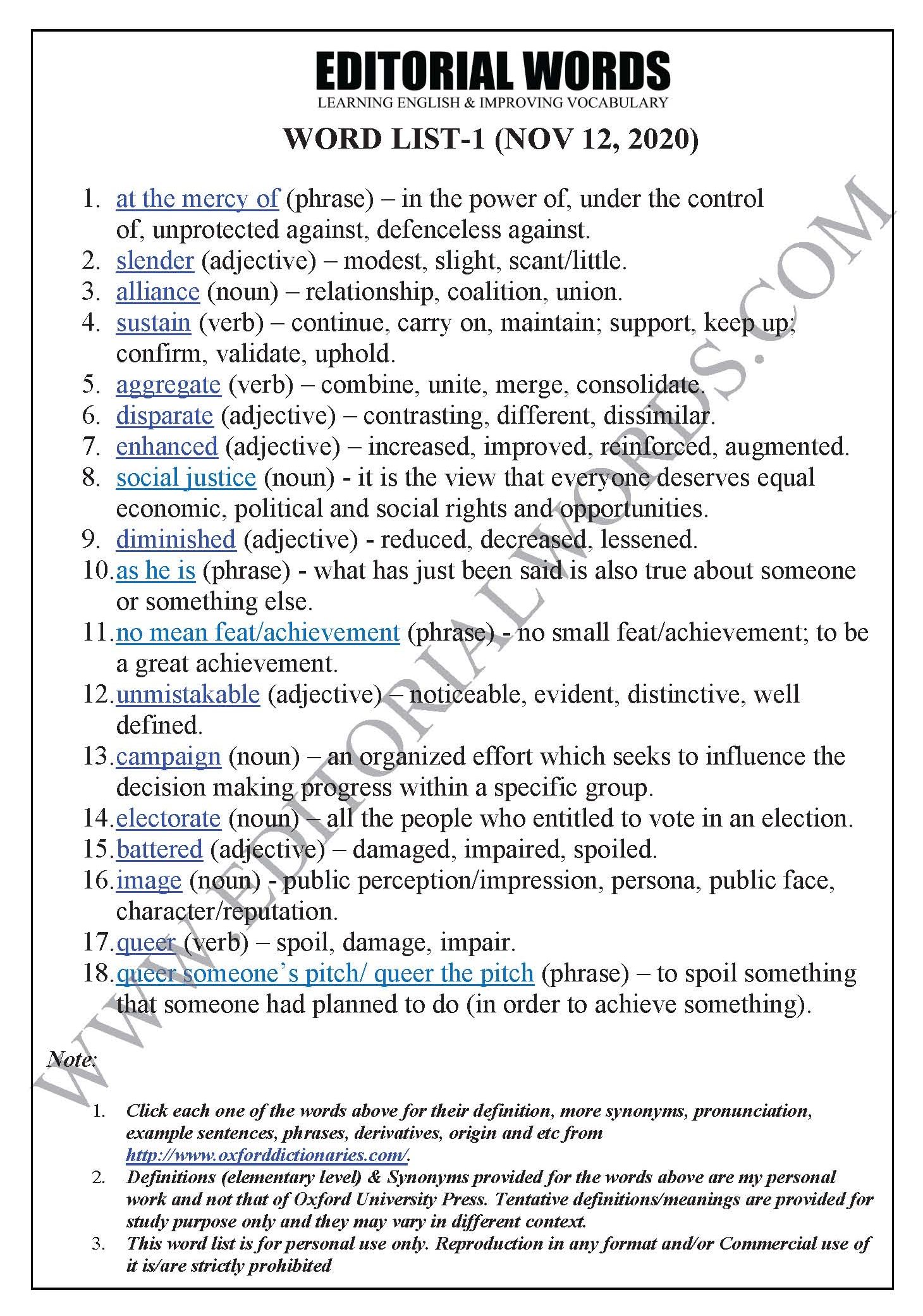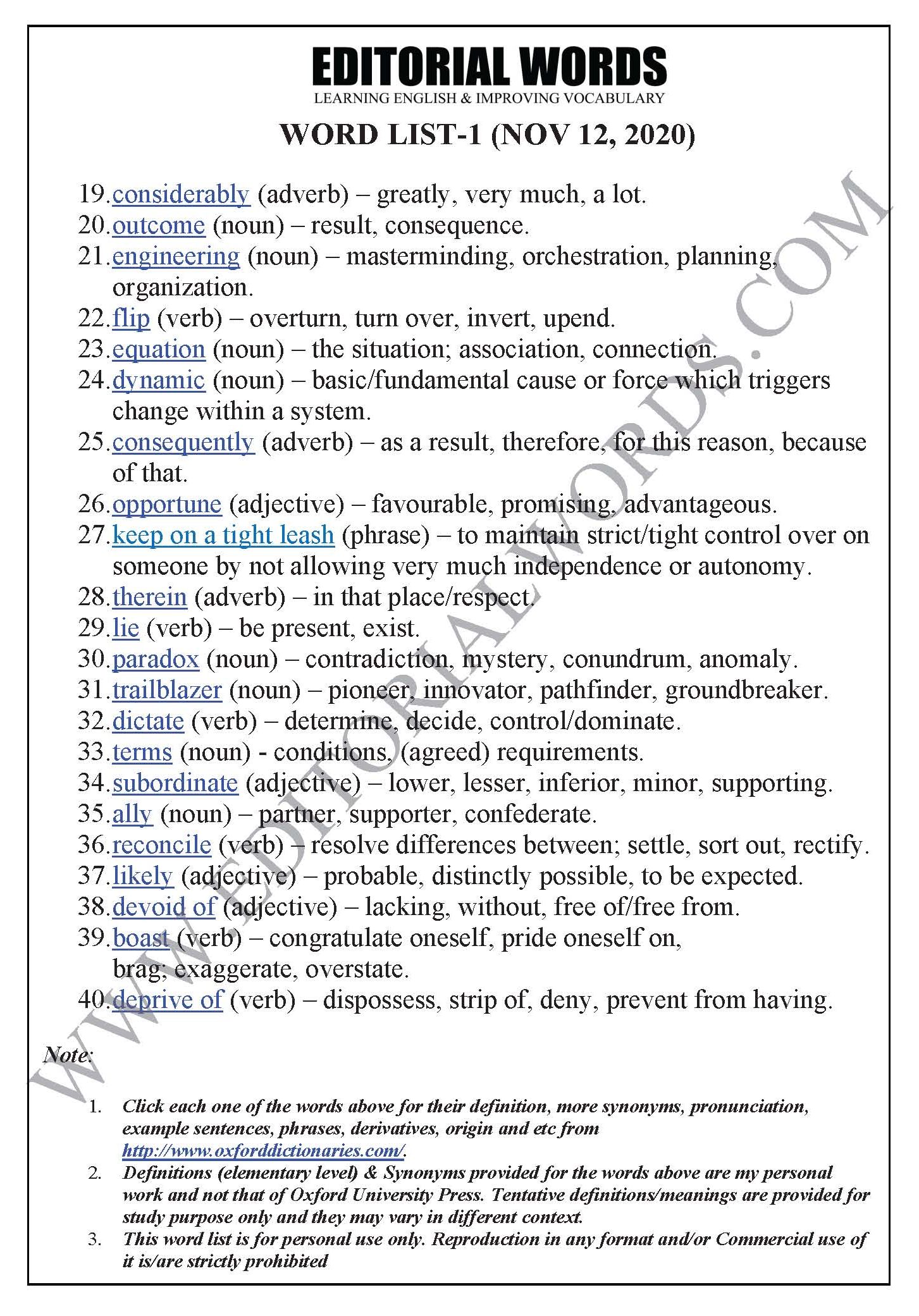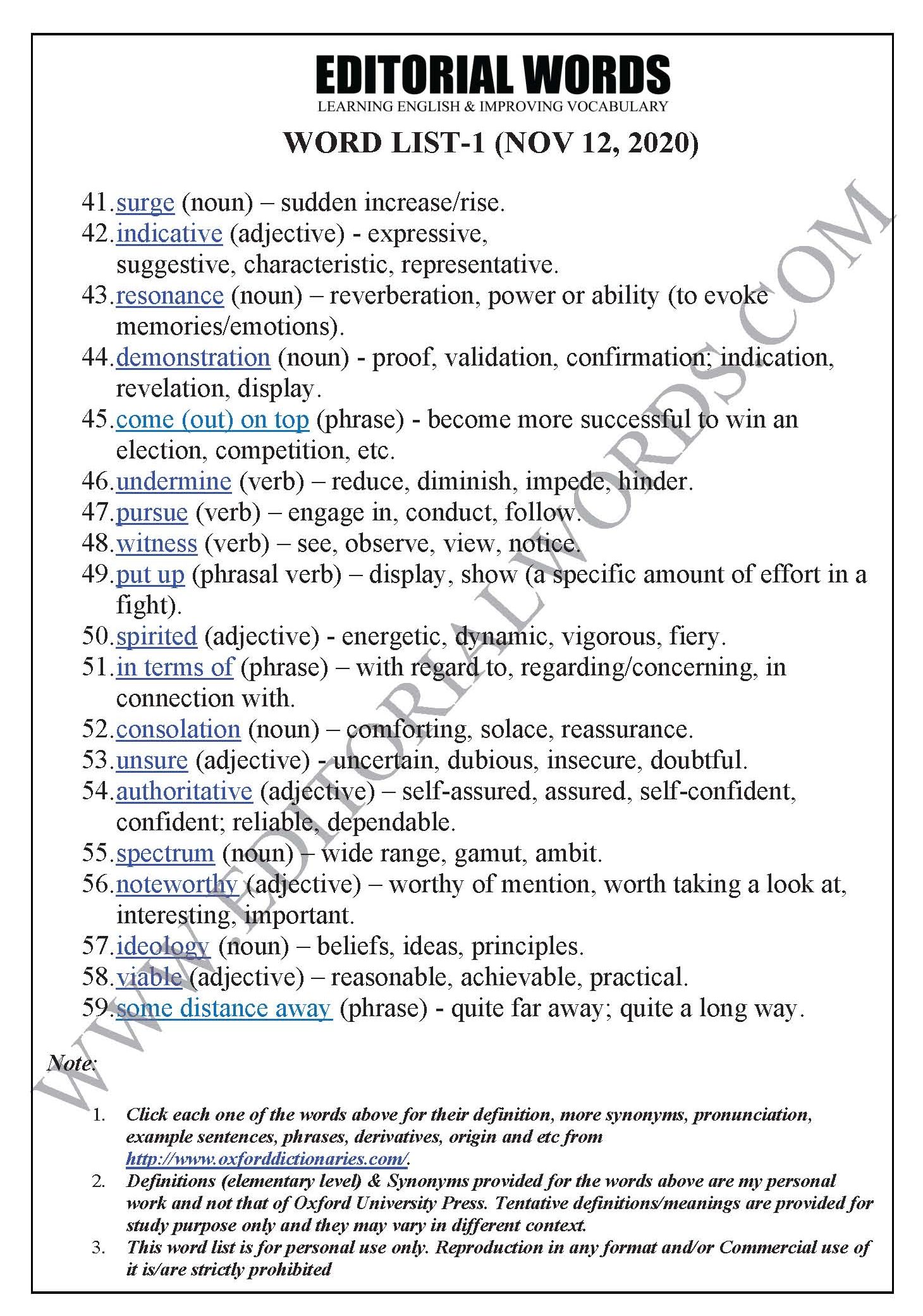 "Phrasal Verbs" We Learnt Last Week
"Idioms & Phrases" We Learnt Last Week
"Important Definitions" We Learnt Last Week
Recent Word Lists For The Hindu Editorial Articles
Recent Advanced Word Lists For The Hindu Lead Articles