The Hindu Editorial (A moral test) – Mar 13, 2021
A year after the World Health Organisation declared COVID-19 a pandemic, UN Secretary-General António Guterres has criticised "the many examples of vaccine nationalism and hoarding" in the world. For further reading, visit "The Hindu". Below is today's word list-1 for The Hindu Editorial (A moral test) – Mar 13, 2021.
To read this article, click here.
This preview is provided here with permission.
Courtesy: The Hindu
The Hindu Editorial (A moral test) – Mar 13, 2021:
moral (adjective) – relating to beliefs/principles about what is right (prudent/wise) or wrong (imprudent/unwise).
vaccine (noun) – a biological preparation that improves immunity to a particular disease.
divide (noun) –

 polarity, division, separation, difference.

privileged (adjective) – wealthy

, rich, affluent, prosperous

.
equitable (adjective) – fair

, just, impartial.

pandemic (noun) – the worldwide spread of a new disease; The illness spreads around the world and typically affects a large number of people across a wide area.

vaccine nationalism

 (noun) – vaccine nationalism occurs when governments sign agreements with pharmaceutical manufacturers to supply their own populations with vaccines ahead of them becoming available for other countries.
hoarding (noun) – accumulation/collection of something.
equitably (adverb) – fairly, impartially.
in spite of (phrase) – despite, notwithstanding, regardless of.
exhortation (noun) – a communication/statement that forcefully urges someone to do something; urging

, encouragement, pushing, insistence; call, demand, 

entreaty

, appeal.

pool (verb) – combine

, put together & 

share (resources).
inoculate (verb) – to inject/introduce a vaccine into the body of someone to produce immunity to a particular disease; immunize

, vaccinate.

fraction (noun) – a (small) proportion/part/amount of something.
vulnerable (adjective) – relating to a weak/neglected person who is in need of special care/support/protection; ill-protected, easily affected by, prone to, at risk of.
administer (verb) – dispense, provide, give, apply (a drug/vaccine).
dose (noun) – an amount

/quantity of something.

stockpile (verb) – accumulate, collect, amass.
vaccinate (verb) – inoculate, administer, introduce (with a vaccine to provide immunity against a disease).

in contrast

 (phrase) – when compared to another.
account for (phrasal verb) – constitute, comprise, form, represent.
vaccinator (noun) – a person/agent who administers vaccines.
laurels (noun) – honours

, awards, rewards, tributes, praise.

vaccine diplomacy

 (noun) – the use of vaccine to increase diplomatic relationship and influence other countries but also, from a strategic perspective, vaccine access opens the door to expand long-term health security provisions.
vaccination (noun) – treatment with a vaccine to protect against a particular disease; immunization.
pick up (phrasal verb) – improve

, get better, recover, 

rally.
inoculation (noun) – vaccination, injection, immunization; jab, shot.
as opposed to (phrase) – in contrast with

, as against, as contrasted with.

at best (phrase) – only

, merely.

apparent (adjective) – evident/clear, visible, noticeable, recognizable.
informed (adjective) – knowledgeable

, literate, well informed, well educated/instructed (people).

disproportionately (adverb) – inordinately, immoderately, excessively.
inequity (noun) – unfairness

, unjustness, one-sidedness, partisanship, 

bias, prejudice, discrimination.
play out (phrasal verb) – happen, occur, take place.
inequality (noun) – Inequality is simply defined as "the state of not being equal, especially in status, rights and opportunities; imbalance, unevenness, disproportion, disparity.
precisely (adverb) – exactly, absolutely, squarely.
lead to (verb) – result in

, cause, bring on, call forth, give rise to.

pipeline (noun) – supply chain.
bound by (adjective) – obliged, compelled, required, constrained.
bidder (noun) – a person who makes an offer (formal one) for something.
necessarily (adverb) – inevitably, certainly, surely, undoubtedly.
reprieve (noun) – cancellation, suspension, postponement (of something undesirable event).
in the pipeline (phrase) – in the process of being planned/developed.
naive (adjective) – not previously exposed to, unaffected, inexperienced.
shortchange (verb) – cheat, swindle

, defraud, deceive, trick.

exert (verb) – apply, exercise, employ, deploy, wield (influence).
bear upon (phrasal verb) – be relevant to something.
territory (noun) – area, region, sphere; country

, state, dominion.
Note:
 1. Click each one of the words above for their definition, more synonyms, pronunciation, example sentences, phrases, derivatives, origin and etc from http://www.oxforddictionaries.com/.
2. Definitions (elementary level) & Synonyms provided for the words above are my personal work and not that of Oxford University Press. Tentative definitions/meanings are provided for study purpose only and they may vary in a different context. 
3. This word list is for personal use only. Reproduction in any format and/or Commercial use of it is/are strictly prohibited.
The Hindu Editorial (A moral test) – Mar 13, 2021: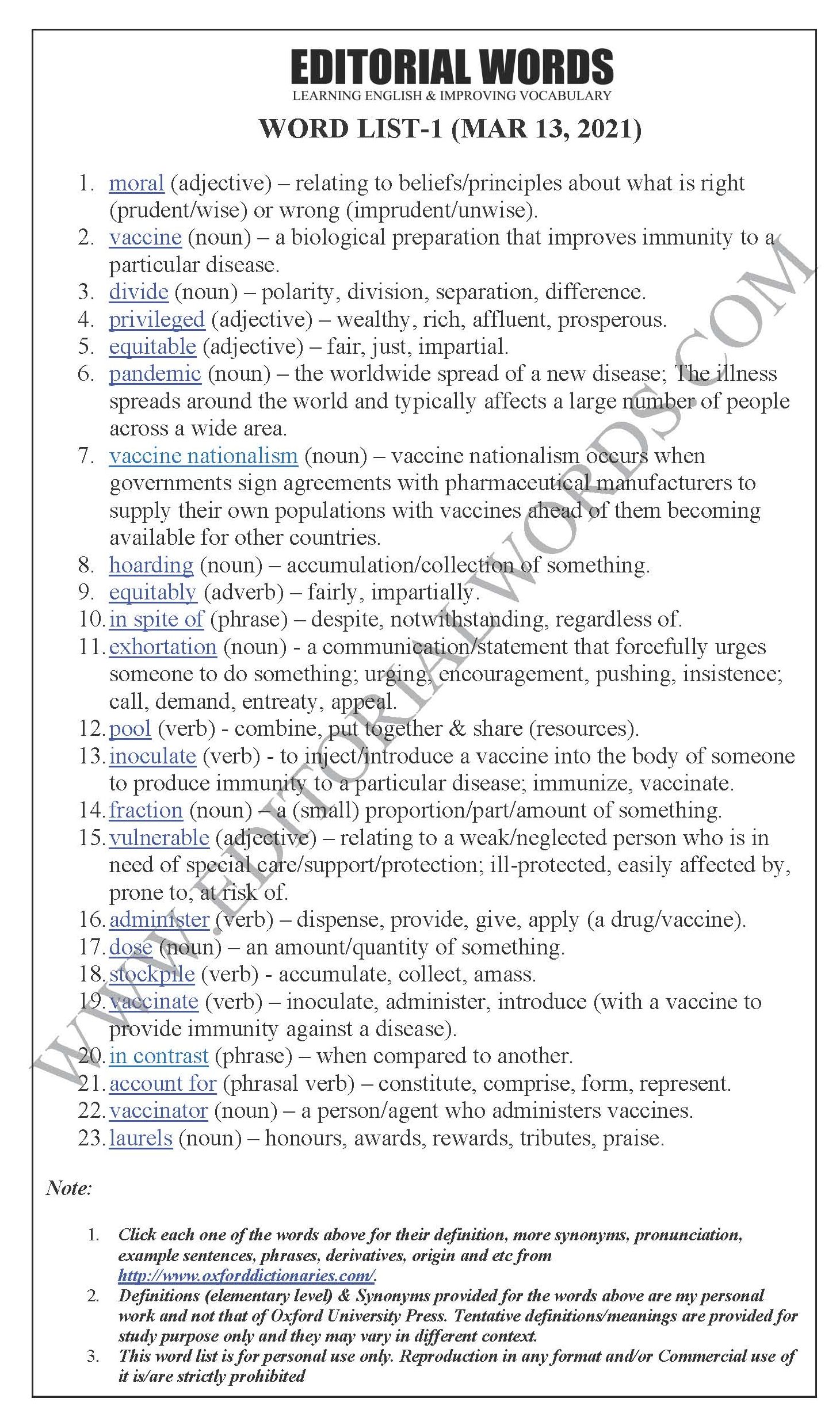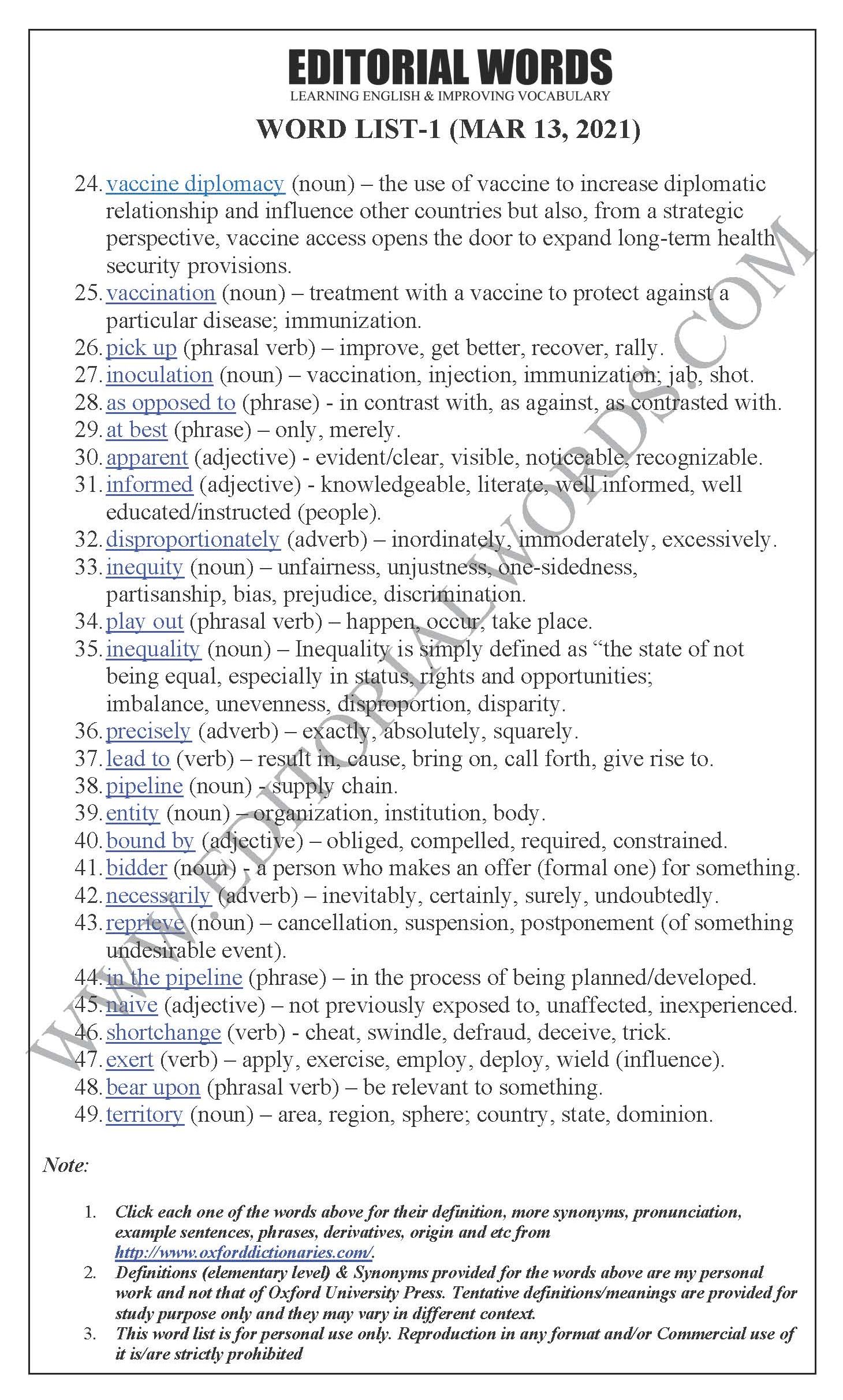 "Phrasal Verbs" We Learnt Last Week
"Idioms & Phrases" We Learnt Last Week
"Important Definitions" We Learnt Last Week
Recent Word Lists For The Hindu Editorial Articles
Recent Advanced Word Lists For The Hindu Lead Articles