The Hindu Editorial (Two bad options) – Mar 13, 2021
President Joe Biden's push for an interim unity government in Afghanistan is a testament to his administration's grim assessment of the situation in the war-torn country. For further reading, visit "The Hindu". Below is today's word list-2 for The Hindu Editorial (Two bad options) – Mar 13, 2021.
To read this article, click here.
This preview is provided here with permission.
Courtesy: The Hindu
The Hindu Editorial (Two bad options) – Mar 13
, 2021:
push (noun) – effort, initiative, drive.

(national) unity government

 (noun) – a broad coalition government consisting of all parties in the legislature, (usually formed during a time of war or other national emergencies).
interim (adjective) – provisional

, temporary, transitional

.  

testament (noun) – witness/evidence, proof, testimony.
grim (adjective) – distressing, upsetting, worrying, unpleasant, dismal, awful.
assessment (noun) – evaluation, judgement, appraisal, analysis.
war-torn (adjective) – (of a place) devastated, ruined, wrecked (by war).
multilateral (adjective) – involving many different countries/parties/organizations.
envoy (noun) – diplomat, consul, ambassador; representative

, delegate, mediator

.
lasting (adjective) – long-lasting, long-term, permanent.
strategy (noun) – plan of action (in order to achieve a more expansive set of political, economic, and security interests).
step up (phrasal verb) – increase

, intensify, strengthen, augment.

pull out (phrasal verb) – withdraw, retreat, get out, move out.
understandably (adverb) – as expected.
consensus (noun) – an idea or opinion that is shared by all the people in a group, agreement, concurrence.
mechanism (noun) – structure, system, procedure/method.
hinterland (noun) – remote areas of a country away from the coastal areas/the banks of major rivers.
territorial (adjective) – relating to a particular territory (area/region); geographical.
seek (verb) – try, aim, attempt.
inclusive (adjective) – all-embracing, all-inclusive, with everyone included, comprehensive.
framework (noun) – structure, system, organization.
decisive (adjective) – important, major, crucial/critical, key.
play a part/role (phrase) – contribute to, be instrumental in, be a factor in.
transition (noun) – change.
mandated (adjective) – authorized

, empowered, designated.

concession (noun) – compromise

, adjustment

.

insurgent (noun) – dissenter, agitator/rioter, subversive

. 

Doha Agreement

 (noun) – The Doha Agreement, more formally, "Agreement for Bringing Peace to Afghanistan between the Islamic Emirate of Afghanistan which is not recognised by the US as a state and is known as the Taliban and the United States of America, 2020" was signed on the February 29 in Doha, Qatar. The deal was considered a historic step towards establishing peace in Afghanistan.
breakthrough (noun as modifier) – very important

/significant development or progress.

stick to (phrasal verb) – abide by

, hold to, comply with, fulfil, make good.

pull back (phrasal verb) – withdraw, retreat, disengage.
intra- (prefix) – within.
take over (phrasal verb) – assume control of, take control of; seize, appropriate.
amend (verb) – alter, change, modify.
hard-won (adjective) – achieved/gained only after a lot of effort.
Note:
 1. Click each one of the words above for their definition, more synonyms, pronunciation, example sentences, phrases, derivatives, origin and etc from http://www.oxforddictionaries.com/.
2. Definitions (elementary level) & Synonyms provided for the words above are my personal work and not that of Oxford University Press. Tentative definitions/meanings are provided for study purpose only and they may vary in different context. 
3. This word list is for personal use only. Reproduction in any format and/or Commercial use of it is/are strictly prohibited.
The Hindu Editorial (Two bad options) – Mar 13, 2021: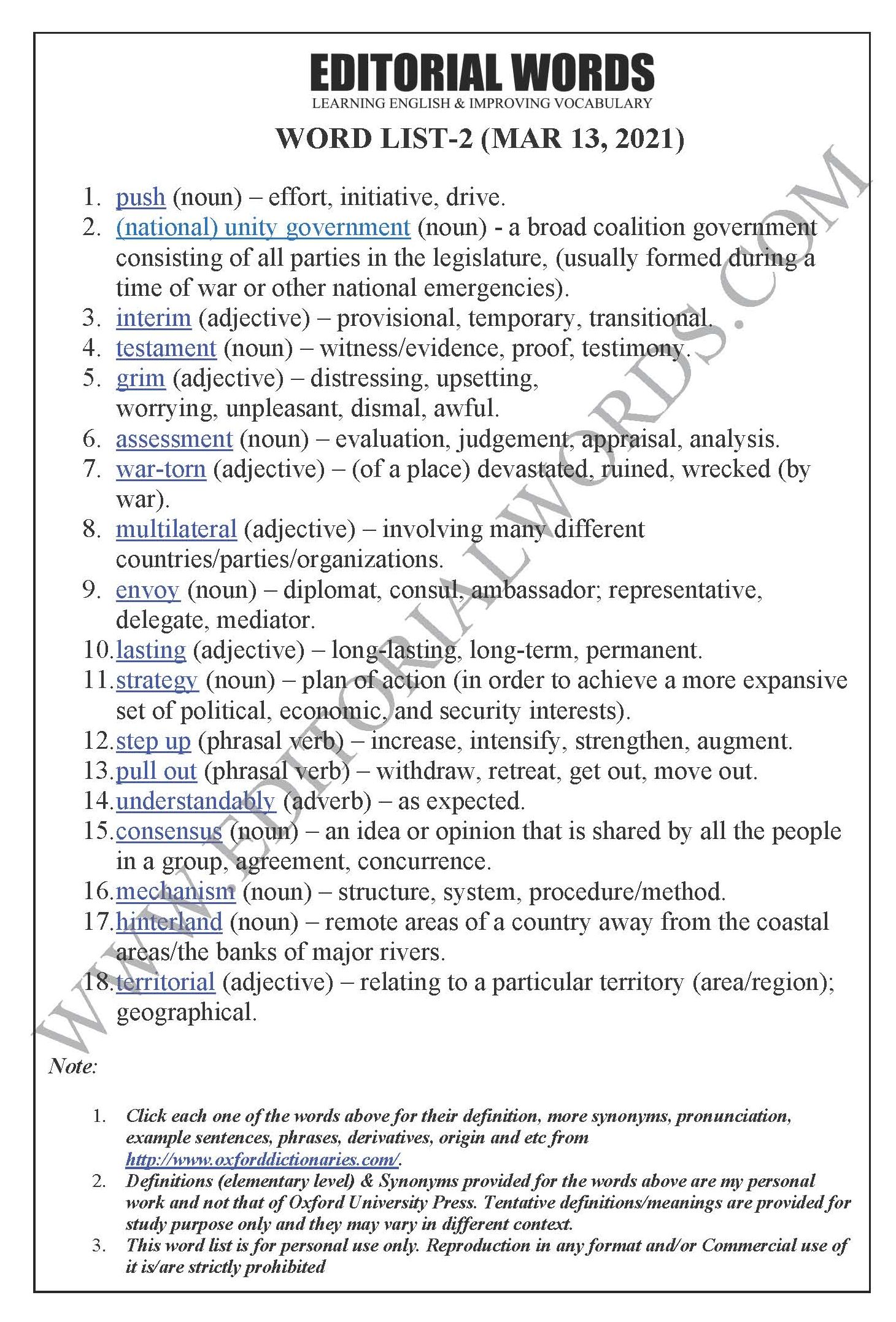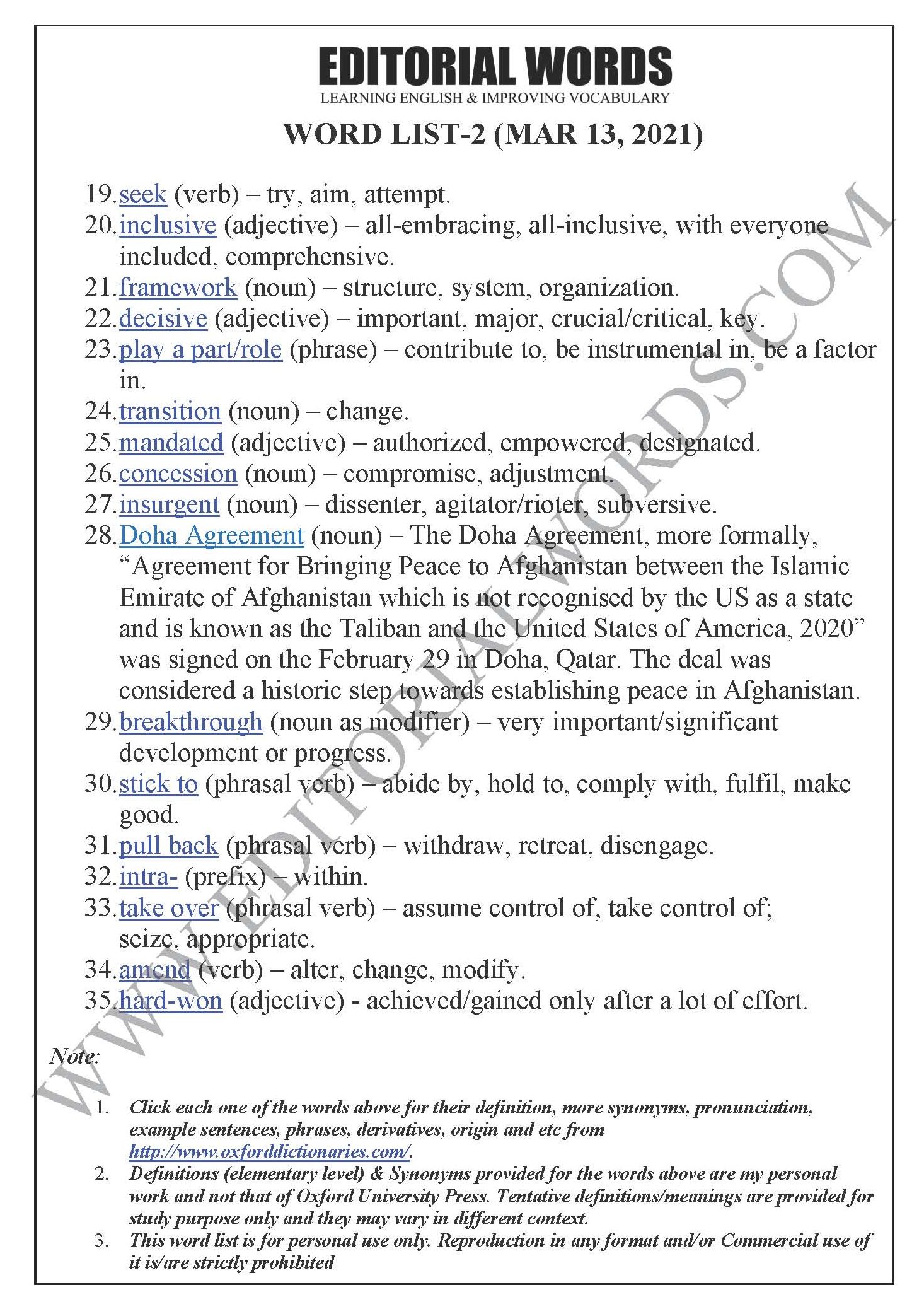 "Phrasal Verbs" We Learnt Last Week 
"Idioms & Phrases" We Learnt Last Week
"Important Definitions" We Learnt Last Week
Recent Word Lists For The Hindu Editorial Articles
Recent Advanced Word Lists For The Hindu Lead Articles