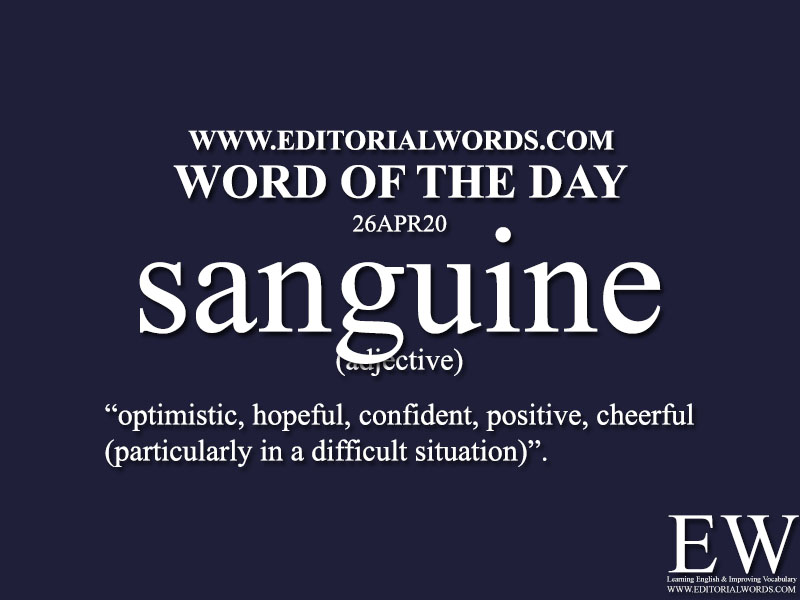 Today's "Word of the Day" is sanguine and it is an adjective meaning "optimistic, hopeful, confident, positive, cheerful (particularly in a difficult situation)".
Example Sentence: For the past few weeks, more scientists have been working diligently to verify that coronavirus antibody tests on the market actually deliver accurate results. "There are multiple tests that look reasonable and promising," said Dr. Alexander Marson, an immunologist at the University of California, San Francisco. Other scientists were less sanguine than Dr. Marson. Four of the tests produced false-positive rates ranging from 11% to 16%; many of the rest hovered around 5%. "Those numbers are just unacceptable," said Scott Hensley, a microbiologist at the University of Pennsylvania.
This word is present in today's The Hindu International page article No consensus in U.S. on accuracy of antibody tests and click here to read it.
Courtesy: The Hindu
"Phrasal Verbs" We Learnt Last Week
"Idioms & Phrases" We Learnt Last Week
"Important Definitions" We Learnt Last Week
Recent Word Lists For The Hindu Editorial Articles