The Hindu Lead Article (Unmasked, reflections on the pandemic and life) – Jan 01, 2021
Masked living for the last 10 months to stave off the novel coronavirus has raised questions: of the purpose and the meaning of life. For further reading, visit "The Hindu". Below is today's advanced word list-1 for The Hindu Lead Article (Unmasked, reflections on the pandemic and life) – Jan 01, 2021.
To read this article, click here.
This preview is provided here with permission.  
Courtesy: The Hindu
Today's Advanced Word List 1 for The Hindu Lead Article (Unmasked, reflections on the pandemic and life) – Jan 01, 2021
:
unmasked (adjective) – overt, unconcealed.
reflection (noun) –

opinion, thought, view, assessment.

pandemic (noun) – the worldwide spread of a new disease; The illness spreads around the world and typically affects a large number of people across a wide area.
draw (verb) – obtain, take out.
collective (noun) – community.
stave off (phrasal verb) – avert, prevent, avoid, rule out.

novel coronavirus (nCoV) (SARS-CoV-2)

 (noun) – a new strain (type/variety) coronavirus that has not been previously identified in humans. (Courtesy: WHO)
confinement (noun) – restraint.
isolation (noun) – a complete separation from others of a person known or reasonably believed to be infected with communicable diseases.
stay put (phrase) – remain somewhere without moving (from that place).
quest (noun) – search, pursuit.
enlighten (verb) – inform

, make aware, advise, notify.

pursue (verb) – engage in

, conduct, follow

.
evolved (adjective) – developed

, advanced, matured. 

organism (noun) – living thing

, being, creature, animal, plant.

interconnectedness (noun) – the state of being connected or related to each other.
humanity (noun) – humankind, the human race, people.
heightened (adjective) – increased, intensified.
equanimity (noun) – self-control, composure, calm.
unleash (verb) – let loose, release, set free.
churning (noun) – disturbance, disquiet, unrest, restlessness, agitation.
dawn on (phrasal verb) – if something (an idea or fact) dawns on you, you begin to understand it for the first time; come to mind, strike, be perceived, be realized.
ought to (modal verb) – must, should.
underline (verb) – underscore, emphasize, highlight.
reorient (verb) – change the focus on.
sequence (noun) – the complete order of compounds/building blocks (nucleotides) of nucleic acids, such as RNA or DNA.
Deoxyribonucleic Acid (DNA) (noun) – DNA is an important biological macromolecule (nucleic acid) that replicates and stores genetic information. It is a blueprint for all genetic information contained within an organism. DNA has two strand structure. DNA is found in the cell's nucleus.
subject to (adjective) – dependent on, conditional on

, controlled by.

volition (noun) – choice, option, decision, discretion.
navigate (verb) – proceed, move, manage.
shatter (verb) – destroy

, wreck, ruin.

at the expense of (phrase) – at the cost of, at the loss of; at the sacrifice of.
oneness (noun) – amicability, friendship, consensus, unity/solidarity.

come to the fore

 (phrase) – to become visible.
outbreak (noun) – outburst, flaring up, breakout, sudden appearance/occurrence of something.
bring out (phrasal verb) – disclose, reveal, expose, become known.
attendant (adjective) – accompanying

, associated, related, connected.

habitation (noun) – place of residence, house, dwelling (place), abode.
(keep) an eye on (phrase) – to take care of, to look after, to watch/supervise something.
coexistence (noun) – The state of two or more different things existing/living together at the same time or in the same place.
puzzlement (noun) – confusion, bafflement, bewilderment.
adversity (noun) – a difficult situation; hardship, difficulty.
call (noun) – requirement, need, demand.
chaos (noun) – disorder, disarray, turmoil, disorganization, disruption.
sane (adjective) – sensible/practical, advisable, responsible, well balanced.
reflect (verb) – indicate

, show, reveal, exhibit.

vicissitude (noun) – change

, transition, transformation.

strike a balance (phrase) – find a fair & reasonable line of action between two contrasting things.
come along (phrasal verb) – progress

, make progress, develop.

spiritualism (noun) – a religious movement based on some belief.
come in handy (phrase) – to be useful.
spring from (phrasal verb) – originate from

, arise from, stem from, emanate from, evolve from, come from.

galvanise (verb) – to cause someone to take action by exciting or shocking them; stimulate, encourage, inspire, stir, arouse, prompt, shock/stun.
evolution (noun) – development

, advancement, growth, rise, progress.

selfishness (noun) – self-seeking, self-regard, self-serving, self-obsession.
self-realisation (noun) – fulfillment by oneself of the possibilities of one's character or personality.
the common good (phrase) – the benefit/advantage of all people in society.
moderation (noun) – self-restraint

, restraint, self-control, self-discipline

.

harmoniously (adverb) – cordially, amiably, agreeably, peacefully.
predilection (noun) – liking, preference.
ethos (noun) – 

morality, attitudes, beliefs, principles; 

spirit

, character.

warrant (verb) – justify/necessitate, vindicate/validate, call for.
equilibrium (noun) – balance, symmetry, equality, evenness.
strain (noun) – variety

, kind, type; variant, mutant.

come to terms with (phrase) – to accept oneself to something painful/sad/difficult (situation); reconcile oneself to, come to accept, become accustomed to, adjust to.
stillness (noun) – calmness, peacefulness, quietness, serenity, tranquility.
spin-off (noun) – outcome, result, by-product.
annus horribilis (noun) – (Modern Latin) horrible year

". The opposite of it, "annus mirabilis" means "wonderful year.

come up with (phrasal verb) – produce, put forward, present/submit.
vaccine (noun) – a biological preparation that improves immunity to a particular disease.

candidate vaccine or vaccine candidate

 (noun) – a "potential" vaccine prepared in the research and development (R&D) centres and it can be used in human clinical trials.
vaccinate (verb) – inoculate, administer, introduce (with a vaccine to provide immunity against a disease).

(Parliamentary) Standing Committee/Parliamentary panel

 (noun) – it is a committee (consisting of Members of Parliament) constituted usually on an annual basis to enable detailed consideration/discussion on all bills (all proposed laws).
grit (noun) – courage

, resolve, bravery, mettle, spirit, strength of character, determination.  

compliment (verb) – praise

, commend, flatter, acclaim.

stakeholder (noun) – a person with an interest in something.
chronicle (verb) – record

, write down, document, register (a series of events).

hardship (noun) – 

financial distress, suffering, affliction, trouble, torment, misfortune.

mortality (noun) – (in a particular time/for a cause) the rate/number of death.
keep something in check (phrase) – control

, curb, restrain, hold back, keep under control.

no mean (phrase) – mentioning that something is very good of its kind.

need of the hour

(phrase) – some (urgent) need/requirement/demand at a particular point of time.
usher in (verb) – start, begin, initiate.
annus mirabilis (noun) – (Modern Latin) wonderful year.
wipe out (phrasal verb) – remove

, get rid of, dispose of. 

havoc (noun) – destruction, damage, disaster

.

vigil (noun) – vigilance, surveillance, close watch, monitoring.
takeaway (noun) – a key point/idea/fact.
go by (phrasal verb) –

(

of time/year

)

 

to pass.
Note:  
 1. Click each one of the words above for their definition, more synonyms, pronunciation, example sentences, phrases, derivatives, origin and etc from http://www.oxforddictionaries.com/.
2. Definitions (elementary level) & Synonyms provided for the words above are my personal work and not that of Oxford University Press. Tentative definitions/meanings are provided for study purpose only and they may vary in different context. 
3. This word list is for personal use only. Reproduction in any format and/or Commercial use of it is/are strictly prohibited.
Today's Advanc
ed Word List 1 for The Hindu Lead Article (Unmasked, reflections on the pandemic and life) – Jan 01, 2021
: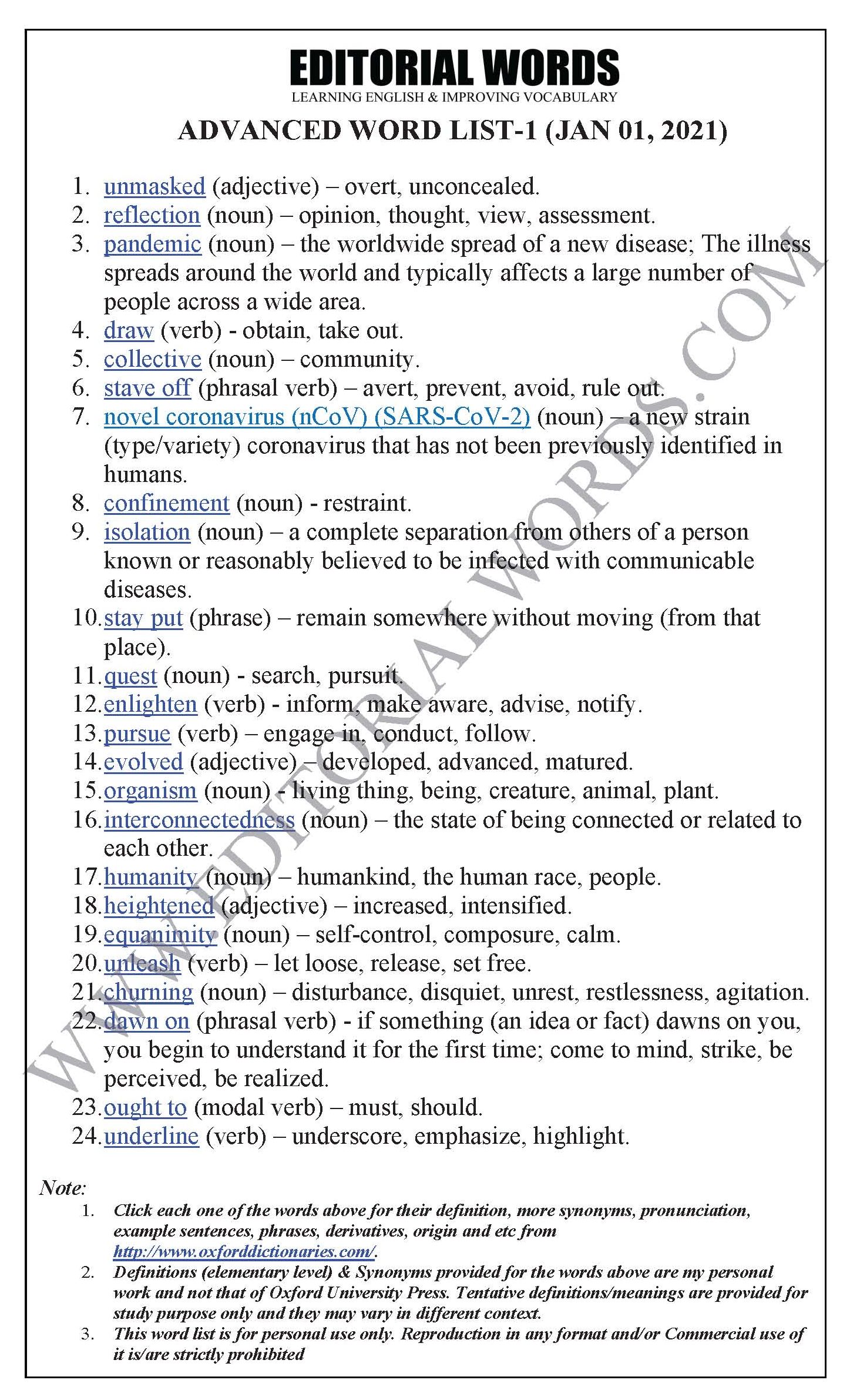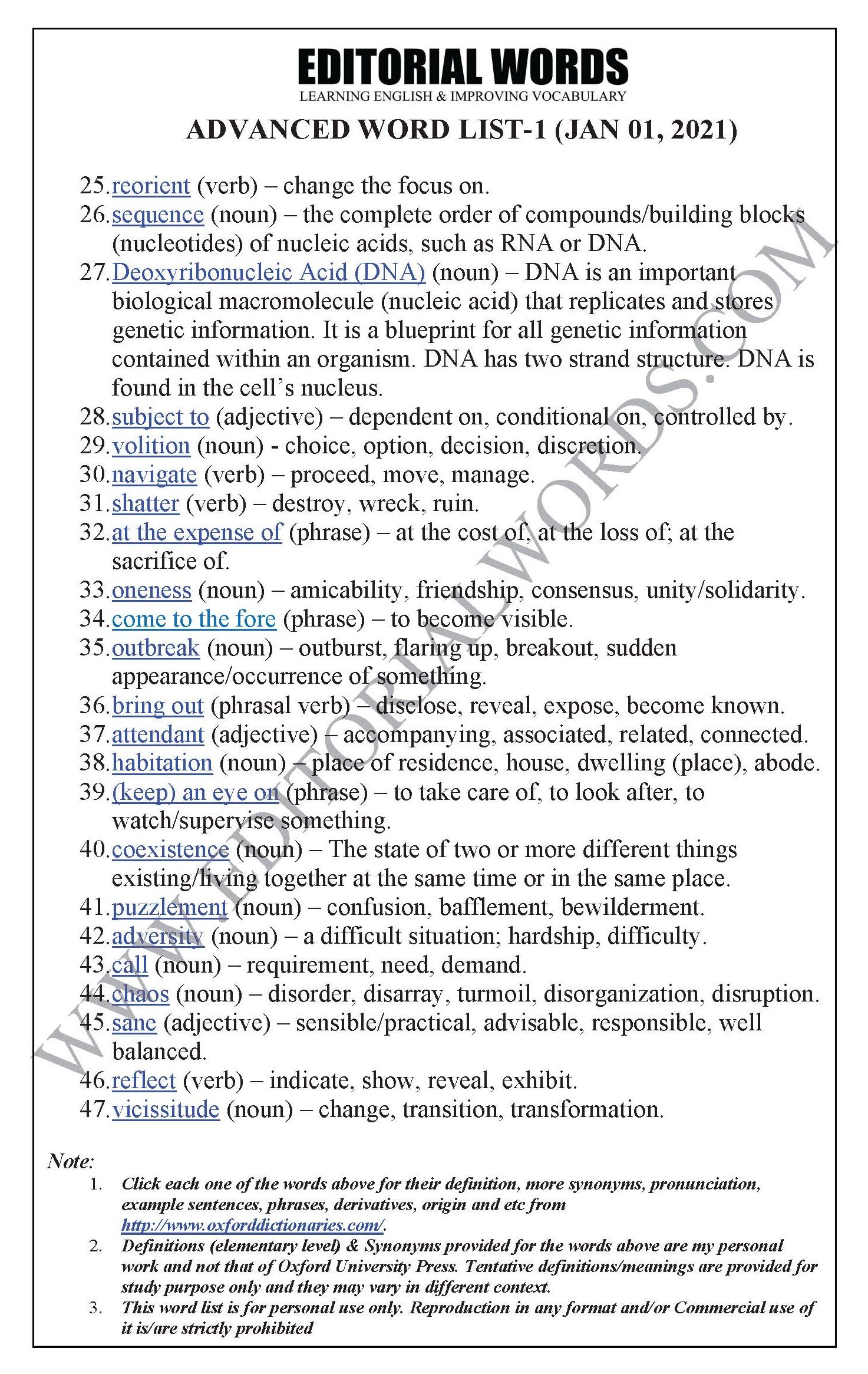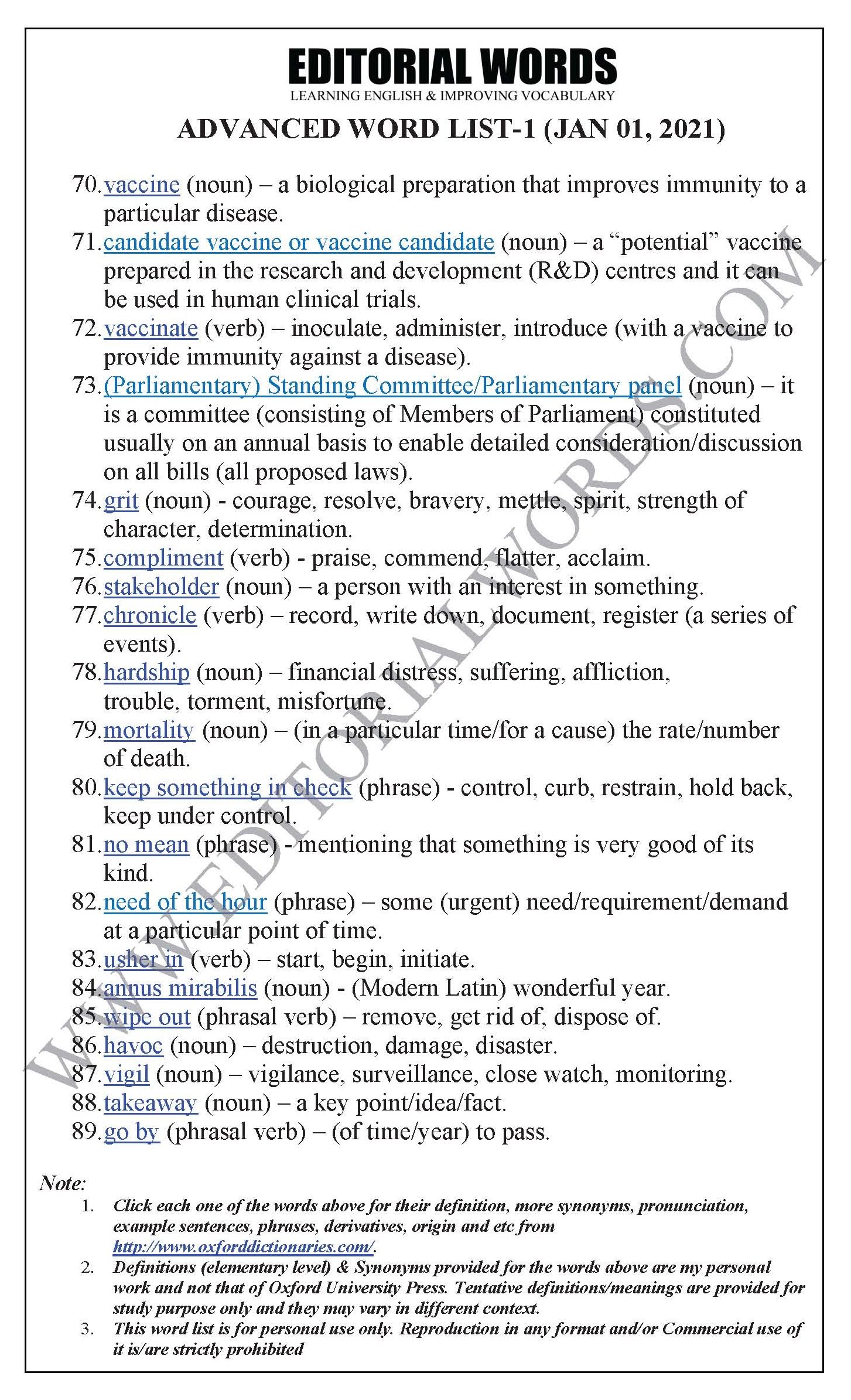 "Phrasal Verbs" We Learnt Last Week
"Idioms & Phrases" We Learnt Last Week
"Important Definitions" We Learnt Last Week
Recent Word Lists For The Hindu Editorial Articles
Recent Advanced Word Lists For The Hindu Lead Articles