The Hindu Lead Article (Time to resurrect a popular front) – Jan 04, 2021
"The UPA is dead and it lies buried in a kabristan in Bharuch." This pithy observation was made by a senior Congressman,… For further reading, visit "The Hindu". Below is today's advanced word list-1 for The Hindu Lead Article (Time to resurrect a popular front) – Jan 04, 2021.
To read this article, click here.
This preview is provided here with permission.  
Courtesy: The Hindu
Today's Advanced Word List 1 for The Hindu Lead Article (Time to resurrect a popular front) – Jan 04, 2021
:
resurrect (verb) – relaunch, reinstitute, bring back.
front (noun) – political group.
instrument (noun) – mechanism, apparatus, system, means (to achieve/attain something).
governability (noun) – the overall capacity for governance of any societal entity or system.
lie (verb) – (of a dead person) be buried in a particular place.
cemetery (noun) – graveyard, burial ground; kabristan (in Hindi).
pithy (adjective) – succinct, short, brief, compact, significant, meaningful.
dare (verb) – have the courage or take the risk (to do something).
authorship (noun) – creator, originator.
acknowledge (verb) – admit

, accept, realize.

sooner or later (phrase) – eventually

, in the end, finally.

polity (noun) – a politically organized society.
put in place (phrase) – establish

, set up, create/form.

take on (phrasal verb) – compete against

, 

oppose, challenge, confront.
blunted (adjective) – dulled, unpointed, edgeless.
tender (noun) – a person who looks after someone else.
currency (noun) – the duration in which something is in use/operation.
as much as (phrase) – almost, nearly the same as.
demonetisation (noun) – the act of depriving a currency unit (note/coin) of its status as money.
notional (adjective) – conceptual, supposed, assumed; imaginary.
exalted (adjective) – noble, high-minded, elevated, intellectual, prominent/dignified.
titular (adjective) – nominal

, in name/title only, formal, official.

shorthand (noun) – a short and simple way of expressing something.
amorphous (adjective) – unstructured, indeterminate, formless/vague.
array (verb) – arrange

, assemble, group, place, position.

loyalty (noun) – allegiance

, faithfulness, obedience, adherence

.
solidarity (noun) – unity, unanimity, harmony, cooperation.
erstwhile (adjective) – old, previous, former, then.
handy (adjective) – useful, helpful; accessible, available.
object (noun) – purpose, objective, aim/goal.
designated (adjective) – identified, recognized, classified.
dub (verb) – classify, categorize, characterize.
congregation (noun) – gathering

, assembly, a mass/group (of people).

purchase (noun) – support, firm contact, attachment.
insistence (noun) – avowal, emphasis, stress.
preen (verb) – congratulate, admire oneself

,

 be pleased, be pride of (oneself).
paltry (adjective) – small, meagre, inadequate, insufficient.
kitty (noun) – a sum of something (money/things) made up of small contributions.
boil down to (phrasal verb) – come down to, amount to, comprise (as the main or central part).
the rub (noun) – problem, difficulty, obstacle.
infirmity (noun) – weakness, feebleness; unsteadiness, instability.
have to do with (phrase) – be connected with someone/something.
concede (verb) – admit

, acknowledge, accept.

mock (verb) – make a monkey of, make fun of, treat with contempt, ridicule, laugh.
ridicule (verb) – deride

, mock, tease, make fun of.

pretensions (noun) – aspiration

, claim, assertion.

nonetheless (adverb) – notwithstanding, nevertheless, in spite of that/however.
pertinent (adjective) – relevant

, appropriate, applicable.

bear/keep in mind (phrase) – take into account, consider.
command (verb) – receive, be given, get/gain, obtain.
popular vote (noun) – the preference expressed in an election by the majority of people who vote.
immune (verb) – protected from, safe from, exempt from (the effect of something).
charm (noun) – drawing power, attraction.
credible (adjective) – believable, acceptable

, reasonable, convincing.

cohere (verb) – to unite together as a unit.
graft (verb) – combine, integrate, join.
persona (noun) – image, character, identity.
axiomatic (adjective) – self-evident

, unquestionable/undeniable; accepted/understood.

inevitably (adverb) – unavoidably, certainly, definitely.
matrix (noun) – template, pattern, frame/form.
resentment (noun) – bitterness

, indignation, enmity, hatred/hate.

calculus (noun) – calculation, estimation, reasoning.
triumphalism (noun) – an attitude or a belief that a particular doctrine, religion, culture, social system is superior to and should triumph all over others.
mobilise (verb) – bring (resources) into use for a particular purpose/cause.
discontent (noun) – dissatisfaction

, disaffection, disgruntlement, grievances, unhappiness, displeasure.

disenfranchised (adjective) – (of people) deprived/stripped of the right to vote.
manifest (verb) – indicate, show, display, exhibit.
mutiny (noun) – rebellion, revolt, protest.
mainstream (noun) – something (certain beliefs/ideas/activities) which are accepted or recognized by most people as a normal or typical.
lexicon (noun) – dictionary

, word list, vocabulary list.

unjustness (noun) – bias, unfairness, discrimination.
inequity (noun) – bias, prejudice, discrimination.
venture (noun) – (risky) activity.
status quo (noun) – a Latin phrase meaning the existing state of affairs, particularly with respect to social or political issues; the present situation, the current state.
yearning (noun) – desire, longing, need.
pro forma (noun) – a Latin term that means "for the sake of form" or "as a matter of form."It is most often used to describe a practice or document that is provided as a courtesy or satisfies minimum requirements, conforms to a norm or doctrine, tends to be performed perfunctorily (done quickly) or is considered a formality.
umbrella (

modifier

) – something (coalition) that has many different parts/elements.
incentivise (verb) – encourage, motivate, galvanize.
remarkably (adverb) – strikingly, exceptionally, incredibly.
expedient (adjective) – 

tactical/strategic; 

advantageous, beneficial.

consortium (noun) – association, alliance, union, partnership. Consortia is a plural form of consortium.
enable (verb) – permit, allow

, facilitate.

de- (prefix) – denoting removal.

wean from

 (phrasal verb) – to make somebody gradually stop using something.

a way out

(noun) – solution.
accommodate (verb) – adjust

, adapt; assist, help, oblige.

tame (verb) – control, curb, master, subdue, mitigate, suppress.
disenchantment (noun) – disappointment, dissatisfaction, discontent.

mulch

(verb) – cover with mulch (a layer of material applied to the surface of the soil to improve the quality of the soil or to stop 

weeds

 growing).
anchor (verb) – impart/give a firm base/foundation/basis.
forge (verb) – form, create, establish, set up.
imperative (noun) – necessary condition, precondition, essential requirement.
make a mockery of (phrase) – make something to look foolish/absurd.
federal (adjective) – relating to a system of government in which establishments such as states or provinces share power with a national government.
spirit (noun) – real/

true meaning, intention, essence.

arrangement (noun) – agreement

, compact, deal, pact.

boast (verb) – congratulate oneself, pride oneself on, brag; exaggerate

, overstate.

vitality (noun) – energy, strength, power, vigour.
check (noun) – control, restraint, curb, restriction/limitation.
arbitrary (adjective) – whimsical, irrational, casual; autocratic, draconian, anti-democratic.

absolute power

(noun) – complete authority.
semblance (noun) – similarity, equivalence, resemblance, likeness.
civility (noun) – politeness, good manners, mannerliness.
endeavour (noun) – activity, pursuit, exercise, undertaking, mission; aim/effort

.

predicate (verb) – propose, put forward, submit.
premise (noun) – proposition, assumption, assertion.
feast (noun) – treat

, delight, joy, pleasure; festival.

vulture (noun) – a hateful person who exploits others.
congregation (noun) – gathering

, assembly, a mass/group (of people).

hold out (phrasal verb) – offer, present (a hope, possibility, opportunity, etc.); have a feeling of (hope).
cognisant (adjective) – aware, well informed about, familiar with.
fault line (noun) – a divisive issue; a difference of opinion.
gnaw (verb) – torment, torture, trouble, distress, worry, oppress.
plug (verb) – stop, block, seal/close.
ensnare (verb) – capture, catch/trap, entangle, get control over someone.
coherence (noun) – clarity, consistency, orderliness, unity.
anarchy (noun) – lawlessness, absence of government, disorder.
rob (verb) – deprive, strip, divest/dispossess.
exuberance (noun) – excitement, elation, enthusiasm, cheerfulness, buoyancy.
dynamism (noun) – strength, powerfulness, potency/efficacy.
come to think of it (phrase) – used for adding something just remembered or thinking of something.
inevitable (adjective) – unavoidable, unpreventable.
extravagantly (adverb) – highly, excessively, elaborately.
flamboyant (adjective) – showy, swashbuckling, extravagant.
Note:  
 1. Click each one of the words above for their definition, more synonyms, pronunciation, example sentences, phrases, derivatives, origin and etc from http://www.oxforddictionaries.com/.
2. Definitions (elementary level) & Synonyms provided for the words above are my personal work and not that of Oxford University Press. Tentative definitions/meanings are provided for study purpose only and they may vary in different context. 
3. This word list is for personal use only. Reproduction in any format and/or Commercial use of it is/are strictly prohibited.
Today's Advanc
ed Word List 1 for The Hindu Lead Article (Time to resurrect a popular front) – Jan 04, 2021
: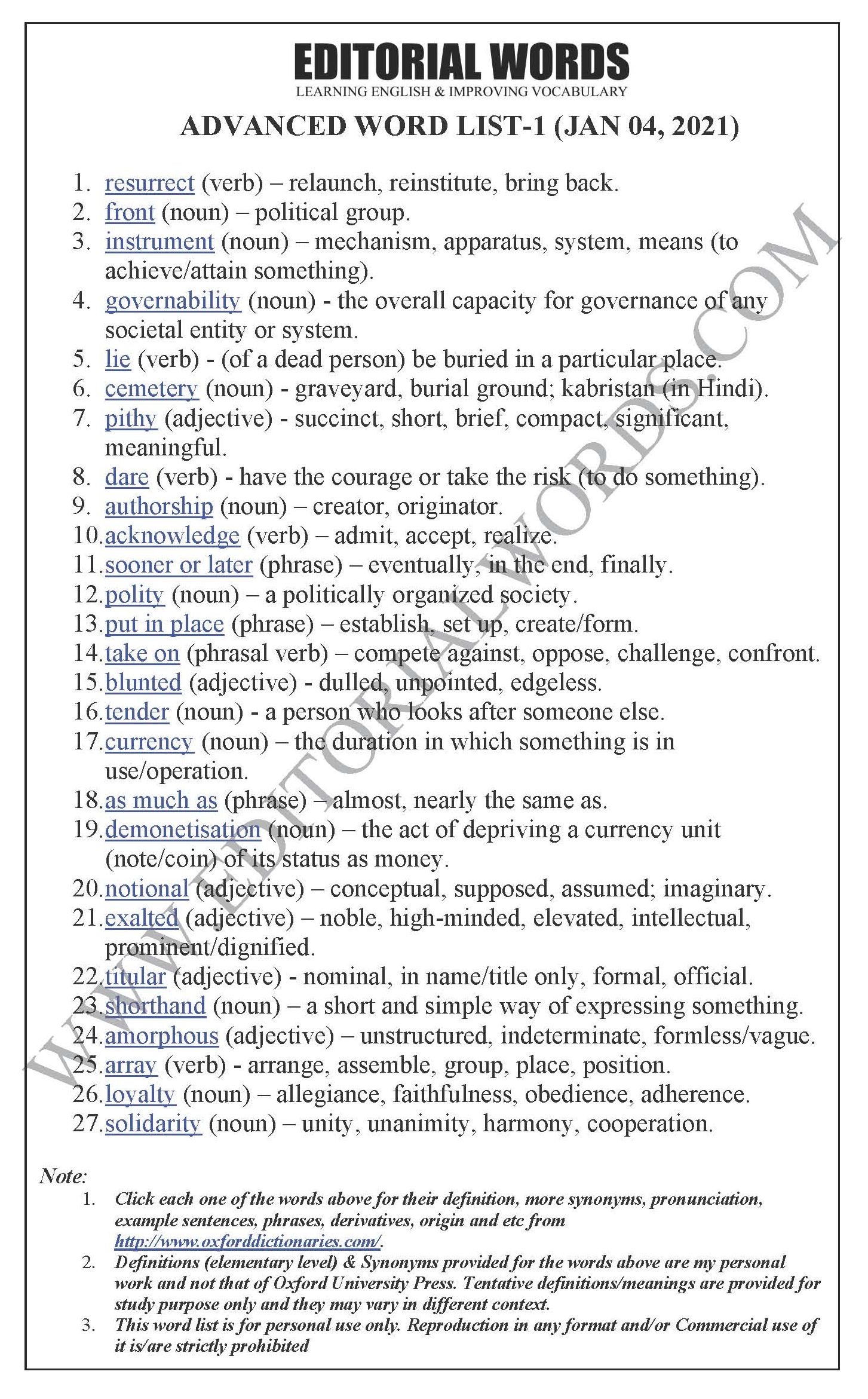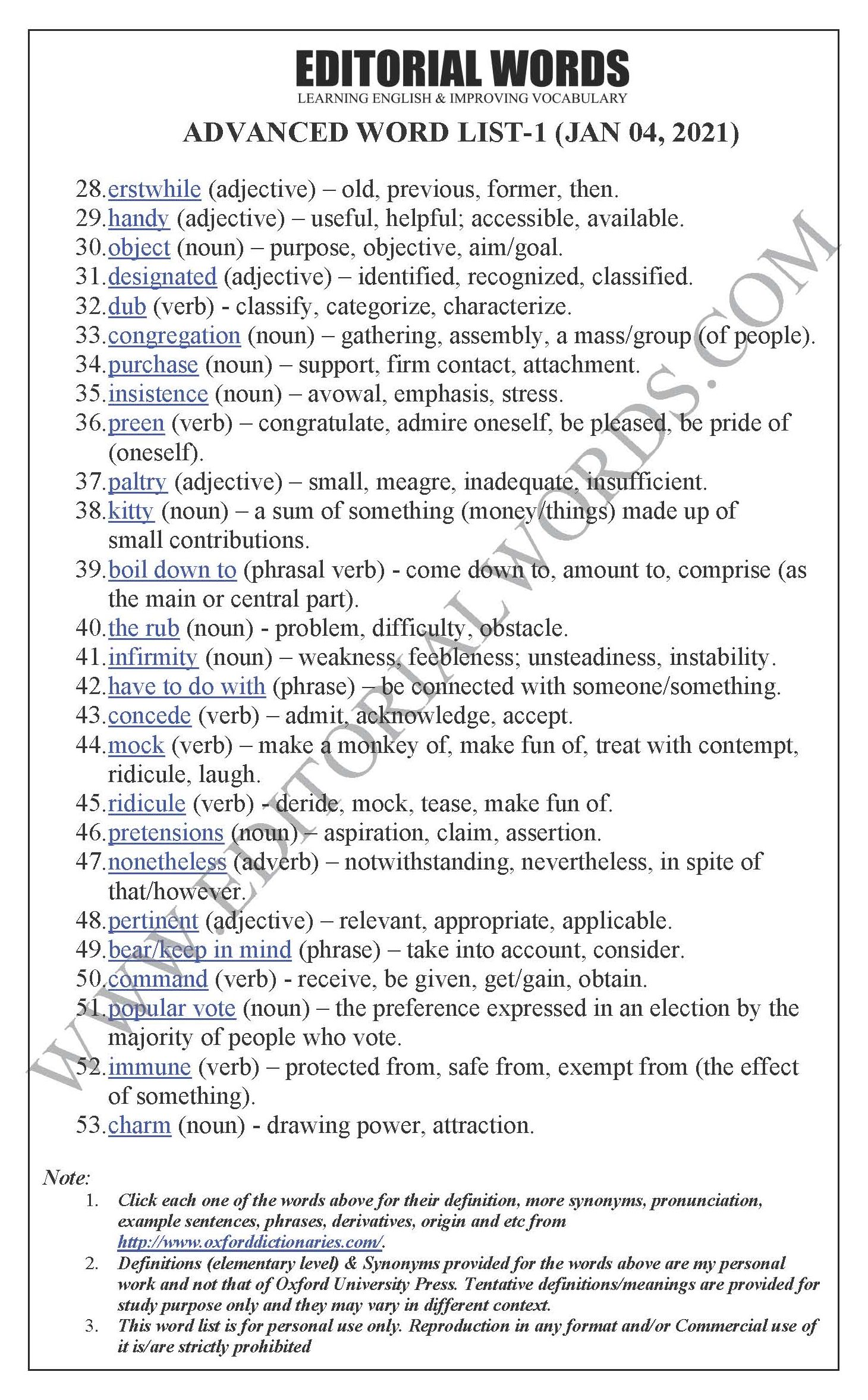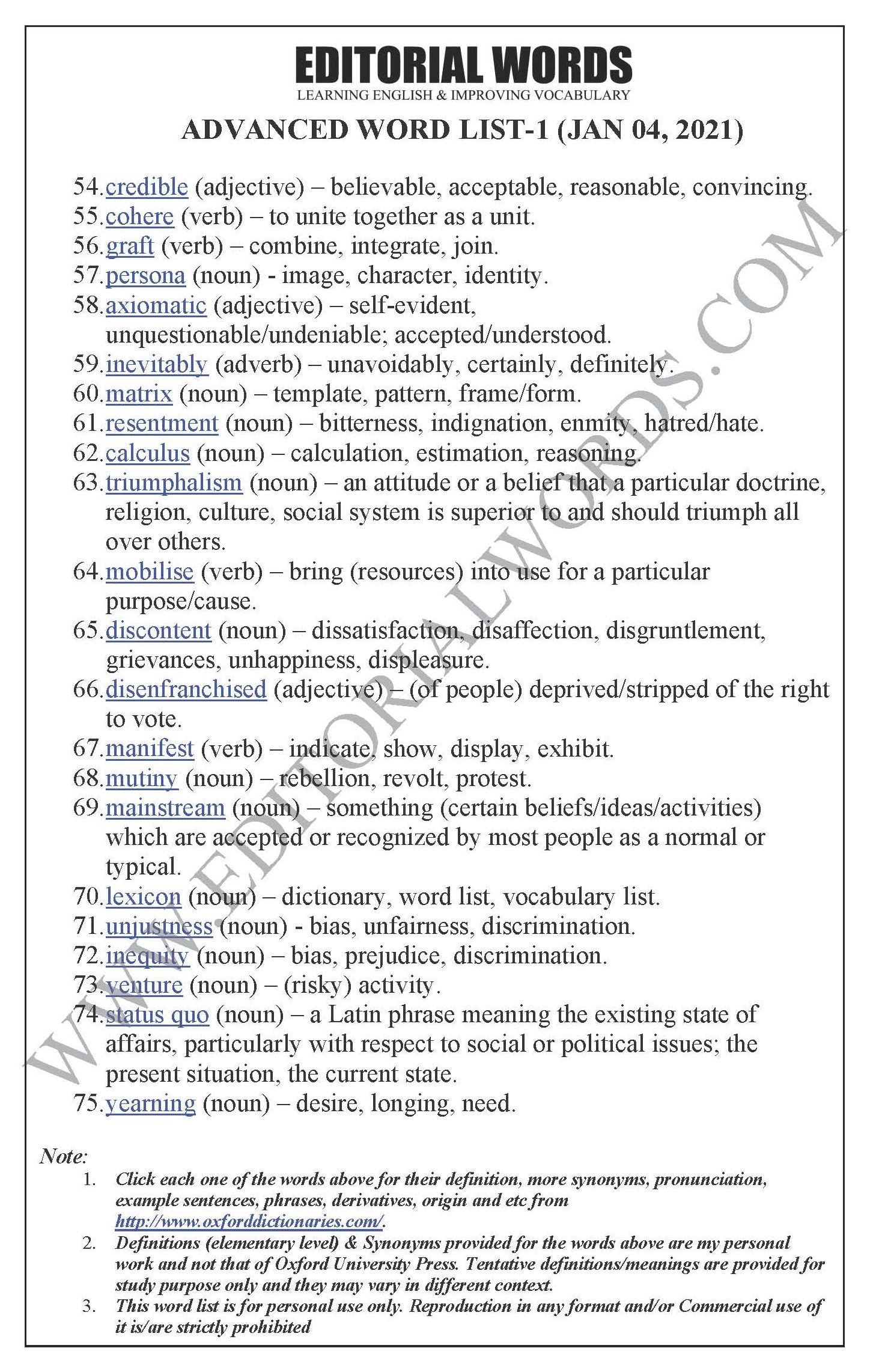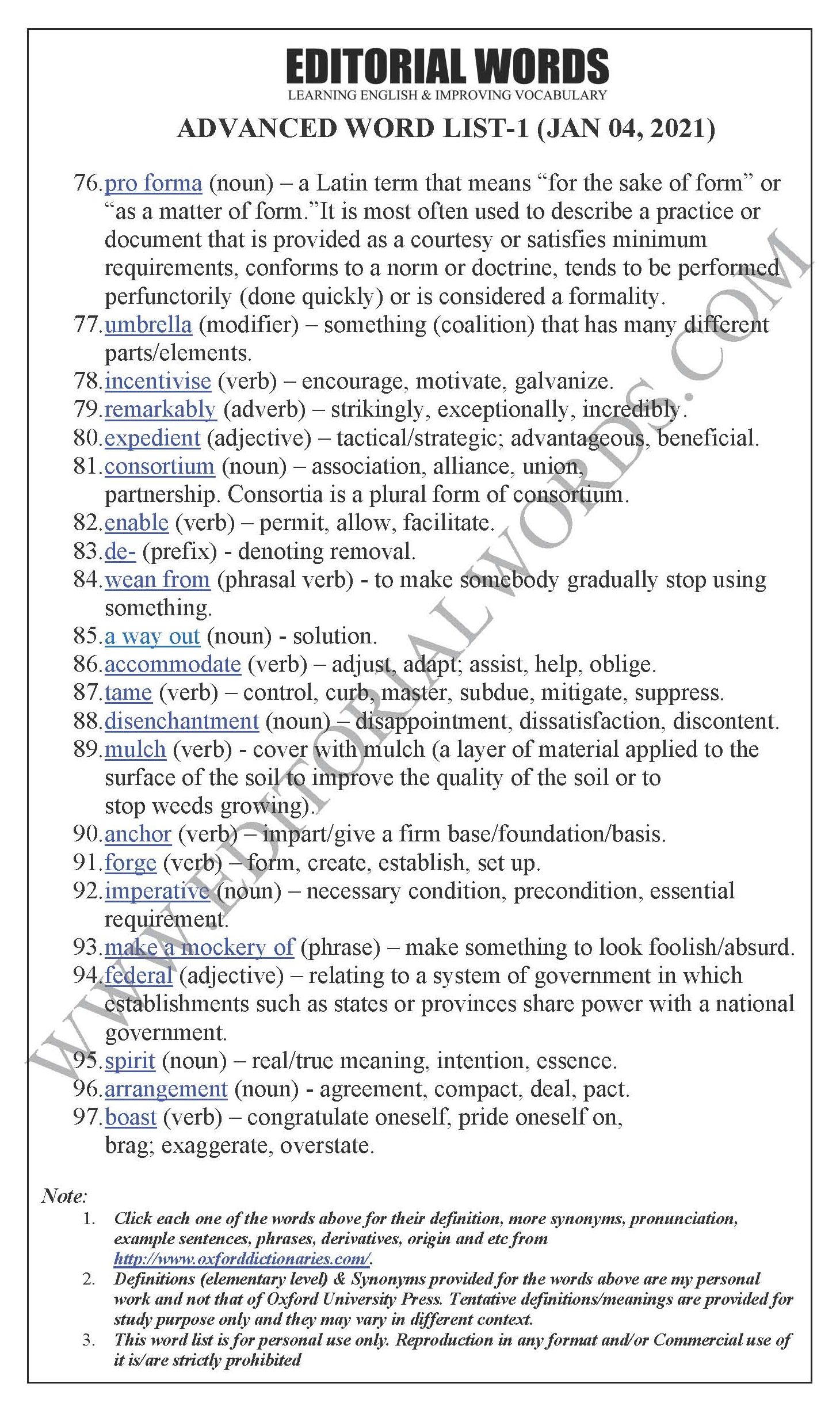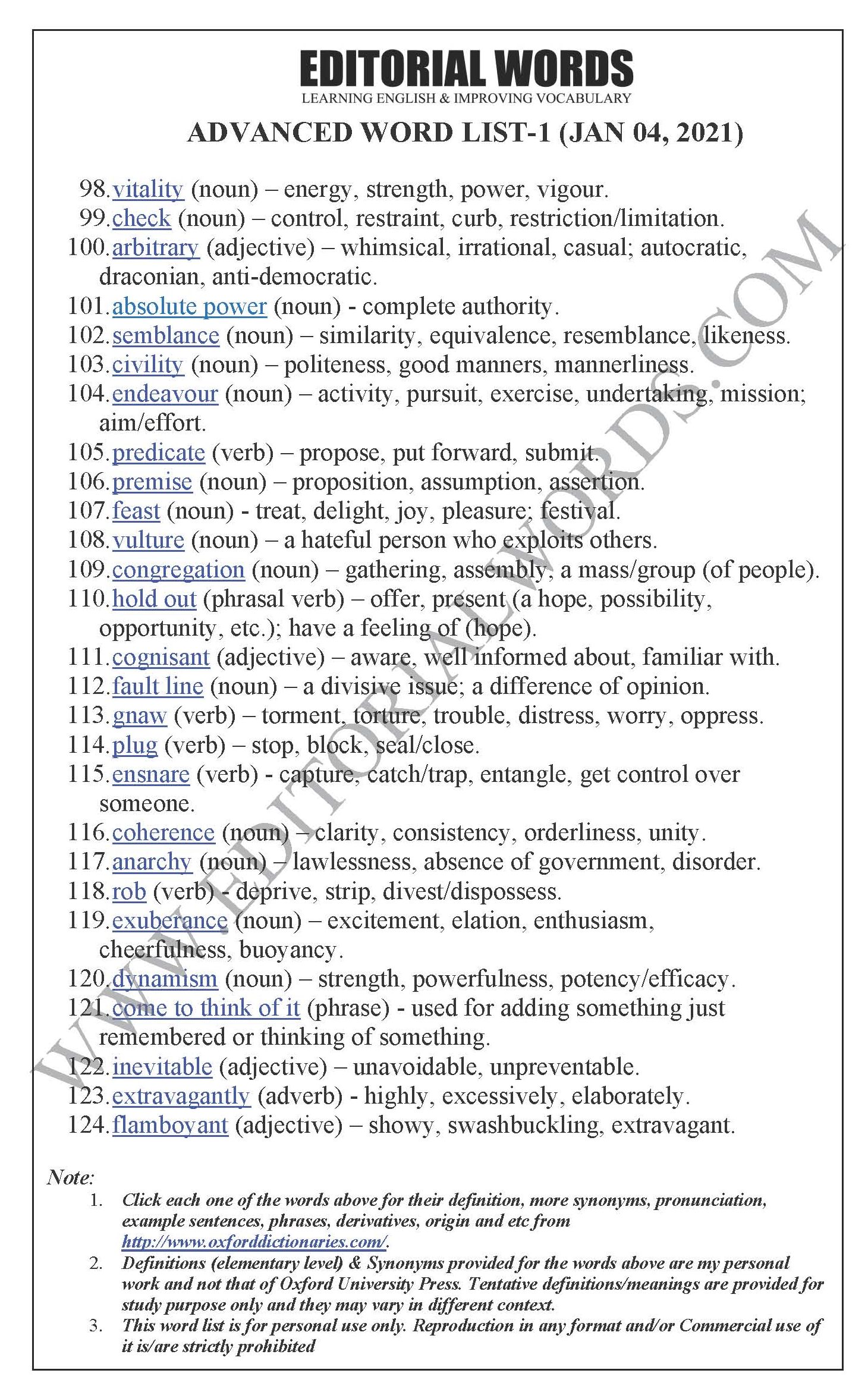 "Phrasal Verbs" We Learnt Last Week
"Idioms & Phrases" We Learnt Last Week
"Important Definitions" We Learnt Last Week
Recent Word Lists For The Hindu Editorial Articles
Recent Advanced Word Lists For The Hindu Lead Articles