The Hindu Lead Article (The drumbeaters of dystopia) – Sep 11, 2019
On the last morning of October 1984, Rajiv Gandhi was campaigning in West Bengal when a police jeep intercepted his Mercedes to deliver the message… For further reading, visit "The Hindu". Below is today's advanced word list-1 for The Hindu Lead Article (The drumbeaters of dystopia) – Sep 11, 2019.
To read this article, click here.
This preview is provided here with permission.  
Courtesy: The Hindu
Today's Advanced Word List 1 for The Hindu Lead Article (The drumbeaters of dystopia) – Sep 11, 2019
:
drumbeater (noun) – (originally) a supporter of going to war; (generally) an intense supporter of a cause, idea, etc.
dystopia (noun) – an imaginary place where people live in fear under totalitarian/oppressive/undemocratic system; an imaginary community or society that is undesirable or frightening.
narrative (noun) – a representation of a particular situation; portrayal/ account.
pick holes in (phrase) – find fault with

, complain about, criticize.

intercept (verb) – obstruct

, impede, interrupt

.
monopoly (noun) – exclusive/complete control of something by a person/organisation.
mouthpiece (noun) – a person/newspaper that only conveys a particular party/organisation's opinions; spokesperson, propagandist, voice.
telling (adjective) – revealing

, significant, important.

commentary (non) – narration, report, review, analysis.
credibility (noun) – trustworthiness, reliability, integrity.
ecosystem (noun) – living things

, living beings.

free market

 (noun) – an economic system of buying and selling that is not under the control of the government, and where people can buy and sell freely.
stark (adjective) – (unpleasantly) clear, distinct/ evident; harsh, grim.
lockdown (noun) – confinement, restraint, encirclement.
detain (verb) – hold

, take into custody, arrest.

detenu (noun) – French Word détenu means a person in custody, detainee.
pellet (noun) – lightweight bullet, shot.
epicentre (noun) – the main 

point

 

of

 

unpleasant or problematic 

situation

.
resistance (noun) – ability to fight off

, ability to counteract/withstand, immunity from

.
harassment (noun) – persecution, persistent annoyance, coercion/intimidation.
graveyard (noun) – cemetery, burial ground/place.
plunge into (verb) – fall sharply

/steeply, plummet, drop rapidly, slump

.
patriotic (adjective) – nationalist, loyalist, loyal to one's country.
drum up (phrasal verb) – attempt to obtain something by canvassing/appealing.
contentious (adjective) – controversial, disputable, debatable.
privilege (verb) – exempt, except, immune.
rampage (noun) – wild/violent behaviour, running amok, berserk.
suppression (noun) – defeat, subduing, repression.
hatred (noun) – dislike, hostility, resentment/aversion.
fraternity (noun) – group, profession; a group of people with same job, interest and etc.
ground zero (noun) – the center or origin of violent/intense activity; 

a site of violent attack.

therein (adverb) – in that respect.
paradox (noun) – mystery, absurdity; incongruity.
curfew (noun) – a rule which is instructing people to stay at home, typically at night.
harass (verb) – oppress, disturb, trouble.
rely on (phrasal verb) – depend on, resort to, have recourse to.
home-grown (adjective) – belonging to one's own country.
stand-out (adjective) – very good.
beg the question (phrase) – raise a point; invite question.
duty-bound (adjective) – under an obligation, filled with gratitude, appreciative.
sunshine (noun) – happiness

, cheerfulness, joyfulness, gladness.

academic (noun) – scholar

, teacher, educator.

craven (adjective) – cowardly, timid/weak, shrinking/cowering.
parrot (noun) – someone who repeats/echos/says again something mechanically.
capitulation (noun) – surrender, submission, yielding/giving in.
isle (noun) – a small island.
valiance  (noun) – great courage, determination.
conformity (noun) – compliance with

, adherence to, accordance with;  following the crowd, running with the pack.

flurry (noun) – spate, series

, succession.

coast (verb) – make progress without making much effort.
swathe (noun) – a wide area (of something).
unvarnished (adjective) – straightforward

, plain, simple. 

islamophobic (adjective) – a person's point of view involving an baseless fear and dislike of Muslims.
propaganda (noun) – information, promotion, publicity/advocacy.
sans (preposition) – devoid

, deprived, in need.

scrutiny (noun) – observation, inspection, examination.
sound bite (noun) – sentence

, phrase, group of words. 

oblige (verb) – require

, bind, compel.

charitable (adjective) – considerate, broad-minded, understanding.
epoch (noun) – era, period, time.

hyper-nationalism

 (noun) – extreme nationalism, ultra-nationalism.
revert to (verb) – return, go back, change back.
chaos (noun) – disorder, turmoil, confusion/disruption.
underhand (adjective) – deceitful

, dishonest, disreputable, unethical.

epoch (noun) – period, time, era.
hyper-nationalism (noun) – 

excessively, above normal (nationalism).

chaos (noun) – disorder

, disarray, disorganization.

kaleidoscope (noun) – it consists of a lot of very different parts, such as different colours, patterns, or shapes.
toady (noun) – puppet, stooge, sycophant.
perception (noun) – insight, understanding, discernment/thoughtfulness.
purchase (noun) – support, firm contact, attachment.
apogee (noun) – the furthest point in the Moon or satellite's elliptical orbit around Earth.
evisceration (noun) – deprivation (something) of its essential content.
overturn (verb) – reverse, overrule, nullify/cancel.
credo (noun) – attitude; morality, belief/idea.
the afflicted (noun) – people in trouble/distress;  people who are affected adversely.
benchmark (noun) – standard, guideline, basis.
lynching (noun) – an act of punishing/killing someone by hanging for claimed offence by the group of people without legal trail.

surgical strike

 (noun) – the military attack aimed to cause damage on a particular target with small/no collateral damage to surroundings.
watchdog (noun) – inspector/supervisor, observer, ombudsman.
supine (adjective) – weak

, spineless, yielding. 

pliancy (noun) – yielding, compliant

, docile nature.

pavlovian (adjective) – relating to a method to cause a reflex (automatic) response or behavior by training with repetitive action; (Classical conditioning) suggested by the Russian physiologist I. P. Pavlov.
sycophancy (noun) – submissive/obedient behaviour towards someone important in order to gain advantage.
hinterland (noun) – remote areas of a country away from the coastal areas/the banks of major rivers.
intimidation (noun) – frightening, threatening, oppression.
curry favour (phrase) – bring oneself into favour with someone by submissive/obedient behaviour.
stratagem (noun) – plan, tactic, manoeuvre; trickery.
subjugate (verb) – conquer

, vanquish, defeat.

join hands (phrase) – work together.
intimidatory (adjective) – frightening, menacing, terrifying.
plausible (adjective) – valid, convincing/credible, logical.
deniability (noun) – the ability to deny something.
interrogate (verb) – question, cross-examine, probe.
shortfall (noun) – deficit, inadequacy/deficiency; shortcoming/defect.
fall in line (phrase) – conform with others.
empathy (noun) – compassion

, sympathy, pity, feeling.

the equation (noun) – the situation

, the problem; a situation in which several factors must be taken into account.

Brexit (noun) – a term used for the (supposed) departure of the United Kingdom from the European Union.
scramble (noun) – struggle, tussle/scuffle, battle.
spark (verb) – give rise to, trigger, activate/initiate.
blackout (noun) – suppression, cut-off, silence.
take hold (phrase) – start to have an effect.
thumb one's nose at (phrase) – defy

, go against, disregard, ignore, disobey.

bulletin (noun) – communication, report, news.
tagline (noun) – saying, formula, legend.
rest on one's oars (phrase) – relax one's efforts.
manufacture (verb) – fabricate, make up, formulate, frame.
invasion (noun) – attack, incursion, assault/assailing.
Huxleyan (adjective) – pertaining to Thomas Henry Huxley (1825–1895), English anatomist, known as "Darwin's Bulldog" for his advocacy of Charles Darwin's theory of evolution.
circuitry (noun) – circuits collectively.
unitary (adjective) – relating to a system of government in which power is provided to the central government.
explicitly (adverb) – clearly, unequivocally, without any doubt.
scarcity (noun) – shortage

, undersupply, dearth/lack, rarity.

dissent (noun) – disagreement, disapproval, opposition.
in spite of (phrase) – despite, notwithstanding, regardless of.
plethora (noun) – excess, abundance, surplus/too many.
replicate (verb) – copy, reproduce, duplicate.
pretence (noun) – (outward) appearance, impression/image, display.
humanity (noun) – humankind, the human race, people.
eternal (adjective) – everlasting, continuous, permanent.
pull out (phrasal verb) – withdraw, leave, get out.
abrogation (noun) – abolition, repeal, cancellation (of a law/agreement).
set off (phrasal verb) – leave, depart, embark/start out.
assassination (noun) – murder, killing.
Note:  
 1. Click each one of the words above for their definition, more synonyms, pronunciation, example sentences, phrases, derivatives, origin and etc from http://www.oxforddictionaries.com/.bigotry

, narrow-mindedness
2. Definitions (elementary level) & Synonyms provided for the words above are my personal work and not that of Oxford University Press. Tentative definitions/meanings are provided for study purpose only and they may vary in different context. 
3. This word list is for personal use only. Reproduction in any format and/or Commercial use of it is/are strictly prohibited.
Today's Advanc
ed Word List 1 for The Hindu Lead Article (The drumbeaters of dystopia) – Sep 11, 2019
: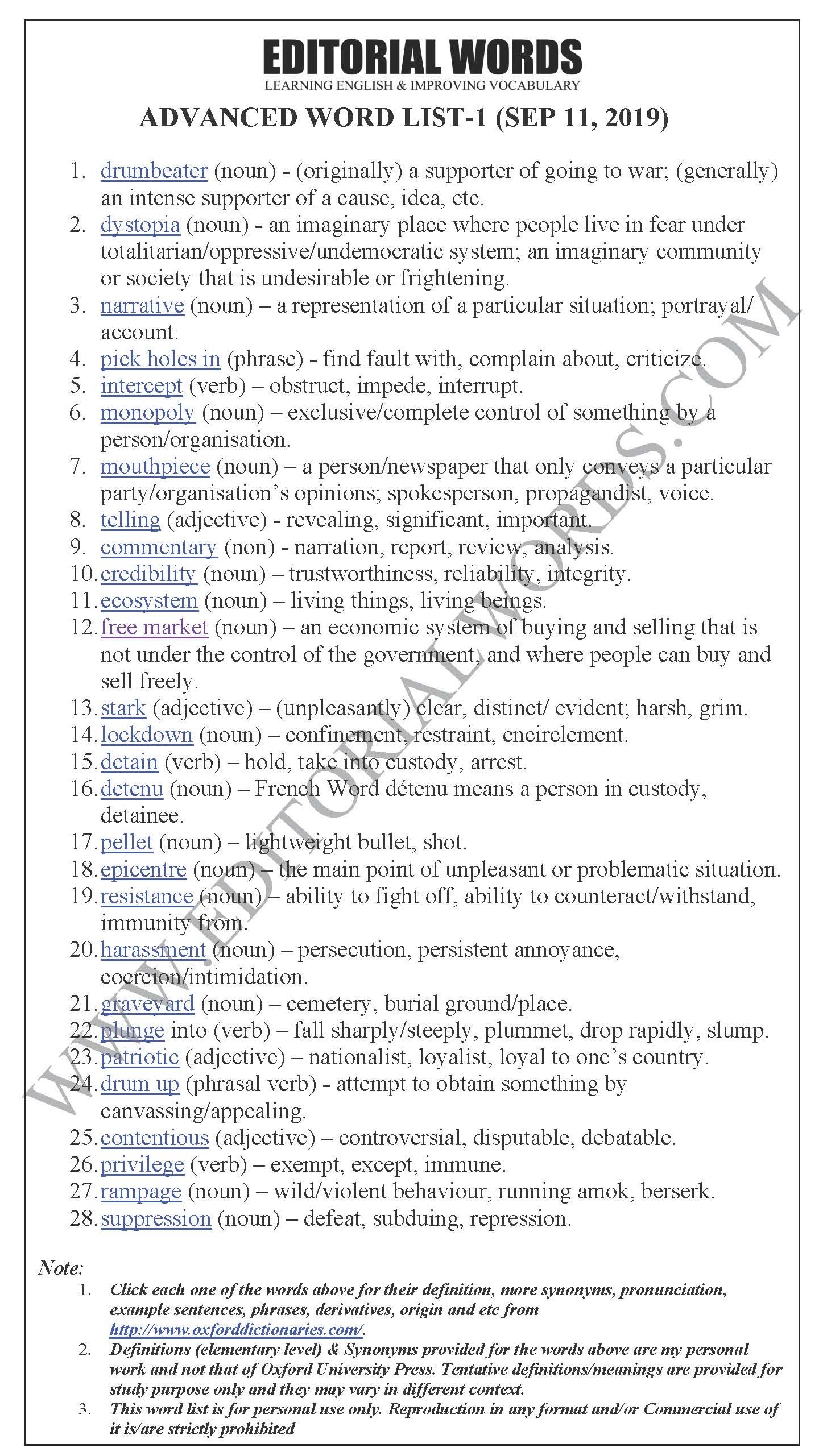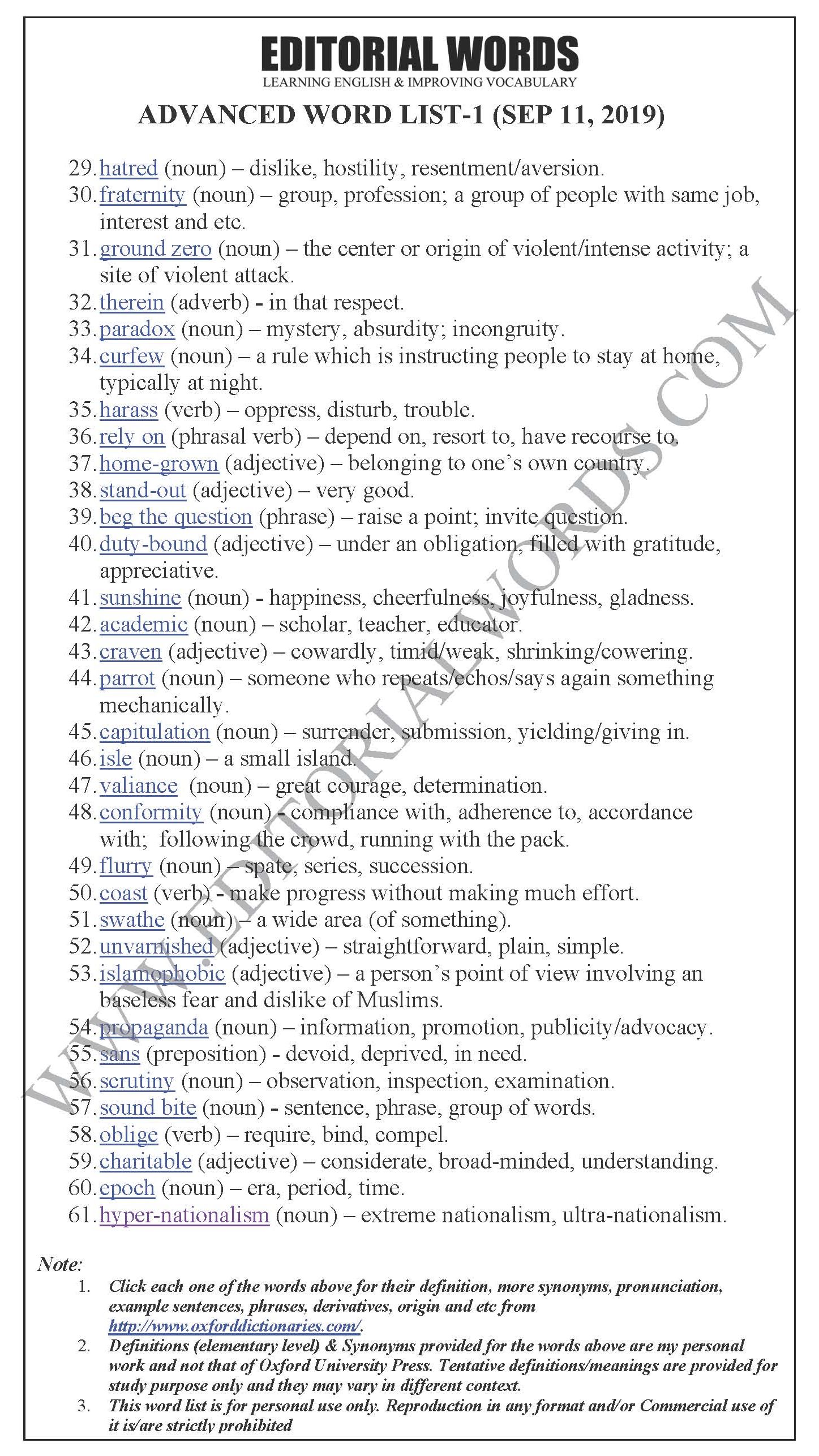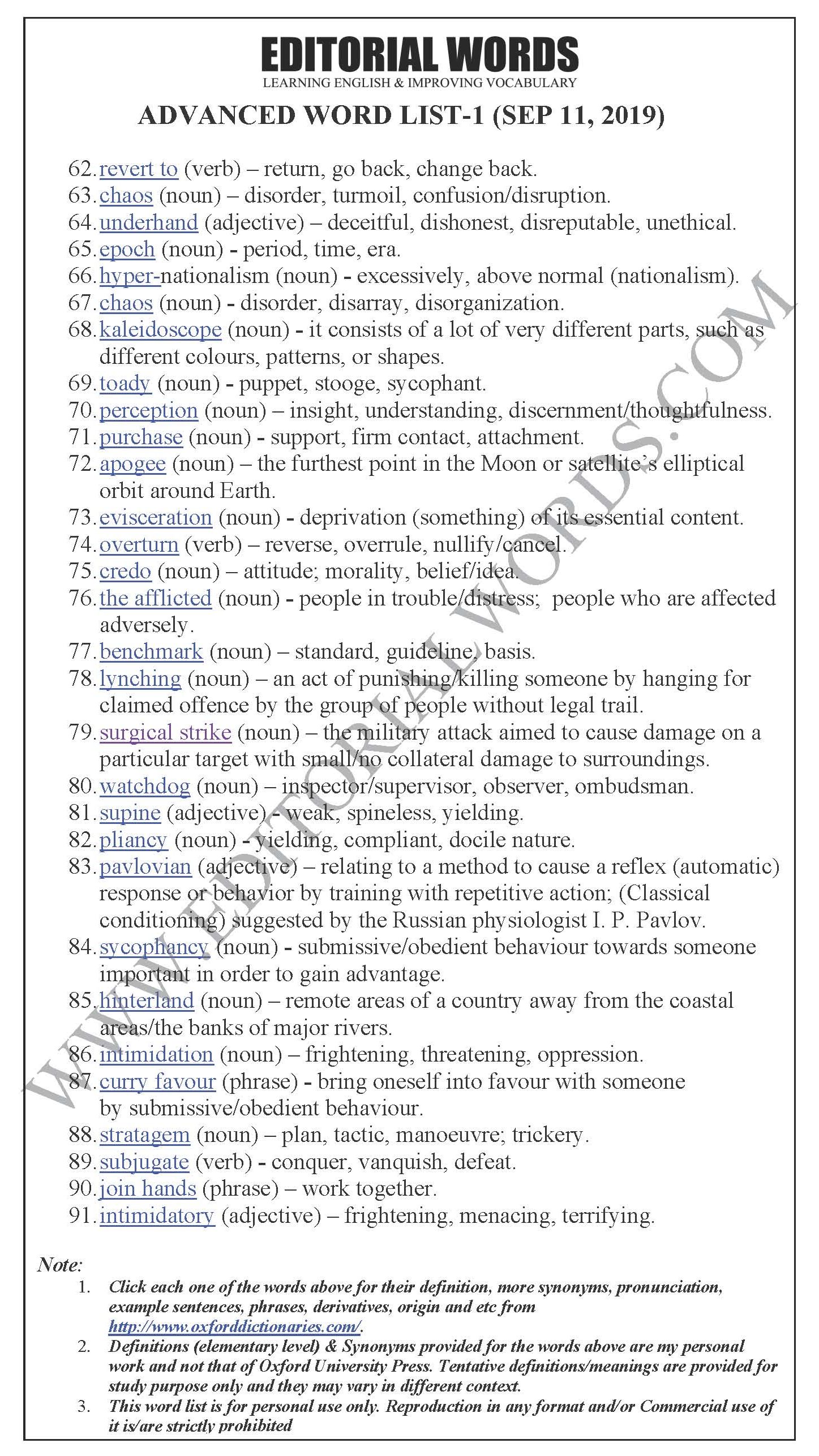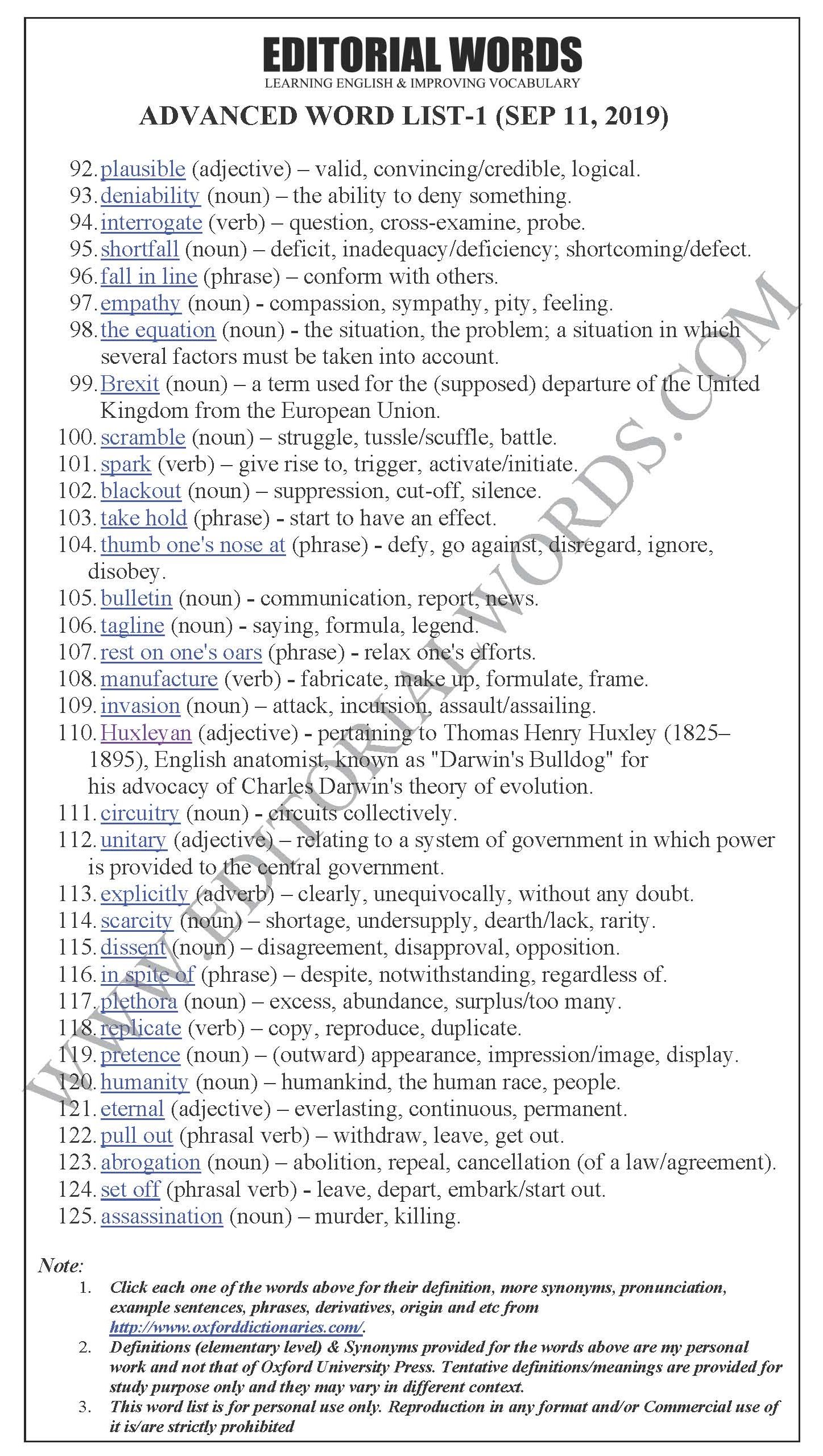 "Phrasal Verbs" We Learnt Last Week
"Idioms & Phrases" We Learnt Last Week
"Important Definitions" We Learnt Last Week
Recent Word Lists For The Hindu Editorial Articles
Recent Advanced Word Lists For The Hindu Lead Articles