The Hindu Lead Article (In the court of last resort) – Oct 03, 2018
In Lewis Carroll's Alice in Wonderland, there is a segment called "The Mouse's Tale". It features a dialogue between a dog (called Fury) and a mouse. For further reading, visit "The Hindu". Below is today's advanced word list-1 for The Hindu Lead Article (In the court of last resort) – Oct 03, 2018.
To read this article, click here.
This preview is provided here with permission.  
Courtesy: The Hindu
Today's Advanced Word List 1 for The Hindu Lead Article (In the court of last resort) – Oct 03, 2018
:
last resort (phrase) – a final course of action when all else has failed; ultimate, final, eventual.
take over (phrasal verb) –  take charge of, take command of, assume responsibility for.
heed (verb) – pay attention to

, take into account, consider.

interlocutor (noun) – a person who takes part in a dialogue or conversation.
dismissive (adjective) – contemptuous, unenthusiastic, disdainful/lack of respect.
cur (noun) – an aggressive dog, hunting dog, canine.
pat (adverb) – aptly, smartly/suitably, quickly.
unprecedented (adjective) – not done or experienced before.
in accordance with (phrase) – in agreement with, in conformity with, in line with.
deport (verb) – expel, banish, exile (a foreigner from a country).
prod (verb) – stimulate, encourage, persuade.
content with (verb) – satisfy, please, pacify.
oversight (noun) – inspection, supervision, control.
modality (noun) – a particular method or procedure.
preside over (verb) – be in charge of, be responsible for, administer.
ascertain (verb) – find out, discover, come to know.
behind closed doors (phrase) – covertly, behind the scenes, without anyone knowing.
hinterland (noun) – remote areas of a country away from the coastal areas/the banks of major rivers.
take into account (phrase) – consider, respect, regard to.
grudgingly (adverb) – in a reluctant or in a manner resentful manner.
brush aside (phrasal verb) – dismiss, disregard, ignore.
rely upon (phrasal verb) – depend on, count on, reckon.

checks and balances

 (plural noun) – a system in which all departments of a government organization have right to amend/limit the powers of the other departments in order to avoid dominance of one department.
vacuum (noun) – gap, lacuna, deficiency.
deprive (verb) – dispossess, strip, overthrow/remove.
tearing (adjective) -hasty, violent, extreme.
envisage (verb) – foresee, predict, forecast.
deprivation (noun) – dispossession, withdrawal, removal.
the executive (noun) – the executive is a branch of government which enforces the law as written by the legislature and interpreted by the judiciary.
acquaint (with) – known to, familiarize

, inform of.

on the ground (phrase) – in a situation/place where things are happening really/practically.
compliance (noun) – agreement, assent, concurrence.
elide (verb) – leave out, exclude, fail to include.
jurisprudence (noun) – body of laws/rules; legal system.
in the loop (phrase) – privy to, aware of, informed of.
let alone (phrase) – to say nothing of; not to mention.
remedy (noun) – solution, answer, antidote/panacea.
make a mockery of (phrase) – make something to look foolish/absurd.
tribunal (noun) – court, court of justice, court of law.
recourse (noun) – option, choice, possibility/way out.
nightmare (noun) – ordeal, torment, burden/curse.
farcical (adjective) – useless/senseless, ridiculous, laughable.

off with their heads

(phrase) – a famous phrase often used by The Queen of Hearts (a fictional character) and she was quick to give death sentences (by beheading people blindly).
all along (phrase) – all the time.
Note:   
Click each one of the words above for their definition, more synonyms, pronunciation, example sentences, phrases, derivatives, origin and etc from http://www.oxforddictionaries.com/.
Definitions (elementary level) & Synonyms provided for the words above are my personal work and not that of Oxford University Press. Tentative definitions/meanings are provided for study purpose only and they may vary in different context. 
This word list is for personal use only. Reproduction in any format and/or Commercial use of it is/are strictly prohibited.
Today's Advanc
ed Word List 1 for The Hindu Lead Article (In the court of last resort) – Oct 03, 2018: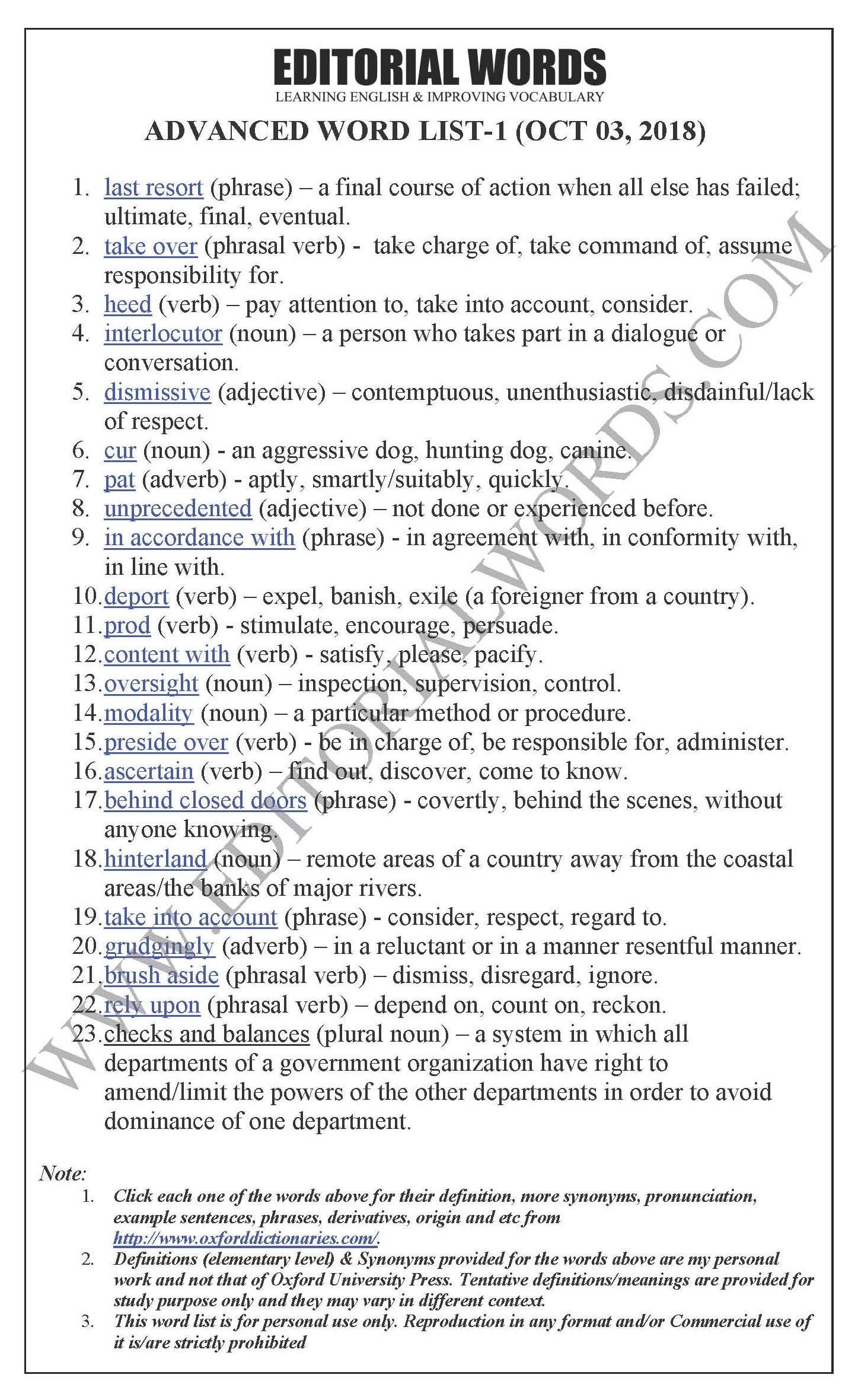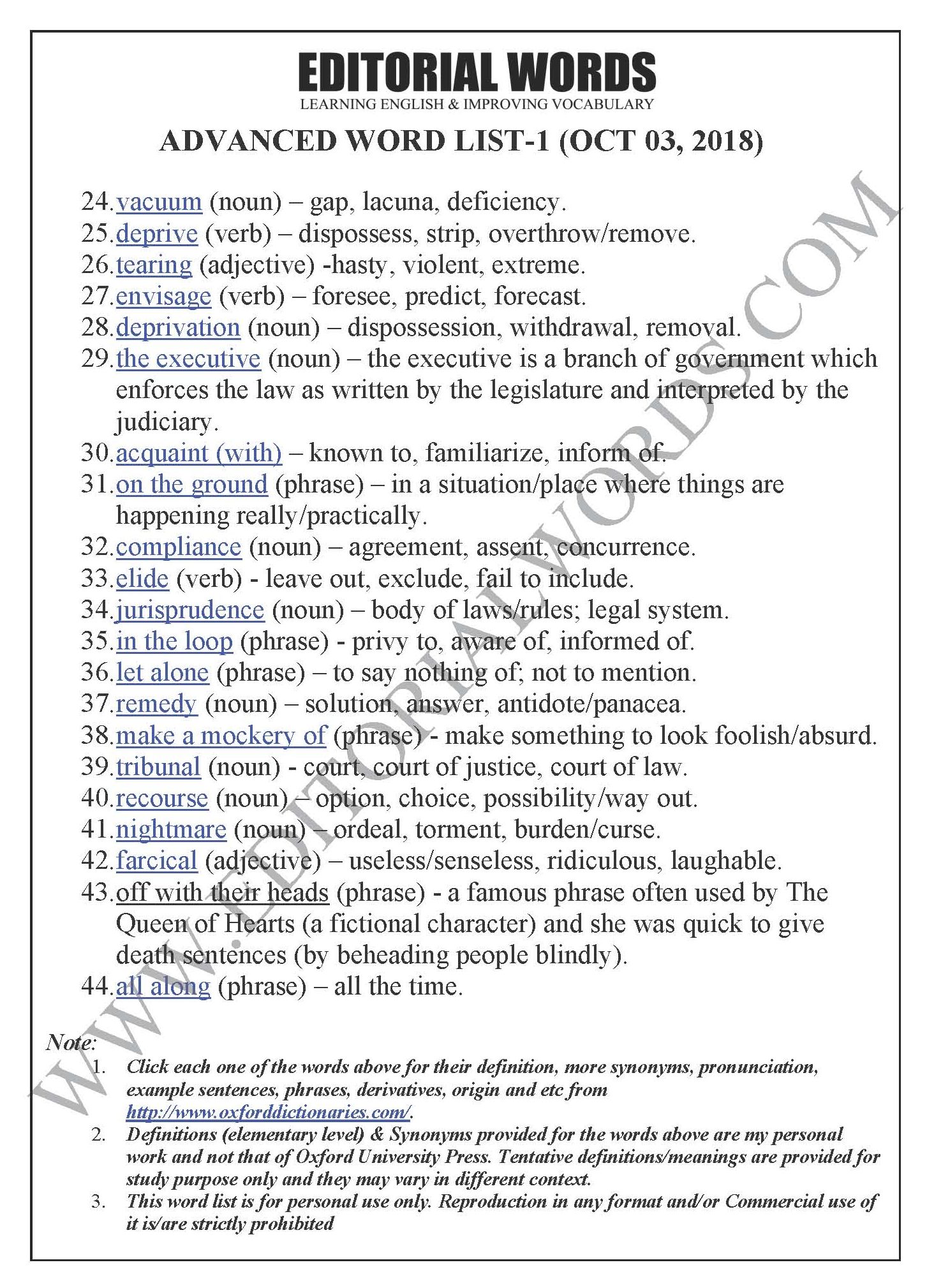 "Phrasal Verbs" We Learnt Last Week
"Idioms & Phrases" We Learnt Last Week