The Hindu Lead Article (In Afghan peace derailment, a wagon of hope) – Sep 14, 2019
In a characteristically mercurial tweet on September 9 morning (Indian Standard Time),… For further reading, visit "The Hindu". Below is today's advanced word list-1 for The Hindu Lead Article (In Afghan peace derailment, a wagon of hope) – Sep 14, 2019.
To read this article, click here.
This preview is provided here with permission.  
Courtesy: The Hindu
Today's Advanced Word List 1 for The Hindu Lead Article (In Afghan peace derailment, a wagon of hope) – Sep 14, 2019
:
derailment (noun) – obstruction, impediment, hindrance/obstacle.

wagon

(noun) – carriage

, wagon, compartment.

characteristically (adverb) – (of a particular person) typically, usually, habitually.
mercurial (adjective) – unpredictable, volatile/moody, changeable.
call off (phrasal verb) – cancel, abandon, shelve/drop.
envoy (noun) – ambassador, diplomat, consul.
clinch (verb) – secure

, settle, confirm/conclude

.
in the making (phrase) – developing, burgeoning, up and coming.
on account of (phrase) – because of, owing to/due to, by virtue of.
veto (noun) – a constitutional right.
implicitly (adverb) – completely, absolutely, tacitly.
ostensibly (adverb) – apparently, seemingly, on the face of it.
interim (adjective) – provisional, transitional, temporary.
salient (adjective) – important, principal, main/major.
kick-start (verb) – revive, restore, revitalize/uplift.
intra- (prefix) – within.
accompany (verb) – coincide with, coexist with, go with.
provincial (adjective) – regional, sectoral

, zonal

.
wrap up (phrasal verb) – conclude, finish, complete.
sabotage (verb) – damage or destroy something deliberately.
flawed (adjective) – defective, faulty, distorted, inaccurate.
insistence (noun) – force, demand, compulsion/coercion.
residual (adjective) – remaining, extra, excess.
composite (adjective) – made up of several parts; compound/combined, complex.
comprehensive (adjective) – all-inclusive, extensive, all-embracing wide-ranging.
ceasefire (noun) – a temporary stoppage of a war, truce, armistice.
water down (phrasal verb) – moderate, mitigate, tone down.
escalation (noun) – intensification; an increase in the intensity of something.
downgrade (verb) – decline, lower in status, reduce in rank.
bilateral (adjective) – involving two groups or countries.

strategic partnership

 (noun) – it is a long-term interaction between two countries based on political, economic, social and historical factors (Courtesy: IDSA (Institute for Defence Studies and Analyses)).
backlash (noun) – a strong negative reaction; adverse response, counteraction.
insidious (adjective) – stealthy, tricky, underhand/dishonest.
undermine (verb) – weaken, spoil, damage.
render (verb) – make, cause to be.
undercut (verb) – charge less than, charge a lower price than, undersell.
transitional (adjective) – temporary, provisional, short-term/makeshift.
fig-leaf (noun) – a leaf of a fig tree. it is used to cover the genitals of a nude in a work of art. It is also figuratively used to hide something unpleasant/displeasing thing from other's paying attention/notice to it.
illusion (noun) – deception, misconception, trickery.
pull out (phrasal verb) – withdraw, leave, get out.
pave the way for (phrase) – prepare for, make provision for, precede.
dispensation (noun) – administration; system, organization.
take over (phrasal verb) – take charge of, take command of, assume responsibility for.
abdication (noun) – disowning, rejection, refusal/avoidance.
descent (noun) – an act of moving downwards; going down

, coming down; incline, drop.

fan (verb) – intensify

, increase, agitate, inflame/exacerbate.

radical (adjective) – complete, total, entire.
extremism (noun) – radicalism, fanaticism, dogmatism.
perceived (adjective) – regarded, observed; considered/supposed.
sell-out (noun) – disloyalty

, bad faith, faithlessness, falseness.

betrayal (noun) – revelation, disclosure, disloyalty.
notwithstanding (adverb) – nonetheless, even so, all the same, after everything.
lampoon (verb) – criticize, ridicule, make fun of.
virtue (noun) – quality, point, advantage, attribute.
pull away (phrasal verb) – take off, remove, withdraw.
exasperation (noun) – irritation, discontent, displeasure.
deprive (verb) – dispossess

, strip, divest, relieve

.
limelight (noun) – the focus of attention, public attention, public notice.
breathe a sigh of relief (phrase) – to experience a big relief from something stressful/undesirable (with a noisy breathe out).
short-lived (adjective) – brief

, short, short-term, temporary.

unilateral (adjective) – relating to a method of taking decisions (on international relations) by a state (country) individually without considering other states (countries).
pullout (noun) – departure, withdrawal, exit.
nevertheless (adverb) – in spite of that, notwithstanding, however.
window of opportunity (phrase) – lucky chance, good time, golden opportunity.
sovereignty (noun) – supremacy, dominion, power.
apparatus (noun) – a complicated structure/network/system of a organization.
address (verb) – attend to, tackle, deal with.
barometer (noun) – measure, indicator, example.
repudiation (noun) – denial/refusal, disavowal/disclaimer, contradiction/rejection.
forge (verb) – form, create, establish.
consensus (noun) – an idea or opinion that is shared by all the people in a group. agreement, concurrence.
dispel (verb) – banish, eliminate/remove, dismiss.
concession (noun) – grant of privilege; favour, allowance

, exception

.

bear on (phrasal verb) – relate to, apply to, concern/be connected with.
stand on one's own feet (phrase) – manage

, survive, subsist, look after oneself.

rapport (noun) – affinity

, link, close relationship, special relationship, understanding.
Note:  
 1. Click each one of the words above for their definition, more synonyms, pronunciation, example sentences, phrases, derivatives, origin and etc from http://www.oxforddictionaries.com/.bigotry

, narrow-mindedness
2. Definitions (elementary level) & Synonyms provided for the words above are my personal work and not that of Oxford University Press. Tentative definitions/meanings are provided for study purpose only and they may vary in different context. 
3. This word list is for personal use only. Reproduction in any format and/or Commercial use of it is/are strictly prohibited.
Today's Advanc
ed Word List 1 for The Hindu Lead Article (In Afghan peace derailment, a wagon of hope) – Sep 14, 2019
: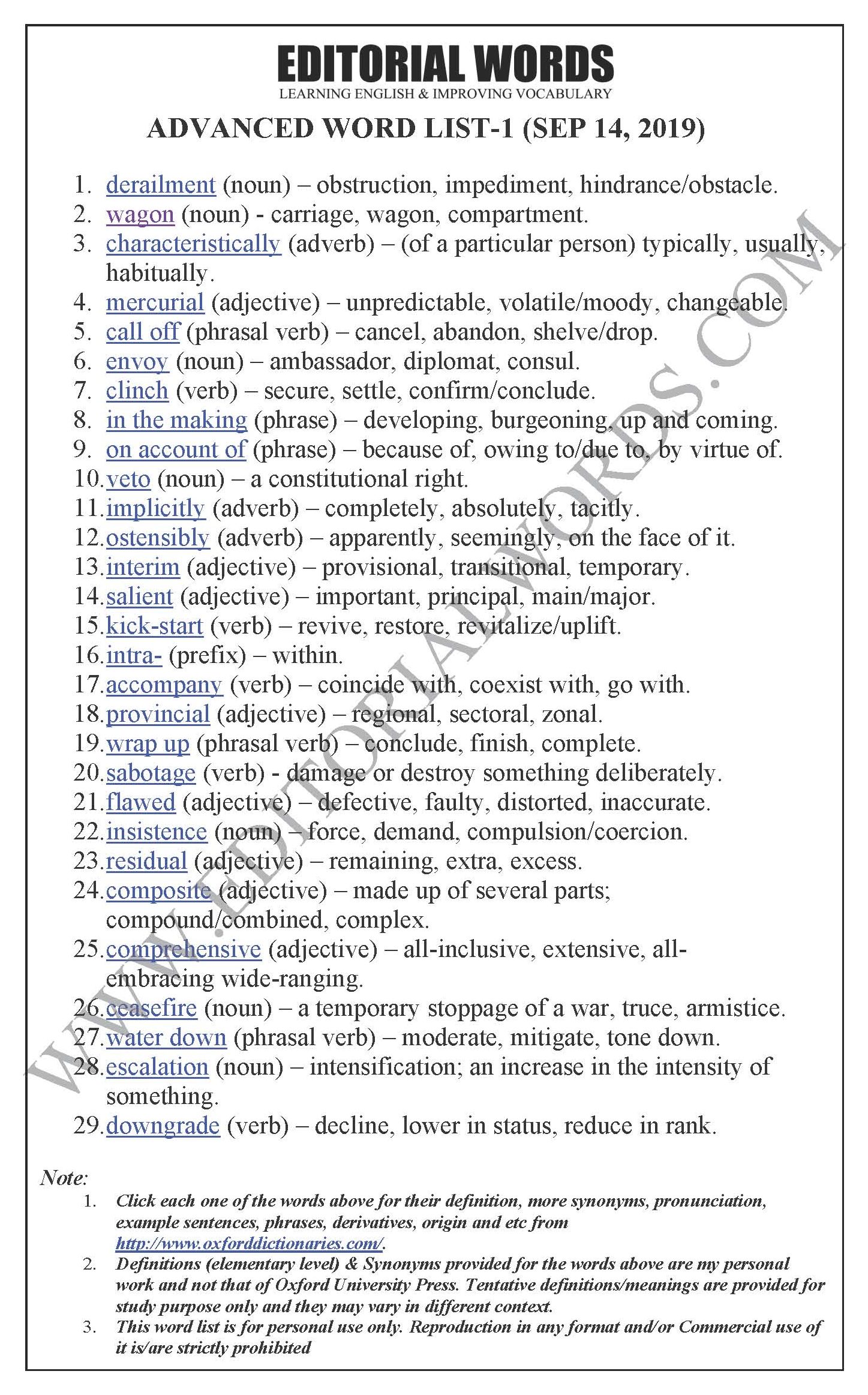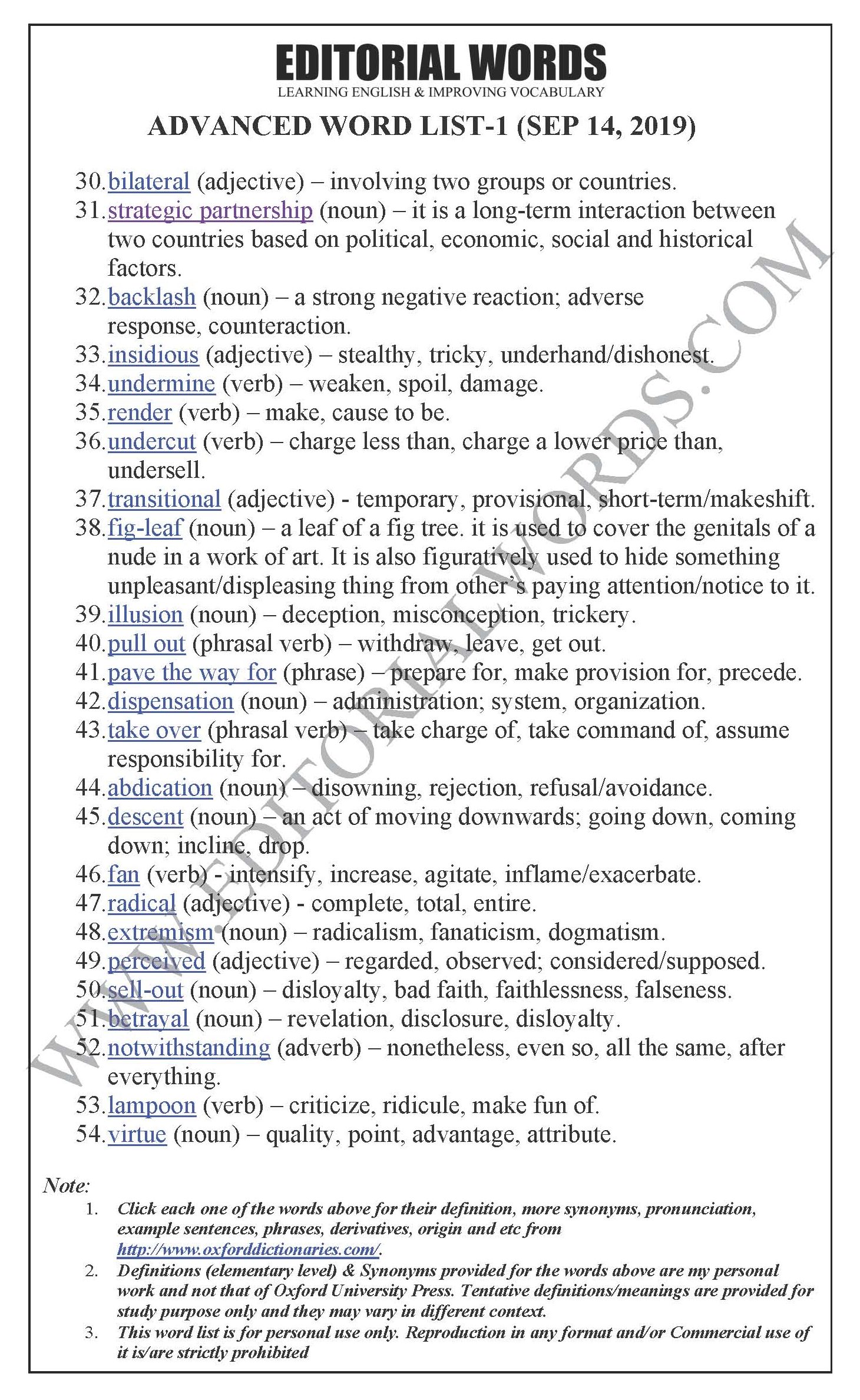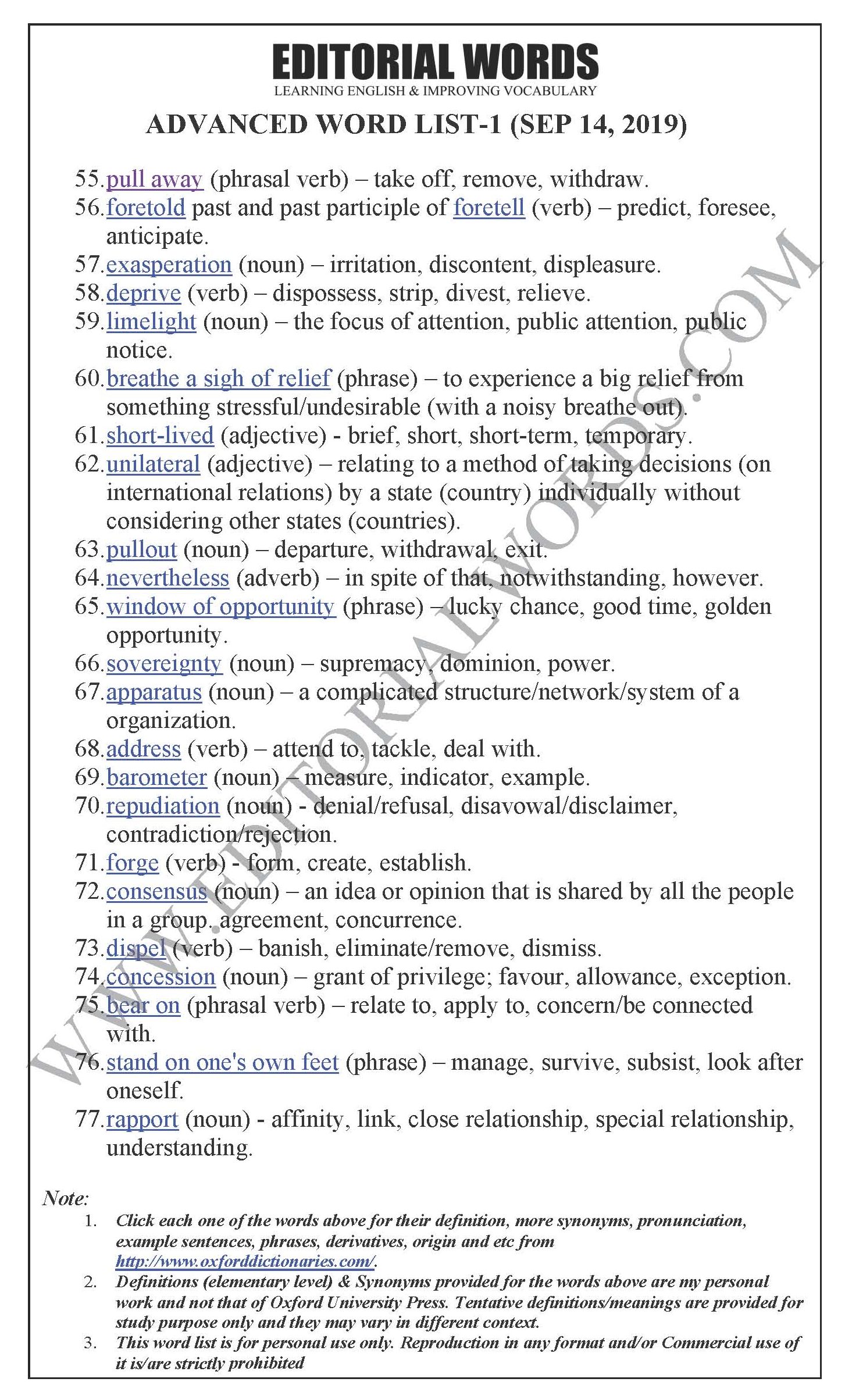 "Phrasal Verbs" We Learnt Last Week
"Idioms & Phrases" We Learnt Last Week
"Important Definitions" We Learnt Last Week
Recent Word Lists For The Hindu Editorial Articles
Recent Advanced Word Lists For The Hindu Lead Articles