The Hindu Lead Article (Elected autocrats, their pandemic responses) – Jun 01, 2021
A year and counting into the greatest health crisis the world has faced in over a century we can identify one overwhelming factor that separates the countries that have done relatively… For further reading, visit "The Hindu". Below is today's advanced word list-1 for The Hindu Lead Article (Elected autocrats, their pandemic responses) – Jun 01, 2021.
To read this article, click here.
This preview is provided here with permission.  
Courtesy: The Hindu
Today's Advanced Word List 1 for The Hindu Lead Article (Elected autocrats, their pandemic responses) – Jun 01, 2021:
autocrat (noun) – authoritarian, totalitarian; dictator, despot.
pandemic (noun) – the worldwide spread of a new disease; The illness spreads around the world and typically affects a large number of people across a wide area.
messianic (adjective) – relating to any popular leader promising to make major changes in a rigorously determined and enthusiastic way; passionate, fervent, zealous, emotional, enthusiastic.
populism (noun) – policies that supposedly represent the opinions of ordinary people.
polarisation (noun) – separation of two contrasting groups (based on different opinions/beliefs).
insularity (noun) – the quality of being interested in their own country/state and not willing to accept anything (ideas, culture, etc,.) from outside of it.
— and counting (phrase) – used to say that something is constantly increasing.
overwhelming (adjective) – very large, huge, enormous.
relatively (adverb) – comparatively, proportionately, somewhat, to a certain extent/degree.

by any measure

(phrase) – by any standards, from all perspectives.
dismal (adjective) – bad

, poor, dreadful, awful, terrible. 

per-capita (adverb & adjective) – per person, for each, individually.
toll (noun) – number

, count, total (number of deaths).

denialism (noun) – the refusal to accept well-established facts.

novel coronavirus (nCoV) (SARS-CoV-2)

 (noun) – a new strain (type/variety) coronavirus that has not been previously identified in humans. (Courtesy: WHO)
fiercely (adverb) – savagely, severely, aggressively/extremely.
petri dish (noun) – a shallow transparent covered dishes used for culturing cells, bacteria, and mosses.
mutation (noun) – a significant and basic "alteration/variation" in the DNA sequence.
account for (phrasal verb) – constitute, comprise, form, represent.
probably (adverb) – most likely, in all likelihood

, all things considered, perhaps.

deadliest superlative adjective of deadly (adjective) – fatal, lethal, life-threatening.
affront (noun) – insult

, offence, injustice, outrage.

come to terms with (phrase) – to accept oneself to something painful/sad/difficult (situation); reconcile oneself to, come to accept, become accustomed to, adjust to.
wilfully (adverb) – deliberately, purposefully.
downplay (verb) – play down, under emphasize, understate; make something to look less important/significant.
gravity (noun) – seriousness

, importance/significance, severity. 

cripple (verb) – ruin

, destroy, impair, damage.

incoherence (noun) – the standard of being illogical, inconsistent, or unclear.
partisan (adjective) – biased, prejudiced, one-sided.
hostility (noun) – opposition, conflict, resentment, enmity, aversion, antipathy.
autocratic (adjective) – undemocratic, totalitarian, authoritarian; domineering, high-handed.
writ (noun) – authority, order.
right-wing (adjective) – conservative, rightist, ultra-right, alt-right.
populist (adjective) – relating to the political approach which claims that it is representing the common/ordinary people.
tropical (adjective) – figurative, symbolic, metaphorical. 
dismiss (verb) – disregard, brush off, shrug off, pay no heed to.
boast (verb) – brag, gloat, show off, congratulate oneself, exaggerate

, overstate.

  
hoax (noun) – deception, fraud, cheat, bluff, humbug.
fire (verb) – dismiss, sack, throw out, kick out.
defy (verb) – resist, take a stand against, confront.
mockery (noun) – insulting/absurd imitation of something; a false representation of something; travesty, farce, poor imitation, a poor substitute.
outright (adjective) – out-and-out

, absolute, complete, straightforward, categorical, unequivocal.  

decisive (adjective) – resolute

, firm, determined

.

measure (noun) – action, step, procedure.
impose (verb) – force, thrust, inflict (an unwelcome decision/ruling).
lockdown (noun) – an emergency protocol implemented by the authorities that prevents people from leaving from a place; An extended state of confinement/encirclement/isolation of a person by the authority.

federal

(adjective) – relating to a system of government in which establishments such as states or provinces share power with a national government.
welfare (noun) – well-being

.

consequence (noun) – outcome, ramification, repercussion.
migrant (noun) – a person who moves from one region to another – either within a country or across national borders in order to find work or better living conditions.
exodus (noun) – mass departure, evacuation, leaving/exit.
subside (verb) – diminish, decline, abate, get lower.
variant (noun) – different or form or version or mutant of something (virus).
drag one's feet (phrase) – delay, procrastinate, postpone action, put off doing something.
vaccination (noun) – treatment with a vaccine to protect against a particular disease; immunization.
forge ahead (phrasal verb) – advance rapidly

, progress quickly, increase speed.

campaign (noun) – canvassing

, electioneering, an act of soliciting (asking for/requesting) votes; 

an organized effort that seeks to influence the decision-making progress within a specific group.
surge (verb) – rise or increase suddenly.
lead to (verb) – result in, cause, bring about, call forth, give rise to, produce.
call for (phrasal verb) – require, publicly ask/necessitate, demand.
egregious (adjective) – shocking, horrible/terrible, very bad.
indifference (noun) – unconcern about, apathy about, lack of interest in, disregard for.
vaccine (noun) – a biological preparation that improves immunity to a particular disease.
vaccinate (verb) – inoculate, administer, introduce (with a vaccine to provide immunity against a disease).
incarnation (noun) – embodiment, personification, epitome, manifestation.
peddle (verb) – advocate, promote, recommend, champion

.

virtue (noun) – advantage, benefit, merit.
fortitude (noun) – courage

, bravery, strength of mind, strength of character, gut.

deliberation (noun) – consideration, thought/thinking, careful discussion, contemplation.
yes-men (noun) – puppet, pawn.
triumphalism (noun) – boastfulness, self-assertion, self-satisfaction, excessive pride, extreme self-confidence, chutzpah, chest-thumping, chest-beating; an attitude or a belief that a particular doctrine, religion, culture, social system is superior to and should triumph all over others.
prematurely (adverb) – too soon, too early, before the usual time.
vanquish (verb) – conquer

, defeat, crush, quell, overcome

.
quack (adjective) – bogus

, false, fraudulent.

sheer (adjective) – total, complete.
macho (adjective) – male

, aggressively male, masculine.

bombast (noun) – bluster, ranting, empty talk, humbug.

take a lap

(phrase) – when someone does something substantially stupid thing, you tell them to "take a lap".
nationalism (noun) – it refers to a system (with a narrow set of ideas) created by a group of people who believe their nation is superior to all others. It is also a perception of national superiority and an orientation toward national dominance- called chauvinism (excessive nationalism).
feed on (phrasal verb) – gain strength from, gain energy from.
champion (verb) – uphold, support, advocate, back.
virtuous (adjective) – righteous

, morally correct, ethical.

evangelism (noun) – religious teaching

, instruction, message.

 
weaponise (verb) – use as a weapon.
demonisation (noun) – the depiction or portrayal of someone/something as bad/threatening.

Ethnicised

(adjective) – (made) ethnic.
demote (verb) – downgrade

, relegate, declass, lower in rank.

immigrant (noun) – non-native, foreigner, migrant.
secularist (noun) – a supporter of a government which is free from religious considerations.
subscribe to (verb) – agree with

, be in agreement with, support/endorse.

ideal (noun) – principle, standard, morality.
undeserving (adjective) – not worthy, not good enough for.
deficient (adjective) – lacking

, inadequate, insufficient, poor.

essentialize (verb) – consolidate, epitomize, streamline/channel.
demonise (verb) – to show someone/something as evil/wicked/bad.
white supremacy (noun) – support for the supremacy of a particular group, especially a racial group (white).
stoke (verb) – incite, encourage, fuel, provoke (a certain feeling/emotion strongly).
invade (verb) – violate, encroach on, infringe on, trespass on, obtrude on.
smear (verb) – blacken, defame, damage, vilify, slander, libel (someone's good name or reputation, particularly with untrue statements made public).
bandito (noun) – A Mexican bandit.
track record (noun) – previous performance, previous accomplishments, previous achievements.
homophobic (adjective) – relating to a dislike/hostility against homosexual people.
misogynistic (adjective) – firmly biased against women.
debase (verb) – degrade

, devalue, lower the status of.

double down (phrasal verb) – to be more firm & resolute on something (decided) even if that might be a risky choice; to double or increase a risk involved in doing something.
pursue (verb) – engage in

, conduct, take part in (an activity).

perceive (verb) – view, regard, consider.
ethno- (adjective) – ethnic.
polarised (adjective) – separated into opposing two.
mobilise (verb) – (of people) bring together for a particular cause.
solidarity (noun) – unity, harmony, cooperation.
inflame (verb) – provoke, incite

, arouse, whip up, kindle.

identity (noun) – a social category, a set of persons marked by a label and distinguished by rules deciding membership and (alleged) characteristic features or attributes; individuality, character, originality.
minion (noun) – follower, flatterer, fawner.
spectre (noun) – threat, menace, danger/

peril

. 
slur (noun) – insult

, libel, smear.

sensical (adjective) – sensible, rational.
personalise (verb) – customize something to meet someone's individual requirements.
centralise (verb) – concentrate

, bring under one roof, consolidate.

insulate (verb) – protect

, safeguard, shield.

fealty (noun) – allegiance

, faithfulness, fidelity, obedience, adherence.

over-ride (verb) –

 

reject, cancel, reverse, revoke, overrule, nullify.
tamper with (verb) – interfere, meddle, distort/alter, manipulate.

autocratisation

(noun) – the process that leads to democratic countries turning into an autocracy.

frontline staff/worker/responder/personnel

 (noun) – a person who is among the first to arrive and provide assistance at the scene of an emergency. First/front line workers/responders typically include paramedics, emergency medical technicians, police officers, firefighters, sanitary workers & etc.
subvert (verb) – undermine, weaken, impair, damage.
pushback (noun) – resistance, opposition, force back, repulse drive; hatred, dislike.
toxic (adjective) – fatal

, deadly; 

poisonous, harmful, dangerous.
centralisation (noun) – the process of having functions, powers, people or things only in a central location or authority.
civil society (noun) – civil society refers to space for collective action around shared interests, purposes, and values, generally distinct from government and commercial for-profit actors.
step up (phrasal verb) – increase

, intensify, strengthen, augment.

push back

(phrasal verb) – force back, repel, fight off; refuse, reject, prevent.
expose (verb) – reveal

, uncover, display, exhibit, disclose, manifest, unveil.

plummet (verb) – plunge, drop, nosedive, decrease.
repudiate (verb) – reject, deny, abandon, disavow, discard, disown.
call out (phrasal verb) – criticize someone for something (bad/incorrect) publicly and ask them to justify/explain it.
ravage (verb) – devastate, ruin, destroy, wreak havoc on, damage.
hubris (noun) – feeling of superiority, excessive self-importance, excessive pride, excessive self-confidence/self-glory, overconfidence, arrogance.
Note:    
 1. Click each one of the words above for their definition, more synonyms, pronunciation, example sentences, phrases, derivatives, origin and etc from http://www.oxforddictionaries.com/.
2. Definitions (elementary level) & Synonyms provided for the words above are my personal work and not that of Oxford University Press. Tentative definitions/meanings are provided for study purposes only and they may vary in a different context.  
3. This word list is for personal use only. Reproduction in any format and/or Commercial use of it is/are strictly prohibited.
Today's Advanc
ed Word List 1 for The Hindu Lead Article (Elected autocrats, their pandemic responses) – Jun 01, 2021
: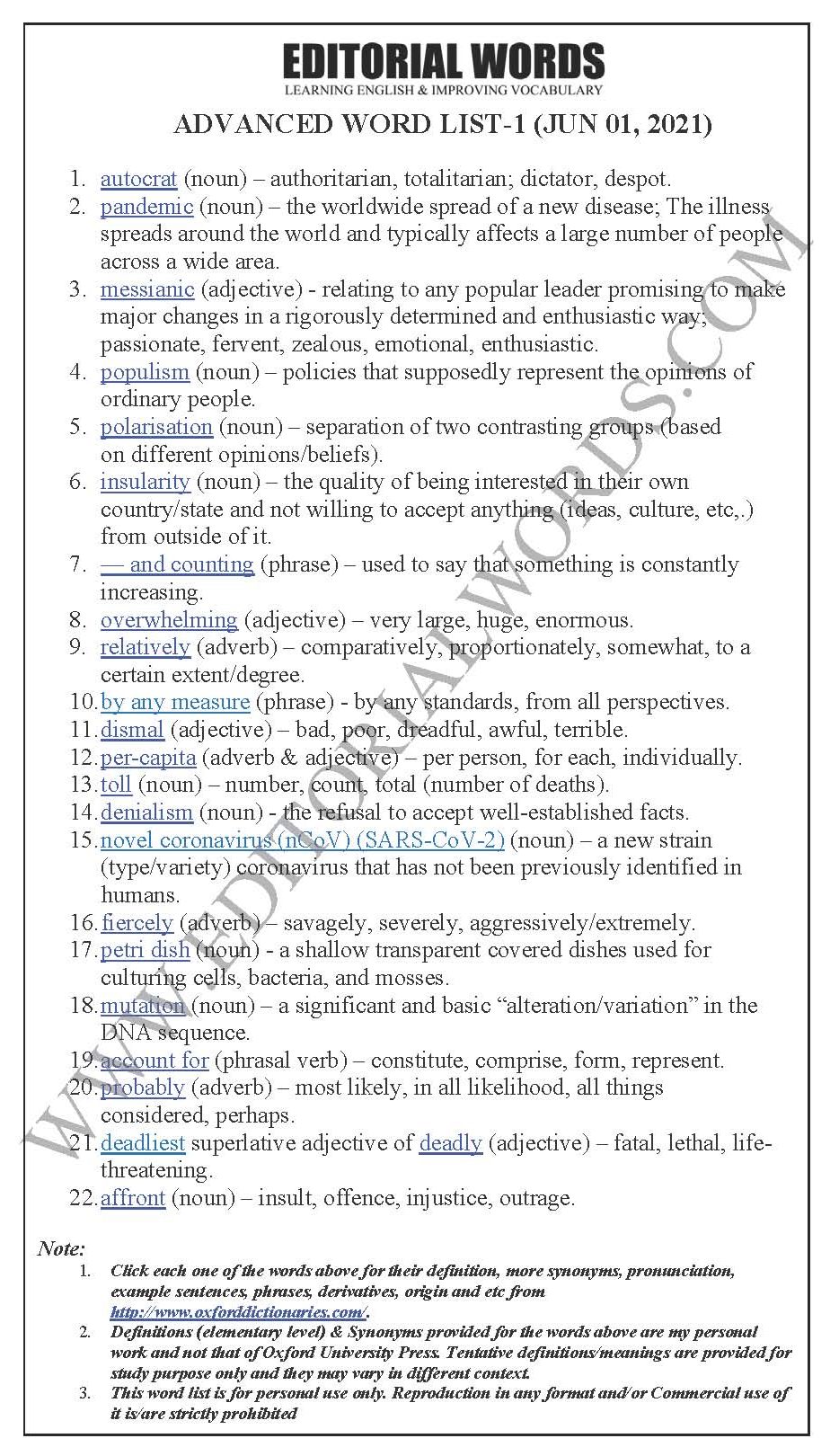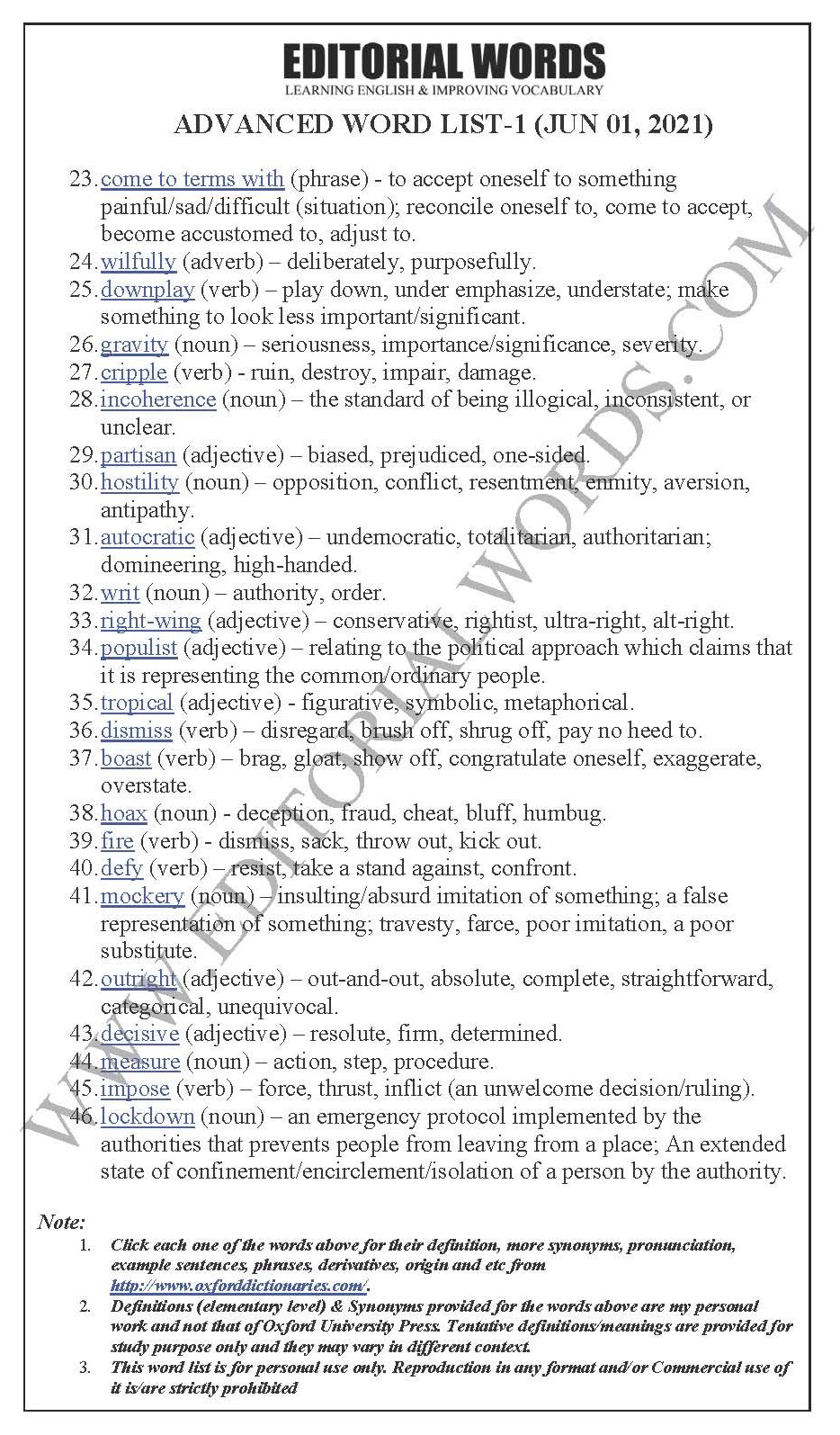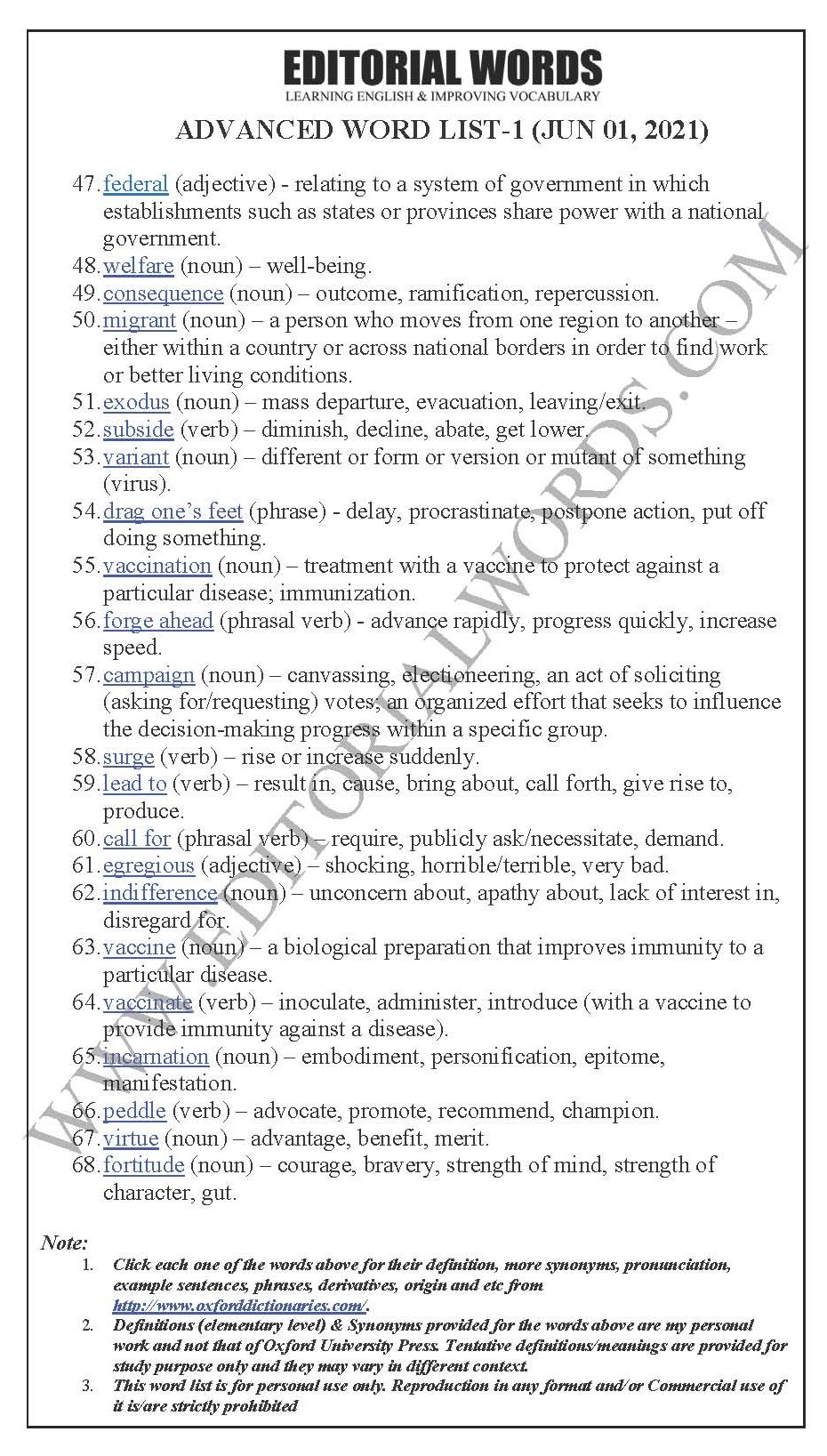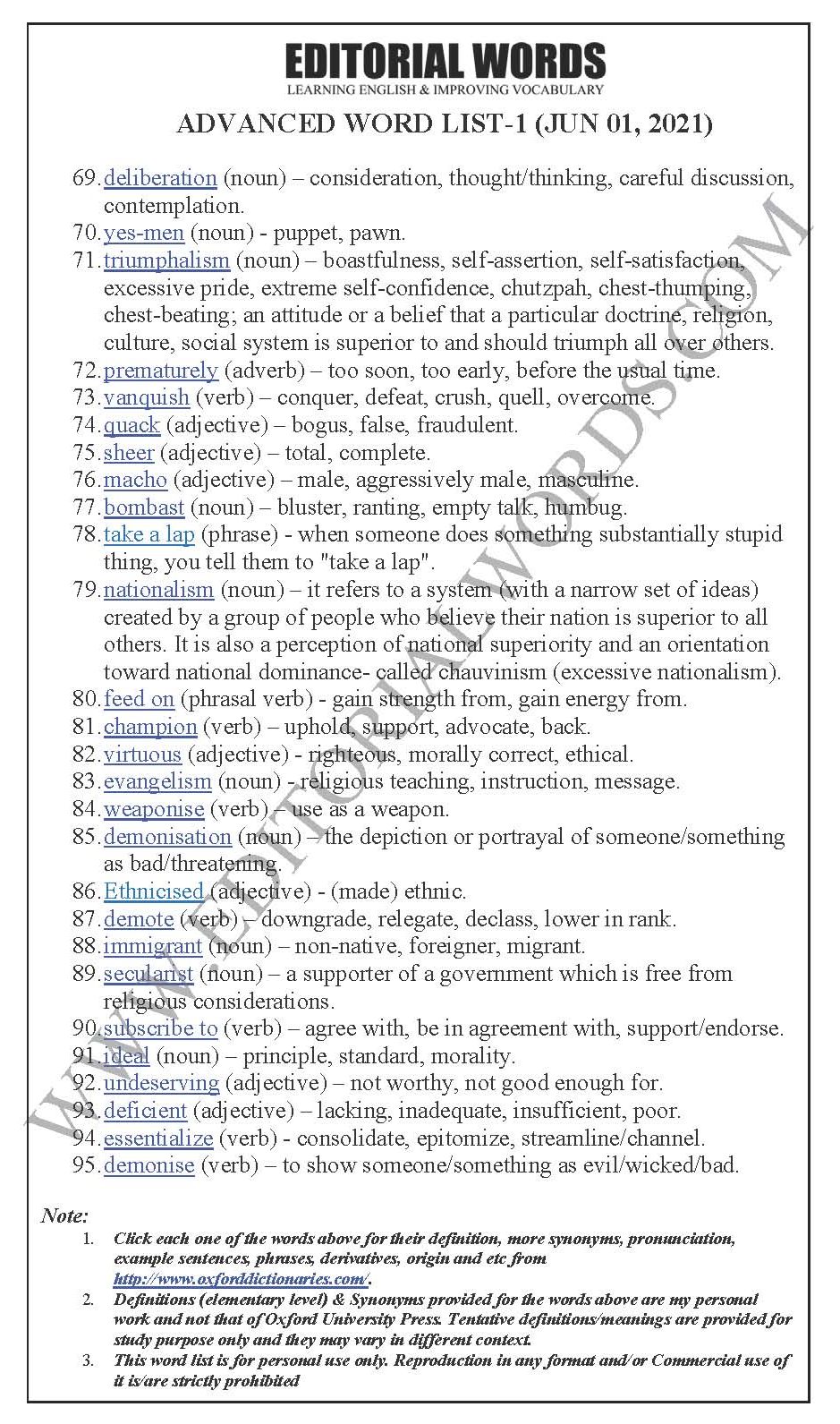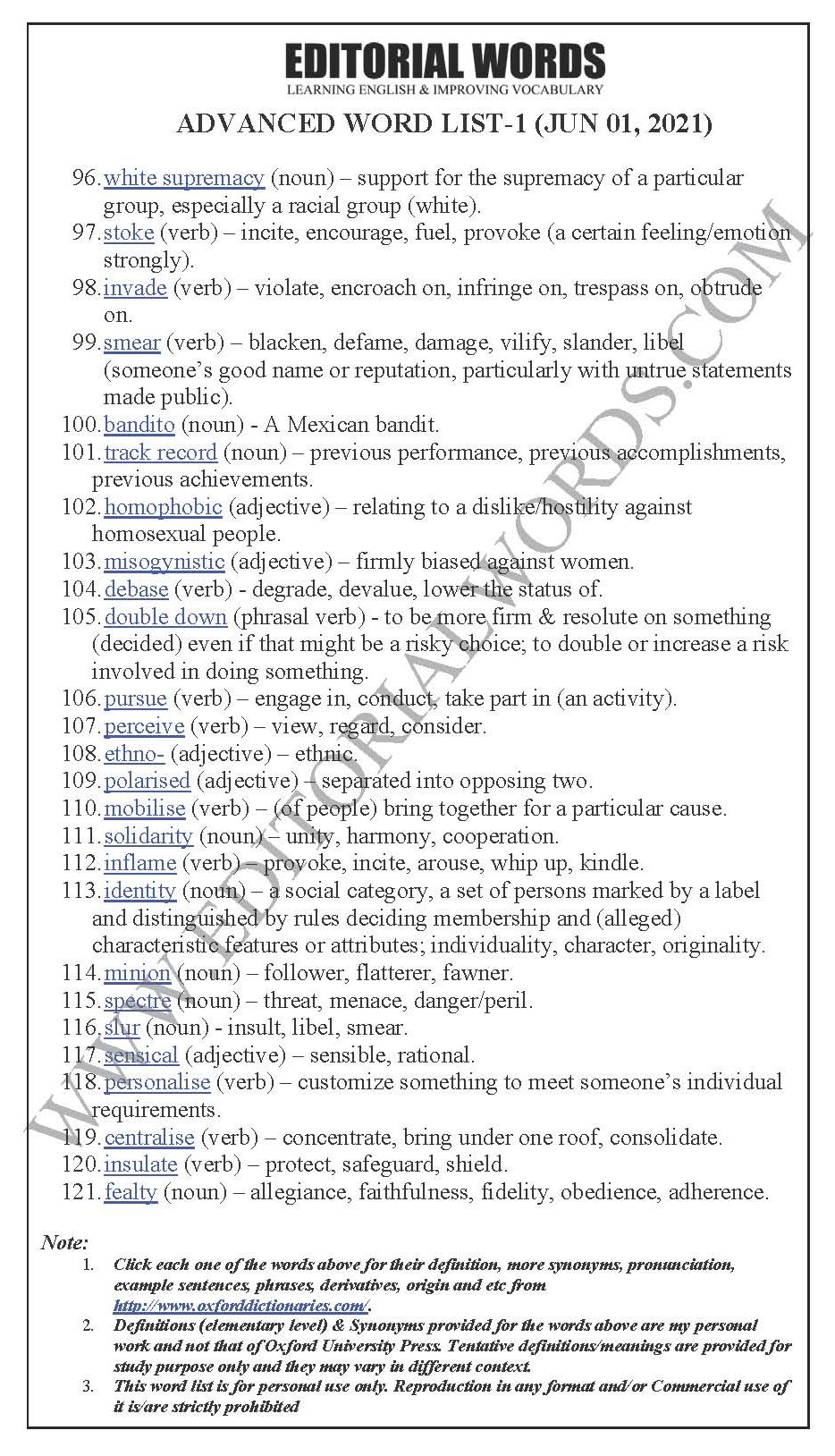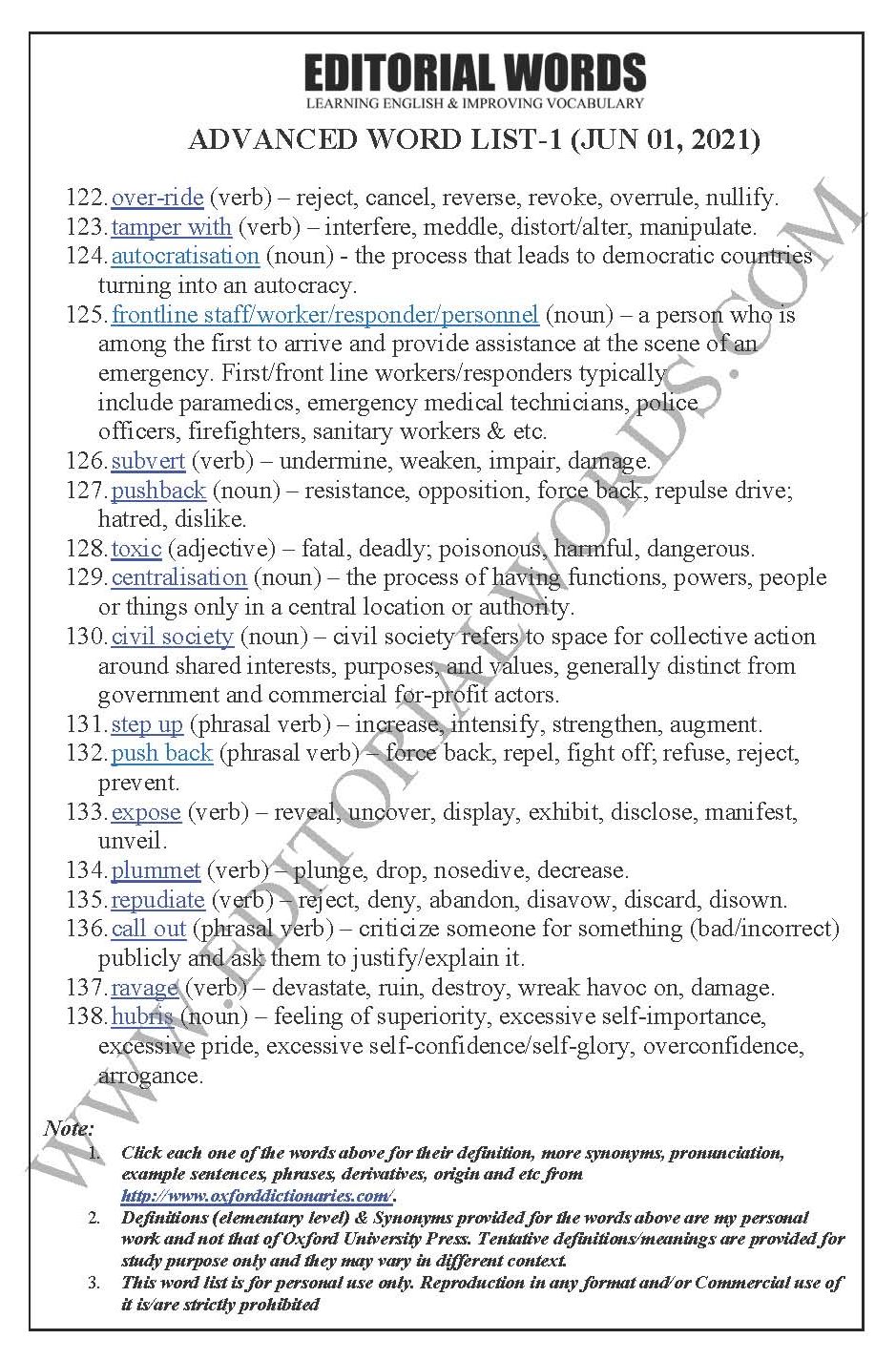 "Phrasal Verbs" We Learnt Last Week
"Idioms & Phrases" We Learnt Last Week
"Important Definitions" We Learnt Last Week
Recent Word Lists For The Hindu Editorial Articles
Recent Advanced Word Lists For The Hindu Lead Articles