The Hindu Lead Article (At the UNSC, a three-point agenda) – Jul 18, 2019
India's singular objective as a non-permanent member of the United Nations Security Council (UNSC) in 2021-22 should be to help build a stable and secure external environment. For further reading, visit "The Hindu". Below is today's advanced word list-1 for The Hindu Lead Article (At the UNSC, a three-point agenda) – Jul 18, 2019.
To read this article, click here.
This preview is provided here with permission.  
Courtesy: The Hindu
Today's Advanced Word List 1 for The Hindu Lead Article (At the UNSC, a three-point agenda) – Jul 18, 2019
:
consensus (noun) – an idea or opinion that is shared by all the people in a group. agreement, concurrence.
outlier (noun) – a person/thing which is  detached from the main system.
leverage (verb) – use, make use of, utilize (to maximum gain).
bristling (adjective) – aggressively tense, rough.
insurgency (noun) – uprising, revolt, rebellion.
narcotic (noun) – illegal drugs, painkiller, pain reliever.
trafficking (noun) – the activity of buying and selling goods/animal/people illegally; trading, dealing.
rivalry (noun) – opposition, conflict, stifle/friction.
cataclysmic (adjective) – disastrous, catastrophic, devastating.
turmoil (noun) – trouble, disturbance, upheaval/disorder.
turbulence (noun) – turmoil, troubles, disturbance.
echo (verb) – repeat, say again, restate/reiterate.
unmistakable (adjective) – distinctive, distinct, well defined.
unravel (verb) – resolve, solve, uncover/unfold.
sustenance (noun) – means of support, support, maintenance.
sanctuary (noun) – refuge, haven, hideout/hiding place.
contiguity (noun) – closeness

, nearness, presence.

mistrust (noun) – suspicion, distrust, misgivings.
misperception (noun) – wrong understanding/interpretation.
architecture (noun) – structure, construction, formation.
primordial (adjective) – instinctive, primitive, basic/fundamental.
instinct (noun) – inclination, desire, tendency/urge.
espouse (verb) – adopt, embrace; support/endorse (a cause).
grapple with (phrasal verb) – tackle with, face, deal with (a difficulty).
benign (adjective) – kind, good-natured, friendly, warm; favourable, advantageous, beneficial.
the Cold War (noun) – The Cold War was a state of political and military tension after World War II between powers in the Western Bloc and powers in the Eastern Bloc.
pejorative (adjective) – disapproving, insulting, disparaging.
connotation (noun) – implication, feeling, (hidden) meaning.
currency (noun) – the time in use/operation.
populism (noun) – related to policies that supposedly represent the opinions of ordinary people (Courtesy: VOA Learning English).
polarisation (noun) – separation of two contrasting groups (based on different opinions/beliefs).
ultra-nationalism (noun) – extreme nationalism (hyper-nationalism).
world order (noun) – the arrangement of power and authority that provides the system for the conduct of diplomacy and world politics in relation to the entire world.
profound (adjective) – deep-seated, basic, fundamental,

 radical, extensive. 

impending (adjective) – at hand, near/close; approaching/forthcoming.
sovereign (adjective) – independent, self-governing, autonomous.
fritter away (phrasal verb) – squander, waste, misuse.
diplomatic (adjective) – (delicate & sensitive) consular, foreign-policy, political.
elusive (adjective) – difficult to find; subtle, indistinct/intangible.
apportionment (noun) – distribution, allocation, sharing.
minuscule (adjective) – very small, insignificant, negligible.
deficit (noun) – shortfall, deficiency, shortage.
climate change (noun) – a long-term change in the Earth's climate, or of a region on Earth (Courtesy: NASA).
perils (noun) – difficulties, dangers, risks.
invoke (verb) – cite

, refer to, adduce.

humanitarian (adjective) – compassionate, humane, socially concerned.
interventionism (noun) – a policy of non-defensive (proactive) activity undertaken by a nation-state, or other geo-political jurisdiction of a lesser or greater nature, to manipulate an economy and/or society.
mayhem (noun) – chaos, disorder, turmoil/unrest.
repressive (adjective) – oppressive, dominating/coercive, authoritarian/draconian.
yardstick (noun) – standard, point of reference, guideline.
fragile (adjective) – weak, shaky/risky, feeble/unsound.
warrant (verb) – justify

, vindicate, validate.

sanctions (noun) – action taken, or an order given to force a country to obey international laws by limiting or stopping trade with that country, by not allowing economic aid for that country, etc (Courtesy: VOA Learning English).
multilateral (adjective) – involving many different countries (in which all WTO member countries are party to the agreement).
pursuant to (adverb) – in accordance with (a law).
pursue (verb) – engage in, follow, conduct.
rational (adjective) – logical, sensible, reasonable.
constitutionalism (noun) – limited/restrained/controlled government.
sine qua non (noun) – necessity, principles, essential item.
harmonise (verb) – coordinate

, integrate, make compatible/ bring in line with.

disarmament (noun) – demilitarization, limitation/reduction/deactivation of military weapons.
inception (noun) – establishment, institution, formation/initiation.
polycentrism (noun) – a political or cultural system which contains many different centres, especially centres of authority or control.
hinder (verb) – obstruct, impede, inhibit.
embrace (verb) – accept, be in favour of, support.
muscle (noun) – strength, power, muscularity.

apolarity

(noun) – The condition of being apolar (having no polarity).
unipolarity (noun) – in international politics, unipolarity is a distribution of power in which one state (country) exercises most of the cultural, economic, and military influence.
duopoly (noun) – it is used to describe any market where two firms dominate.
anathema (noun) – a curse; bane, evil.
hegemonic (adjective) – dominant in a political/social context.
intent on (verb) – determined, fixed, keen.
carve out (phrasal verb) – create, establish, take out (something with effort from a whole).
sphere (noun) – field, area, domain.
stride (verb) – (

long) step, 

proceed, move.

lift/on one's game

(phrase) – play/perform well.
reliance (noun) – dependence; trust/confidence on something.
Note:  
 1. Click each one of the words above for their definition, more synonyms, pronunciation, example sentences, phrases, derivatives, origin and etc from http://www.oxforddictionaries.com/.bigotry

, narrow-mindedness
2. Definitions (elementary level) & Synonyms provided for the words above are my personal work and not that of Oxford University Press. Tentative definitions/meanings are provided for study purpose only and they may vary in different context. 
3. This word list is for personal use only. Reproduction in any format and/or Commercial use of it is/are strictly prohibited.
Today's Advanc
ed Word List 1 for The Hindu Lead Article (At the UNSC, a three-point agenda) – Jul 18, 2019
: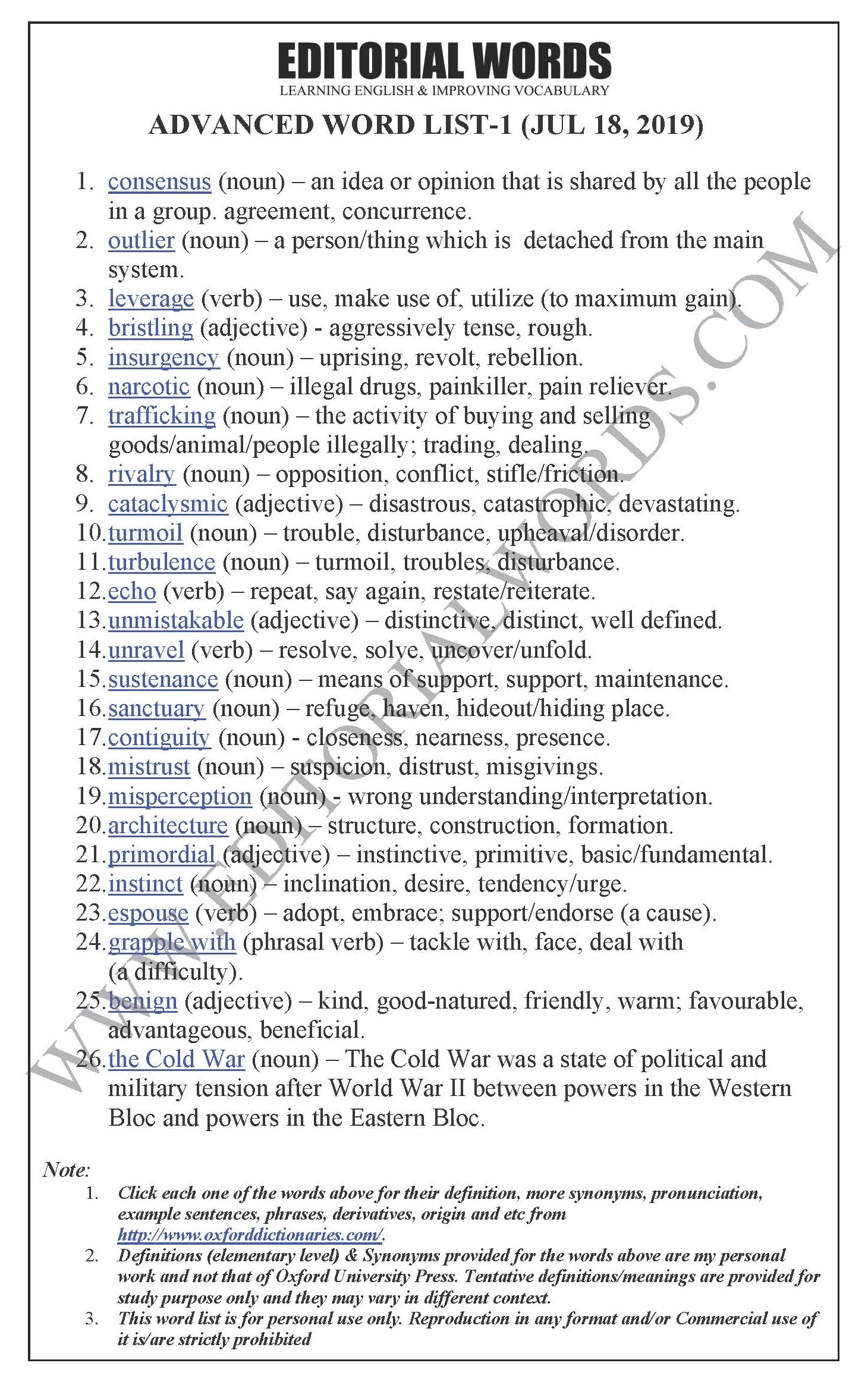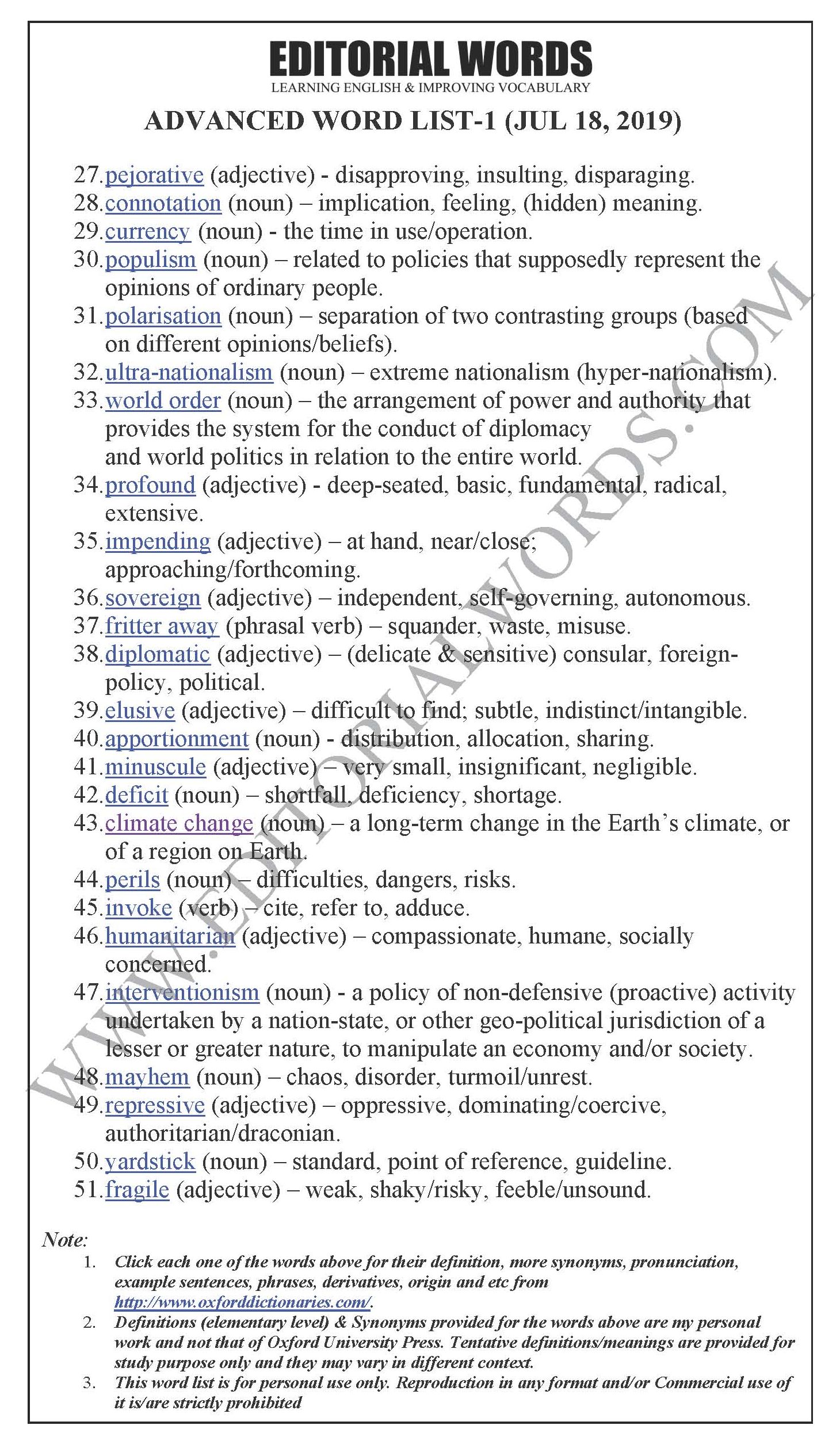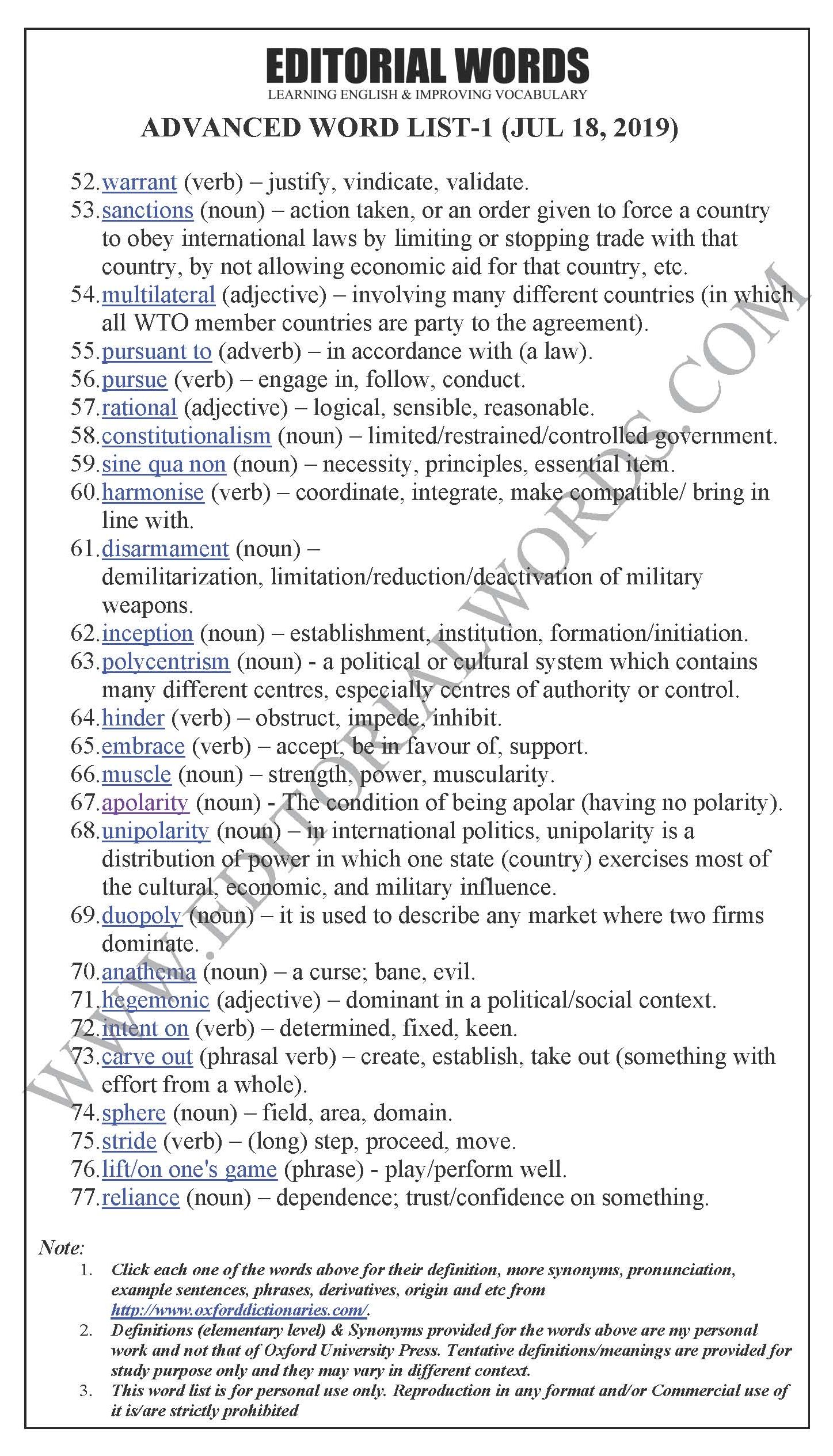 "Phrasal Verbs" We Learnt Last Week
"Idioms & Phrases" We Learnt Last Week
"Important Definitions" We Learnt Last Week
Recent Word Lists For The Hindu Editorial Articles
Recent Advanced Word Lists For The Hindu Lead Articles