The Hindu Lead Article (A CT scan for COVID merits a word of caution) – May 06, 2021
There are broadly three reasons why we perform tests in clinical medicine: diagnosis (what is the disease?), etiognosis (what caused a disease?), and prognosis (how will the disease evolve?). For further reading, visit "The Hindu". Below is today's advanced word list-2 for The Hindu Lead Article (A CT scan for COVID merits a word of caution) – May 06, 2021.
To read this article, click here.
This preview is provided here with permission.  
Courtesy: The Hindu
Today's Advanced Word List 2 for The Hindu Lead Article (A CT scan for COVID merits a word of caution) – May 06, 2021
:
CT scan

 (noun) – A computed tomography scan; A computed tomography (CT) imaging, also known as "CAT scanning" (Computerized Axial Tomography), provides a different form of imaging known as cross-sectional imaging. The origin of the word "tomography" is from the Greek word "tomos" meaning "slice" or "section" and "graphe" meaning "drawing." A CT imaging system produces cross-sectional images or "slices" of anatomy, like the slices in a loaf of bread.
merit (verb) – deserve

, warrant, justify.

a word of caution

(phrase) – a warning.
go by (phrasal verb) – follow, observe something.
diagnosis (noun) – identification, recognition, determination (of the nature of a disease).

etiognosis

(noun) – a cause, origin, or reason (of a disease).
prognosis (noun) – forecast

, prediction, projection (on how will the disease evolve).

tout (verb) – endorse, praise, recommend, support.
thorax (noun) – upper body.

novel coronavirus (nCoV) (SARS-CoV-2)

 (noun) – a new strain (type/variety) coronavirus that has not been previously identified in humans. (Courtesy: WHO)
pandemic (noun) – the worldwide spread of a new disease; The illness spreads around the world and typically affects a large number of people across a wide area.
criterion (noun) – basis, standard; specification, guideline. (criteria is the plural form of criterion).

Cochrane

(noun) – previously known as the Cochrane Collaboration; a British international charitable organisation formed to organise medical research findings to facilitate evidence-based choices about health interventions involving health professionals, patients and policymakers.
pool (verb) – combine

, put together & 

share (resources).

RT-PCR testing

 (noun) – Reverse Transcription Polymerase Chain Reaction (RT-PCR) Testing; it is one of the most accurate laboratory methods for detecting, tracking, and studying the coronavirus. It is a nuclear-derived method for detecting the presence of specific genetic material from any pathogen, including a virus. (the pathogen is a bacteria/virus that causes disease).
relatively (adverb) – comparatively, proportionately, somewhat, to a certain extent/degree.
surrogate (noun) – substitute

, proxy, replacement

/agent

, representative.

caveat (noun) – warning, 

caution, condition.

mislabel (verb) – misidentify, categorize incorrectly.
consequence (noun) – outcome, ramification, repercussion.
prognostication (noun) – prediction

, forecast, projection.

severity (noun) – seriousness

.

reflective (adjective) – providing a reflection/indication

/display/demonstration.

dynamic (adjective) – (of a system/process) distinguished by constant change.
improbable (adjective) – unlikely, doubtful, dubious, questionable.

oximeter

 (noun) – an instrument that measures the amount of oxygen-saturated hemoglobin in the blood.
quantum (noun) – amount, portion.
attributable to (adjective) – considered as an outcome/result caused by.
speculate (verb) – guess/think, surmise, postulate.
account for (phrasal verb) – constitute, comprise, form, represent.
rule out (phrasal verb) – eliminate, reject, dismiss, disregard, prohibit, prevent.
swab (noun) – a piece of soft, absorbent material attached to a stick to take samples (specimens) of body fluids, clean wounds or apply medicines.
intensivist (noun) – a physician who specializes in the care of critically ill patients, most often in the intensive care unit (ICU).
optimise (verb) – make the most effective use of something.
ventilator (noun) – a respirator, a device (used for a patient to breathe)

.

strategy (noun) – plan of action.
impending (adjective) – imminent, close at hand, about to happen, approaching, nearing/coming.
deterioration (noun) – decline, collapse/failure degradation/breakdown.
informed (adjective) – knowledgeable

, intelligent, clever, sage.
Note:    
 1. Click each one of the words above for their definition, more synonyms, pronunciation, example sentences, phrases, derivatives, origin and etc from http://www.oxforddictionaries.com/.
2. Definitions (elementary level) & Synonyms provided for the words above are my personal work and not that of Oxford University Press. Tentative definitions/meanings are provided for study purposes only and they may vary in a different context.  
3. This word list is for personal use only. Reproduction in any format and/or Commercial use of it is/are strictly prohibited.
Today's Advanc
ed Word List 2 for The Hindu Lead Article (A CT scan for COVID merits a word of caution) – May 06, 2021
: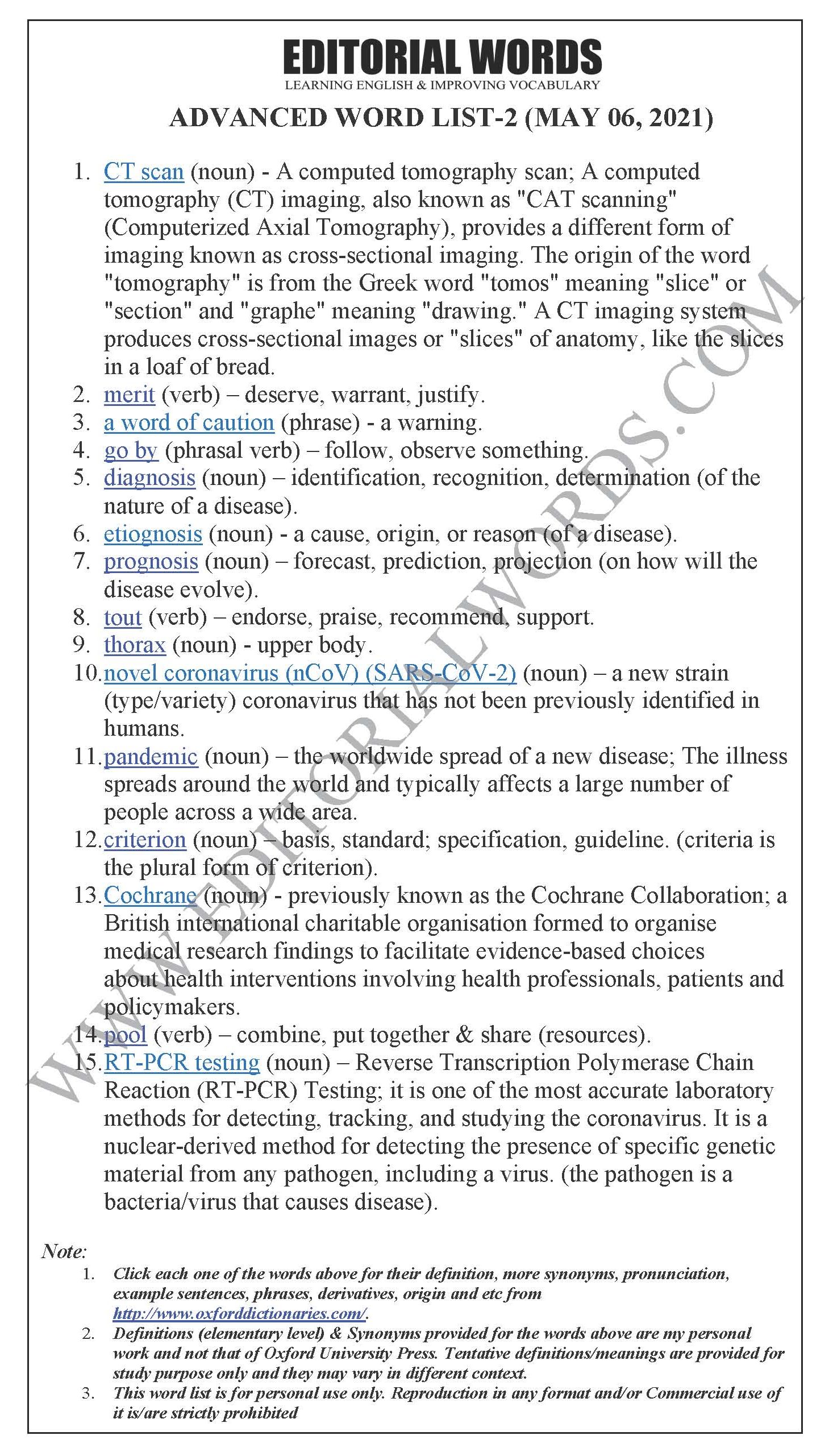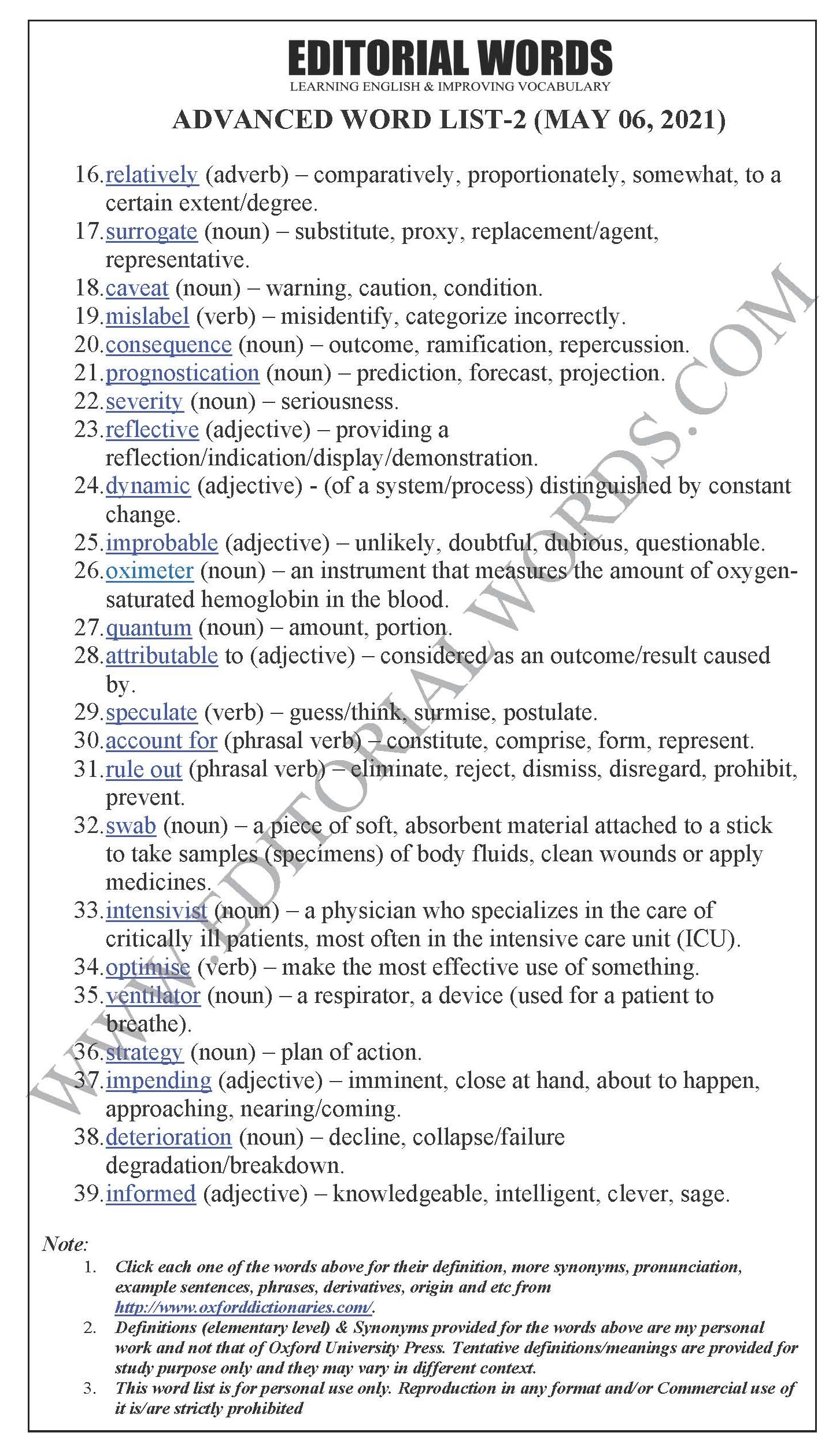 "Phrasal Verbs" We Learnt Last Week
"Idioms & Phrases" We Learnt Last Week
"Important Definitions" We Learnt Last Week
Recent Word Lists For The Hindu Editorial Articles
Recent Advanced Word Lists For The Hindu Lead Articles