The Hindu Editorial (Wide aisle) – Jan 30, 2021
The government and the Opposition are headed on a collision course in the Budget session of Parliament,… For further reading, visit "The Hindu". Below is today's word list-2 for The Hindu Editorial (Wide aisle) – Jan 30, 2021.
To read this article, click here.
This preview is provided here with permission.
Courtesy: The Hindu
Today's word list-2 for The Hindu Editorial (Wide aisle) – Jan 30, 2021:
wide "aisle"

 (phrase) – In this expression, the "aisle" refers to the actual physical walkway that divides the legislative (congressional/parliamentary) halls. Members of the two parties sit on opposite sides.
push through (phrasal verb) – to make a plan to put something into use as quickly as possible.
head-on (adjective) – direct, face to face.
collision (noun) – conflict

, clash, opposition, disagreement.

head-on collision (noun) – (figuratively) two persons come into conflict with each other directly. (Literally) a traffic collision/crash where the front ends of two vehicles hit each other when traveling in opposite directions.
course (noun) – approach, technique, procedure, plan of action, formula.
on a collision course (phrase) – having an approach that is likely to cause conflict with another.
motion (noun) – a formal proposal put to a legislature; proposal

, recommendation, suggestion.

repeal (noun) – cancellation, invalidation, reversal, annulment, nullification.

Farm Acts, 2000

 (noun) – Farm Acts, 2000 refer to three agricultural bills passed by Indian Parliament in September 2020. The three acts are "The Farmers' Produce Trade and Commerce (Promotion and Facilitation) Act, 2020 (FPTC Act) allows farmers to sell their harvest outside the notified Agricultural Produce Market Committee (APMC) mandis without paying any State taxes or fees", "the Farmers (Empowerment and Protection) Agreement on Price Assurance and Farm Services Act, 2020 facilitates contract farming and direct marketing", and "the Essential Commodities (Amendment) Act, 2020 deregulates the production, storage, movement and sale of several major foodstuffs, including cereals, pulses, edible oils and onion, except in the case of extraordinary circumstances".
agitating (adjective) – protesting, distressed, troubled.
confrontation (noun) – 

conflict, face-off, fight.

legacy (noun) – something received from a predecessor or from the past.
representative (noun) – spokesperson

, agent, delegate.

boycott (verb) – avoid, shun, reject.
address (noun) – formal speech.
sitting (noun) – meeting, assembly, session.
belatedly (adverb) – later than expected; behind time; slowly, tardily.

stay away from

(phrasal verb) – avoid, skip, to not get involved in.

as a mark of

(phrase) – as a symbol of.
outline (verb) – indicate, define, summarize.
keep one's distance (phrase) – to maintain a certain level of distance/separation from someone; to limit one's engagement/association with someone.
bloc (noun) – alliance

, association, union.

boycott (noun) – avoidance, shunning, rejection, refusal.
worsening (noun) – a worse situation; deterioration, decline.
commemorate (verb) – celebrate/honour the memory of someone/something with a ceremony/event; pay tribute to, pay homage to.

Constitution Day (of India)

(noun) – Samvidhan Divas; also known as National Law Day, is celebrated in India on 26 November every year to commemorate the adoption of the Constitution of India. On 26 November 1949, the Constituent Assembly of India adopted the Constitution of India, and it came into effect on 26 January 1950.
on hold (phrase) – postpone

, put off, put back, hold off.

directive (noun) – instruction

, direction, command, order.

rethink (noun) – reconsideration

, re-examination, reassessment, re-evaluation.

in terms of (phrase) – with regard to, regarding/concerning, in connection with.
round the corner (phrase) – coming soon, coming up, approaching, forthcoming.
front (noun) – political group.
disintegrate (verb) – dissolve, collapse, decline, fragment.
in the face of (phrase) – despite

, notwithstanding, regardless of; when confronted with

.
manoeuvre (noun) – (tactful) activity, action, operation, plan, scheme.

Motion of Thanks

(phrase) – discussion on the matters referred to in the President's Address takes place on a Motion of Thanks.
legislative (adjective) – governmental, parliamentary, law-making, policy-making.
business (noun) – work, duty, job, task.
ordinance (noun) – (local) order, law, directive/regulation.
arbitration (noun) – conciliation, mediation, intervention/negotiation.
conciliation (noun) – appeasement

, pacification, peacemaking.

Arbitration and Conciliation (Amendment) Ordinance, 2020

 (noun) – The Arbitration and Conciliation (Amendment) Ordinance, 2020 was promulgated on November 4, 2020. It seeks to amend the Arbitration and Conciliation Act, 1996. The Act contains provisions to deal with domestic and international arbitration and defines the law for conducting conciliation proceedings.
provision (noun) – clause, (legal) term, requirement, condition.
proceedings (noun) – legal action

, legal proceedings, litigation.

Jammu and Kashmir Reorganisation (Amendment) Ordinance, 2021

(noun) – The Jammu and Kashmir Reorganisation (Amendment) Ordinance, 2021 was promulgated on January 7, 2021.  It amends the Jammu and Kashmir Reorganisation Act, 2019.  The Act provides for the bifurcation of the state of Jammu and Kashmir (J&K) into the Union Territory of J&K and Union Territory of Ladakh. As per the ordinance, The Jammu and Kashmir cadre of IPS, IAS and Indian Forest Service (IFoS) has been merged with the Arunachal, Goa, Mizoram and Union Territories (AGMUT) cadre. The Ordinance amends these clauses to provide for the merger of the officers in the existing cadre of J&K with the AGMUT cadre.
AGMUT cadre (noun) – Arunachal Pradesh, Goa, Mizoram and Union Territories cadre. The AGMUT cadre covers the three states of Arunachal Pradesh, Mizoram and Goa, as well as all the union territories.
(state) cadre (noun) – a state (government service) to which a member of the All India Service (AIS) officers is posted. "Cadre Officer" means a member of the Service.
nod (noun) – indication, signal, sign (of approval).
legitimacy (noun) – legality, validity, lawfulness.
conduct (noun) – performance, behaviour, way of working.
will (noun) – desire

, wish, preference, intention.

critic (noun) – censurer, attacker, fault-finder.
strong arm (adjective/noun) – aggressive

, forceful, coercive, oppressive (force).

machinery (noun) – system, apparatus, structure.
Note:
 1. Click each one of the words above for their definition, more synonyms, pronunciation, example sentences, phrases, derivatives, origin and etc from http://www.oxforddictionaries.com/.
2. Definitions (elementary level) & Synonyms provided for the words above are my personal work and not that of Oxford University Press. Tentative definitions/meanings are provided for study purpose only and they may vary in different context. 
3. This word list is for personal use only. Reproduction in any format and/or Commercial use of it is/are strictly prohibited.
Today's word list-2 The Hindu Editorial (Wide aisle) – Jan 30, 2021
: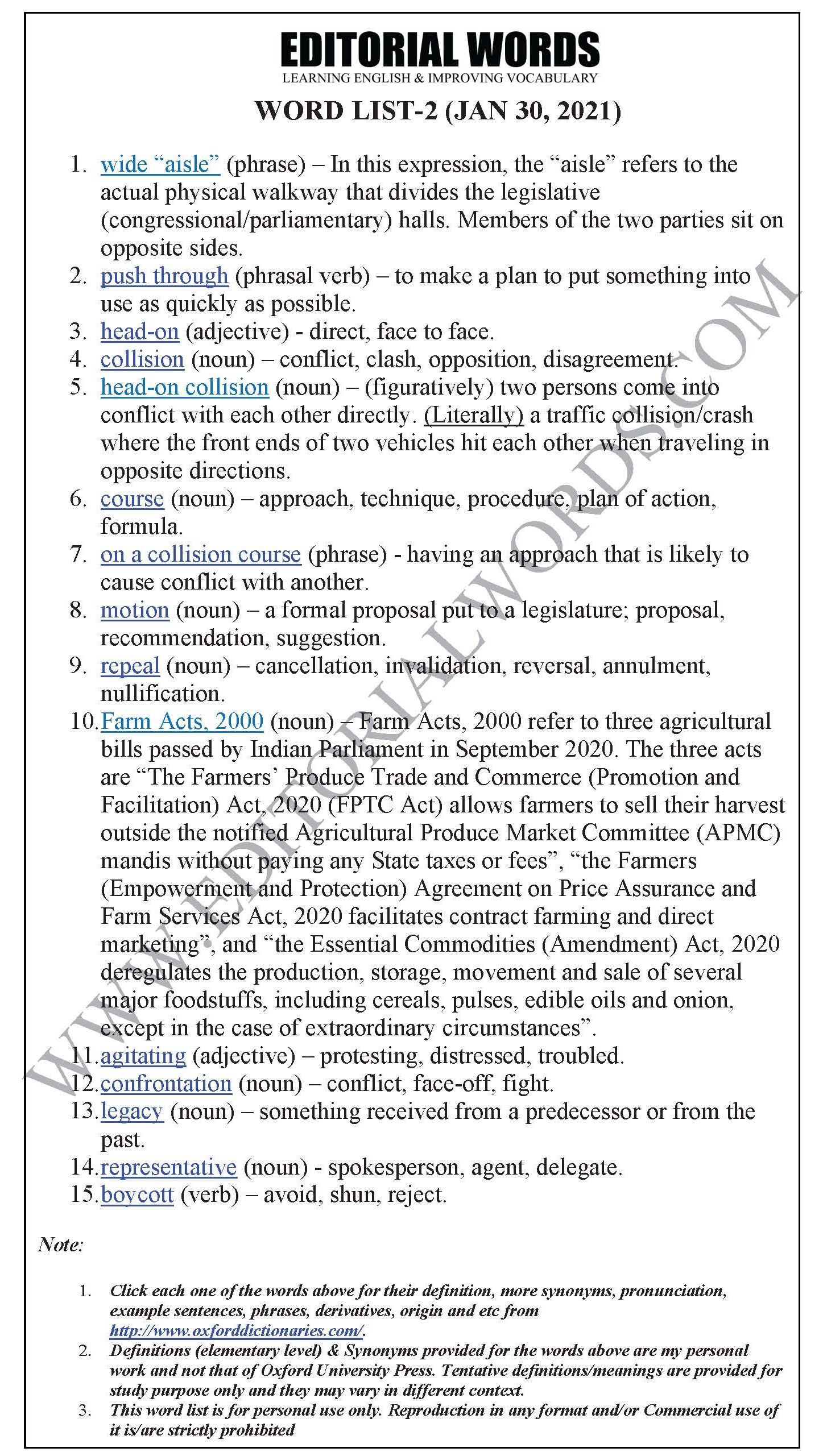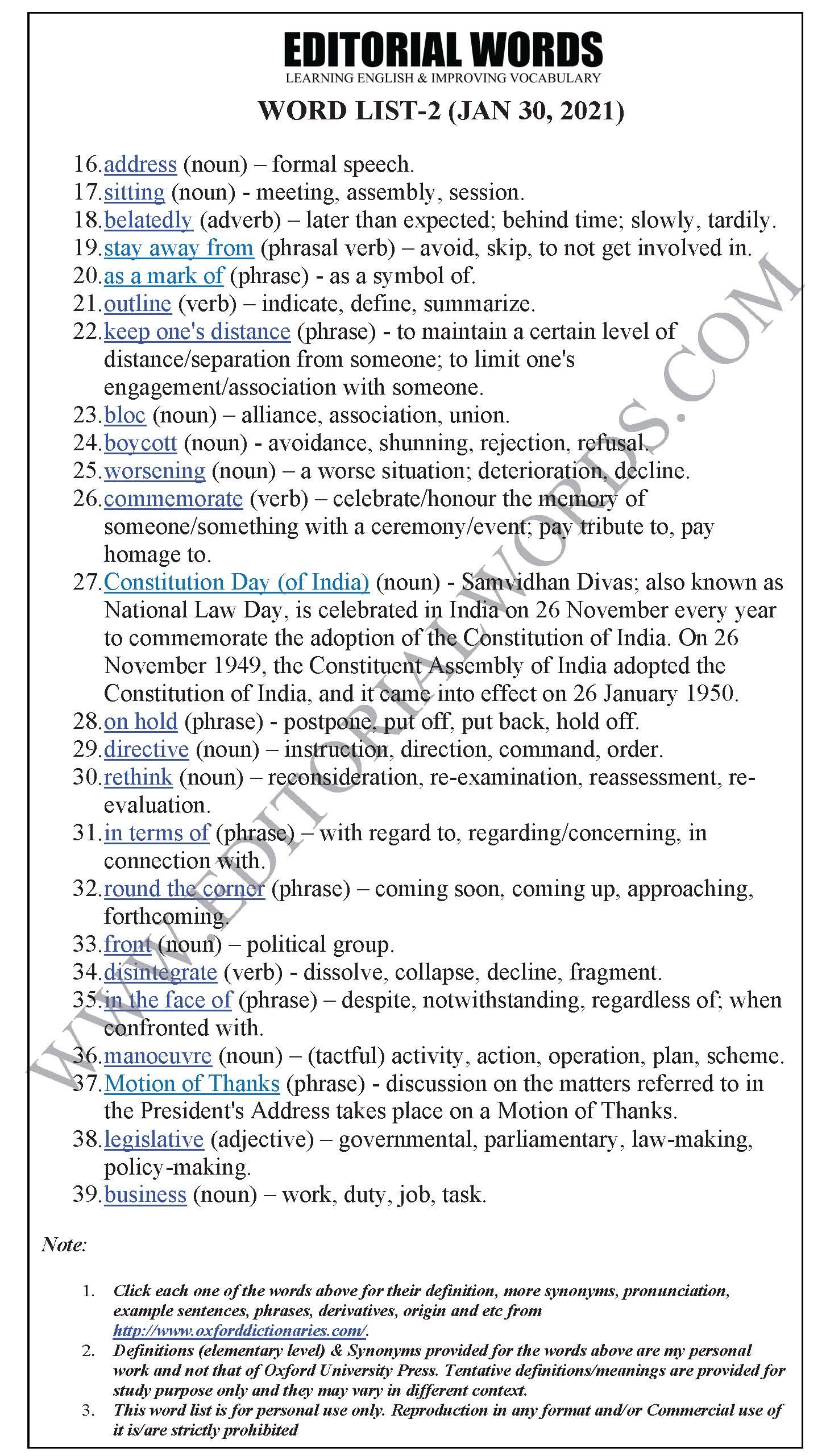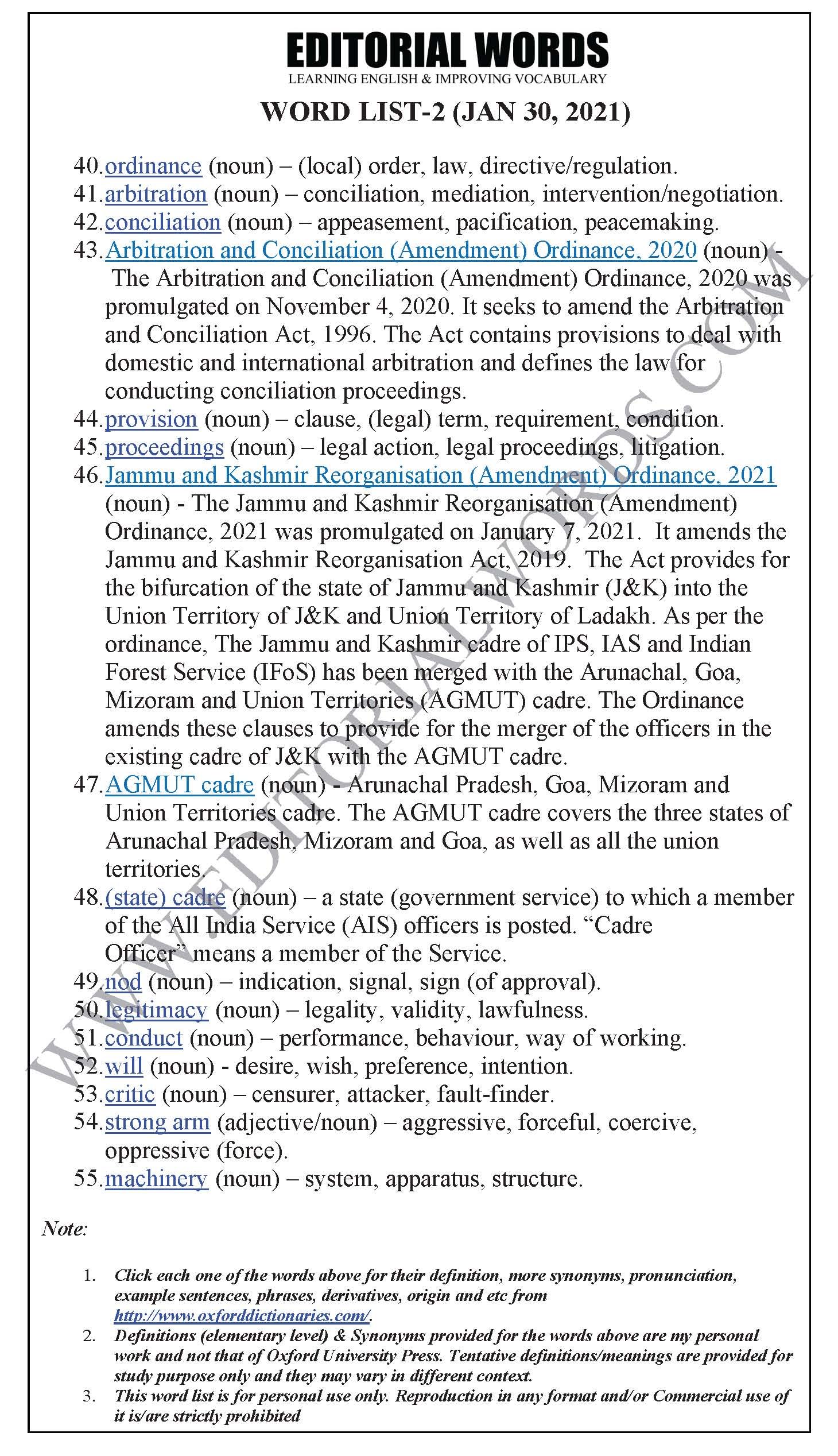 "Phrasal Verbs" We Learnt Last Week 
"Idioms & Phrases" We Learnt Last Week
"Important Definitions" We Learnt Last Week
Recent Word Lists For The Hindu Editorial Articles
Recent Advanced Word Lists For The Hindu Lead Articles