The Hindu Editorial (Vulnerability reminder) – Apr 20, 2021
The U.K. Home Secretary Priti Patel's reported decision to allow fugitive diamantaire Nirav Modi's extradition to India, three years after state-owned Punjab National Bank admitted it had been defrauded to the tune of over ₹14,000 crore,… For further reading, visit "The Hindu". Below is today's word list-2 for The Hindu Editorial (Vulnerability reminder) – Apr 20, 2021.
To read this article, click here.
This preview is provided here with permission.
Courtesy: The Hindu
The Hindu Editorial (Vulnerability reminder) – Apr 20, 2021:
vulnerability (noun) – weakness, defencelessness, unprotectedness, susceptibility.

credit-related

(adjective) – related to loan/moneylending.
oversight (noun) – supervision

, surveillance, superintendence, inspection.

fugitive (adjective) – relating to a person who has escaped from being confined or imprisoned.

diamantaire

(noun) – French word; diamond manufacturer/producer/trader; diamond-dealing person.
extradition (noun) – the action of surrendering/handing over a fugitive (a person who has escaped from being confined/accused of a crime) from one jurisdiction to another by mutual agreements between the two countries. deportation, handover, expulsion.

state-owned

 (adjective) – government-owned.
admit (verb) – acknowledge

, confess, profess, reveal, make known, make public.

defraud (verb) – swindle, deceive, cheat.
to the tune of (phrase) – amounting to.
serve (verb) – act as.
address (verb) – tackle, deal with, attend to, try to sort out

.

contend (with) (verb) – cope with

, face, grapple with, deal with.

sour/bad loans

 (noun) – non-performing assets (NPAs), stressed assets/loans; an account where the principal and/or interest remains overdue for a period of time.
growing (adjective) – increasing.
cumulative (adjective) – total, collective

, aggregate.

surge (verb) – rise or increase suddenly.
ongoing (adjective) – current, existing, continuing, relentless.
pandemic (noun) – the worldwide spread of a new disease; The illness spreads around the world and typically affects a large number of people across a wide area.
likely (adjective) – possible, probable, to be expected.
(take) cognisance of (phrase) – notice, attend to, take into account, give attention to.
preceding (adjective) – previous, prior, earlier.
deeply (adverb) – seriously, intensely, strongly, 

awfully, terribly.

perspective (noun) – standpoint, viewpoint, approach.
portfolio (noun) – a range of products or services.
constitute (verb) – amount to

, add up to, account for, comprise, represent

.
framework (noun) – structure, system.
facilitate (verb) – make easy, make possible; 

assist, help/aid.

lag (noun) – interval, pause, delay, slowness, postponement.
sizeable (adjective) – substantial, considerable, significant.

public sector bank (PSB)

(noun) – a major type of bank in India, where a majority stake (i.e. more than 50%) is held by the government.
bear the brunt (phrase) – to suffer or endure the worst part of something (force/burden/pressure) when a very bad or unpleasant thing happens.
hit (noun) – blow, setback, disturbance, impact.
fraudulent (adjective) – dishonest, unlawful, unethical, unprincipled.
account for (phrasal verb) – constitute, comprise, form, represent.
outpace (verb) – surpass, outshine, do better than.
peer (noun) – equal, fellow.
in terms of (phrase) – with regard to, regarding/concerning, in connection with.
skew (verb) – distort

, misrepresent, change/alter, falsify

.

fivefold (adjective) – five times (the number of).
surge (noun) – sudden increase or rise/jump of something.

on the back of

(phrase) – as a result of, after, subsequent to.
germane (adjective) – relevant

, pertinent, applicable.

mission mode (noun) – it means that the projects/targets have clearly defined objectives, scopes, implementation timelines and milestones, measurable outcomes and service levels.
expedite (verb) – speed up

, accelerate, quicken, hasten.

consolidation (noun) – the process of combining a number of things into a single more effective one; unification.
ultimately (adverb) – eventually

, in the end, finally; fundamentally, basically, essentially.

open up (phrasal verb) – make something available/accessible.
as a whole (phrase) – all together, as a group, in general.
lament (verb) – complain about, regret, rue.
audit (noun) – inspection, examination, assessment, investigation.
forensic (adjective) – relating to the application of scientific knowledge & methods to legal problems and legal proceeding.
lead to (verb) – result in

, cause, bring about, call forth, give rise to, produce.

impending (adjective) – imminent, close at hand, about to happen, approaching, nearing/coming.
far from (phrase) – not, not at all.
fallen (adjective) – immoral

, tainted, dishonoured, disgraced, ruined, shamed.

malady (noun) – a serious problem.
regulator (noun) – an association that supervises a particular business activity.
walk the talk (phrase) – to do the things you have said you would do.
laxity (noun) – negligence, neglect, lack of proper care and attention, carelessness, heedlessness, lack of concern, irresponsibility.

financial stability

 (noun) – financial stability is a condition where the financial system is able to withstand internal or external economic shocks and also able to smoothly conduct its core tasks.
Note:
 1. Click each one of the words above for their definition, more synonyms, pronunciation, example sentences, phrases, derivatives, origin and etc from http://www.oxforddictionaries.com/.
2. Definitions (elementary level) & Synonyms provided for the words above are my personal work and not that of Oxford University Press. Tentative definitions/meanings are provided for study purpose only and they may vary in a different context. 
3. This word list is for personal use only. Reproduction in any format and/or Commercial use of it is/are strictly prohibited.
The Hindu Editorial (Vulnerability reminder) – Apr 20, 2021: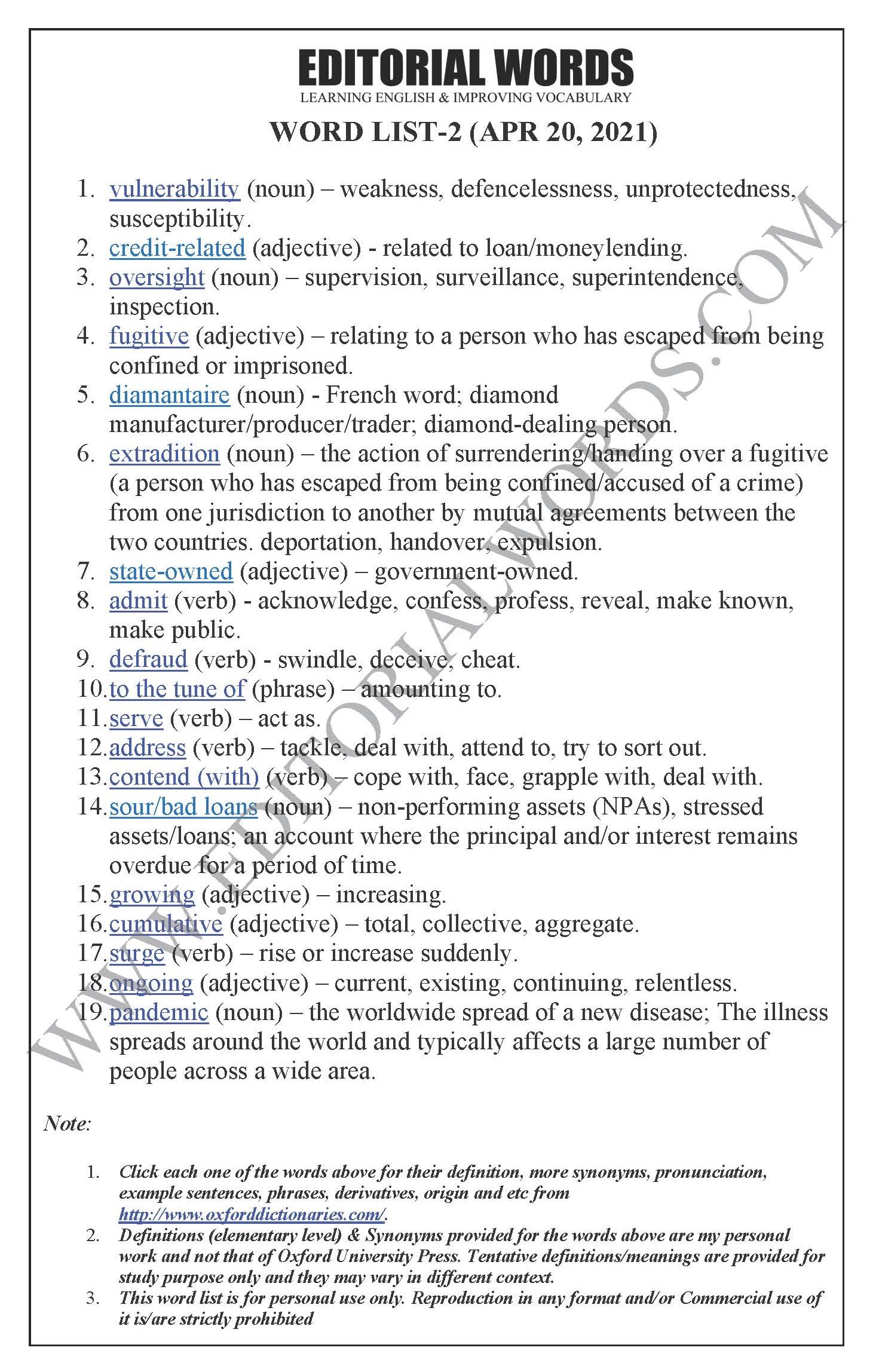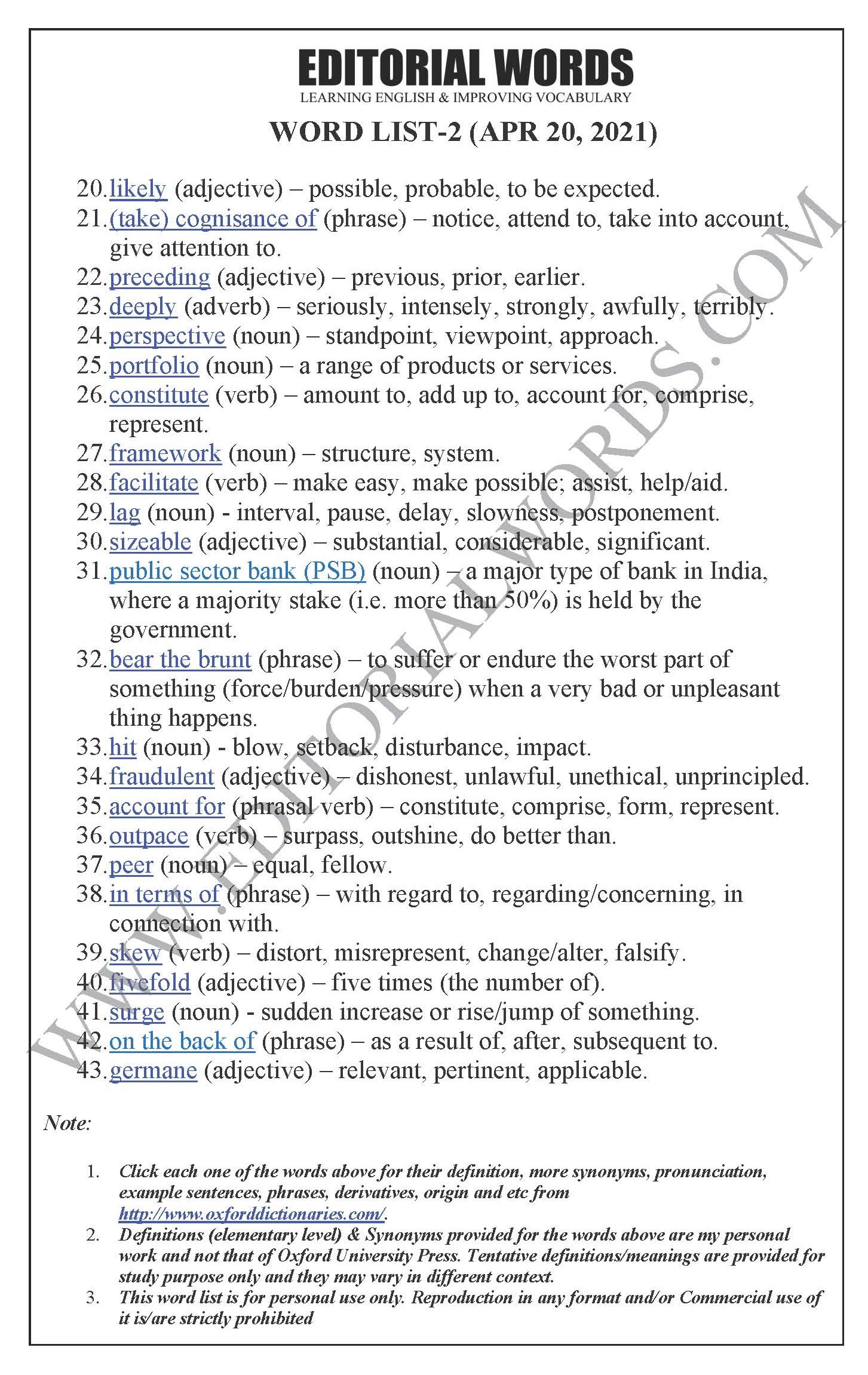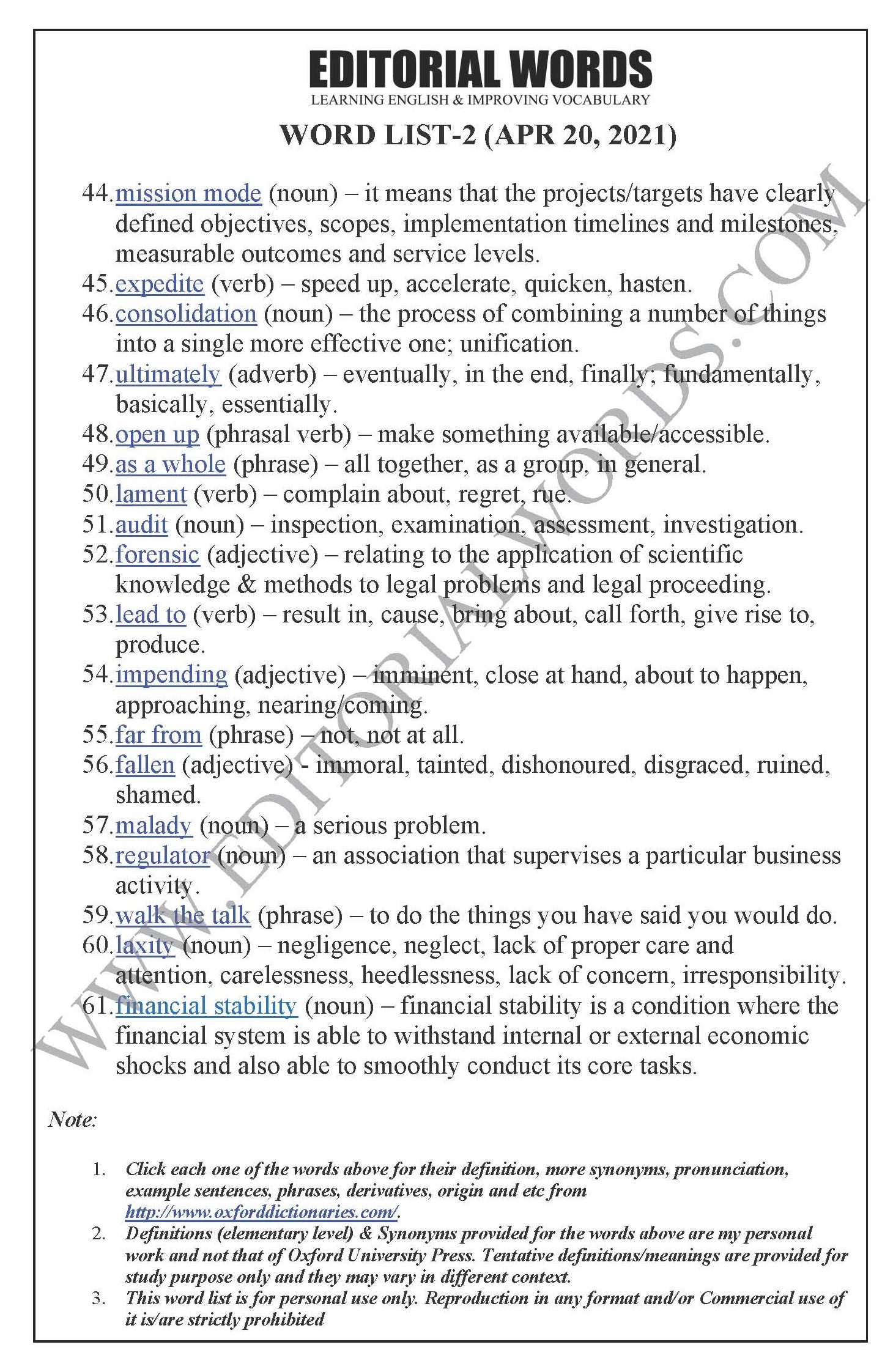 "Phrasal Verbs" We Learnt Last Week 
"Idioms & Phrases" We Learnt Last Week
"Important Definitions" We Learnt Last Week
Recent Word Lists For The Hindu Editorial Articles
Recent Advanced Word Lists For The Hindu Lead Articles