The Hindu Editorial (Top of the heap) – Jan 20, 2021
On a magical Tuesday, India's cricketing history gained a luminous chapter even as the shadows lengthened at Brisbane's Gabba. For further reading, visit "The Hindu". Below is today's word list-2 for The Hindu Editorial (Top of the heap) – Jan 20, 2021.
To read this article, click here.
This preview is provided here with permission.
Courtesy: The Hindu
Today's word list-2 for The Hindu Editorial (Top of the heap) – Jan 20, 2021:
(at the) top of the heap (phrase) – high up, at great height

, 

at the highest point/position.
circumstances (noun) – situation

, background, conditions, state of affairs.

stuff of legend/folklore

(phrase) – legendary, famous, exceptional, remarkable, memorable.
luminous (adjective) – very bright, dazzling, glowing, shining, brilliant.
shadow (noun) – trace of something

.

aptly (adverb) – suitably, perfectly/rightly, smartly.
pursuit (noun) – quest for, search for, striving towards ( to achieve something).
nerve-wracking (adjective) – demanding, taxing, difficult.
seize (verb) – take hold of, take, conquer.
as far as (phrase) – to the degree/extent that.

role-reversal

(noun) – a condition in which two people swap/change their normal duties.
stunning (adjective) – staggering, incredible, breathtaking.
jaw-dropping (adjective) – amazing, astonishing, eye-opening.
improbable (adjective) – unlikely

, doubtful, dubious, questionable.

debilitating (adjective) – weakening

, disabling, wearing, exhausting, tiring, undermining, impairing.

personnel (noun) – players; staff, employees, workforce.
paternity (adjective) – fatherhood; the state of being a father.
bench (verb) – substitute, withdraw from play.
spate (noun) – series, flurry; a large number of something (taking place at the same period).
persevere (verb) – persist

, continue, carry on, keep going.

established (adjective) – recognized, acclaimed, esteemed, acknowledged.
rookie (noun) – novice

, starter, beginner, newcomer.

join forces (phrase) – put together efforts.
nourish (verb) – enhance, sustain, maintain, nurture, foster.

turn-around

(noun) – reversal, sea change, transformation.
stonewalling (noun) – obstruction, delaying of something.
second wind (noun) – new energy, new strength.
frontline (noun) –

 vanguard, firing line, battlefield, combat zone.

astutely (adverb) – cleverly, brilliantly, perceptively.
helm (verb) – lead, navigate, steer, manage.
backyard (noun) – (in cricketing context) play grounds in a particular country.
benchmark (noun as modifier) – standard, yardstick, classic example, indicator, point of reference.
excellence (noun) – eminence, high quality, superiority, brilliance.
last (verb) – continue

, go on, carry on, keep going.

decade (noun) – a period of ten years.
dominant (adjective) – most influential, most powerful.
outfit (noun) – team, group.
over the course of (phrase) – during, throughout.
face-off (noun) –

 contest, clash.

nothing short of (phrase) – nothing less than.
stupendous (adjective) – amazing, extraordinary, impressive.
blight (verb) – disrupt, afflict, ruin, spoil, destroy.
ball-tampering (noun) – (in Cricket) an action in which a fielder illegally alters the condition of the ball.
scandal (noun) – impropriety, misconduct, wrongdoing.
pasture (noun) – grassland, pastureland, open country.
put (someone out) to pasture (phrase) – to make someone retire (as the person has become a little too old to work and therefore compel him to quit his/her job). It also means to discontinue something.

cut to the present

(phrase) – come (back) to the present time.
up against (phrase) – confronted with, faced with, opposed by.
fraught (adjective) – anxious, worried, distressed/panicky.
pandemic (noun) – the worldwide spread of a new disease; The illness spreads around the world and typically affects a large number of people across a wide area.

bio-secure bubble

 (noun) – it is defined as an environment/location sealed off from the outside world. In tennis/cricket, this would mean players, umpires and support staff being housed at the venue itself.
angst (noun) – anxiety, apprehension, distress, disquiet, worry.
deem (verb) – regard as, consider; view as.
offence (noun) –

 illegal act, wrongdoing, fault.

optimum (adjective) – most appropriate, best, most favourable.
potential (noun) – (latent) qualities or abilities; potentiality; capability, capacity, ability.

with every passing day

(phrase) – day by day.
walking wounded (noun) – injured persons (who are of a relatively low priority).
wry (adjective) – ironic

, sarcastic, satirical, mocking.

turn out (phrasal verb) – produce something.
diminishing (adjective) – reducing

, decreasing, declining.

adversity (noun) – a difficult situation; hardship, difficulty.
thrive (verb) – progress, advance (vigorously).
springboard (noun) – something which provides support or motivation to do a particular course of action.
adversary (noun) – rival, enemy, nemesis, opponent.
Note:
 1. Click each one of the words above for their definition, more synonyms, pronunciation, example sentences, phrases, derivatives, origin and etc from http://www.oxforddictionaries.com/.
2. Definitions (elementary level) & Synonyms provided for the words above are my personal work and not that of Oxford University Press. Tentative definitions/meanings are provided for study purpose only and they may vary in different context. 
3. This word list is for personal use only. Reproduction in any format and/or Commercial use of it is/are strictly prohibited.
Today's word list-2 The Hindu Editorial (Top of the heap) – Jan 20, 2021
: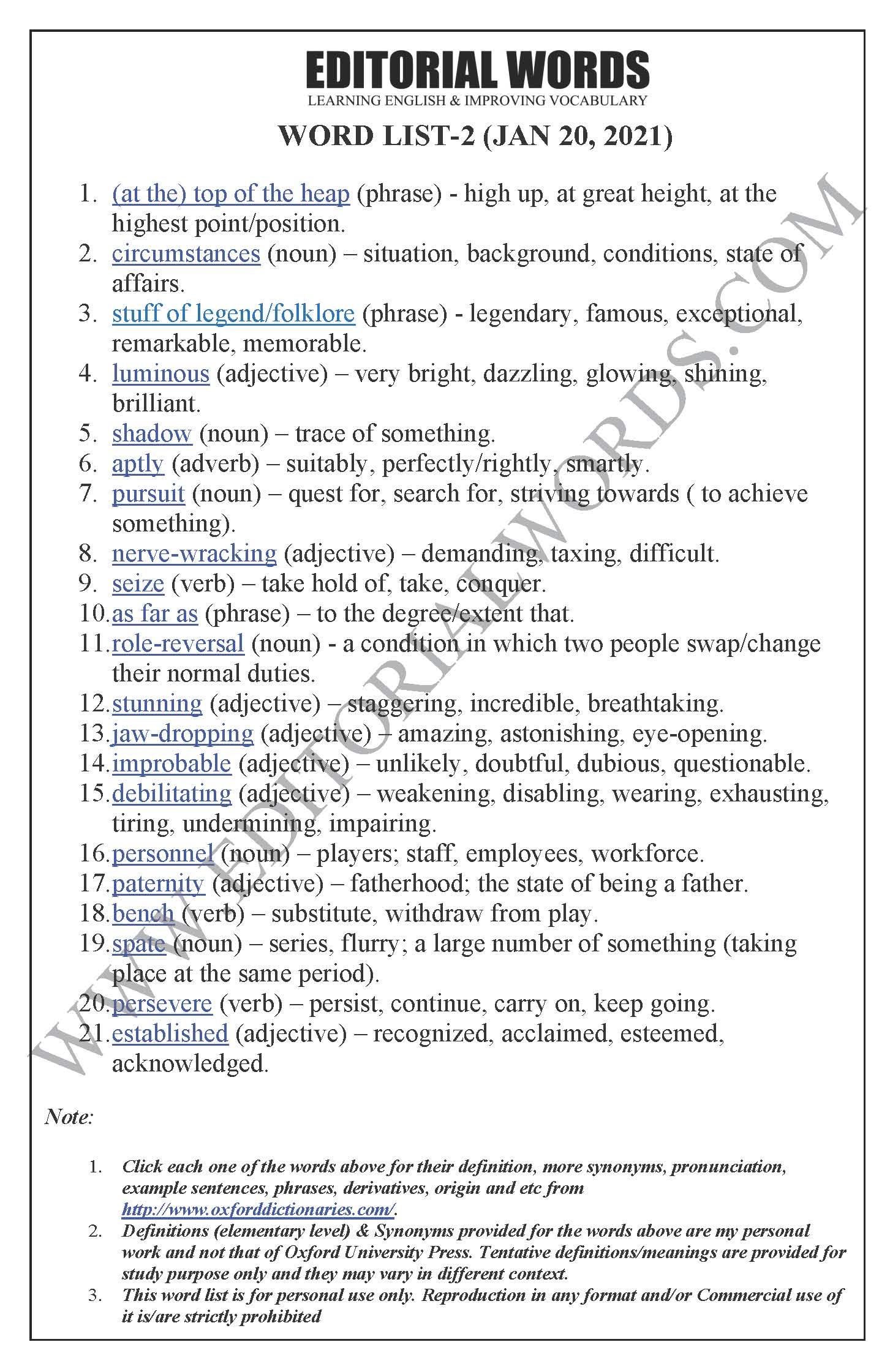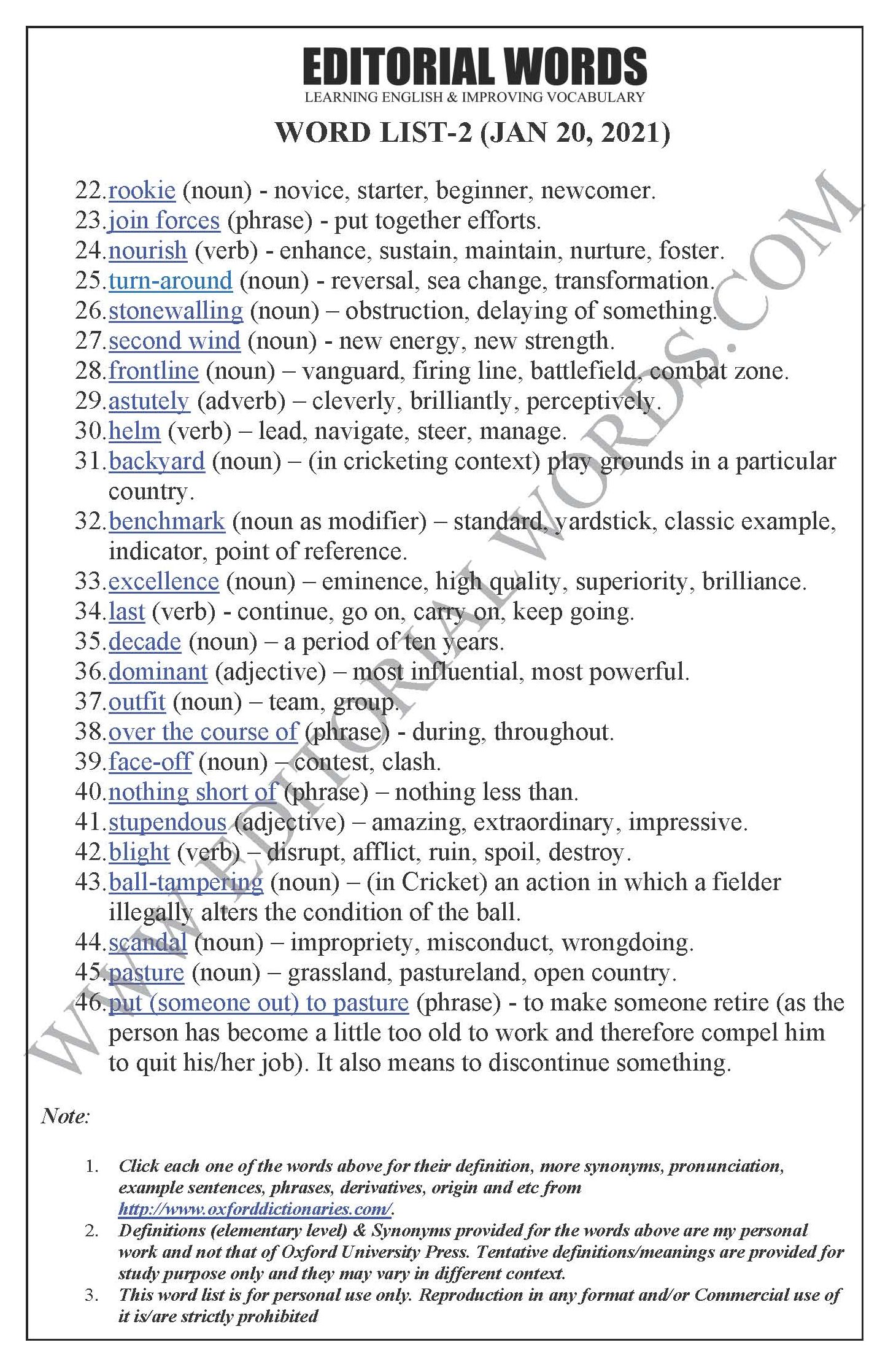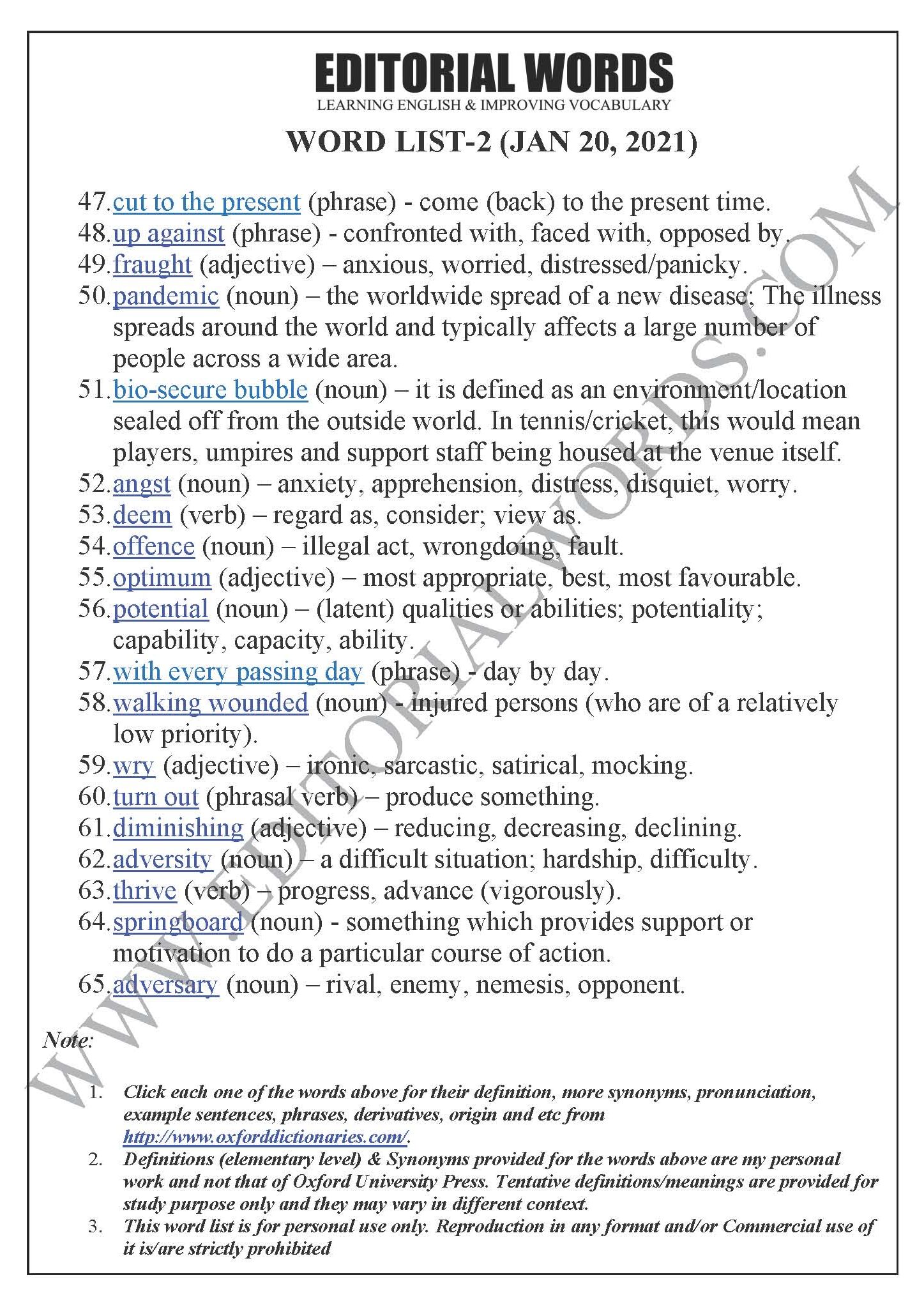 "Phrasal Verbs" We Learnt Last Week 
"Idioms & Phrases" We Learnt Last Week
"Important Definitions" We Learnt Last Week
Recent Word Lists For The Hindu Editorial Articles
Recent Advanced Word Lists For The Hindu Lead Articles