The Hindu Editorial (The Taliban problem) – Sep 19, 2019
When the U.S.-Taliban talks collapsed last week, the insurgent group threatened to step up attacks in Afghanistan. For further reading, visit "The Hindu". Below is today's word list-2 for The Hindu Editorial (The Taliban problem)- Sep 19, 2019.
To read this article, click here.
This preview is provided here with permission.
Courtesy: The Hindu
Today's word list-2 for The Hindu Editorial (The Taliban problem) – Sep 19, 2019:
keen on (phrasal verb) – interested in, passionate about, attracted/fascinated by.
insurgent (adjective) – dissenting, agitational, rebel.
step up (phrasal verb) – increase, intensify, escalate.
make good (phrase) – succeed

, achieve success, be successful.

pledge (noun) – promise, word, undertaking/commitment.
gear up (phrasal verb) – get ready, prepare, lay the groundwork.
stay away from (phrasal verb) – escape from, evade, avoid/dodge.
invader (noun) – attacker, intruder; a person invades a country.
hollow (adjective) – meaningless

, valueless, worthless.

under way (adverb) – in progress

, going on, continuing/happening.

running mate (noun) – the person who runs with someone in an election (such as an election to choose a new president) and who is given the less important position (such as vice president) if they are elected (Courtesy: VOA Learning English).
assassination (noun) – murder, killing.
vengeful (adjective) – revengeful, avenging, unforgiving, hostile.
unleash (verb) – let loose, release, set free.
deploy (verb) – use, utilize, employ.
grave (adjective) – crucial/critical, important/significant, serious.
insistence (noun) – force, demand, compulsion/coercion.
insurgent (noun) – agitator, rioter, subversive.
cease (verb) – stop, end, conclude/terminate.
hostility (noun) – fighting, conflict, war.
sustain (verb) – continue/maintain

, carry on, keep going.

comprehensive (adjective) – all-inclusive, extensive, all-embracing wide-ranging.
stakeholder (noun) – a person with an interest in something.
say (noun) – chance to express one's opinion, voice.
back (verb) – support, endorse, uphold.
crack down on (phrasal verb) – get tough on, take severe action against, eliminate/eradicate/abolish.
double down (phrasal verb) – to be more firm & resolute on something (decided) even if that might be a risky choice.
insurgency (noun) – uprising, revolt, rebellion.
diplomatic (adjective) – (delicate & sensitive) consular, foreign-policy, political.
the end of the road (phrase) – a point in a situation beyond which something cannot continue.
Note:  
 1. Click each one of the words above for their definition, more synonyms, pronunciation, example sentences, phrases, derivatives, origin and etc from http://www.oxforddictionaries.com/.bigotry

, narrow-mindedness
2. Definitions (elementary level) & Synonyms provided for the words above are my personal work and not that of Oxford University Press. Tentative definitions/meanings are provided for study purpose only and they may vary in different context. 
3. This word list is for personal use only. Reproduction in any format and/or Commercial use of it is/are strictly prohibited.
Today's word list-2 The Hindu Editorial (The Taliban problem) – Sep 19, 2019
: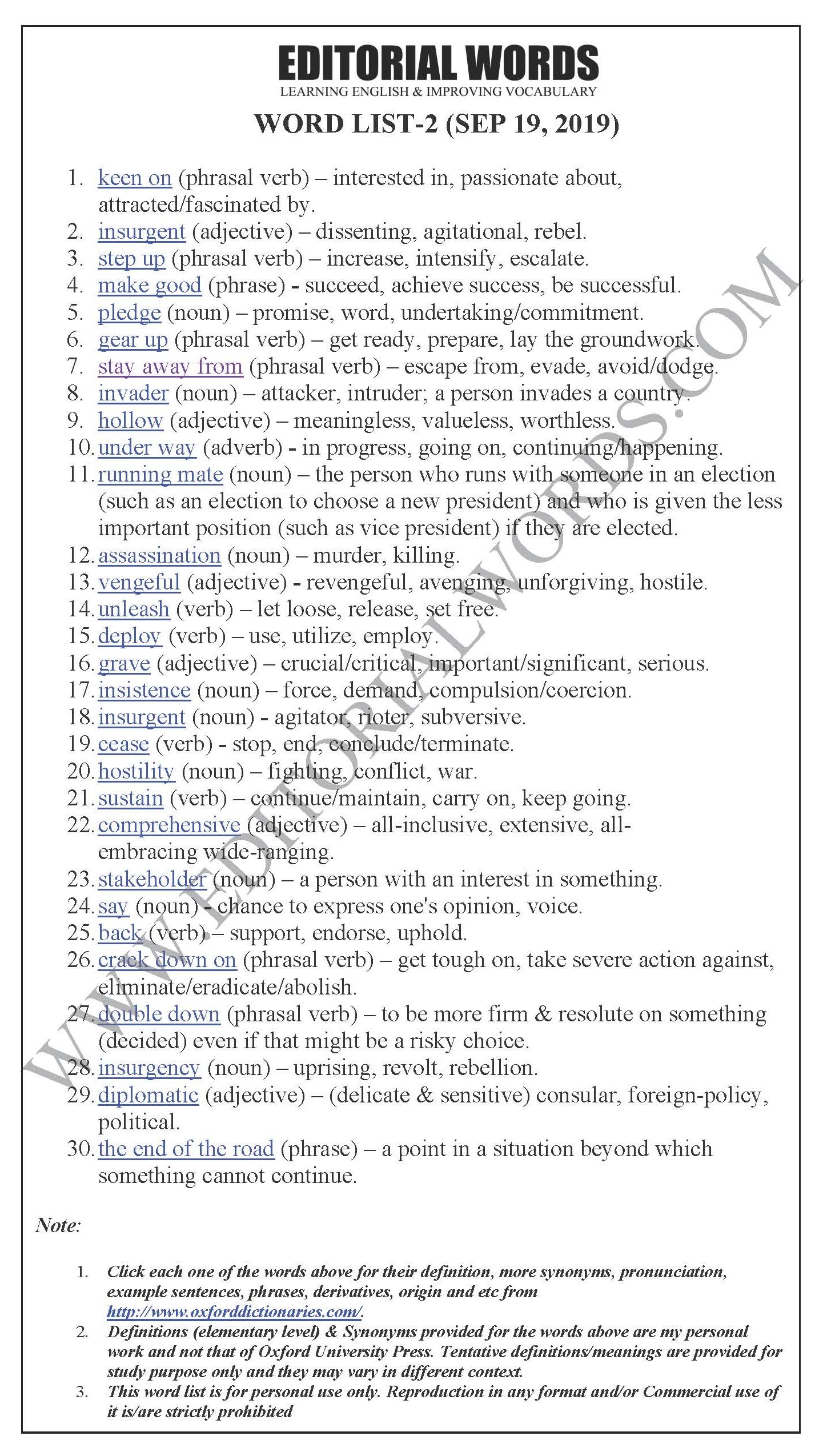 "Phrasal Verbs" We Learnt Last Week
"Idioms & Phrases" We Learnt Last Week
"Important Definitions" We Learnt Last Week
Recent Word Lists For The Hindu Editorial Articles
Recent Advanced Word Lists For The Hindu Lead Articles