The Hindu Editorial (Suu Kyi again) – Nov 16, 2020
The National League for Democracy's landslide victory in the November 8 general election in Myanmar indicates that a vast majority… For further reading, visit "The Hindu". Below is today's word list-2 for The Hindu Editorial (Suu Kyi again) – Nov 16, 2020.
To read this article, click here.
This preview is provided here with permission.
Courtesy: The Hindu
Today's word list-2 for The Hindu Editorial (Suu Kyi again) – Nov 16, 2020:
mandate (noun) – approval, acceptance, ratification.
assertive (adjective) – confident, decisive, firm, determined.
transition (noun) – change.
landslide (noun) – decisive (victory), runaway (victory), overwhelming majority.
bulwark (noun) – protector, guard, supporter.
iron fist/hand (noun) – used in reference to the exercise of power with firmness.

National League for Democracy (NLD)

(noun) – a political party in Myanmar, currently serving as the governing party. Founded on 27 September 1988, it has become one of the most influential parties in Myanmar's pro-democracy movement

Union Solidarity and Development Party (USDP)

(noun) – an opposition political party in Myanmar which was registered on 2 June 2010; a Burmese political party founded with the active aid of Myanmar's ruling military junta.
military junta (noun) – a government led committee of military leaders. A military junta takes over the government by force.
so far (phrase) – until now, up to the present, up to this point.
icon (noun) – famous person, celebrity

. 

spearhead (verb) – lead, head (an movement/protest); be in the forefront of.
bar (verb) – prohibit

, debar, forbid, ban.

lever (noun) – a way of pressurizing someone into doing something; handle.
confront (verb) – face

, tackle, deal with, grapple with (a problem/difficulty). 

outsized (adjective) – huge, very large

, massive.

public (adjective) – open, unrestricted; known.
defence (noun) – protection, shielding, safeguarding; security.
lead to (verb) – cause, give rise to, result in, bring on.
exodus (noun) – mass departure, evacuation, leaving/exit.
dent (verb) – diminish, reduce, undermine.
critic (noun) – censurer, attacker, fault-finder.
complexity (noun) – complication

, problem, difficulty.

dynamics (noun) – basic/fundamental cause or force which triggers change within a system.
preserve (verb) – protect, safeguard, maintain.
bloc (noun) – alliance

, association, union.

reserve (verb) – make a reservation for, arrange for, secure (for a particular person).
amendment (noun) – revision

, alteration, change, modification.

campaign (noun) – an organized effort which seeks to influence the decision making progress within a specific group.
ethnic (adjective) – relating to a population subgroup (cultural

, national, traditional/folk) with a common national or cultural tradition.

rebel (adjective) – revolutionary

, insurgent, rebellious, dissenting/agitating.

reach out (phrasal verb) – contact someone to obtain/offer help/assistance/cooperation.
popular (adjective) – public, societal, social.
civilian (adjective) – non-military

.

establishment (noun) – a powerful group within a particular area of activity.
dictatorship (noun) – totalitarianism, absolute rule, autocracy.
unsurprising (adjective) – to be expected, predictable, anticipated.

political capital

 (noun) – it refers to the goodwill, trust and influence that politicians earn or build up with the public through the pursuit of policies that people like or respect.
junta (noun) – a military group that takes over the government by force.
decisive (adjective) – deciding

, conclusive, determining; resolute, firm, determined.

buffer (noun) – cushion

, protection, bulwark/barricade.

address (verb) – deal with, handle, tackle, grapple with.
allegation (noun) – charge, accusation, indictment.
genocide (noun) – mass murder, massacre, racial killing.
walk the talk (phrase) – to do the things you have said you would do.
Note:
 1. Click each one of the words above for their definition, more synonyms, pronunciation, example sentences, phrases, derivatives, origin and etc from http://www.oxforddictionaries.com/.
2. Definitions (elementary level) & Synonyms provided for the words above are my personal work and not that of Oxford University Press. Tentative definitions/meanings are provided for study purpose only and they may vary in different context. 
3. This word list is for personal use only. Reproduction in any format and/or Commercial use of it is/are strictly prohibited.
Today's word list-2 The Hindu Editorial (Suu Kyi again) – Nov 16, 2020
: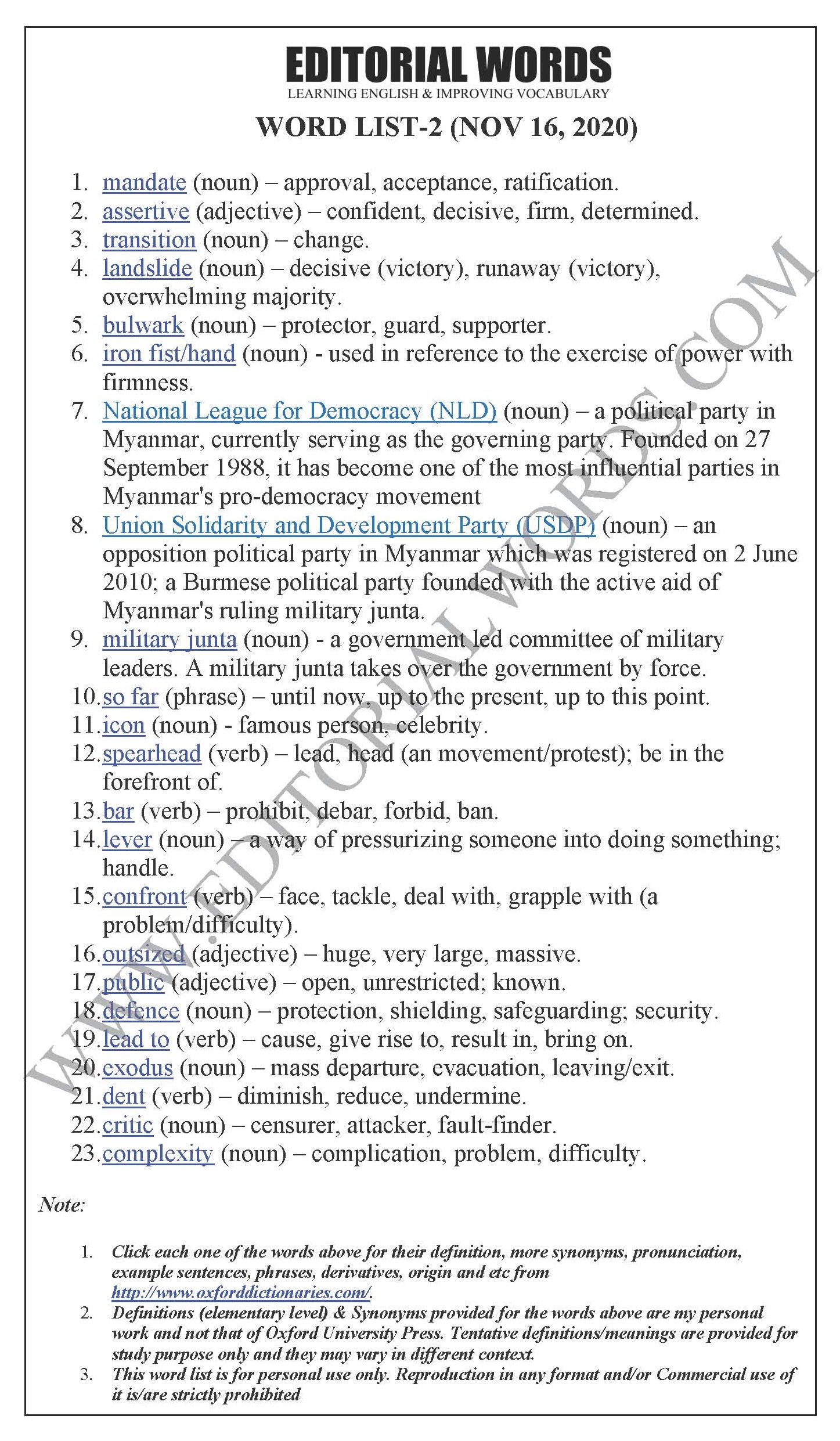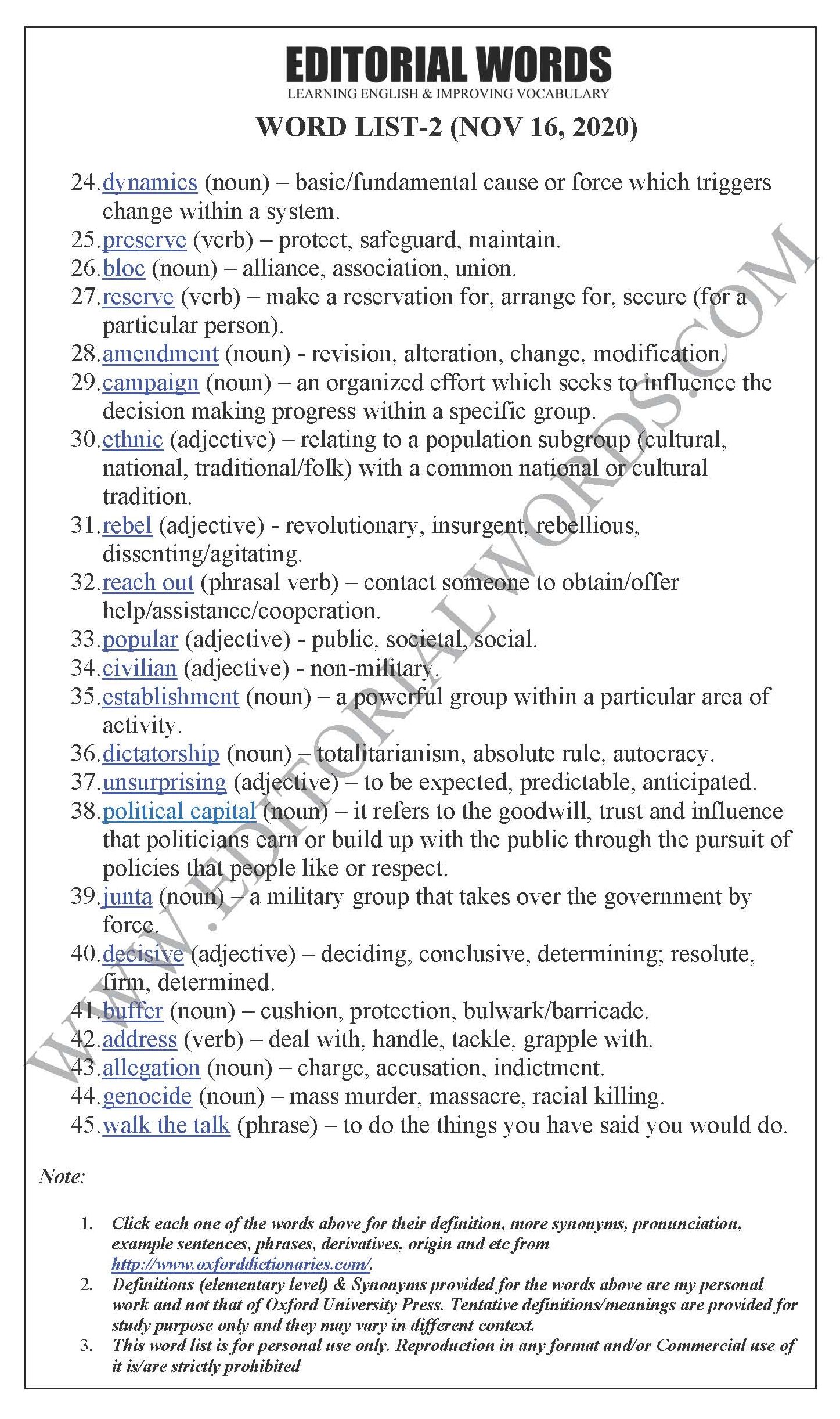 "Phrasal Verbs" We Learnt Last Week 
"Idioms & Phrases" We Learnt Last Week
"Important Definitions" We Learnt Last Week
Recent Word Lists For The Hindu Editorial Articles
Recent Advanced Word Lists For The Hindu Lead Articles