The Hindu Editorial (State action) – May 13, 2021
India's national positivity rate, or the proportion of tested cases returning positive, is around 21%. Moreover, 533 of the 734 districts have reported positivity greater than 10%. For further reading, visit "The Hindu". Below is today's word list-1 for The Hindu Editorial (State action) – May 13, 2021.
To read this article, click here.
This preview is provided here with permission.
Courtesy: The Hindu
The Hindu Editorial (State action) – May 13, 2021:
state (noun) – the government, the regime, the establishment.
pandemic (noun) – the worldwide spread of a new disease; The illness spreads around the world and typically affects a large number of people across a wide area.
facilitator (noun) – a person/thing that encourages action and makes it easier.

positivity rate

 (noun) – the proportion of positives to total tests done for disease; the percentage of tests that are turning out to be positive for disease; the rate at which people getting tested for disease receive positive results.
proportion (noun) – ratio, portion; size/magnitude.
couple (verb) – combine

, integrate, incorporate, connect.

faltering (adjective) – delaying, uncertain, 

unsteady/

weak, precarious, irresolute, hesitant.

vaccination (noun) – treatment with a vaccine to protect against a particular disease; immunization.
drive (noun) – campaign

, movement, effort, push.

picture (noun) – situation, condition, circumstances.
far from (phrase) – not, not at all.
pretty (adjective) – pleasing, appealing.
administer (verb) – dispense, provide, give, apply (a drug/vaccine).
dose (noun) – an amount

/quantity of something.

vaccine (noun) – a biological preparation that improves immunity to a particular disease.
lethal (adjective) – destructive, harmful, fatal

, deadly, life-threatening. 

macabre (adjective) – gruesome, horrible, shocking.
surface (verb) – emerge

, appear, come to light, become visible.

stretch (noun) – a continuous area of land/water; extend, spread.
point to (verb) – indicate, suggest, denote.
pool (noun) – a group of people.
prone to (adjective) – susceptible

, vulnerable, liable;

 likely to get, likely to have, at risk of.

bring up (phrasal verb) – mention

, introduce, raise (something for consideration).

lockdown (noun) – an emergency protocol implemented by the authorities that prevents people from leaving from a place; An extended state of confinement/encirclement/isolation of a person by the authority.
reimpose (verb) – reinstate

, put back, bring back, reinstitute.

impose (verb) – force, thrust, inflict (an unwelcome decision/ruling).
grade (noun) – level.
curfew (noun) – a rule which is instructing people to stay at home, typically at night.

lay stress on

(phrase) – to give importance to; to give attention to.
shut down (phrasal verb) – cease activity

, close down, cease operation.

whereas (conjunction) – in comparison with the fact that.
reminiscent (adjective) – similar to, comparable with, bearing comparison with.
curb (noun) – control, restriction, limitation.
in force (phrase) – in effect, in operation, in action.
continued (adjective) – continuous, ongoing, uninterrupted.
cosmetic (adjective) – superficial, outward, external; appealing, attractive (but not fundamental/functional).
nosedive (noun) – decline, sharp fall

, drop, plunge, plummet, tumble, slump

.
imposition (noun) – introduction, institution; enforcement.
wreak havoc (phrase) – cause/inflict massive damage.
migrant (noun as modifier) – a person who moves from one region to another – either within a country or across national borders in order to find work or better living conditions.
workforce (noun) – 

workers, 

employees

.

brutality (noun) – cruelty, ferocity, ruthlessness, callousness, inhumanity.
burnish (verb) – improve, enhance, augment/make better.

mask up

 (phrasal verb) – to wear a mask (face covering).
mainstay (noun) – 

chief support, central component, backbone; bulwark, bastion.

equip (verb) – prepare (for a particular task/situation).
arm with (verb) – prepare, make ready.
equitably (adverb) – fairly, impartially.
account for (phrasal verb) – deal with, take care of; clear up, eliminate.
potential (adjective) – possible

, probable, likely.
Note:
 1. Click each one of the words above for their definition, more synonyms, pronunciation, example sentences, phrases, derivatives, origin and etc from http://www.oxforddictionaries.com/.
2. Definitions (elementary level) & Synonyms provided for the words above are my personal work and not that of Oxford University Press. Tentative definitions/meanings are provided for study purpose only and they may vary in a different context. 
3. This word list is for personal use only. Reproduction in any format and/or Commercial use of it is/are strictly prohibited.
The Hindu Editorial (State action) – May 13, 2021: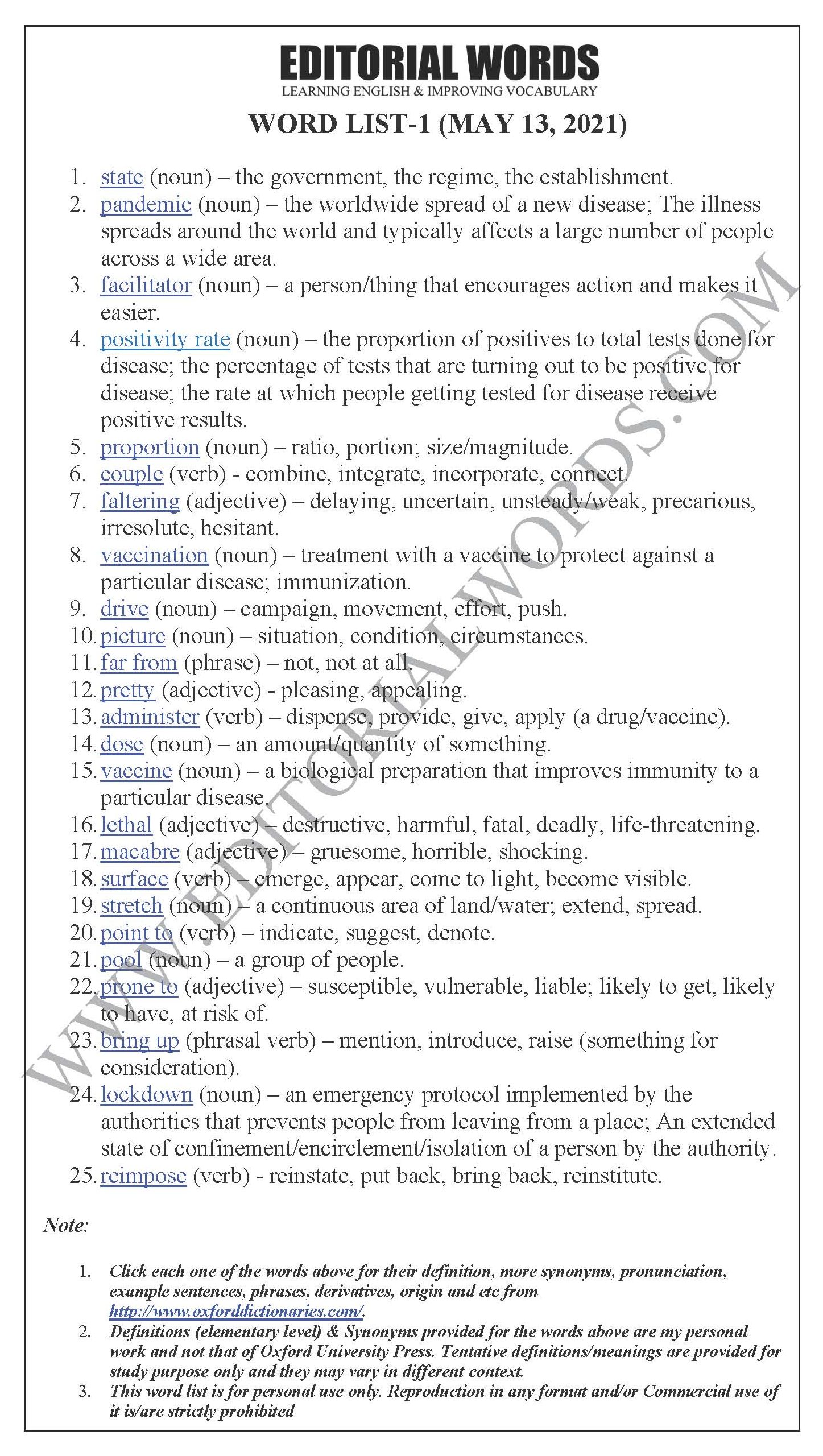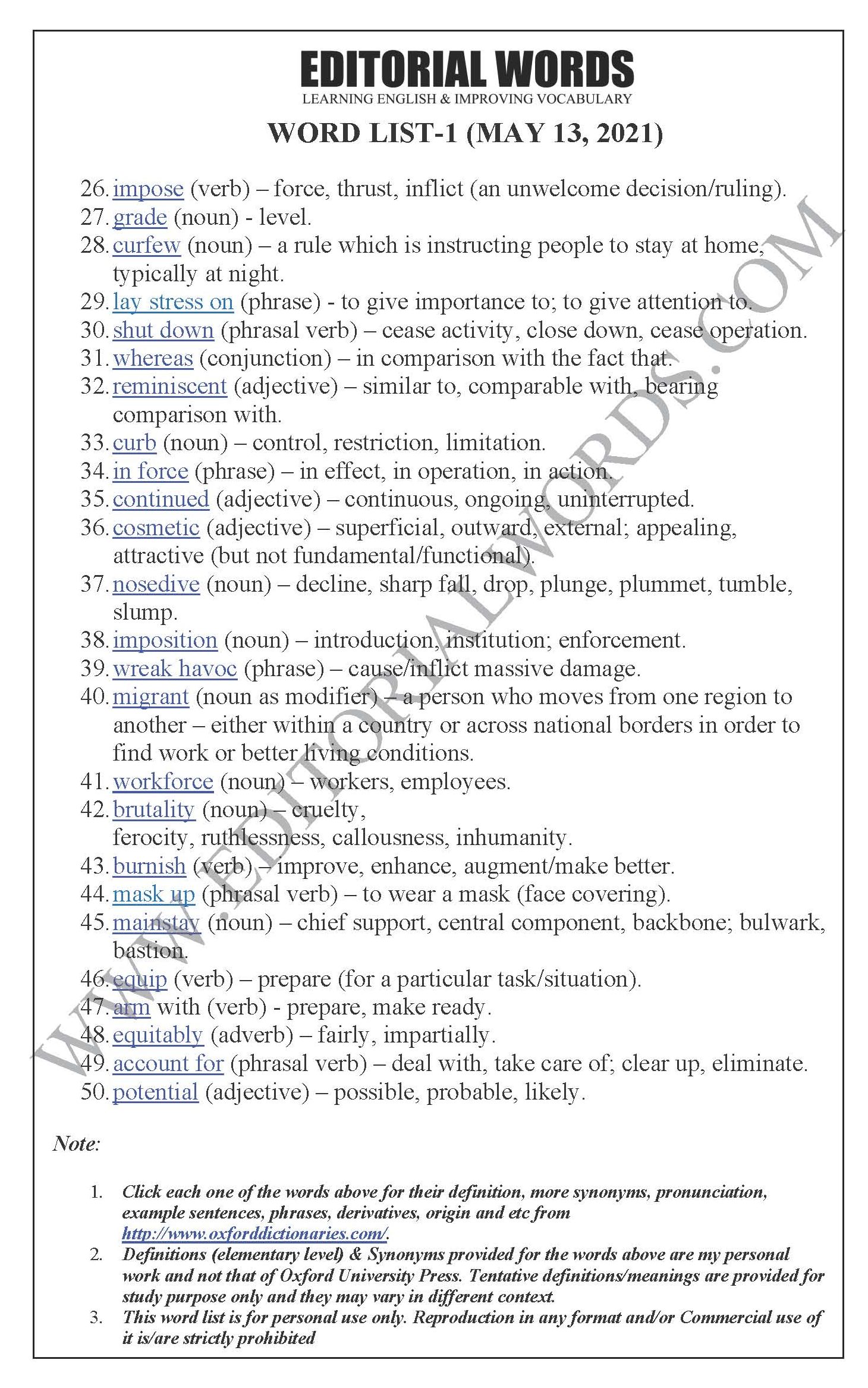 "Phrasal Verbs" We Learnt Last Week
"Idioms & Phrases" We Learnt Last Week
"Important Definitions" We Learnt Last Week
Recent Word Lists For The Hindu Editorial Articles
Recent Advanced Word Lists For The Hind Lead Articles