The Hindu Editorial (Purifying water) – Feb 06, 2020
The Environment Ministry's draft notification to regulate the use of membrane-based water purification systems primarily… For further reading, visit "The Hindu". Below is today's word list-2 for The Hindu Editorial (Purifying water) – Feb 06, 2020.
To read this article, click here.
This preview is provided here with permission.
Courtesy: The Hindu
Today's word list-2 for The Hindu Editorial (Purifying water) – Feb 06, 2020:
reverse osmosis (RO) (noun) – a scientific principle, based on the pressure of liquids, by which unpurified water is forced to flow through a semi permeable membrane to remove contaminants/impurities.
regulate (verb) – check, control, inspect/monitor (particularly a business activity with rules and regulations)

.

primarily (adverb) – basically, especially, particularly.
bar (verb) – ban, forbid, prohibit.
culmination (noun) – finale/end, conclusion, termination.
litigation (noun) – legal process, legal proceeding, legal action.
pan- (combining form) – all inclusive of.
conserve (verb) – preserve

, protect, save.

total dissolved solids

(TDS) (noun) – the term used to describe the inorganic salts and small
amounts of organic matter present in solution in water. (Courtesy:WHO)
potable (adjective) – fit to drink.
resort (noun) – recourse to

, the use of, utilizing.

prohibition (noun) – restriction, banning, forbidding.
apprehension (noun) – concern, doubt, worry.
unlikely (adjective) – questionable, unconvincing; doubtful, unexpected.
take to task (phrase) – criticize, admonish, reprimand, censure severely for a mistake.
for one (phrase) – (few people) agree/do something even if all others disagree/ don't do.
imply (verb) – say indirectly, suggest, hint.
conform (verb) – comply with, abide by, obey, adhere to.
fall short of (phrase) – fail to meet/reach; be deficient/inadequate/insufficient.
rank (verb) – rate, classify

, categorize

.
luxury (noun) – blessing, benefit, advantage.

Composite Water Management Index

(CWMI) (noun) – an index (list/register/directory) which is developed by the NITI Aayog as a composite (combined), national-level data management platform for all water resources in India.
contaminate (verb) – pollute, impair, spoil.
means (noun) – method

, way, procedure.

employ (verb) – use

, utilize, make use of.

determinant (noun) – factor, issue, concern.
envisage (verb) – foresee, predict, forecast.
residual (adjective) – remaining, extra, excess.
persuade (verb) – pressure/pressurize, influence/convince, motivate.
Note:  
 1. Click each one of the words above for their definition, more synonyms, pronunciation, example sentences, phrases, derivatives, origin and etc from http://www.oxforddictionaries.com/.
2. Definitions (elementary level) & Synonyms provided for the words above are my personal work and not that of Oxford University Press. Tentative definitions/meanings are provided for study purpose only and they may vary in different context. 
3. This word list is for personal use only. Reproduction in any format and/or Commercial use of it is/are strictly prohibited.
Today's word list-2 The Hindu Editorial (Purifying water) – Feb 06, 2020
: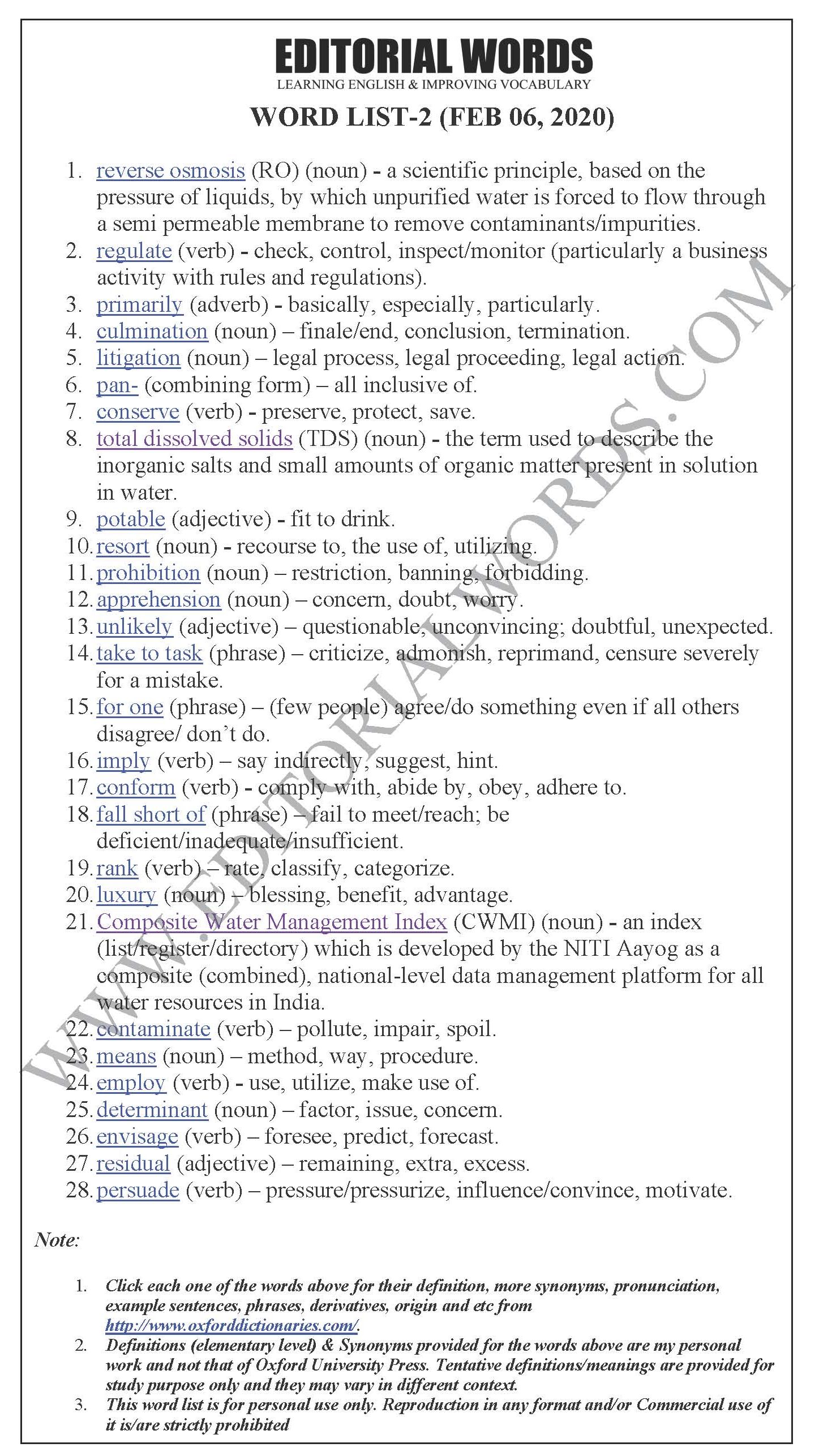 "Phrasal Verbs" We Learnt Last Week
"Idioms & Phrases" We Learnt Last Week
"Important Definitions" We Learnt Last Wek
Recent Word Lists For The Hindu Editorial Articles
Recent Advanced Word Lists For The Hindu Lead Articles