The Hindu Editorial (Private space) – Jan 16, 2021
The Allahabad High Court ruling that people marrying under the Special Marriage Act, 1954, can choose not to publicise their union with a notice 30 days… For further reading, visit "The Hindu". Below is today's word list-1 for The Hindu Editorial (Private space) – Jan 16, 2021.
To read this article, click here.
This preview is provided here with permission.
Courtesy: The Hindu
Today's word list-1 for The Hindu Editorial (Private space) – Jan 16, 2021
:
public notice

 (noun) – a notice given to the public regarding certain types of legal proceedings.

Special Marriage Act (1954)

 (noun) – a legislation to govern marriages that could not be solemnised/performed according to religious customs/traditions – which essentially meant inter-faith or inter-caste marriages.
optional (adjective) – non-compulsory, non-mandatory.
inter- (prefix) – between.
inter-faith (adjective) – between different religions; relating to members of different religions.
publicise (verb) – make public, disclose, reveal.
union (noun) – marriage

, wedding, partnership.

in advance (phrase) – earlier, before.
pushback (noun) – resistance, opposition, disagreement, force back, repulse drive.
problematic (adjective) – difficult

, troublesome, complex.

Anti-conversion laws or Freedom of Religion Acts

 (noun) – state-level statutes that have been enacted to regulate religious conversions.
irritant (noun) – annoyance

, irritation, problem.

get (something) out of the way (phrase) – to finish something.

inter-faith marriage

 (noun) – sometimes called a "mixed marriage", is a marriage between spouses having/professing/affirming faith in different religions. (spouse means a husband or wife).
in the name of (phrase) – for the sake of, at the behest of.
bogey (noun) – nightmare/anathema, curse, bane.

love jihad

 (noun) – also called Romeo Jihad; "Love jihad" is a term used by right-wing activists to refer to the alleged campaign of Muslims forcing Hindu girls to convert in the guise of love. (guise means outward appearance or false show).
mandatorily (adverb) – compulsorily, necessarily.
call for (phrasal verb) – require, publicly ask/necessitate, demand.
objection (noun) – 

complaint, disapproval, opposition.

Right to Privacy

 (noun) – the right to privacy is a fundamental right and is an integral part of the right to life and liberty. It refers to a legal framework that provides individuals a legal right to protect their or their data's privacy.
solemnise (verb) – perform, ceremonialize (a ceremony, especially that of marriage).
enable (verb) – permit, allow

, facilitate.

interpretation (noun) – explanation

, understanding/reading, inference, clarification.

uphold (verb) – preserve, protect, maintain; vindicate/validate.
invade (verb) – violate, encroach on, infringe on, trespass on, obtrude on.
liberty (noun) – freedom

, independence.

sphere (noun) – an area of activity; a field of activity; domain

, realm.

interference (noun) – intervention, meddling, unwarranted involvement.

state actor

 (noun) – a state actor is a person who is acting on behalf of a governmental body.
non-state actor (noun) – an individual or organization that has significant political influence.
plea (noun) – appeal

, petition.

invasion (noun) – violation, infringement, breach.
undoubtedly (adverb) – admittedly, doubtlessly, beyond question.
context (noun) – circumstances, conditions, situation.

The Uttar Pradesh Prohibition of Unlawful Conversion of Religion Ordinance, 2020

 (noun) – It, commonly called the anti-love jihad ordinance, provides prohibition of unlawful conversion of one religion to another by "misrepresentation, force, undue influence, coercion, allurement, or by any fraudulent means or by marriage".
mandate (verb) – make mandatory.
magistrate (noun) – the judicial officers or civil officers of a state who handle minor legal cases in a specific area like town, district etc.
conduct (verb) – 

perform, act (in a specified way).

explicit (adjective) – clear, straightforward, 

definite

, specific, categorical.
cite (verb) – refer to

, make reference to, mention, point to.

progressive (adjective) – forward-looking, forward-thinking, advanced, liberal.
Note:
 1. Click each one of the words above for their definition, more synonyms, pronunciation, example sentences, phrases, derivatives, origin and etc from http://www.oxforddictionaries.com/.
2. Definitions (elementary level) & Synonyms provided for the words above are my personal work and not that of Oxford University Press. Tentative definitions/meanings are provided for study purpose only and they may vary in different context. 
3. This word list is for personal use only. Reproduction in any format and/or Commercial use of it is/are strictly prohibited.
Today's word list-1 The Hindu Editorial (Private space) – Jan 16, 2021
: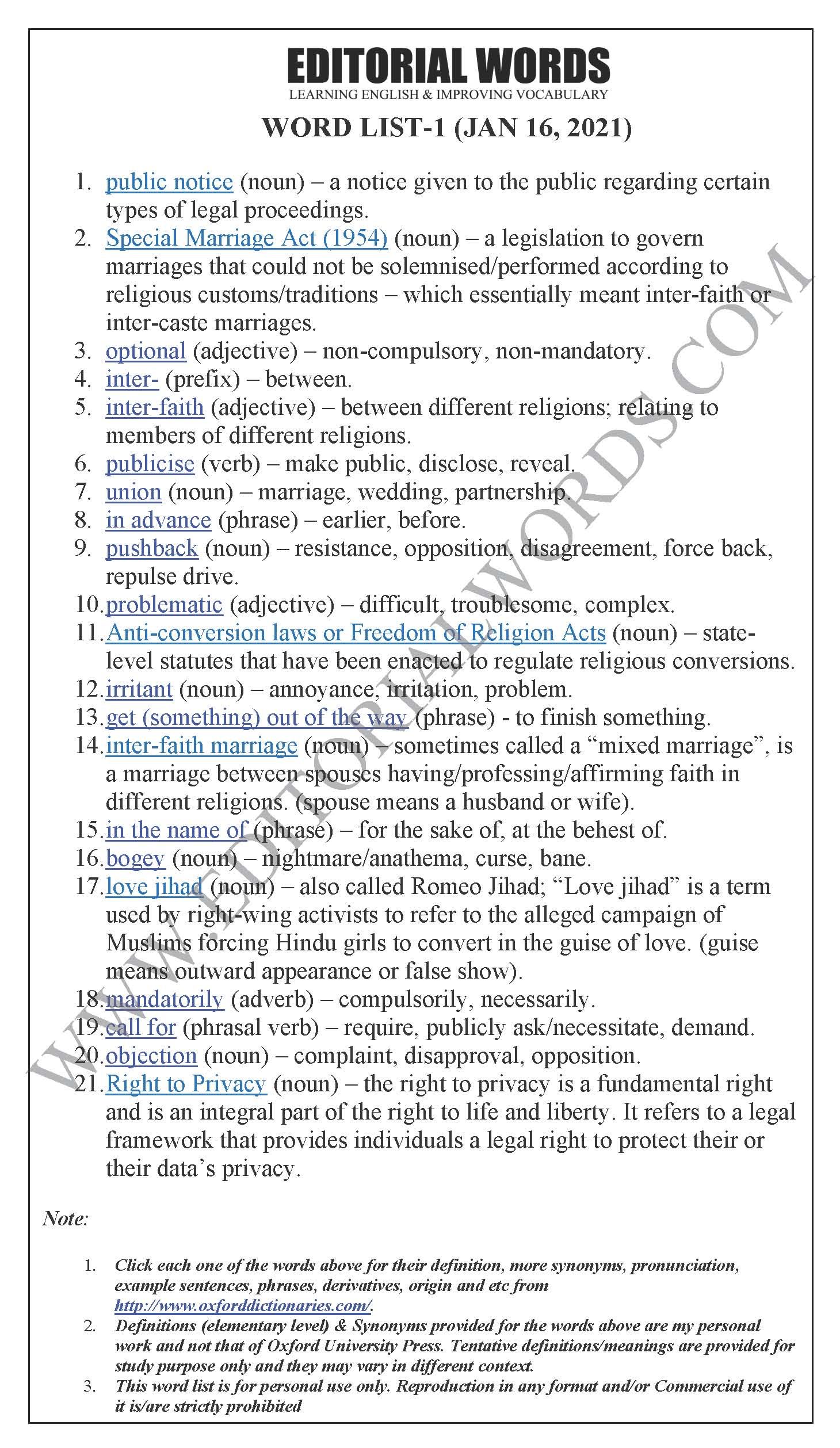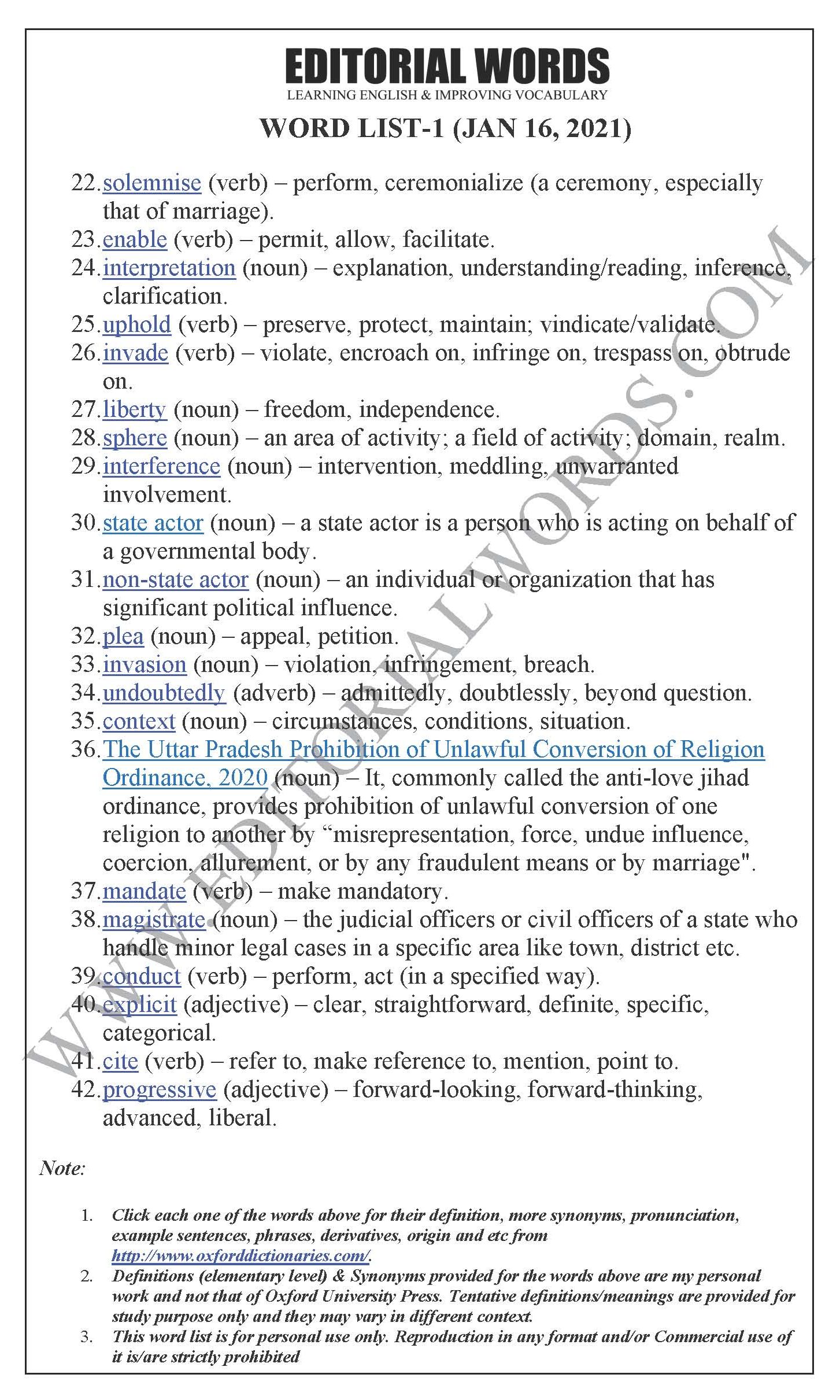 "Phrasal Verbs" We Learnt Last Week 
"Idioms & Phrases" We Learnt Last Week
"Important Definitions" We Learnt Last Week
Recent Word Lists For The Hindu Editorial Articles
Recent Advanced Word Lists For The Hindu Lead Articles