The Hindu Editorial (Power play) – Jul 04, 2019
With two MLAs of the Congress resigning from the Karnataka Assembly,… For further reading, visit "The Hindu". Below is today's word list-1 for The Hindu Editorial (Power play) – Jul 04, 2019.
To read this article, click here.
This preview is provided here with permission.
Courtesy: The Hindu
Today's word list-1 for The Hindu Editorial (Power play) – Jul 04, 2019:
defection (noun) – desertion, absconding, decamping.
horse-trading (noun) – it is normally used to indicate a hard & shrewd (clever) negotiation/bargaining between two bargaining (political) parties to show an understanding of the problem.
pull down (phrasal verb) – remove, ruin/wreak, destroy/devastate

.

under way (phrase) – going on, continuing, in progress.
sit/wait in the wings (phrase) – someone who is not active at this time, but ready to do something very soon.
perfect (verb) – improve, refine/hone, brush up/fine-tune, bring to perfection.
lure (verb) – tempt

, attract, induce.

stem from (verb) – emerge from, originate from, emanate from.
spectacular (adjective) – impressive

, magnificent, outstanding/remarkable

.
reconcile to (verb) – accept, get used to, accommodate/adjust oneself to.
manoeuvre (verb) – manage, organize, arrange (something tactfully).
the time is ripe (phrase) – an appropriate/convenient time has come.
strike (noun) – a sudden attack/assault.
disenchantment (noun) – disappointment, dissatisfaction, discontent.
stormy (adjective) – turbulent

, volatile, intense/tumultuous.

concede (verb) – give up, hand over, sacrifice; allow, grant/give.
join hands with (phrase) – work together with.
opportunism (noun) – expediency/exploitation, taking advantage, pragmatism.
inherent (adjective) – intrinsic/innate; basic/fundamental, implicit.
contradiction (noun) – disagreement, opposition, inconsistency; rebuttal/negation.
face-to-face (adjective) – direct, personally, head on.
dimension (noun) – aspect, feature, element.
yearn (verb) – long, desire, wish.
cross over (phrasal verb) – join, unite, attach/connect.
howsoever (conjunction) – in whatever way, however.
meagre (adjective) – limited, little, modest.
divergent (adjective) – differing, varying, dissimilar/contrasting.
pay the price (phrase) – to go through the unpleasant outcome of something which you have done earlier.
glue (noun) – adhesive, fixative, paste/gum.
rebel (verb) – rise up, revolt; defy/oppose/disobey.
rout (noun) – defeat, overwhelming (very large/massive/huge) defeat.
lend itself to (verb) – be suitable for

, be applicable for, be adaptable to.

brazen (adjective) – bold and shameless; unashamed, unabashed.
rent-seeking (noun) – a behavior which does not create economic gains for society, instead it helps a company/organisation/individual using their resources to get economic gain.
overshadow (verb) – conceal, obscure, outshine/eclipse.
turmoil (noun) – trouble, disturbance, upheaval/disorder.
hiatus (noun) – pause, break, interval.
ideological (adjective) – dogmatic, doctrinal.
reorientation (noun) – the act of changing the focus/direction.
address (verb) – attend to, tackle, deal with.
livelihood (adjective) – source of income, means of support, living, subsistence.
Note:  
 1. Click each one of the words above for their definition, more synonyms, pronunciation, example sentences, phrases, derivatives, origin and etc from http://www.oxforddictionaries.com/.bigotry

, narrow-mindedness
2. Definitions (elementary level) & Synonyms provided for the words above are my personal work and not that of Oxford University Press. Tentative definitions/meanings are provided for study purpose only and they may vary in different context. 
3. This word list is for personal use only. Reproduction in any format and/or Commercial use of it is/are strictly prohibited.
Today's word list-1 The Hindu Editorial (Power play) – Jul 04, 2019
: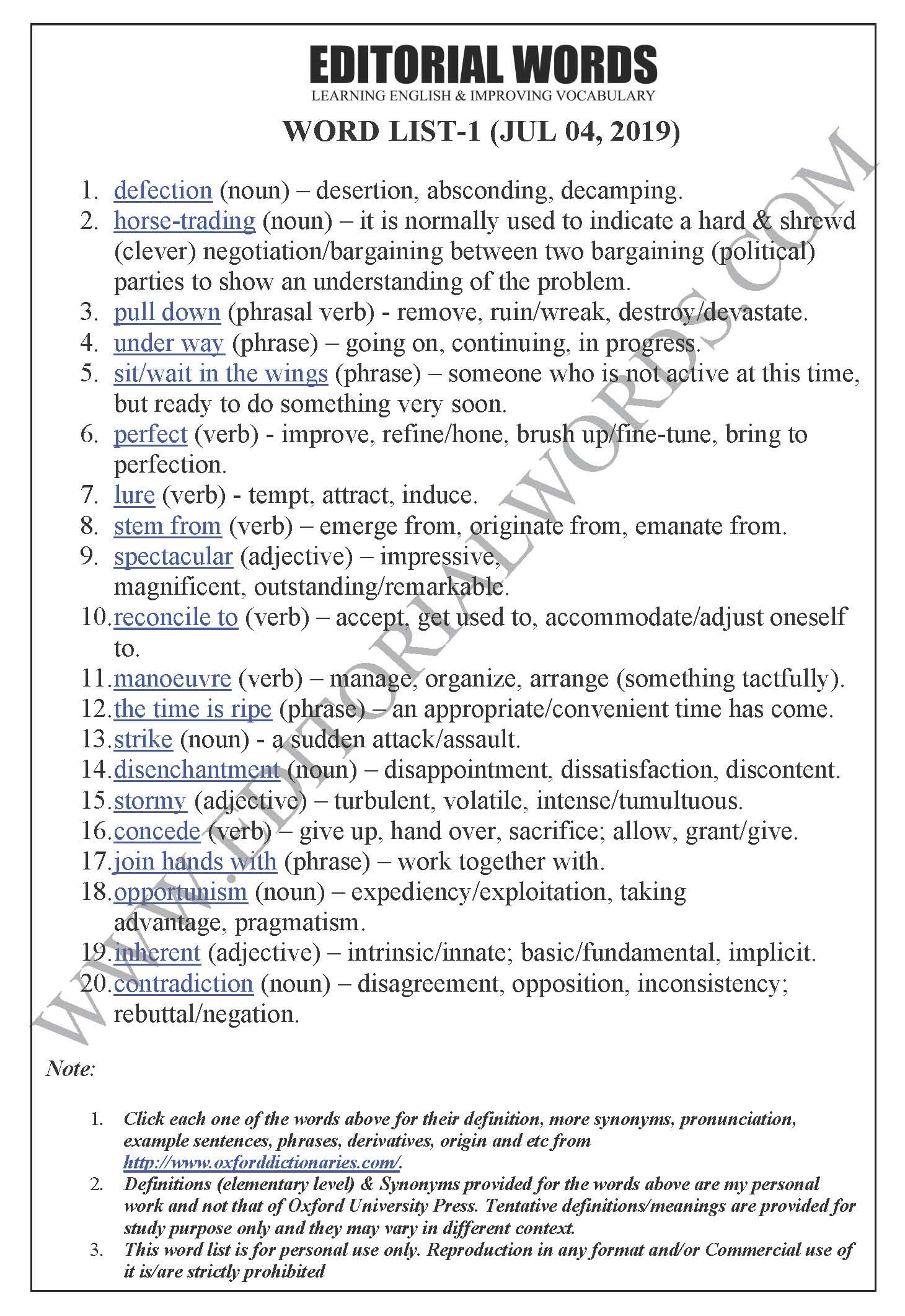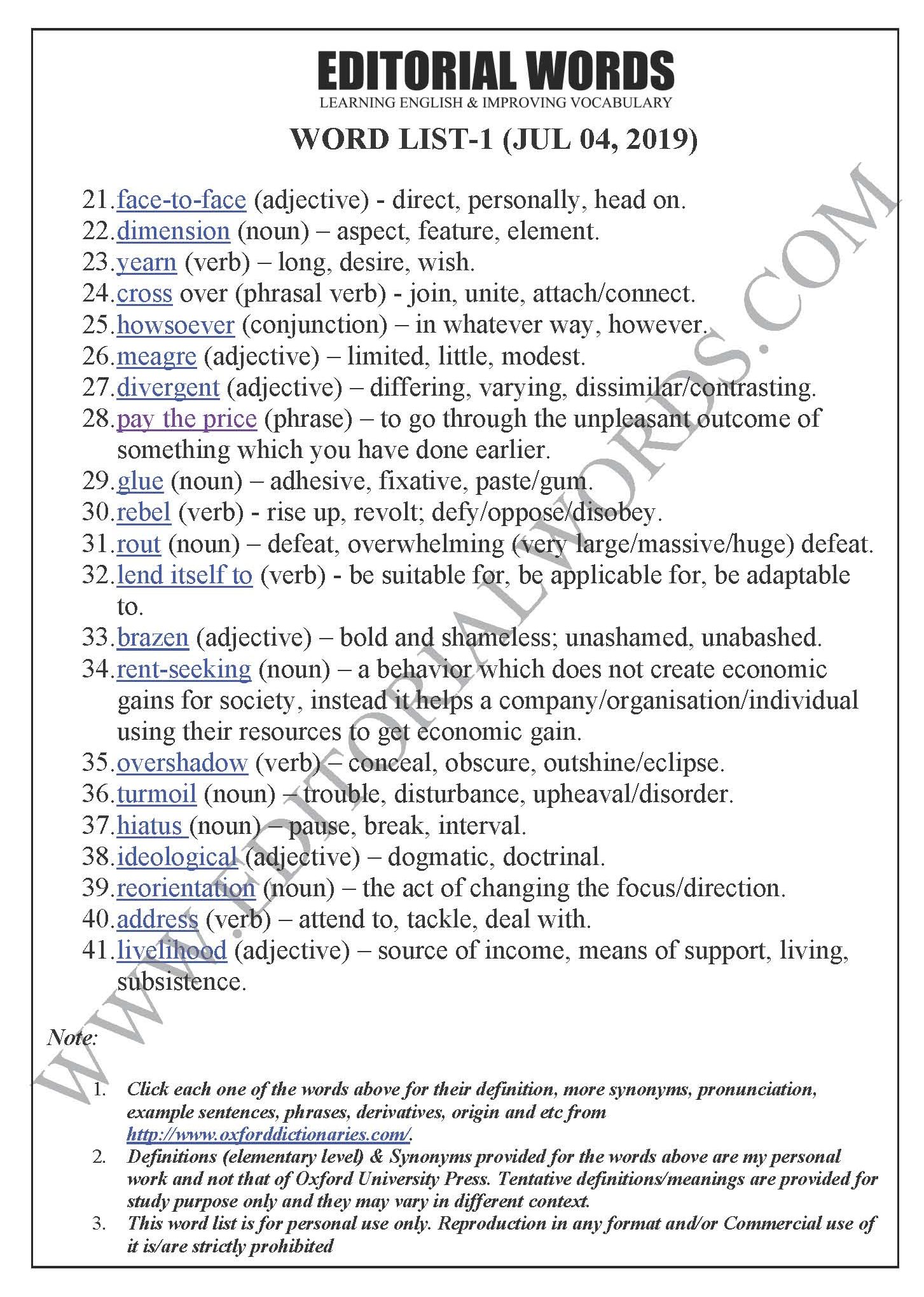 "Phrasal Verbs" We Learnt Last Week
"Idioms & Phrases" We Learnt Last Week
"Important Definitions" We Learnt Last Week
Recent Word Lists For The Hindu Editorial Articles
Recent Advanced Word Lists For The Hindu Lead Articles