The Hindu Editorial (Mumbai marooned) – Jul 04, 2019
Mumbai once again struggled to stay afloat after the first heavy spell of rain this year,… For further reading, visit "The Hindu". Below is today's word list-2 for The Hindu Editorial (Mumbai marooned) – Jul 04, 2019.
To read this article, click here.
This preview is provided here with permission.
Courtesy: The Hindu
Today's word list-2 for The Hindu Editorial (Mumbai marooned) – Jul 04, 2019:
maroon (verb) – strand, leave isolated, abandon.
metropolis (noun) – a big city/a large & busy city.
afloat (adjective) – out of danger/difficulty; above water.

put a brave front on

(phrase) – to face a very 

difficult situation

 

with

 

high

 

spirits/

optimism.
resilience (noun) – strength, toughness; the capacity to recover quickly from difficulties.
tattered (adjective) – falling to pieces/worn, deteriorated, in poor condition.

take a toll

(phrase) – to cause suffering/loss/damage to someone/something.
weigh down (phrasal verb) – trouble, worry/bother, disturb.
give way (to) (phrase) – collapse

, 

crumble/disintegrate, fall in.
catastrophe (noun) – destruction, damage, disaster.
paralyse (adjective) – disable, immobilize, make powerless.
baseline (noun) – an analysis that describes the situation prior to an intervention, against which progress can be assessed or comparisons made during the life of a project or programme.
incur (verb) – suffer, sustain/bring upon oneself;  be subject to.
resolve (noun) – determination

, resolution, decision.

rampant (adjective) – widespread, present everywhere/pervasive, unrestrained/out of control.
integrity (noun) – unity, coherence, togetherness.
erratic (adjective) – irregular, unsteady, unreliable.
insight (noun) – perception, awareness, discernment/understanding.
prolonged (adjective) – continuous, lengthy, unending.
storm water (noun) – inundated/flood water produced after a heavy rainfall.
deluge (noun) – severe flood, torrent; downpour/torrential rain.
consensus (noun) – an idea or opinion that is shared by all the people in a group. agreement, concurrence.
choke (verb) – clog

, block, obstruct.

sclerotic (adjective) – rigid, unresponsive, low-spirited, uncommunicative.
rely on (phrasal verb) – depend on; resort to, have recourse to.
paradigm (noun) – model, pattern/example; world view.

seasonality index

(noun) – a forecasting tool used to determine demand for various commodities or goods in a given marketplace over the course of a typical year (or a shorter time period).
relatively (adverb) – quite, comparatively/proportionately; to a certain extent.
window (noun) – opportunity, chance, opening.
climate change (noun) – a long-term change in the Earth's climate, or of a region on Earth (Courtesy: NASA).
call for (phrasal verb) – require, publicly ask/necessitate, demand.
ecological (adjective) – relating to the branch of biology which studies the interactions among organisms and their environment.
drought (noun) – lack/dry spell, lack of rain, shortage of water.
Note:  
 1. Click each one of the words above for their definition, more synonyms, pronunciation, example sentences, phrases, derivatives, origin and etc from http://www.oxforddictionaries.com/.bigotry

, narrow-mindedness
2. Definitions (elementary level) & Synonyms provided for the words above are my personal work and not that of Oxford University Press. Tentative definitions/meanings are provided for study purpose only and they may vary in different context. 
3. This word list is for personal use only. Reproduction in any format and/or Commercial use of it is/are strictly prohibited.
Today's word list-2 The Hindu Editorial (Mumbai marooned) – Jul 04, 2019
: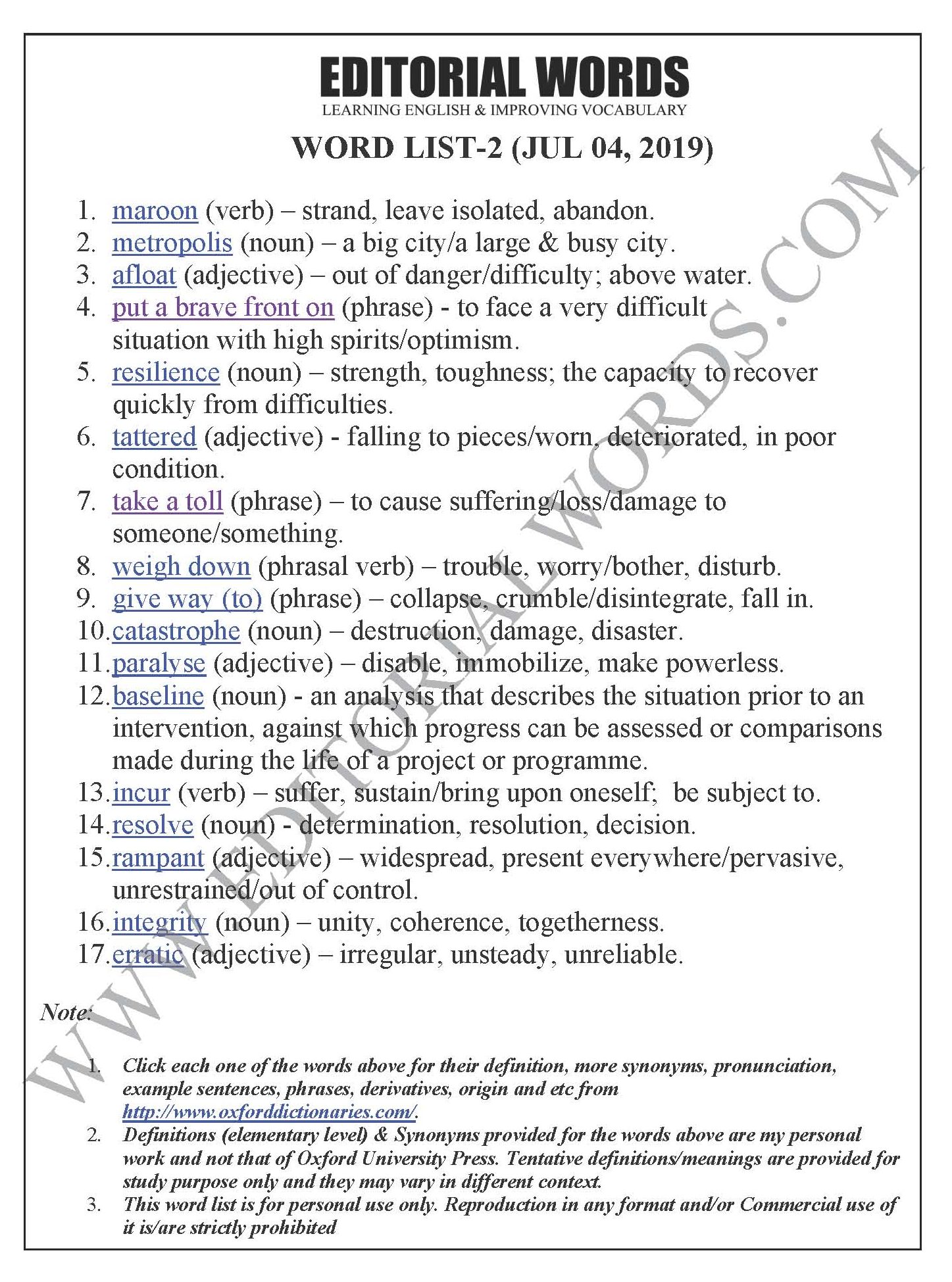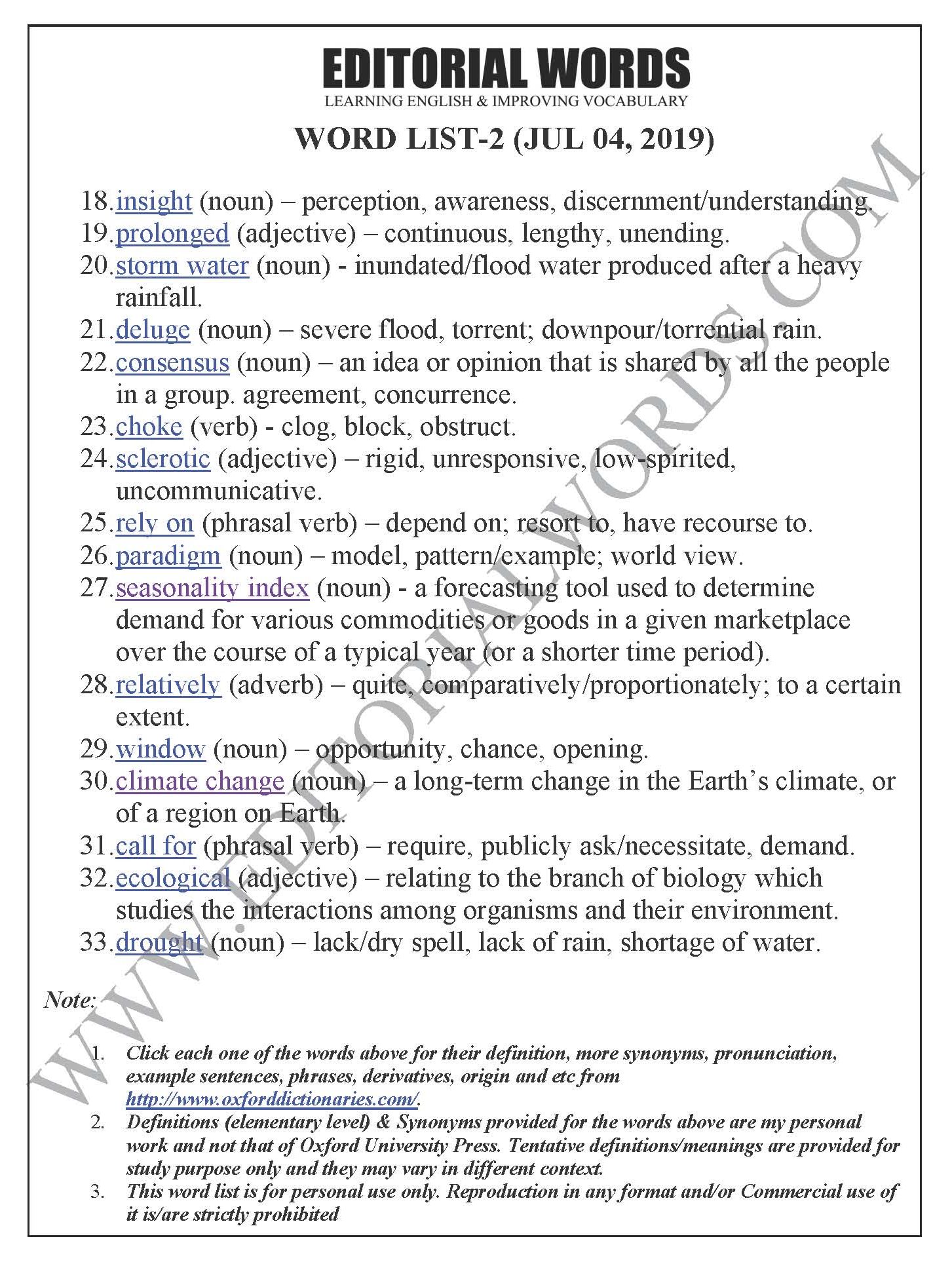 "Phrasal Verbs" We Learnt Last Week
"Idioms & Phrases" We Learnt Last Week
"Important Definitions" We Learnt Last Week
Recent Word Lists For The Hindu Editorial Articles
Recent Advanced Word Lists For The Hindu Lead Articles