The Hindu Editorial (Perfecting the test) – Jul 08, 2021
Preparing for an uncertain academic year ahead during the pandemic, the Central Board of Secondary Education has decided on an assessment scheme… For further reading, visit "The Hindu". Below is today's word list-1 for The Hindu Editorial (Perfecting the test) – Jul 08, 2021.
To read this article, click here.
This preview is provided here with permission.
Courtesy: The Hindu
The Hindu Editorial (Perfecting the test) – Jul 08, 2021:
perfect (verb) – improve

, fine-tune, make perfect, make as good as possible.

The Central Board of Secondary Education (CBSE)

 (noun) – Formed in 1962, it is a national level board of education in India for public and private schools, controlled and managed by the Union Government of India. It envisions a robust, vibrant, and holistic school education that will engender (cause) excellence in every sphere of human endeavour.
assessment (noun) – evaluation, appraisal.
incorporate (verb) – combine, join, integrate.
stressed (adjective) – anxious, worried, tense, upset, distressed, pressurized, burdened. 
uncertain (adjective) – unknown, unsettled, unresolved, unpredictable.
academic (noun) – scholar

, educator, instructor.

pandemic (noun) – the worldwide spread of a new disease; The illness spreads around the world and typically affects a large number of people across a wide area.
scenario (noun) – course of events; setting, situation, context.
possibility (noun) – chance

, likelihood, probability, prospect, hope.

circumstances (noun) – situation

, condition, context.

go by (phrasal verb) – to move past (in time).
hastily (adverb) – swiftly, rapidly, quickly.
come up with (phrasal verb) – produce, put forward, present/submit.
emphasis (noun) – 

importance, significance; priority, insistence.

academics (noun) – subjects, courses.
considerable (adjective) – substantial, appreciable, significant, much

.

deprivation (noun) – 

privation, hardship, destitution, neediness, distress.

Kendriya Vidyalaya

(noun) – It is a system of central government schools in India that have been instituted under the aegis of the Ministry of Human Resource Development (MHRD) and came into being in 1963 under the name Central Schools. Later, the name was changed to Kendriya Vidyalaya. It is a non-profit organisation. Its schools are all affiliated to the Central Board of Secondary Education (CBSE).

Jawahar Navodaya Vidyalaya

(noun) – The National Policy on Education-1986 envisaged setting up of residential schools, to be called Jawahar Navodaya Vidyalayas, that would bring out the best of rural talent. Their vision is to provide good quality modern education-including a strong component of culture, inculcation of values, awareness of the environment, adventure activities and physical education- to the talented children predominantly from the rural areas without regard to their family's socio-economic conditions.

Central Tibetan School Administration (CTSA)

(noun) – CTSA was established in 1961 with the objective to establish, manage and assist schools in India for the education of Tibetan Children living in India while preserving and promoting their culture and heritage.
abroad (adverb) – in a foreign country.
diversity (noun) – the state/condition of having many different types of something; variety, variation, difference, range.
background (noun) – social/family circumstances

.

apparently (adverb) – seemingly

, evidently, it appears that; supposedly.

reckon to/on (phrasal verb) –

have a particular view or opinion of.

degree (noun) – level, extent.
mix (noun) – combination.
rationalised (adjective) – reorganized, simplified, streamlined, honed; making more efficient.
compartmentalized (adjective) – categorize

d, sectionalized.

split (verb) – divide, bifurcate.
halves (plural noun) – (either of) two equal parts.
term (noun) – semester.
responsive (adjective) – amenable, flexible, accessible, approachable.
privileged (adjective) – wealthy, rich, affluent, prosperous.

less privileged

(adjective) – underprivileged, poor, destitute, impoverished, poverty-stricken.
rely on (phrasal verb) – depend on; resort to, have recourse to.
rationalisation (noun) – systematisation, formalisation.
centralised (adjective) – controlled by a single authority.
protocol (noun) – procedure, method, system. 
stretch (verb) –

extend, continue (over a period of time).

sound (verb) – appear

, look, seem.

critique (verb) – criticize; evaluate, investigate (in a detailed way)

.

inferior (adjective) – substandard, low-quality, low-grade.
irrelevant (adjective) – immaterial, unrelated, not germane, unimportant/insignificant.
add up to (phrase) – amount to

, make, equal, be equal to, be equivalent to.

in terms of (phrase) – with regard to, regarding/concerning, in connection with.
adjunct (noun) – supplement, addition, complement, extra.
decentralised (adjective) – relating to the transfer of the power/control of a department/government from a single place to other locations.
empower (verb) – 

authorize, entitle, permit, allow.

tailor (verb) – customize, adapt, adjust, modify, change.
impose (verb) – force, thrust, inflict (an unwelcome decision/ruling).
fallback (noun) – alternative, substitute, backup (plan).

worst-case scenario

 (noun) – the most serious or severe possible thing (environment, circumstances or outcome) that could happen in any given situation.
uncertainty (noun) – unpredictability, unreliability, riskiness/precariousness.
underscore (verb) – underline, emphasize, highlight.
factor in (phrasal verb) – take something into account.
Note:
 1. Click each one of the words above for their definition, more synonyms, pronunciation, example sentences, phrases, derivatives, origin and etc from http://www.oxforddictionaries.com/.
2. Definitions (elementary level) & Synonyms provided for the words above are my personal work and not that of Oxford University Press. Tentative definitions/meanings are provided for study purpose only and they may vary in a different context. 
3. This word list is for personal use only. Reproduction in any format and/or Commercial use of it is/are strictly prohibited.
The Hindu Editorial (Perfecting the test) – Jul 08, 2021: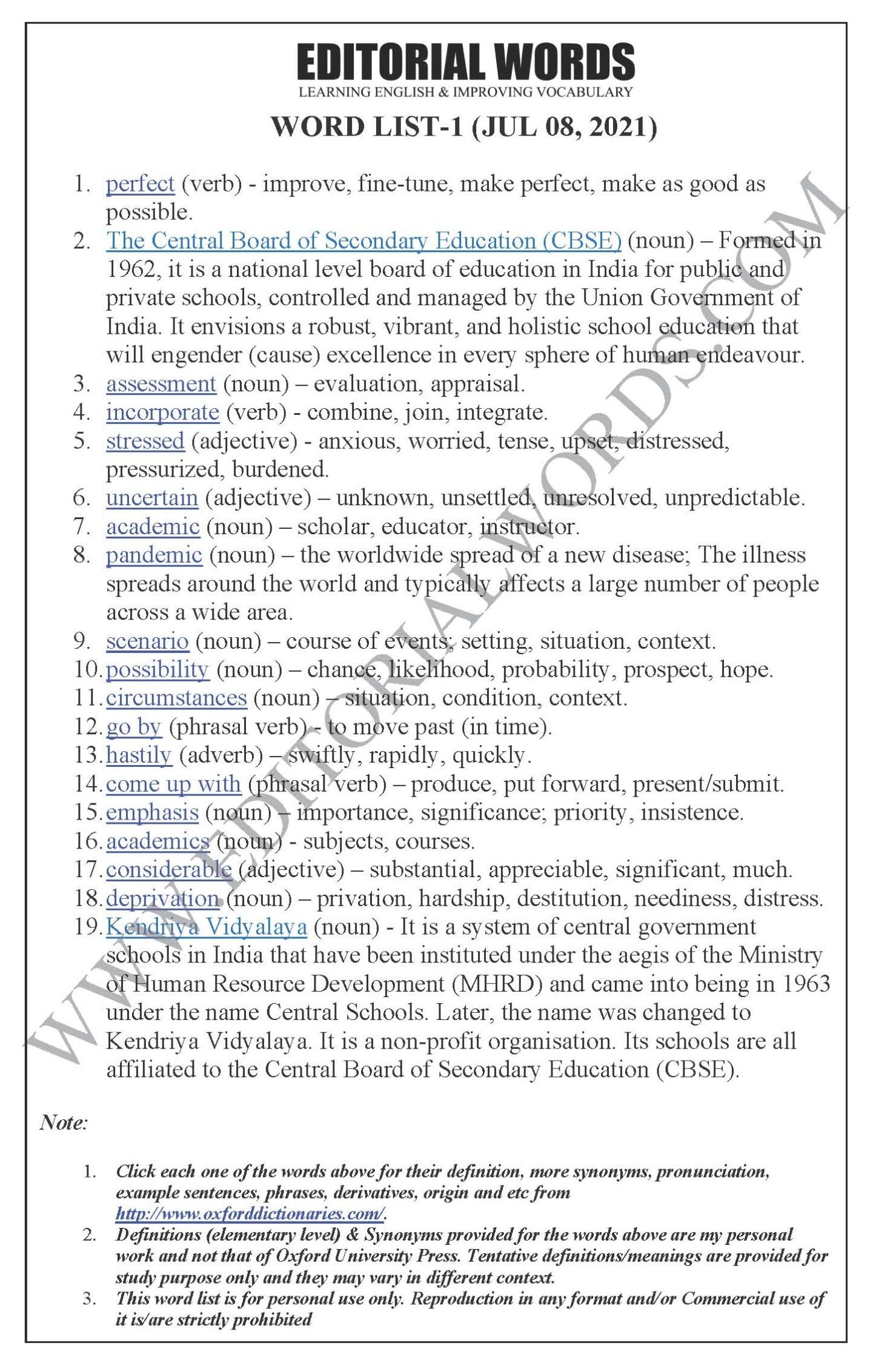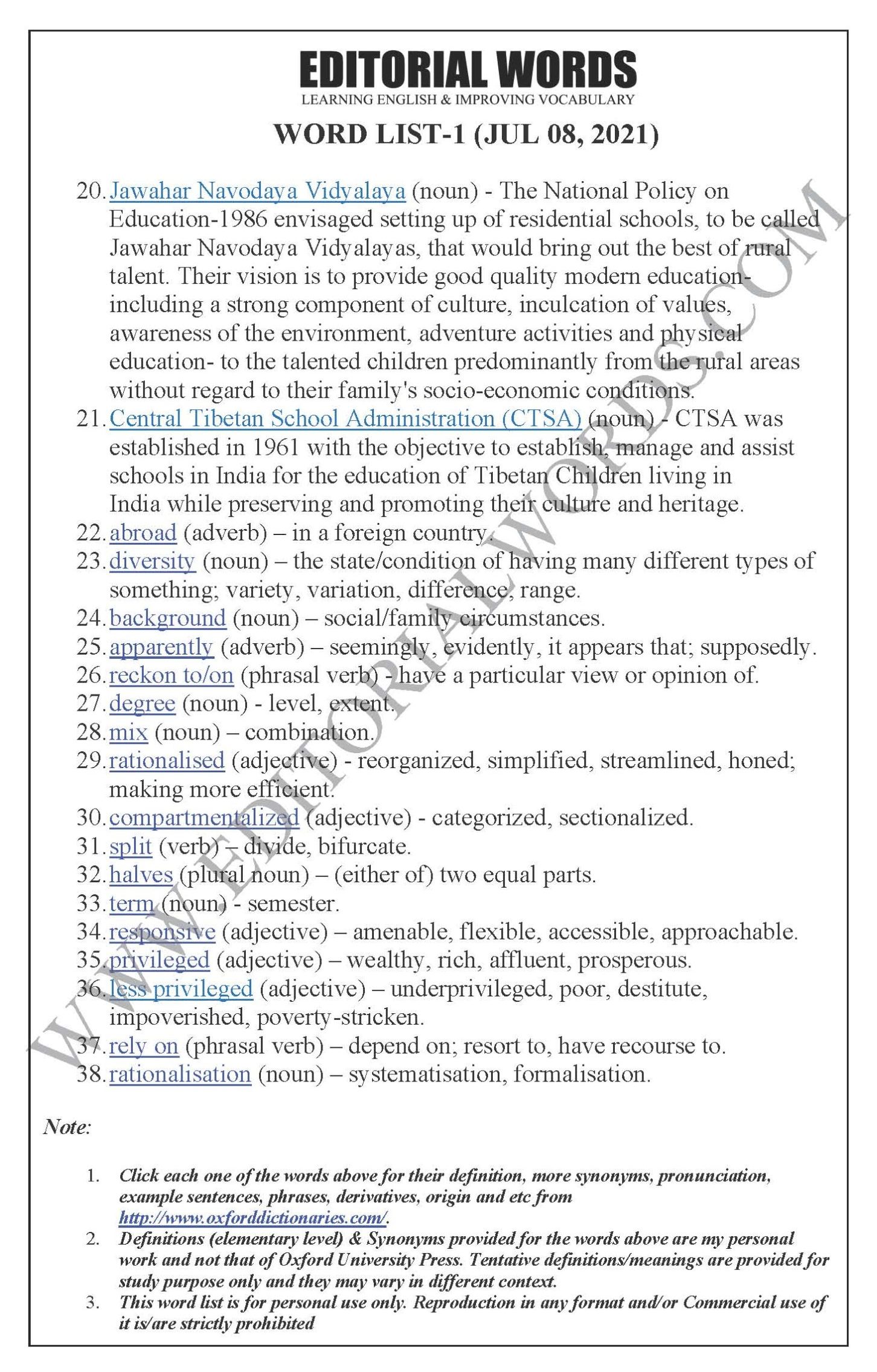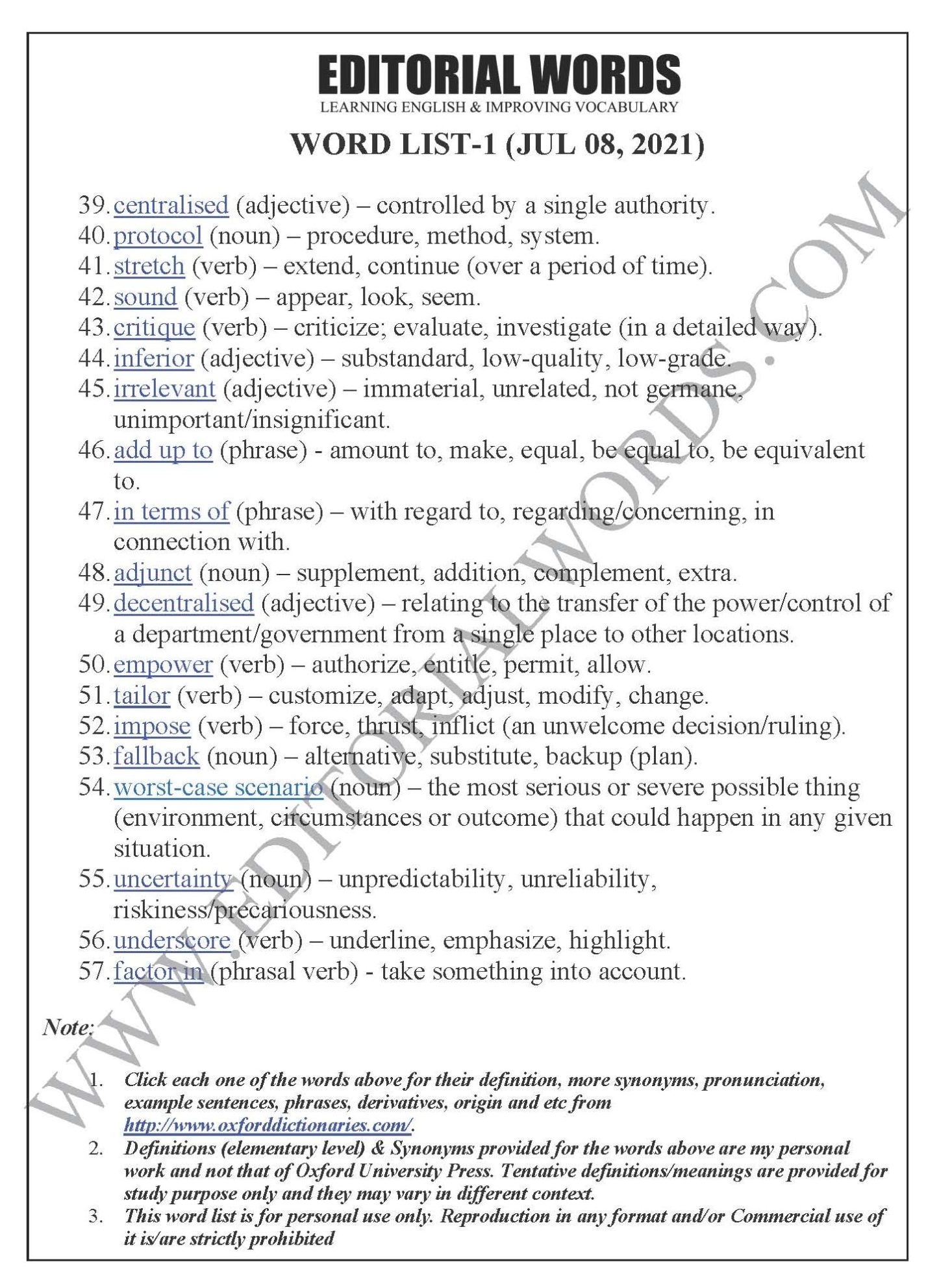 "Phrasal Verbs" We Learnt Last Week
"Idioms & Phrases" We Learnt Last Week
"Important Definitions" We Learnt Last Week
Recent Word Lists For The Hindu Editorial Articles
Recent Advanced Word Lists For The Hindu Lead Articles