The Hindu Editorial (Peaceful start) – Mar 30, 2021
The first phase of polling in West Bengal and Assam on Saturday witnessed an impressive turnout. In some constituencies, the turnout was well above 80%. In Assam, 47 Assembly constituencies,… For further reading, visit "The Hindu". Below is today's word list-1 for The Hindu Editorial (Peaceful start) – Mar 30, 2021.
To read this article, click here.
This preview is provided here with permission.
Courtesy: The Hindu
The Hindu Editorial (Peaceful start) – Mar 30, 2021:
fierce (adjective) – intense

, powerful, strong, aggressive.

spare (verb) – do without, manage without; not harm, leave unhurt.
witness (verb) – see, observe, view, notice.
turnout (noun) – attendance.
(make) inroads into (phrase) – progress/advance into (a new area/territory).
pull out all the stops (phrase) – to make every effort to succeed; to do everything possible, try hard to achieve something.
wrest (verb) – secure, acquire, seize, grab, take (by force/effort).
far (adverb) – very much

, considerably, markedly, significantly.

partisanship (noun) – bias

, prejudice, one-sidedness, partiality, 

discrimination.
set to (adjective) – likely (to do something).
ridicule (verb) – laugh at, deride

, mock, tease, make fun of.

counterclaim (noun) – a claim made against a (previous) claim.
read (verb) – interpret

, construe, see, understand.

rival (noun) – competitor

, opponent, contestant, contender, challenger.

alike (adverb) – equally.
notable (adjective) – important, significant, obvious, visible.
campaign (noun) – an organized effort which seeks to influence the decision making progress within a specific group.
hold (verb) – conduct, organize, preside over.
defensive (adjective) – self-justifying

, oversensitive, thin-skinned, easily offended.

shenanigans (plural noun) – deception, double-dealing, dishonesty, cheating, fraudulence.
result in (phrasal verb) – cause, bring on, bring about, call forth, give rise to.
unmistakable (adjective) – noticeable, evident, apparent, undoubted.
anti-incumbency (noun) – a situation which is against elected officials currently in power; discontent against ruling government/ party in power.
lose ground (phrase) – retreat or lose (a commanding position/advantage) to become less popular.
ride on (phrasal verb) – depend on.
command (verb) – receive

, be given, get, gain, obtain.

consequence (noun) – fame

, distinction, eminence, prominence, reputation, celebrity, notability.

spearhead (verb) – lead, head (a movement/protest); be in the forefront of.
harvest (verb) – obtain, gain, get.
sentiment (noun) – general feeling, view, opinion.
paradox (noun) – contradiction, mystery, conundrum, anomaly.
machinery (noun) – system, apparatus, structure.
in the midst of (phrase) – in the middle of.
trigger (verb) – cause, prompt, set off, bring about.
come under (phrasal verb) – be subjected to.
ripple effect (noun) – an event (or a process/action) that causes several other events to happen indirectly one after the other. knock-on effect, secondary/indirect effect, consequence/implication, chain of events; domino effect.
polarisation (noun) – separation of two contrasting groups (based on different opinions/beliefs).
ever-present (adjective) – always there.
hateful (adjective) – heinous, terrible, horrible, unpleasant, offensive, awful, disgusting.
rhetoric (noun) – the art of speaking or writing effectively & persuasively or impressively (but, often lacking substance); bombast, loftiness, hyperbole/extravagant language.
step in (phrasal verb) – act, take action

, become involved, get involved.
Note:
 1. Click each one of the words above for their definition, more synonyms, pronunciation, example sentences, phrases, derivatives, origin and etc from http://www.oxforddictionaries.com/.
2. Definitions (elementary level) & Synonyms provided for the words above are my personal work and not that of Oxford University Press. Tentative definitions/meanings are provided for study purpose only and they may vary in a different context. 
3. This word list is for personal use only. Reproduction in any format and/or Commercial use of it is/are strictly prohibited.
The Hindu Editorial (Peaceful start) – Mar 30, 2021: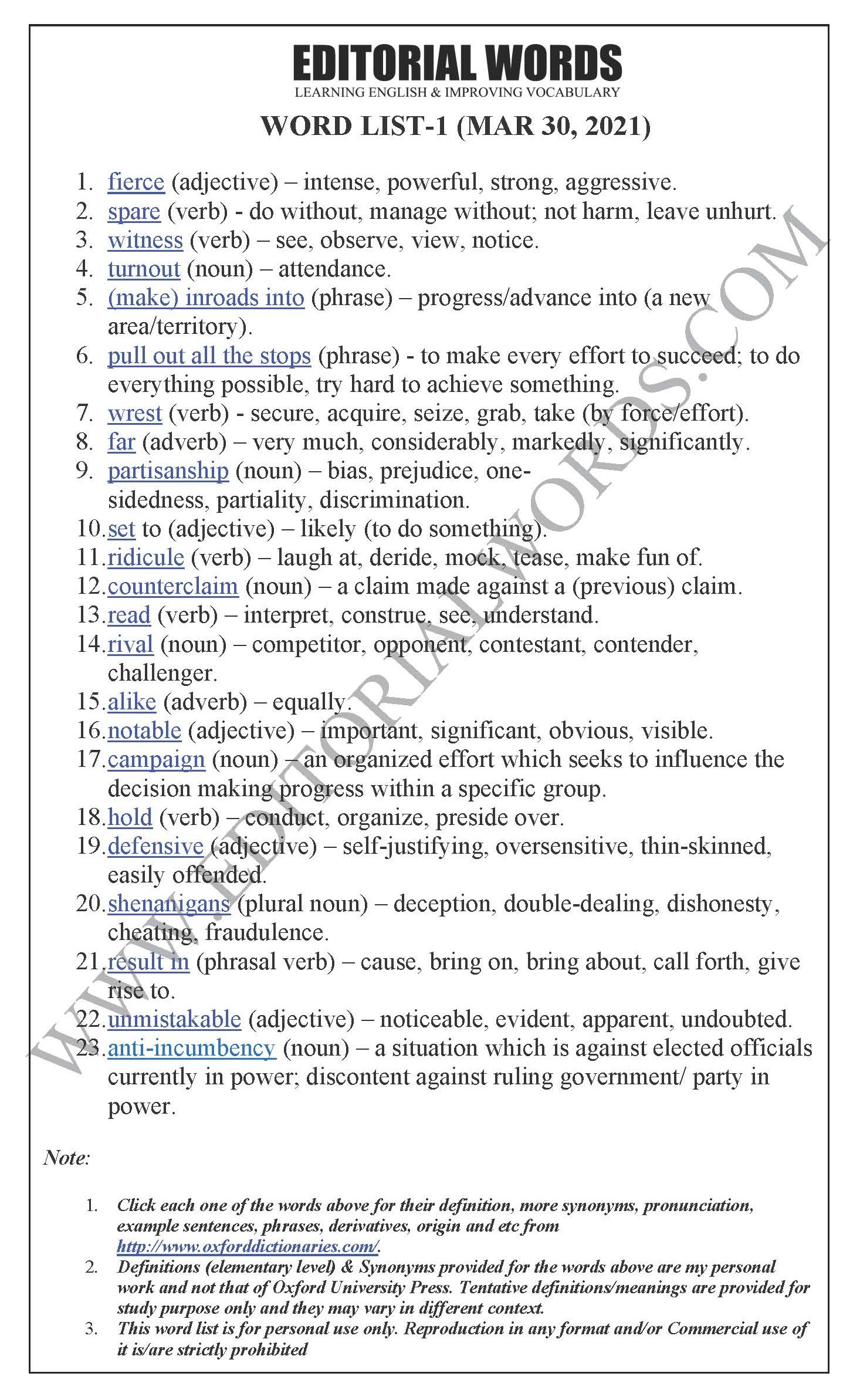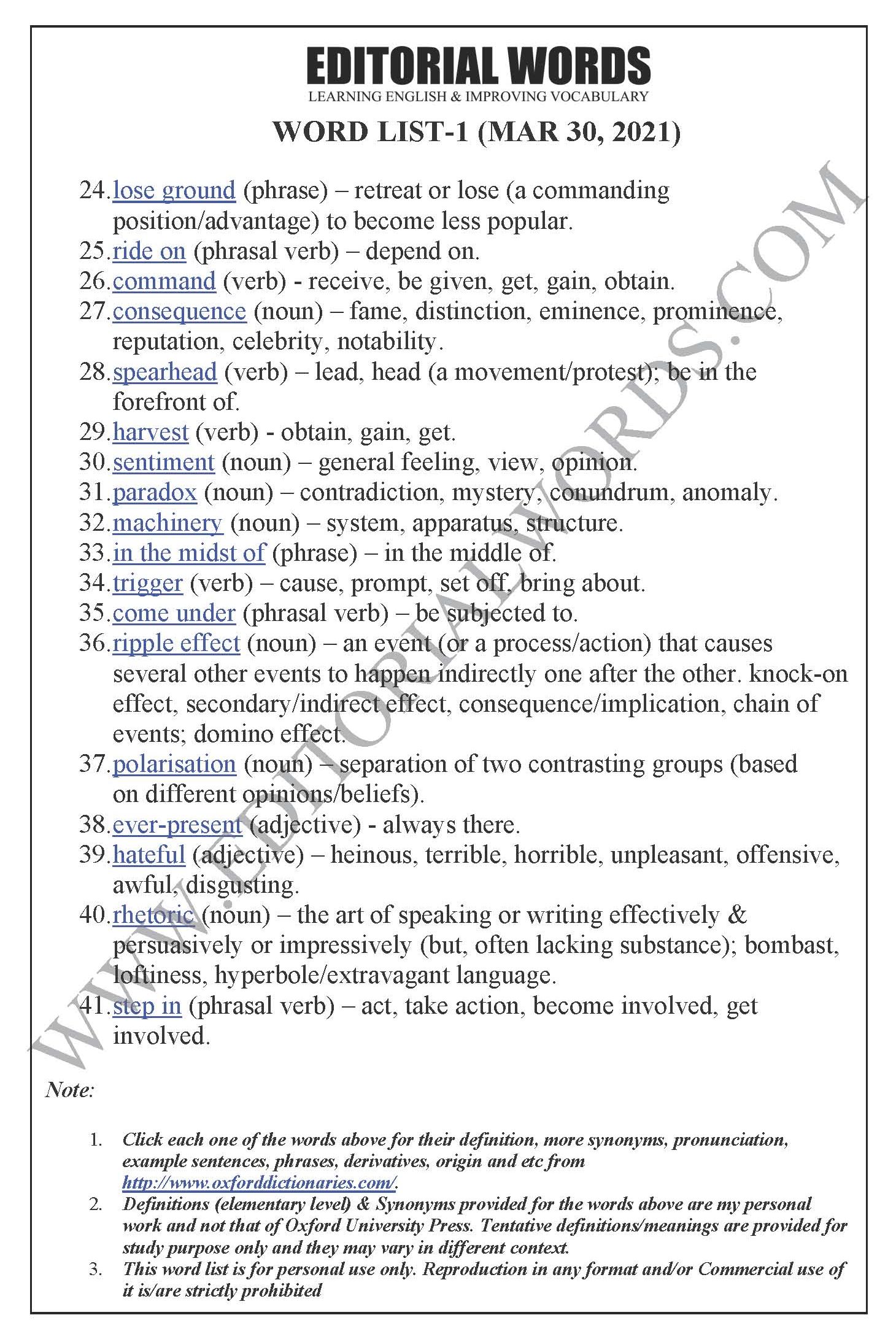 "Phrasal Verbs" We Learnt Last Week
"Idioms & Phrases" We Learnt Last Week
"Important Definitions" We Learnt Last Week
Recent Word Lists For The Hindu Editorial Articles
Recent Advanced Word Lists For The Hindu Lead Articles