The Hindu Editorial (Peaceful possibilities) – Nov 23, 2020
The coming local body elections in Jammu and Kashmir could be an opportunity to open a new political dialogue in the Union Territory,… For further reading, visit "The Hindu". Below is today's word list-1 for The Hindu Editorial (Peaceful possibilities) – Nov 23, 2020.
To read this article, click here.
This preview is provided here with permission.
Courtesy: The Hindu
Today's word list-1 for The Hindu Editorial (Peaceful possibilities) – Nov 23, 2020:
lead to (verb) – cause, result in, bring on, bring about.
participatory (adjective) – involving by participation.

participatory politics

(noun) – it is defined as interactive, peer-based acts through which individuals and groups seek to exert both voice and influence on issues of public concern.
dialogue (noun) – discussion

, discourse, exchange of views.

statehood (noun) – the condition of being an independent state.
revoke (verb) – cancel

, repeal/reverse, abrogate, nullify.

Panchayati Raj

(noun) – the system of local self-government of villages in rural India as opposed to urban and suburban municipalities.

73rd Constitutional Amendment Act, 1992

(noun) – The Constitution (73rd Amendment) Act, 1992 has added a new part IX consisting of 16 Articles and the Eleventh Schedule to the Indian Constitution. The 73th Amendment envisages the Gram Sabha as the foundation of the Panchayat Raj System to perform functions and powers entrusted to it by the State Legislatures.

District Development Councils (DDC)

(noun) – The District Development Councils (DDCs) are set to become a new unit of governance in Jammu and Kashmir. A legislation to this effect was brought in by the Ministry of Home Affairs on October 16 through an amendment to the Jammu and Kashmir Panchayati Raj Act, 1989. This structure will include a DDC and a District Planning Committee (DPC). The DDCs will have elected representatives from each district. The term of the DDC will be five years, and the electoral process will allow for reservations for Scheduled Castes, Scheduled Tribes and women. The Additional District Development Commissioner (or the Additional DC) of the district shall be the Chief Executive Officer of the District Development Council.

Three-tier PR structure

(noun) – The system has three levels: Gram Panchayat (village level), Mandal Parishad or Block Samiti or Panchayat Samiti (block level), and Zila Parishad (district level). It was formalized in 1992 by the 73rd amendment to the Indian Constitution.
alongside (preposition) – together with.
resilience (noun) – strength; the capacity to recover quickly from difficulties.
popular (adjective) – public, societal, social.
aspiration (noun) – desire, hope, wish, ambition, goal.
militant (noun) – fanatic

, extremist, radical, sectarian/partisan

.
Valley (noun) – a low area between hills or mountains typically with a river running through it. Valley is a metonym of Jammu & Kashmir in this context (Metonym is used as an alternative for something else with which it is closely related/associated).
sow (verb) – cause

, bring about, give rise to, trigger, provoke.

chaos (noun) – disorder, disarray, turmoil, disorganization, disruption.
neutralize (verb) – cancel out

, make ineffective, nullify, negate.

vibrant (adjective) – high-spirited, energetic, strong.
strident (adjective) – in an excessively forceful way; high-pitched, loud & harsh

.  

posturing (noun) – (misleading) behaviour.
opponent (noun) – rival, enemy, nemesis, contender/opposer.
separatist (noun) – dissident, nonconformist, sectarian.
profess  (verb) – state one's faith in, avow;  announce, proclaim, assert.
counterproductive (adjective) – harmful, damaging, dangerous/destructive.
binary (noun) – something having two parts.
macabre (adjective) – gruesome, horrible, shocking.
separatism (noun) – dissension, nonconformity, dissent/faction.
dehumanising (adjective) – preventing someone from good human qualities; tough/

hard, stressful, annoying, irritating.

submission (noun) – yielding

, capitulation, agreement, acceptance; compliance, submissiveness.

authoritarian (adjective) – oppressive, draconian, undemocratic, dictatorial, totalitarian.
ultranationalism (noun) – extreme nationalism (hyper-nationalism).
viable (adjective) – reasonable, achievable, practical.
progressive (adjective) – forward-looking, forward-thinking, dynamic, advanced.
accommodative (adjective) – willing to adjust/adapt to differences (with the aim of getting a consensus); accommodating, agreeable, adaptive.
preserve (verb) – protect, safeguard, maintain.
integrity (noun) – unity, solidarity, cohesion.
honour (verb) – respect, value, think highly of.
identity (noun) – individuality

, character, originality, distinctiveness, uniqueness.

coalition (noun) – alliance

, union, partnership.

ally (noun) – 

partner, supporter, confederate.

under the banner (phrase) – claim to support a specified cause.

Gupkar Declaration

 (noun) – it is a resolution issued after an all-party meeting on August 4, 2019 at the Gupkar residence of NC president Farooq Abdullah. They vowed to fight collectively for the restoration of Jammu and Kashmir's special status as guaranteed by the constitution under Article 370.
restoration (noun) – reinstitution, re-establishment, return.
alliance (noun) – 

coalition, partnership

.
snap (verb) – break, separate, come apart, split.
ties (noun) – bond, association, relationship.
unrestrained (adjective) – unsuppressed

, unconstrained, unrestricted, unchecked.

freewheeling (adjective) – unconstrained, uninhibited.
campaign (noun) – an organized effort which seeks to influence the decision making progress within a specific group.
mobilise (verb) – Bring (resources) into use for a particular purpose/cause.
open up (phrasal verb) – to make something available.
Note:  
 1. Click each one of the words above for their definition, more synonyms, pronunciation, example sentences, phrases, derivatives, origin and etc from http://www.oxforddictionaries.com/.
2. Definitions (elementary level) & Synonyms provided for the words above are my personal work and not that of Oxford University Press. Tentative definitions/meanings are provided for study purpose only and they may vary in different context. 
3. This word list is for personal use only. Reproduction in any format and/or Commercial use of it is/are strictly prohibited.
Today's word list-1 for The Hindu Editorial (Peaceful possibilities) – Nov 23
, 2020
: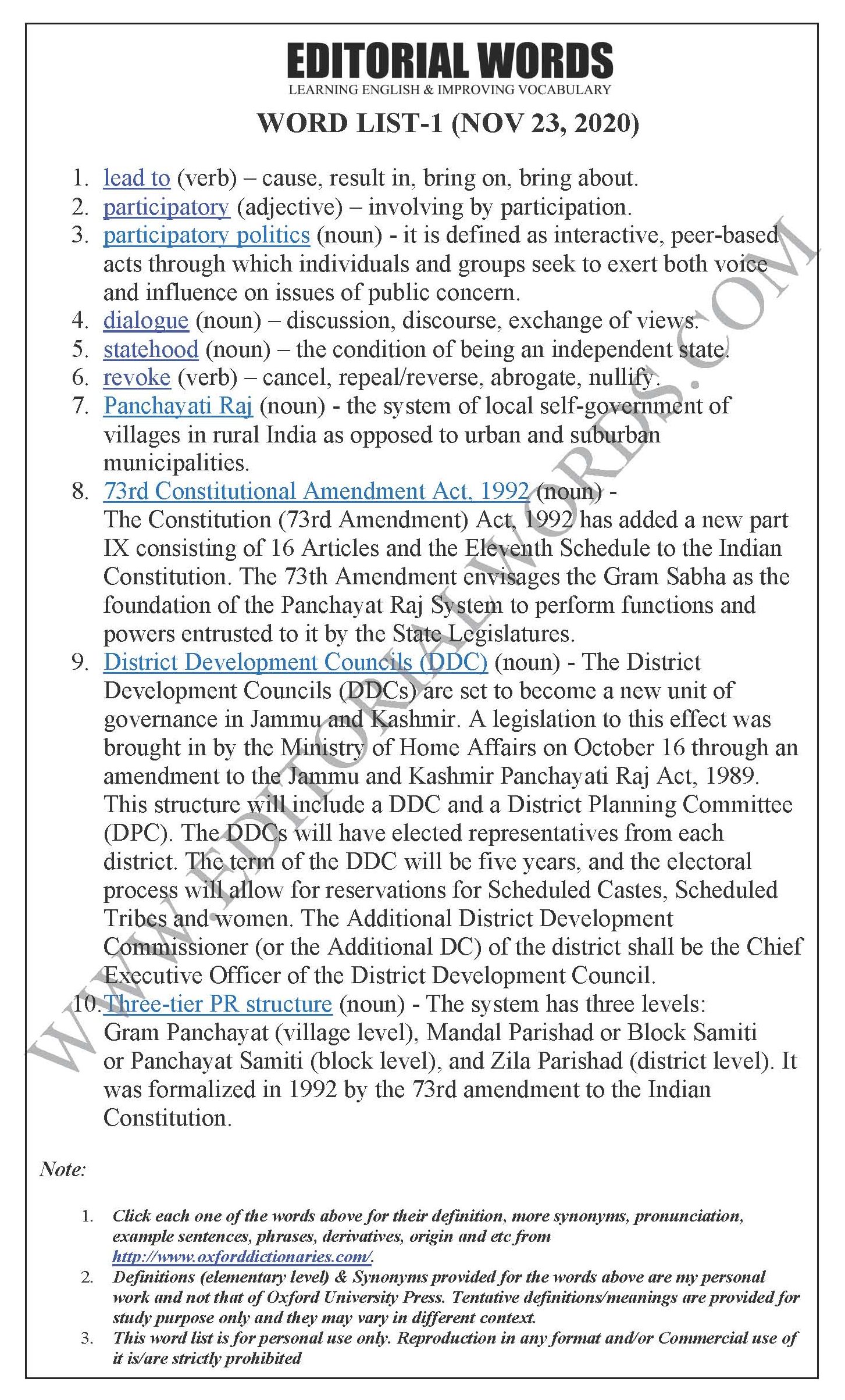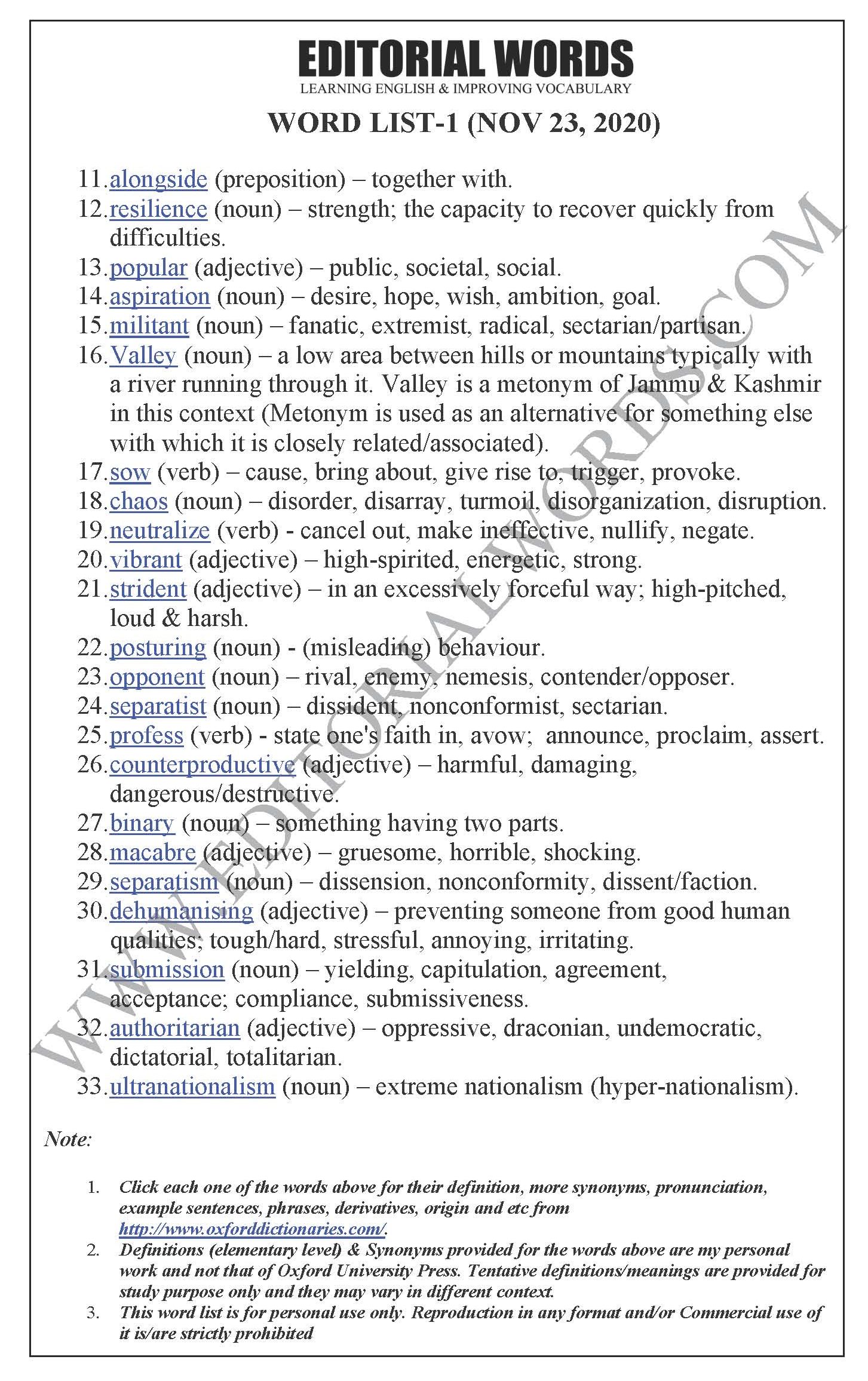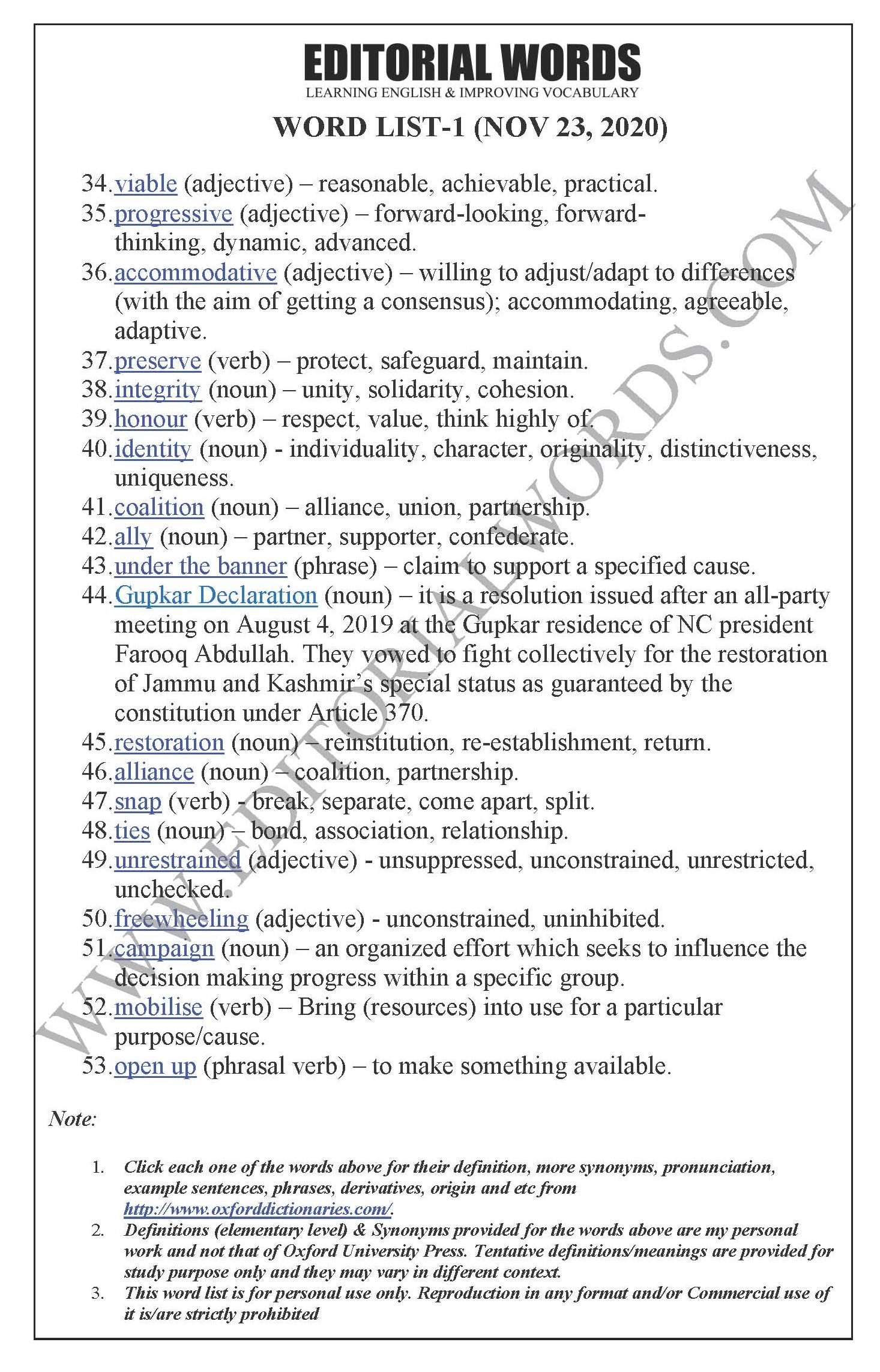 "Phrasal Verbs" We Learnt Last Week
"Idioms & Phrases" We Learnt Last Week
"Important Definitions" We Learnt Last Week
Recent Word Lists For The Hindu Editorial Articles
Recent Advanced Word Lists For The Hindu Lead Articles