The Hindu Editorial (Out of line) – May 15, 2021
There is little doubt that West Bengal Governor Jagdeep Dhankhar's visit to areas hit by post-poll violence in Cooch Behar constitutes a grave transgression of the bounds of constitutional propriety. For further reading, visit "The Hindu". Below is today's word list-1 for The Hindu Editorial (Out of line) – May 15, 2021.
To read this article, click here.
This preview is provided here with permission.
Courtesy: The Hindu
The Hindu Editorial (Out of line) – May 15, 2021:
out of line (phrase) – not in accordance with something (e.g. constitutional propriety); improper, incorrect, inappropriate.

violence-hit

(adjective) – affected badly by violence.
breach (noun) – breaking, contravention, violation, non-compliance.
propriety (noun) – decorum

, morality, rightness, correctness, appropriateness, good manners.

hit (verb) – affect badly, damage, have a negative impact on.
constitute (verb) – be equivalent to

, be tantamount to, be regarded as

.
grave (adjective) – serious, terrible, awful, dangerous.
transgression (noun) – infringement, contravention, breach, violation, overstepping.
bounds (noun) – limits

, confines, restrictions, limitations.

habitual (adjective) – routine, regular, usual, normal.
critic (noun) – censurer, attacker, fault-finder.
regime (noun) – government.
air (verb) – express

, voice, make public, communicate.

difference (noun) – disagreement

, difference of opinion, misunderstanding, dispute, argument.

in public (phrase) – publicly, openly, overtly.
appeal to (verb) – call on, plead with, ask, request.
recall (verb) – officially call back (someone).
behest (noun) – instruction, requirement, demand, wish/desire.
resounding (adjective) – emphatic, enormous

, huge, massive, very great, tremendous.

norms (noun) – standard, convention, guidelines, criterion.

representative government/representative democracy

 (noun) – a government where citizens elect people to represent them and make laws on their behalf, instead of always voting directly on laws and other government actions.
ought to (modal verb) – must, should.
restraint (noun) – restriction, limitation.
gubernatorial (adjective) – relating to a governor.
propensity (noun) – tendency

, inclination, predisposition, readiness.

speak out of turn (phrase) – speak foolishly/unwisely; mess up, blunder.
step out of line (phrase) – behave improperly.
come in for (phrasal verb) – receive

, experience, meet with, face, be subjected to.

set aside (phrasal verb) – overrule

, reverse, revoke, nullify, annul, cancel, dismiss, reject

.

cold (adjective) – unsympathetic, indifferent, unfeeling, unemotional.

horror

(noun) – cruelty.
ought (not) to (modal verb) – must (not), should (not).
impediment (noun) – obstacle, barrier, obstruction, hindrance.
incumbent (noun) – the present holder or occupant of an office.
yield (verb) – give way to, accede to

, submit to, agree to

.
urge (noun) – desire

/wish, need, impulse, compulsion.

condemn (verb) – censure

, criticize, castigate; destine, damn.

enormity (noun) – immensity

, vastness, massiveness, hugeness, seriousness.

hold good/hold true (phrase) – remain true; remain valid.
circumstances (noun) – situation

, condition, context.

persistent (adjective) – continuous, constant, unending, unrelenting, unceasing.
congruency (noun) – congruence, compatibility

, conformity, agreement, harmony.

derogation (noun) – an act of treating someone as insignificant (or of little worth); belittling, downgrading.
gesture (noun) – action

, deed, move

.

solidarity (noun) – unity, harmony, cooperation.
shed (verb) – discard

, get rid of, do away with, dispose of.

certainly (adverb) – surely, definitely, unquestionably.
out of step (phrase) – at variance, in disagreement, out of line, at loggerheads, in opposition.
degenerate (verb) – get worse, decline, slide, deteriorate.
triumphalism (noun) – boastfulness, self-assertion, self-satisfaction, excessive pride, extreme self-confidence, chutzpah, chest-thumping, chest-beating; an attitude or a belief that a particular doctrine, religion, culture, social system is superior to and should triumph all over others.
onus (noun) – responsibility, duty; burden, liability, obligation.
exaggerate (verb) – overstate, overemphasize, amplify, inflate.
regardless of (phrase) – despite, notwithstanding, in spite of.
inaction (noun) – inactivity, negligence, disregard, apathy, laziness.
departure (noun) – deviation

, change of direction, shift/change.
Note:
 1. Click each one of the words above for their definition, more synonyms, pronunciation, example sentences, phrases, derivatives, origin and etc from http://www.oxforddictionaries.com/.
2. Definitions (elementary level) & Synonyms provided for the words above are my personal work and not that of Oxford University Press. Tentative definitions/meanings are provided for study purpose only and they may vary in a different context. 
3. This word list is for personal use only. Reproduction in any format and/or Commercial use of it is/are strictly prohibited.
The Hindu Editorial (Out of line) – May 15, 2021: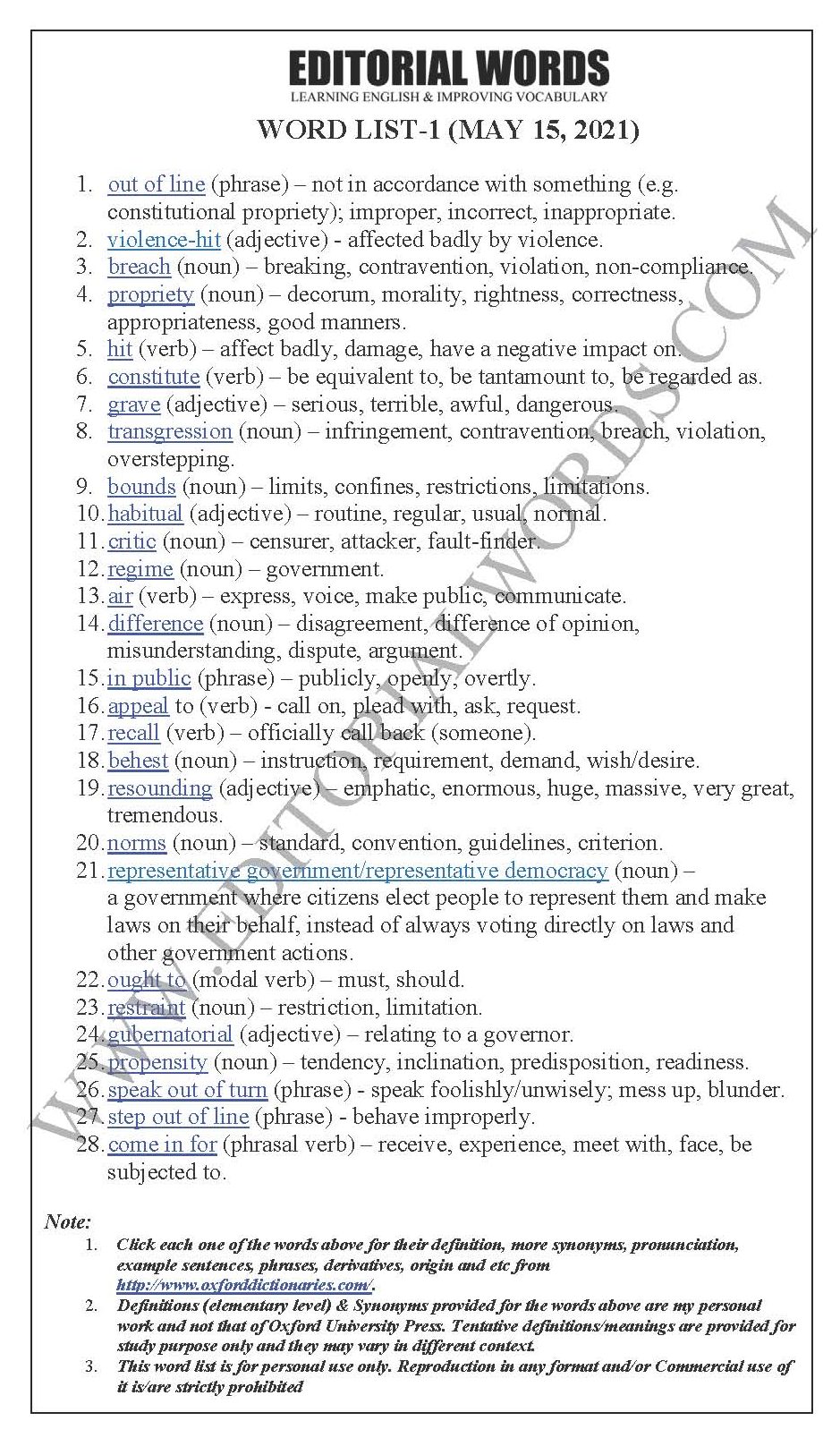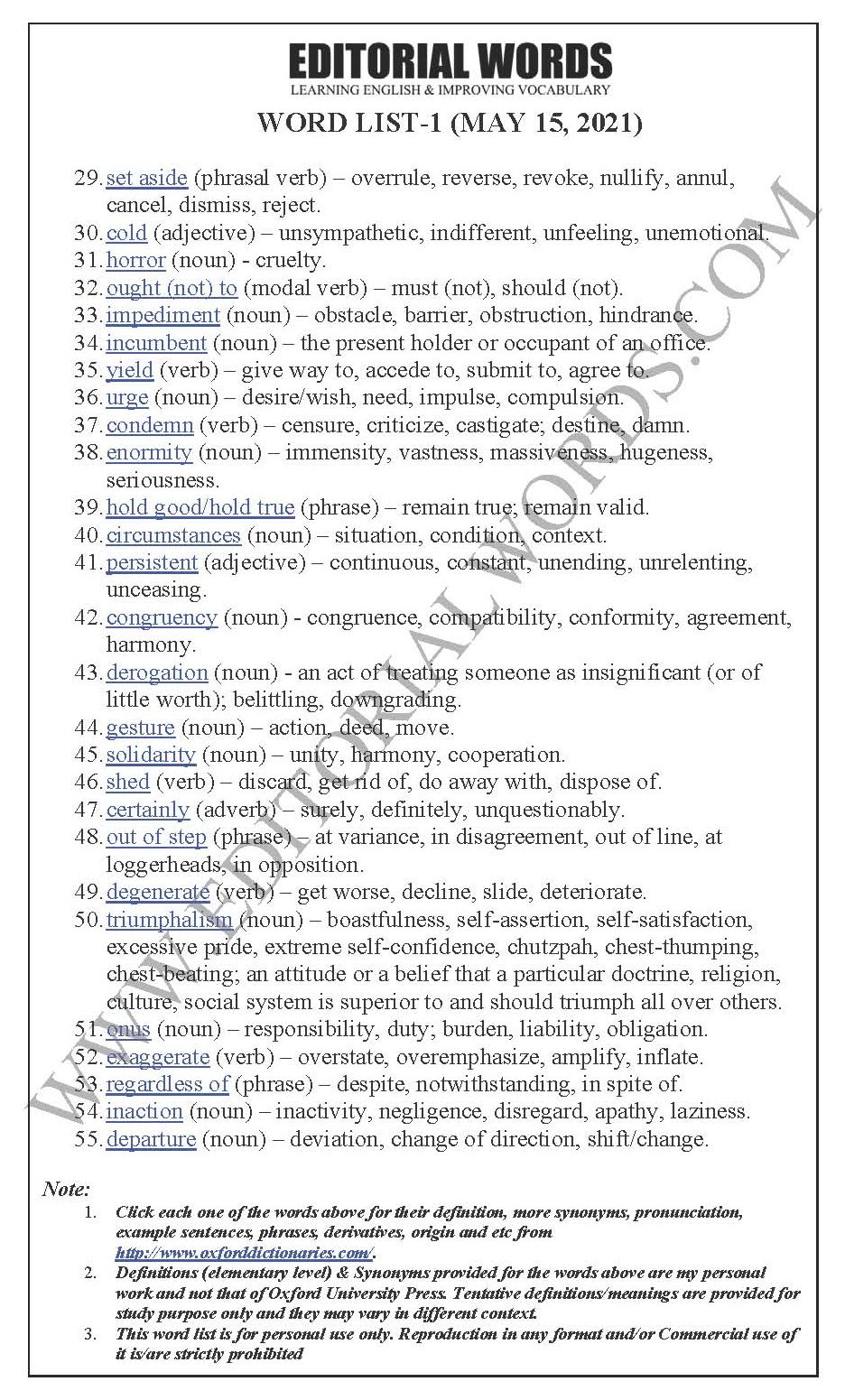 "Phrasal Verbs" We Learnt Last Week
"Idioms & Phrases" We Learnt Last Week
"Important Definitions" We Learnt Last Week
Recent Word Lists For The Hindu Editorial Articles
Recent Advanced Word Lists For The Hind Lead Articles