The Hindu Editorial (Non-essentials can wait) – Apr 22, 2020
The Centre's last-minute reversal of its decision to allow e-commerce companies to resume deliveries of 'non-essential items',… For further reading, visit "The Hindu". Below is today's word list-1 for The Hindu Editorial (Non-essentials can wait) – Apr 22, 2020.
To read this article, click here.
This preview is provided here with permission.
Courtesy: The Hindu
Today's word list-1 for The Hindu Editorial (Non-essentials can wait) – Apr 22, 2020
flip-flop (noun) – a sudden reversal of something, particularly a policy/plan.
arbitrary (adjective) – random/casual, 

unpredictable, inconsistent, 

unmotivated

/unreasonable.

pandemic (noun) – the worldwide spread of a new disease; The illness spreads around the world and typically affects a large number of people across a wide area.
last minute (adjective) – careless

, unmethodical, unsystematic, inattentive, hurried. 

reversal (noun) – turnaround, change, swing/shift.
resume (verb) – restart, recommence, begin/start again.
lockdown (noun) – an emergency protocol implemented by the authorities that prevents people from leaving from a place; An extended state of confinement/encirclement/isolation of a person by the authority.
curb (noun) – restraint, control, restriction, check.
out of the woods (phrase) – out of danger/difficulty.
mitigate (verb) – reduce, lessen, decrease, make less severe.
hardship (noun) – distress

, trouble, misfortune, suffering.

U-turn (noun) – about-turn, reversal of policy, change of mind/plan, about-face, sea change.

wiser

comparative adjective of wise (adjective) – sensible, prudent, well thought out, well judged.
counsel (noun) – a piece of advice (by experts & old people).
prevail (verb) – win, succeed, gain influence, prove superior.
lack of (noun) – 

shortage, deficiency, unavailability.

a level-playing field (phrase) – a situation in which everyone has the equal chance of succeeding.
brick and mortar (phrase) – used to represent a business that operates traditionally from a building/place (rather than online).

barest

superlative adjective of bare (adjective) – basic, only a, just a, very.

transmission chain

 (noun) – the act or process by which something is spread or passed from one person or thing to another.
necessitate (verb) – make necessary, require, need.
constitute (verb) – comprise, make up, account for.
the bulk of (noun) – most, larger part, larger number.

supply chain

 (noun) – a network between a company and its suppliers to produce and distribute a specific product to the final buyer.
to be sure (phrase) – admittedly, beyond question, undoubtedly.
immense (adjective) – huge

, extremely large.

economic cost

(noun) – the combination of losses of any goods that have a value attached to them by any one individual. The measure of the alternative opportunities foregone in the choice of one good or activity over others.
shutdown (noun) – closure of a (complete) system; closing down, winding up.
livelihood (noun) – source of income, means of support, subsistence; means of making a living with the basic necessities (food, water, shelter and clothing).
stringent (adjective) – strict/stern, severe, tough/rigorous.
ought to (modal verb) – must, should.
phased (adjective) – relating to something carried out/performed/pursued in stages; staggered, timed at intervals (of something as they don't happen at the same time).
underlying (adjective) – fundamental, basic, primary.
rationale (noun) – reason/basis; principle.
missive (noun) – message

, report, notification announcement (a along, official report).

horticultural (adjective) – related to the farming of fruits, vegetables and flowers.

ply one's trade

(phrase) – to engage in one's business/work steadily or regularly.
furnish (verb) – provide, give.
lost (adjective) – gone missing, forgotten, vanished.
deem (verb) – regard as, consider; view as.
ultimately (adverb) – eventually, in the end, essentially.
prioritise (verb) – treat (something as very important).
blur (noun) – something indistinct, something vague; something recognized indistinctly (as it occurs very quickly).
Note:  
 1. Click each one of the words above for their definition, more synonyms, pronunciation, example sentences, phrases, derivatives, origin and etc from http://www.oxforddictionaries.com/.
2. Definitions (elementary level) & Synonyms provided for the words above are my personal work and not that of Oxford University Press. Tentative definitions/meanings are provided for study purpose only and they may vary in different context. 
3. This word list is for personal use only. Reproduction in any format and/or Commercial use of it is/are strictly prohibited.
Today's word list-1 The Hindu Editorial (Non-essentials can wait) – Apr 22, 2020
: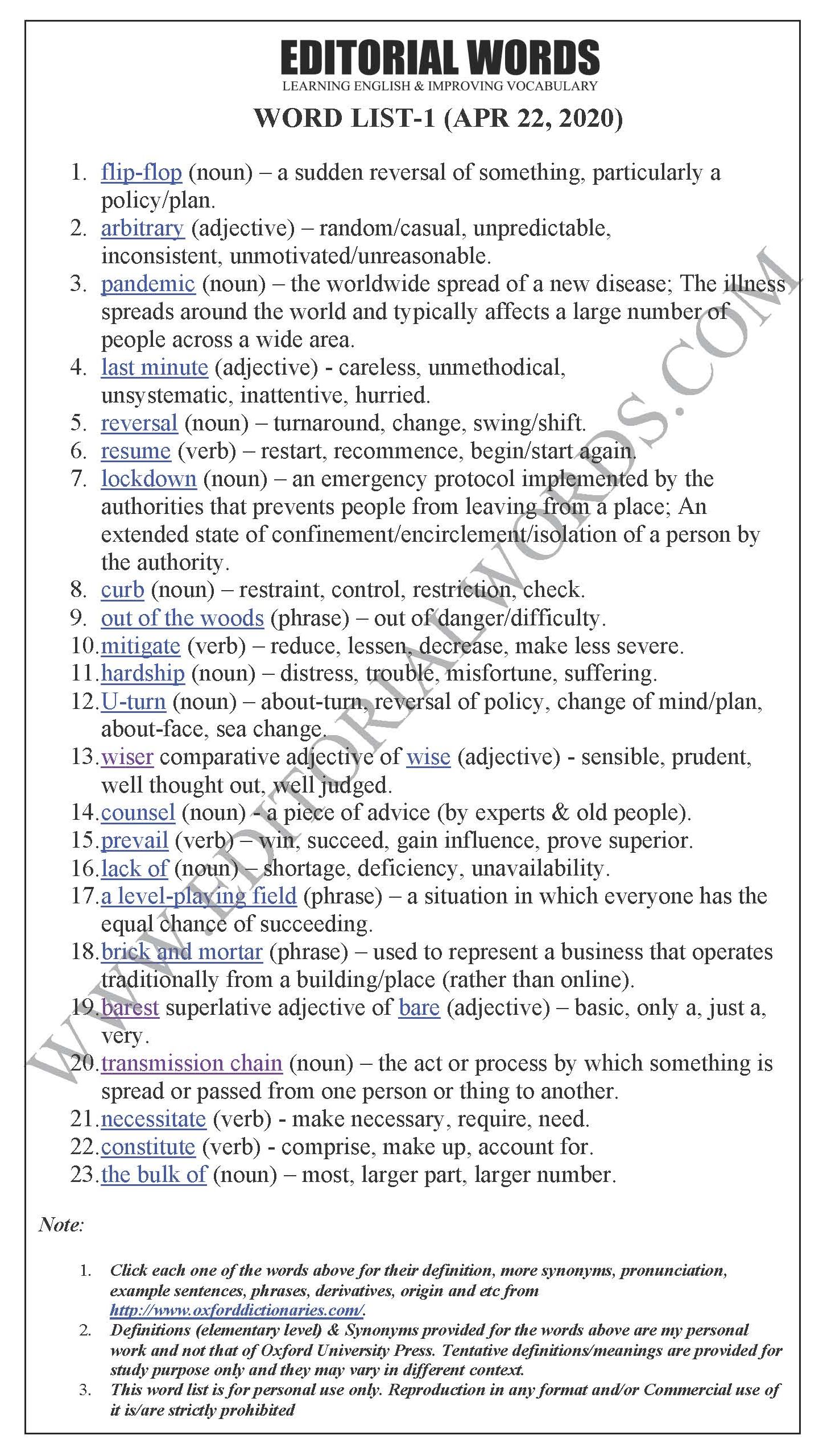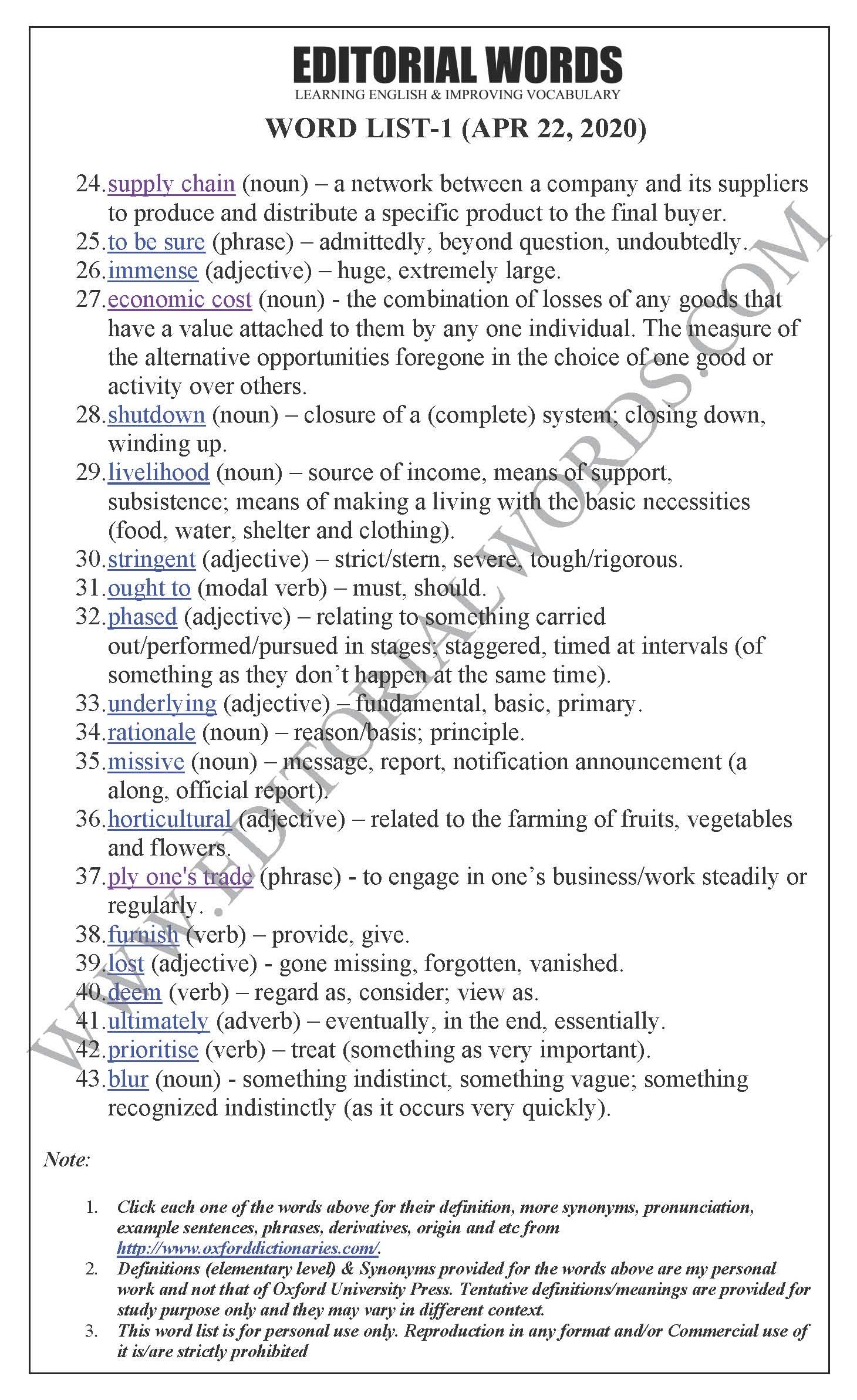 "Phrasal Verbs" We Learnt Last Week
"Idioms & Phrases" We Learnt Last Week
"Important Definitions" We Learnt Last Wek
Recent Word Lists For The Hindu Editorial Articles
Recent Advanced Word Lists For The Hindu Lead Articles