The Hindu Editorial (Murder of a President) – Jul 10, 2021
The brazen assassination of Jovenel Moïse, the 53-year-old President of Haiti, has pushed the impoverished Caribbean country battered by political and economic crises into more chaos. For further reading, visit "The Hindu". Below is today's word list-2 for The Hindu Editorial (Murder of a President) – Jul 10, 2021.
To read this article, click here.
This preview is provided here with permission.
Courtesy: The Hindu
The Hindu Editorial (Murder of a President) – Jul 10, 2021:
assassination (noun) – murder, killing.
Haiti (proper noun) – a Caribbean country that shares the island of Hispaniola with the Dominican Republic to its east.
hold (verb) – conduct, organize, arrange.
legislative (adjective) – relating to a legislature (law-making/governing body).
legitimate (adjective) – legal

, lawful, constitutional.

brazen (adjective) – blatant/flagrant; bold and shameless; unashamed, unabashed, unembarrassed.
impoverished (adjective) – weakened

, exhausted, drained, diminished, depleted; 

poor

, poverty-stricken, penniless, destitute, needy

.
batter (verb) – damage, spoil, impair/ruin; smash, hit/strike repeatedly.
chaos (noun) – disorder, disarray, turmoil, disorganization, disruption.
mercenary (noun) – a professional soldier hired for service in a foreign army (who works mainly for personal profit, particularly money rather than for political interests/issues).
Port-au-Prince (proper noun) – The capital of Haiti.
mastermind (noun) – initiator

, planner

.
opponent (noun) – rival, nemesis, combatant, competitor.
take over (phrasal verb) – assume control of

, take control of, gain control of, take charge of, take command of.

parallel government

 (noun) – a government formed by a person or by a group of people regardless of the presence of the main government with authority. it is basically formed to undermine the authority of the main government.
allege (verb) – charge, accuse, indicate, claim

.

coup (noun) – a sudden and violent regime change, seizure of power

, (illegal) takeover of power.

crack down on (phrasal verb) – get tough on, take severe measures against, clamp down on.
stabilise (verb) – reinforce, fortify, strengthen, secure, make stronger.
governance (noun) – administration.
allegation (noun) – charge, accusation, indictment.
contract (verb) – decline, decrease, diminish, reduce.
watch (noun) – stint, spell, turn.
outbreak (noun) – outburst, flaring up, breakout, sudden appearance/occurrence of something.

make worse

(phrase) – worsen, aggravate, exacerbate, compound.
stare (verb) – look fixedly, gaze.
uncertain (adjective) – unknown, unsure, unpredictable.
legislature (noun) – law-making or governing body;

government/

authority

, administration, executive. 

for now (phrase) – for the time being, for the present, for the moment.
interim (adjective) – provisional

, temporary, transitional

.  

fire (verb) – dismiss

, discharge, lay off, let go, throw out, get rid of, oust.

nominate (verb) – appoint.
neurosurgeon (noun) – a physician who specializes in surgery on the brain and other parts of the nervous system.
consolidate (verb) – strengthen

, make stronger, reinforce, fortify (one's power).

step down (phrasal verb) – resign

, withdraw, quit, stand down, give up one's job.

signal (verb) – indicate

, show, express; denote, imply.

take shape (phrase) – become clear/definite, become tangible, come together, fall into place.
in the midst of (phrase) – in the middle of.
phased (adjective) – gradual, step-by-step, staggered, incremental.
uncover (verb) – detect

, discover, unearth, find out, expose, unveil, reveal, lay bare.

get to the bottom of (phrase) – to find out the real reason/cause of something; origin, root, source, starting point.
vacuum (noun) – gap

, space, absence, lack/deficiency of something

.
destabilise (verb) – undermine, weaken, damage, unsettle, upset.
inability (noun) – incapability, incapacity

, helplessness.

credible (adjective) – acceptable

, trustworthy, reliable, dependable; believable, plausible, reasonable.

in time (phrase) – early enough

, punctually, promptly, on time, at the right time, on schedule.

transition (noun) – change.
opportune (adjective) – favourable, advantageous, timely

, well timed, appropriate, suitable, relevant.

popular (adjective) – public, societal.
legitimacy (noun) – validity.
in place (phrase) – established, arranged.
address (verb) – tackle, deal with, attend to, try to sort out.
myriad (adjective) – a great number, countless, various.
Note:
 1. Click each one of the words above for their definition, more synonyms, pronunciation, example sentences, phrases, derivatives, origin and etc from http://www.oxforddictionaries.com/.
2. Definitions (elementary level) & Synonyms provided for the words above are my personal work and not that of Oxford University Press. Tentative definitions/meanings are provided for study purpose only and they may vary in a different context. 
3. This word list is for personal use only. Reproduction in any format and/or Commercial use of it is/are strictly prohibited.
The Hindu Editorial (Murder of a President) – Jul 10, 2021: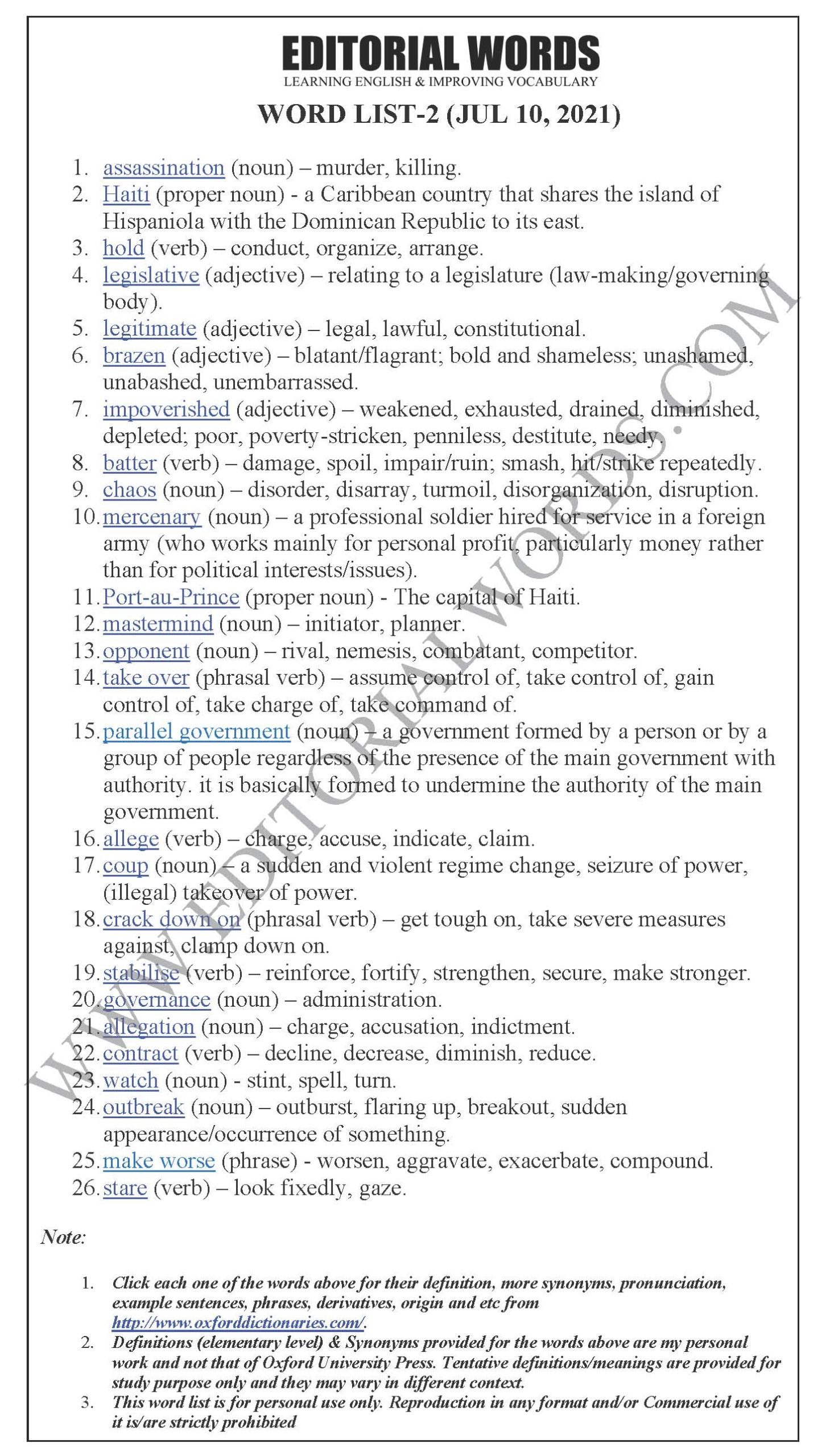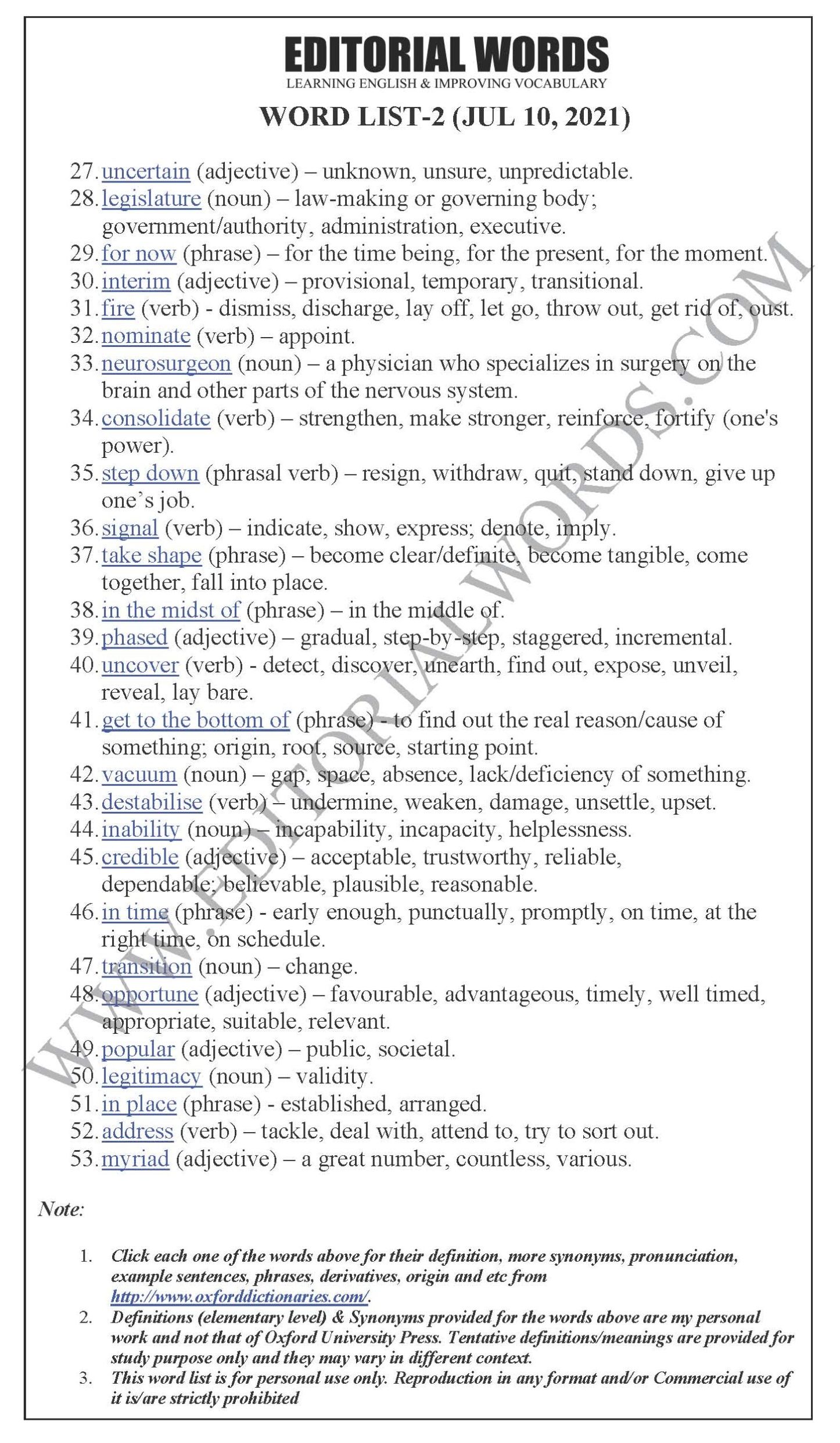 "Phrasal Verbs" We Learnt Last Week
"Idioms & Phrases" We Learnt Last Week
"Important Definitions" We Learnt Last Week
Recent Word Lists For The Hindu Editorial Articles
Recent Advanced Word Lists For The Hindu Lead Articles