The Hindu Editorial (Moment of reckoning) – Nov 26, 2020
The Congress has set the ball rolling for organisational elections in a period of great uncertainty in the party. For further reading, visit "The Hindu". Below is today's word list-1 for The Hindu Editorial (Moment of reckoning) – Nov 26, 2020.
To read this article, click here.
This preview is provided here with permission.
Courtesy: The Hindu
Today's word list-1 for The Hindu Editorial (Moment of reckoning) – Nov 26, 2020:
moment of reckoning

(phrase) – the moment when something would be decided.

organisational election

(noun) – election within an organization.
reassess (verb) – re-evaluate, rethink

, re-examine.

set the ball rolling (phrase) – make a start, initiate, embark on, get cracking.
uncertainty (noun) – unpredictability, unreliability, riskiness/precariousness.
possibly (adverb) – very likely, perhaps

, maybe.

in the aftermath of (phrase) – as a consequence of, as a result of.
debacle (noun) – fiasco

, failure, disaster.

fill in (phrasal verb) – substitute

, deputize, stand in, take over.

interim (adjective) – provisional

, temporary, transitional

.  

vacuum (noun) – gap

, space, absence, lack/deficiency of something

.
aggravate (verb) – compound, worsen, exacerbate, escalate.
morbidity (noun) – an unhealthy state; abnormal/gloomy condition; the quality of being morbid.
environment (noun) – situation

, background, backdrop, scenario, context.

drift (verb) – depart, diverge, deviate, get sidetracked.
rudderless (noun) – having no (clear) aim/principle; lacking in control, lacking in direction.
abysmal (adjective) – very bad, awful, terrible.
stark (adjective) – clear, distinct, evident, obvious, striking.
go on (phrasal verb) – continue, carry on, proceed.
in the midst of (phrase) – in the middle of.
campaign (noun) – an organized effort which seeks to influence the decision making progress within a specific group.
edifice (noun) – a (complex) system/structure.
hold together (phrasal verb) – cause something to remain united.
crumble (verb) – disintegrate, collapse, break down, break up, fragment.
personnel (noun) – staff, employees, workforce.
reinforce (verb) – strengthen

, fortify, bolster up, underpin

.
move out (phrasal verb) – leave one's place of work.
out of the picture (phrase) – not involved in something.
stare at (verb) – look fixedly.
air (verb) – express

, voice, make public

.
dynasty (noun) – a family, bloodline; line of rulers.
add to (phrase) – increase

, intensify, heighten;

 aggravate, worsen, make worse, compound.
woes (noun) – trouble, difficulty, problem.
heir (noun) – successor

, next in line, inheritor, descendant, scion.

hold (verb) – occupy

, have.

cede (verb) – give up, concede, surrender, relinquish.
corner (verb) – force (something) into a situation from which it is difficult to come out.
gridlock (noun) – deadlock, stalemate, standstill, stand-off, stoppage.
occasion (noun) – event

, happening, incident.

breathe (new) life into (phrase) – reinvigorate, give new energy to, give new strength to.
glue (noun) – something (a substance) that binds/joins together.
capacity (noun) – ability

, power, potential.

mobilise (verb) – bring (resources) into use for a particular purpose/cause.
lament (noun) – complaint, crying, moaning.
have one's hands tied (phrase) – not able to act as one wishes.
old guard (noun) – older or senior members of an organization/group who don't like any change in it.
inaction (noun) – inactivity, negligence, disregard, apathy, laziness.
overhauling (adjective) – revamping, restructuring, regulating.

a long way to (go)

(phrase) – need to do more (before achieving success).
fighting shape/fit (phrase) – in good shape

, in good condition, strong.

at any rate (phrase) – in any case, anyhow, anyway.

hold hostage

(phrase) – to hold in custody or use for any advantage.
indecision (noun) – lack of resolution, hesitation, uncertainty.

at one's helm

(phrase) – in charge; in leader's position.
course (noun) – progression

, development, progress, advancement.

from now on

(phrase) – from this moment.
implications (noun) – consequence/outcome, ramification, repercussion.
allow (verb) – assert, declare, be of the opinion.
merely (adverb) – only

, simply, just.

formulate (verb) – conceive, create, draw up, put together.
articulate (verb) – (of an idea) express, communicate, state.
inclusive (adjective) – all-embracing, all-inclusive, with everyone included, comprehensive.
egalitarian (adjective) – common, equal, fair.
Note:  
 1. Click each one of the words above for their definition, more synonyms, pronunciation, example sentences, phrases, derivatives, origin and etc from http://www.oxforddictionaries.com/.
2. Definitions (elementary level) & Synonyms provided for the words above are my personal work and not that of Oxford University Press. Tentative definitions/meanings are provided for study purpose only and they may vary in different context. 
3. This word list is for personal use only. Reproduction in any format and/or Commercial use of it is/are strictly prohibited.
Today's word list-1 for The Hindu Editorial (Moment of reckoning) – Nov 26
, 2020
: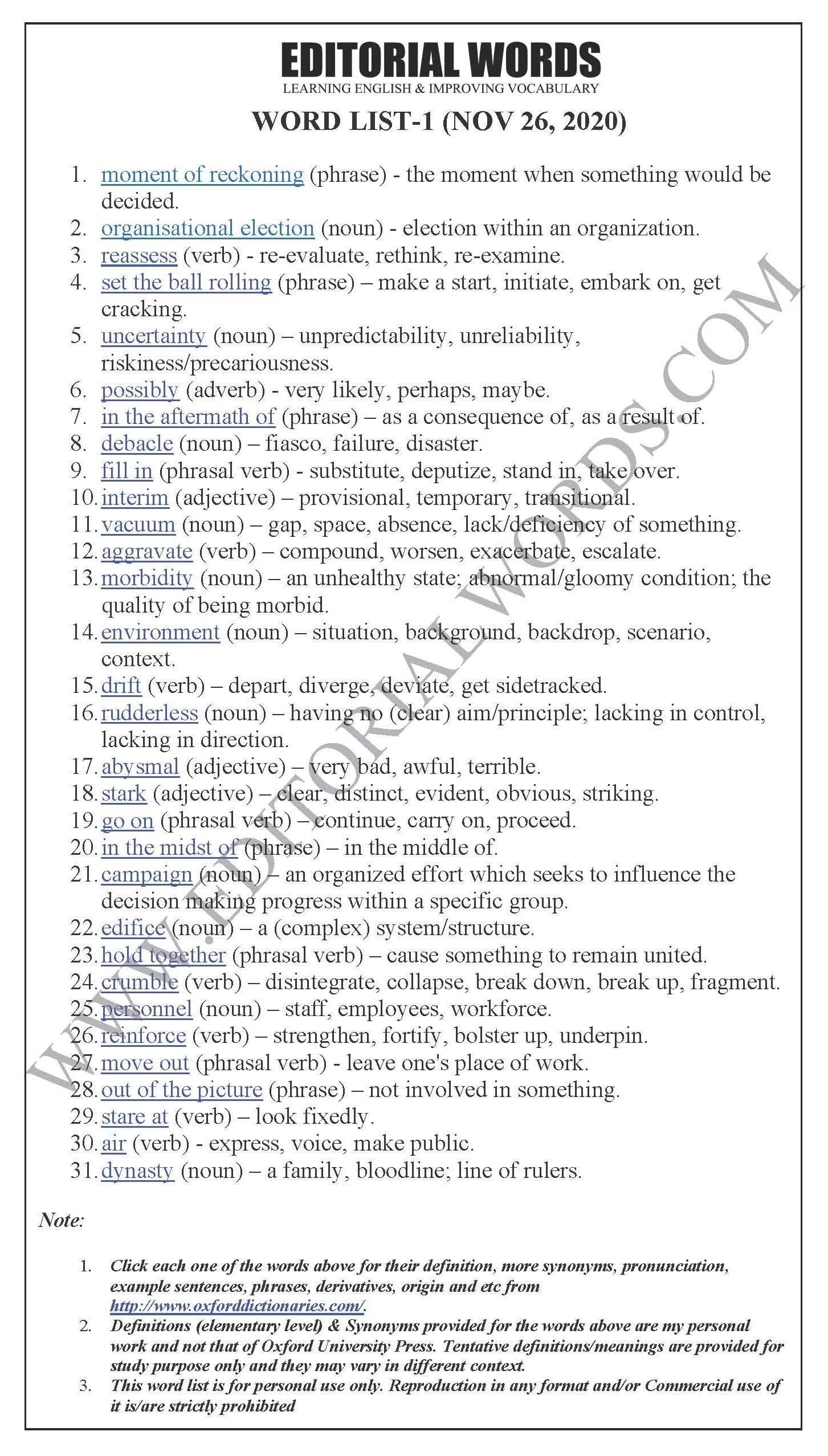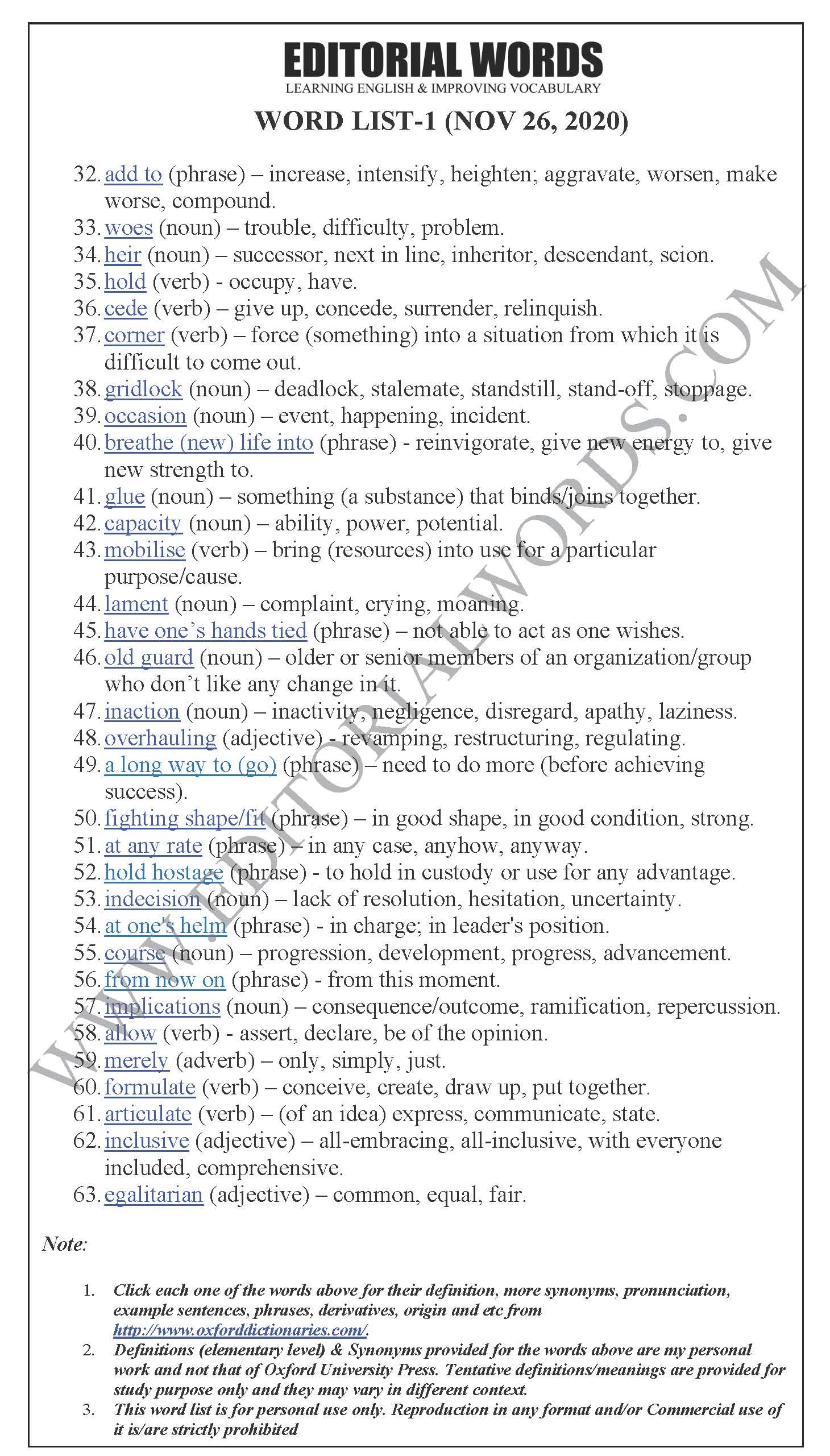 "Phrasal Verbs" We Learnt Last Week
"Idioms & Phrases" We Learnt Last Week
"Important Definitions" We Learnt Last Week
Recent Word Lists For The Hindu Editorial Articles
Recent Advanced Word Lists For The Hindu Lead Articles