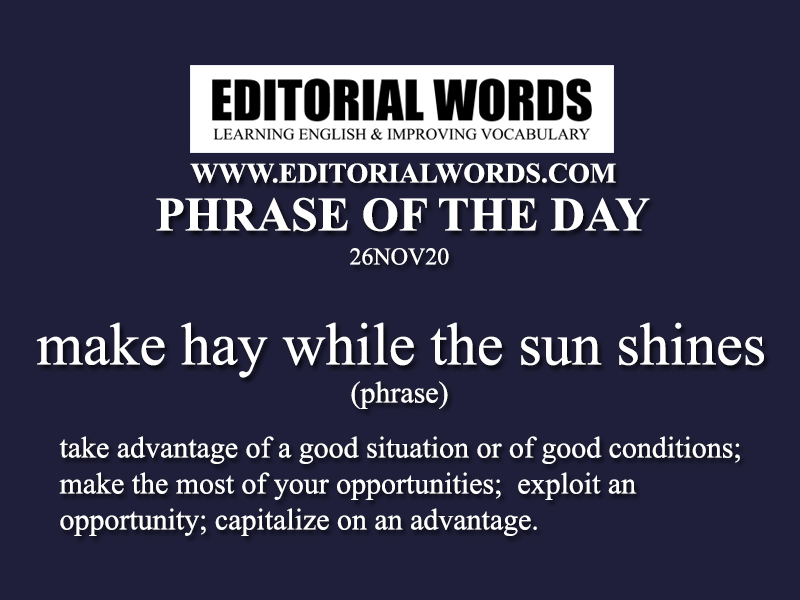 Today's "Phrase of the Day" is make hay while the sun shines  and its meaning is "take advantage of a good situation or of good conditions; make the most of your opportunities;  exploit an opportunity; capitalize on an advantage".
Example Sentence: Sonja Gibbs, the Institute for International Finance IIF's managing director of global policy initiatives, told CNBC on Friday that one of the big areas of concern is in developed markets, which are battling slow growth and rising debt at the same time. "In mature markets, debt has just continued to rise. No government is making hay while the sun shines. In other words, when growth has been strong, governments have not cut down their debt levels. So they're going higher and higher,"
This phrase is present in CNBC article Surging debt during the pandemic is creating dangers for investors and developed countries and click here to read it.
Courtesy: CNBC & VOA Learning English
"Phrasal Verbs" We Learnt Last Week
"Idioms & Phrases" We Learnt Last Week
"Important Definitions" We Learnt Last Week
Recent Word Lists For The Hindu Editorial Articles
Recent Advanced Word Lists For The Hindu Lead Articles