The Hindu Editorial (Health above faith) – Jul 20, 2021
It does not require any higher wisdom to know that there is considerable risk to public health during massive religious gatherings in the midst of a pandemic. For further reading, visit "The Hindu". Below is today's word list-1 for The Hindu Editorial (Health above faith) – Jul 20, 2021.
To read this article, click here.
This preview is provided here with permission.
Courtesy: The Hindu
The Hindu Editorial (Health above faith) – Jul 20, 2021:
faith (noun) – religion

, religious belief, belief/ideology.

lay down (phrasal verb) – formulate, stipulate, frame, draw up & insist on (a principle/rule).
salutary (adjective) – good, helpful/useful, beneficial, practical, valuable.
override (verb) – 

take priority over, be more important than, outweigh, outbalance

.
sentiment (noun) – feeling, thought, view, opinion.
wisdom (noun) – knowledge, learning, understanding, insight.
considerable (adjective) – substantial, significant, much, a lot of.

public health

 (noun) – public health is the science of protecting and improving the health of people and their communities through education, policy-making, and research for disease and injury prevention.
gathering (noun) – meeting. 
in the midst of (phrase) – in the middle of.
pandemic (noun) – the worldwide spread of a new disease; The illness spreads around the world and typically affects a large number of people across a wide area.
prodding (noun) – stimulus

, push, prompt, reminder, spur, motivation

.

pilgrimage (noun) – religious journey, holy expedition/excursion.
due to (phrase) – because of, owing to, on account of, as a result of.
keen (adjective) – eager, enthusiastic, determined, desirous.
along with (phrase) – together with.
put in place (phrase) – organize, establish,

create, form.

measure (noun) – action, step, procedure.
perturb (very) – worry

, upset, unsettle, disturb, concern, trouble.

result in (phrasal verb) – cause, bring on, bring about, call forth, give rise to.
initiation (noun) – the act of initiating; beginning

, starting, commencement.

suo motu

 (phrase) – Latin term means "on its own motion". It is used where a government agency acts on its own knowledge.
proceedings (noun) – legal action

.

in deference to (phrase) – out of respect/regard for something; in consideration of something.
reiterate (verb) – repeat, say again, restate.
paramount (adjective) – most important, primary, first and foremost (thing), key.
albeit (conjunction) – though, even though, however.
subservient (adjective) – less important, subordinate

, secondary, marginal, supplementary, immaterial

.
call off (phrasal verb) – cancel

, abandon, shelve, scrap.

on one's own (phrase) – alone, all alone, by oneself, all by oneself, independently, single-handedly.
heed (verb) – pay attention to

, take notice of, consider, take into account.

pose (verb) – constitute, present, create, cause (a problem or danger or risk).
amidst (preposition) – amid, in the middle of; during.
take out (phrasal verb) – accompany, go with, go out with. 
organization (noun) –

arrangement.

surge (noun) – sudden increase or rise of something.
disastrous (adjective) – terrible/horrible, shocking, unfortunate, ill-fated, detrimental.
overpower (verb) – overthrow, overturn, upset, defeat, gain control over

.

ritual (noun) – (religious) ceremony, rite, custom, observance, celebration.
relaxation (noun) – the process of making a restriction/rule less strict.
revival (noun) – improvement

, rallying, picking up; 

re-establishment, reintroduction, restoration.
restoration (noun) – reinstitution, re-establishment, reinstallation, revival.
normality (noun) – a normal state of affairs, regularity.
lockdown (noun) – an emergency protocol implemented by the authorities that prevents people from leaving from a place; An extended state of confinement/encirclement/isolation of a person by the authority.
case in point (phrase) – example

, instance, typical case, sample.

justified (adjective) – valid

, well-founded.

spell (noun) – period, time, interval.
curb (noun) – restriction, check, control, limitation, restraint, constraint. 
assessment (noun) – evaluation.

positivity rate

 (noun) – the proportion of positives to total tests done for disease; the percentage of tests that are turning out to be positive for disease; the rate at which people getting tested for disease receive positive results.
abatement (noun) – lessening, decrease, decline.

cause for concern

(phrase) – a reason to worry (feel anxious).
defy (verb) – go against, ignore, disregard, disobey; resist, take a stand against, confront.
fly in the face of (phrase) – go against, flout, defy, disobey, disregard, ignore; break, violate, contravene, breach.
hard-pressed (adjective) – in difficulties

, under pressure, under stress, troubled.

much more

(phrase) – a lot more.
accompany (verb) – occur with

, co-occur with, coincide with, coexist with, go with, go along with, appear with.

protocol (noun) – procedure, convention; habit, pattern, method, system.
Note:
 1. Click each one of the words above for their definition, more synonyms, pronunciation, example sentences, phrases, derivatives, origin and etc from http://www.oxforddictionaries.com/.
2. Definitions (elementary level) & Synonyms provided for the words above are my personal work and not that of Oxford University Press. Tentative definitions/meanings are provided for study purpose only and they may vary in a different context. 
3. This word list is for personal use only. Reproduction in any format and/or Commercial use of it is/are strictly prohibited.
The Hindu Editorial (Health above faith) – Jul 20, 2021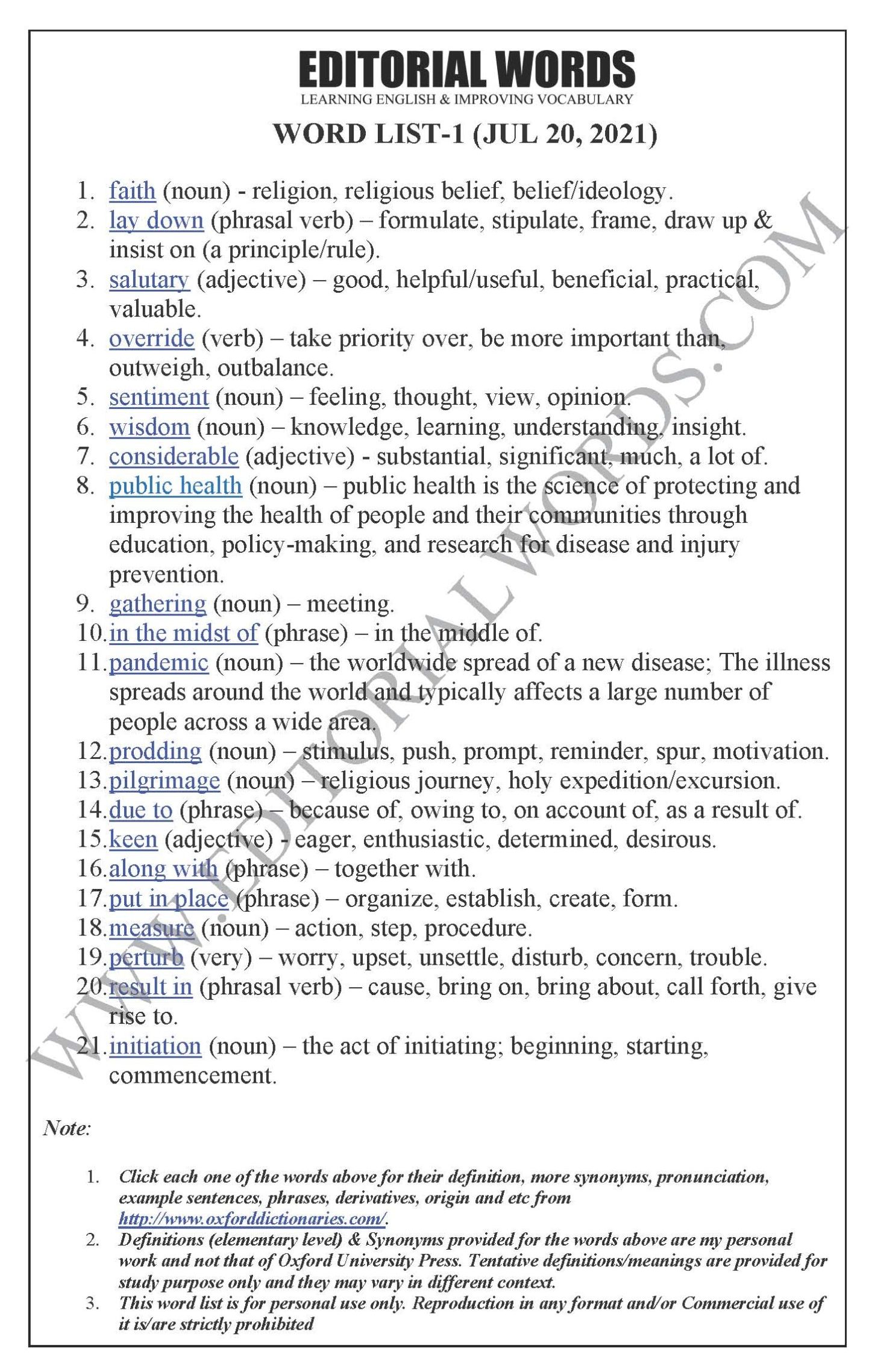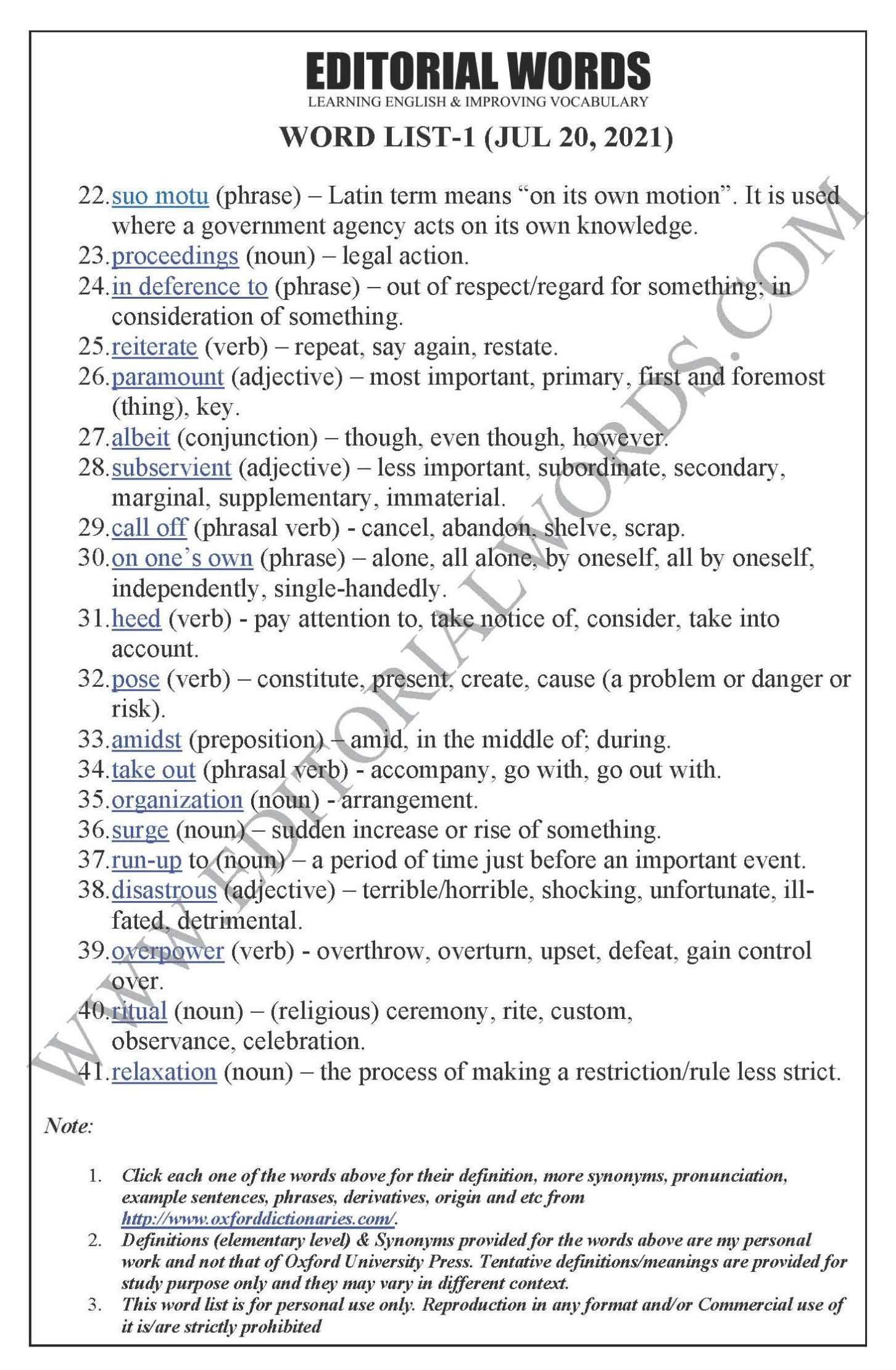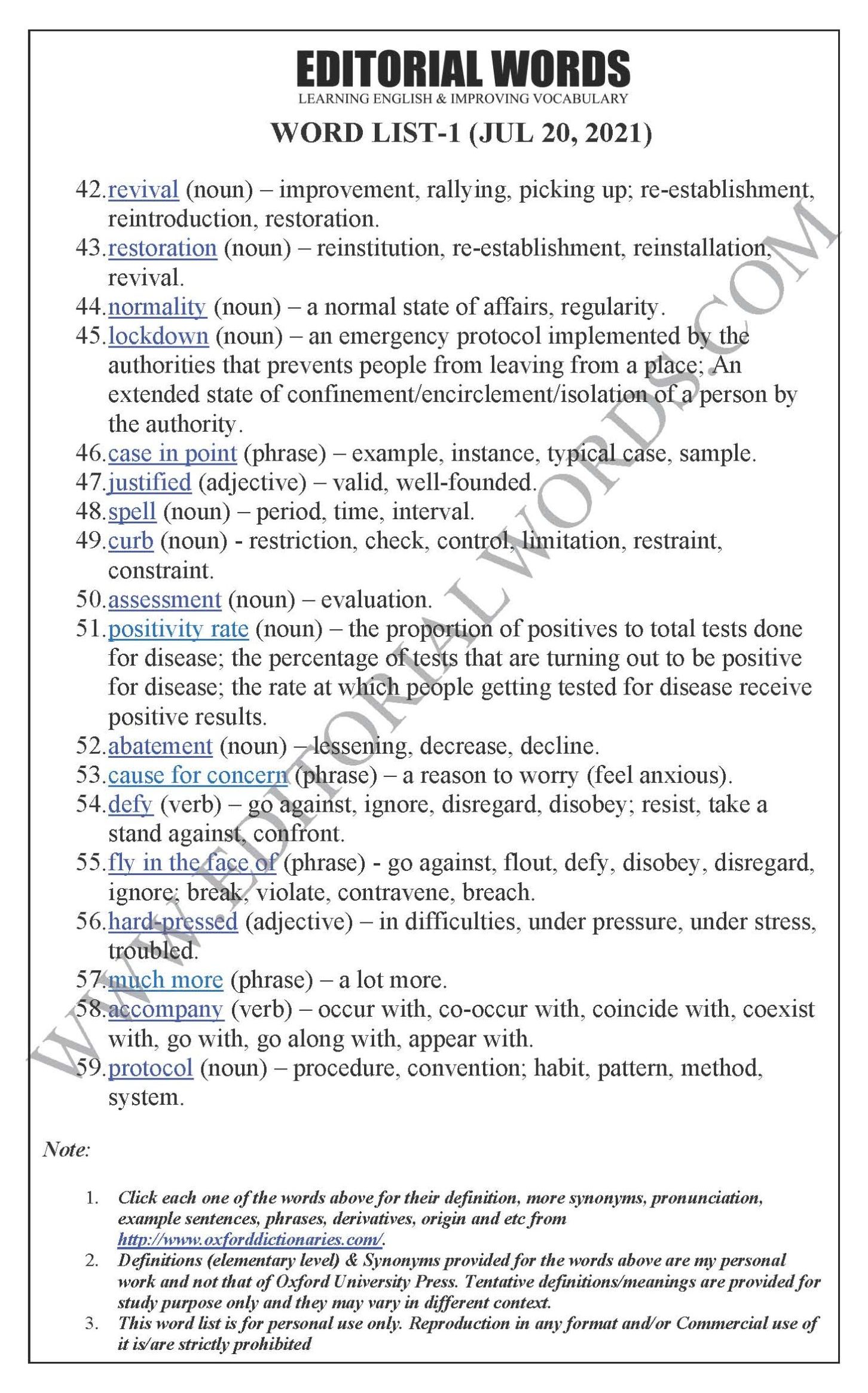 "Phrasal Verbs" We Learnt Last Week
"Idioms & Phrases" We Learnt Last Week
"Important Definitions" We Learnt Last Week
Recent Word Lists For The Hindu Editorial Articles
Recent Advanced Word Lists For The Hindu Lead Articles