The Hindu Editorial (Google, pay) – Apr 14, 2020
Last week's ruling by France's competition regulator that Google must pay news publishers and agencies for re-use of their content… For further reading, visit "The Hindu". Below is today's word list-2 for The Hindu Editorial (Google, pay) – Apr 14, 2020.
To read this article, click here.
This preview is provided here with permission.
Courtesy: The Hindu
Today's word list-2 for The Hindu Editorial (Google, pay) – Apr 14, 2020:
template (noun) – model

, pattern, example, blueprint.

hold promise

(phrase) – to look likely to achieve success in the future; to have potential.
see-saw battle (noun) – a battle in which advantage/lead is changing rapidly & repeatedly between two contesting sides right up to the end.
lead to (verb) – cause, give rise to, result in, bring on.
ruling (noun) – judgement, decision/verdict

, pronouncement, resolution.

beleaguered (adjective) – hard-pressed, troubled, suffering.
edge (noun) – advantage, lead, head start.
mammoth (adjective) – huge, massive, colossal.
notwithstanding (preposition) – in spite of

, despite, regardless of that

.
let go (phrase) – dismiss, relinquish, give up.
dependence on (noun) – reliance on

, need for, confidence in.

monetary (adjective) – financial, money.
make sense (phrase) – be accepted, be practicable, be convincing.
might (noun) – strength, force, power.
skewed (adjective) – distorted, altered, changed; misrepresented, falsified.

give force to

(phrase) – enforce, demand, insist on, pressurize.
genesis (noun) – origin/source, beginning, emergence.
seek (verb) – try

, attempt, aim

.
ground (noun) – reason, factor, basis.
extract (noun) – copy, take, abstract reproduce.
pick up (phrasal verb) – receive, get, collect.
aggregator (noun) – an organisation/website which collects materials (information) from various sources and then present them to its readers.
on the ground (phrase) – in a situation/place where things are happening really/practically.
comply with (verb) – abide by, adhere to, conform to.
constitute (verb) – form, comprise, represent.
abuse (noun) – injustice, wrongdoing, misconduct; misuse of something.
shake up (phrasal verb) – reorganize

, restructure, revolutionize, transform/reform.

framework (noun) – structure, scheme, system, organisation.
monetise (verb) – earn money, generate revenue.
counterproductive (adjective) – undesirable, unfortunate,  unfavourable; damaging, destructive.
end up (verb) – come/appear, find oneself (to a particular course of action in the end).

shut down

(phrasal verb) – close down, cease operation/activity, discontinue.
remuneration (noun) – payment, earnings, wages.
Note:  
 1. Click each one of the words above for their definition, more synonyms, pronunciation, example sentences, phrases, derivatives, origin and etc from http://www.oxforddictionaries.com/.
2. Definitions (elementary level) & Synonyms provided for the words above are my personal work and not that of Oxford University Press. Tentative definitions/meanings are provided for study purpose only and they may vary in different context. 
3. This word list is for personal use only. Reproduction in any format and/or Commercial use of it is/are strictly prohibited.
Today's word list-2 The Hindu Editorial (Google, pay) – Apr 14, 2020
: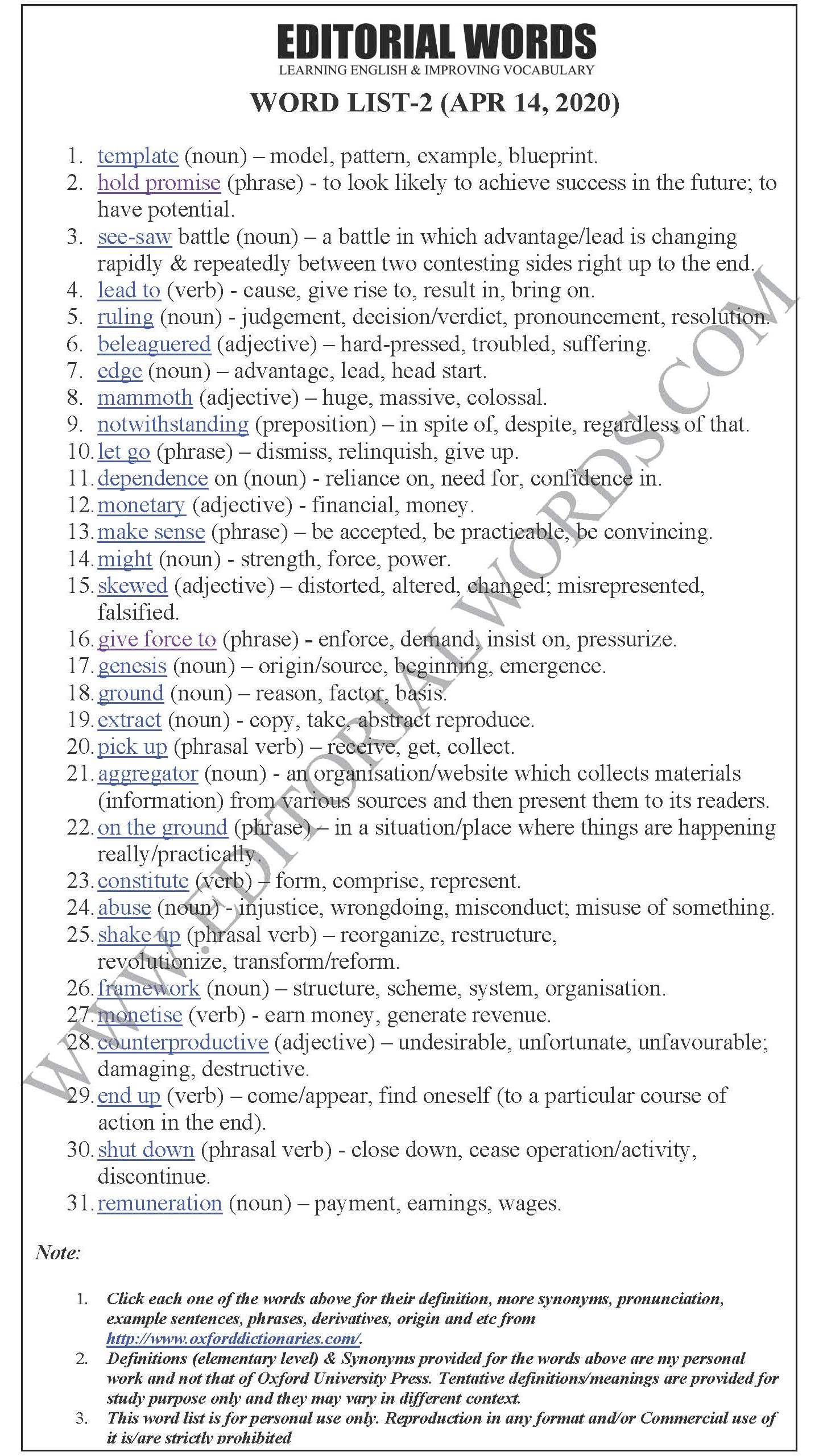 "Phrasal Verbs" We Learnt Last Week
"Idioms & Phrases" We Learnt Last Week
"Important Definitions" We Learnt Last Wek
Recent Word Lists For The Hindu Editorial Articles
Recent Advanced Word Lists For The Hindu Lead Articles