The Hindu Editorial (Fitful approach) – May 22, 2021
The Centre's recent notice to messaging service provider WhatsApp to withdraw its updated privacy policy is an avoidable intervention into what is a legitimate business decision. For further reading, visit "The Hindu". Below is today's word list-2 for The Hindu Editorial (Fitful approach) – May 22, 2021.
To read this article, click here.
This preview is provided here with permission.
Courtesy: The Hindu
The Hindu Editorial (Fitful approach) – May 22, 2021:
fitful (adjective) – intermittent

, sporadic, disturbed, patchy, irregular, disconnected, unsteady.

data protection law

(noun) – a law that governs data protection or privacy; Inspired by the GDPR, the Personal Data Protection (PDP) Bill was proposed in 2019 to bring about a comprehensive overhaul (thorough examination) to India's current data protection regime (system), which is currently governed by the Information Technology Act, 2000 and the rules thereunder.
in place (phrase) – established, in position.
intervention (noun) – the process of intervening in something; involvement, interference.
legitimate (adjective) – valid, reasonable, reliable.
parent (noun as modifier) – a company or organisation which has a controlling or majority interest in another company, which gives it the right to control the subsidiary's operations.
backlash (noun) – a strong negative reaction; adverse response, counteraction.
trigger (verb) – cause, prompt, bring about.
exodus (noun) – mass departure, evacuation, leaving/exit.
rival (noun as modifier) – competitor; equivalent, equal/like

.

eventually (adverb) – in the end

, finally, at last.

enforce (verb) – make something mandatory, necessitate, impose.
follow up (phrasal verb) – continue/carry on something further.
design (verb) – create, plan, formulate.
interaction (noun) – (direct) communication.
personalise (verb) – customize

, individualize, make distinctive.

affidavit (noun) – sworn statement, self-attestation, self-declaration.
reportedly (adverb) – supposedly, seemingly, apparently, allegedly.
seek (verb) – request, ask for, demand.
charge (noun) – accusation

, allegation, indictment.

discriminate (verb) – 

disfavour, be biased, treat differently.

given (preposition) – considering

, taking into account, bearing in mind

.

leverage (verb) – use, make use of, utilize (to maximum gain).
impose (verb) – force, thrust, inflict (an unwelcome decision/ruling).
unfair (adjective) – unjust

, inequitable, prejudiced, biased; unequal/uneven.

vis-à-vis (preposition) – concerning, with regard to, in relation to, as/in comparison with, in connection with (Vis-à-vis from Latin via. French, means literally "face-to-face).
point out (phrasal verb) – identify, mention, indicate, draw attention to.
go by (phrasal verb) – follow, observe something.

General Data Protection Regulation (GDPR)

 (noun) – a regulation in EU law on data protection and privacy for all individual citizens of the European Union (EU) and the European Economic Area (

EEA

). It also addresses the transfer of personal data outside the EU and EEA areas.
pertinent (adjective) – relevant

, appropriate, applicable.

single out (phrasal verb) – select, pick out, choose (someone from a group).

Aarogya Setu

 (noun) – Aarogya Setu is a mobile application developed by the Government of India to connect essential health services with the people of India in their combined fight against COVID-19.
Note:
 1. Click each one of the words above for their definition, more synonyms, pronunciation, example sentences, phrases, derivatives, origin and etc from http://www.oxforddictionaries.com/.
2. Definitions (elementary level) & Synonyms provided for the words above are my personal work and not that of Oxford University Press. Tentative definitions/meanings are provided for study purpose only and they may vary in a different context. 
3. This word list is for personal use only. Reproduction in any format and/or Commercial use of it is/are strictly prohibited.
The Hindu Editorial (Fitful approach) – May 22, 2021: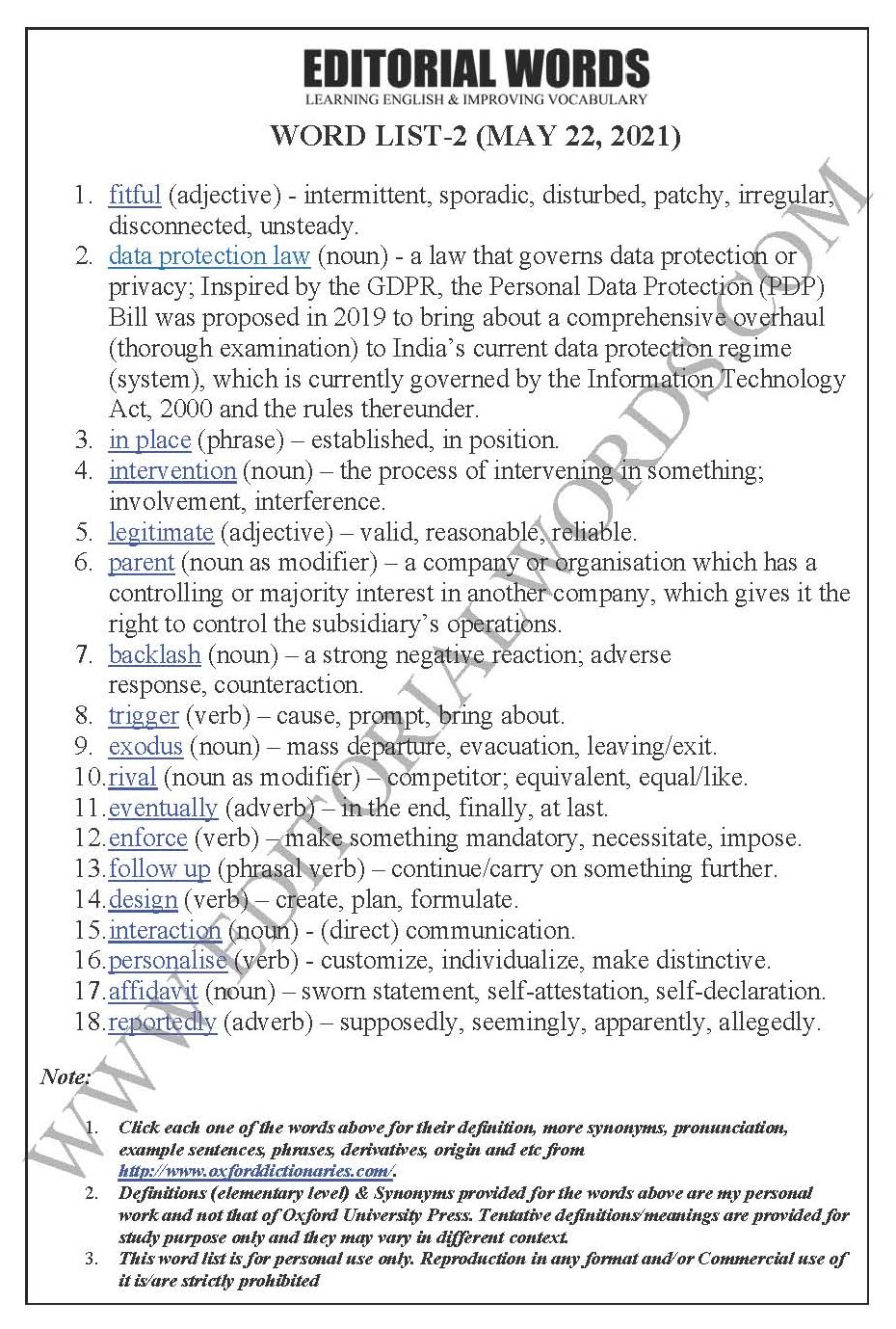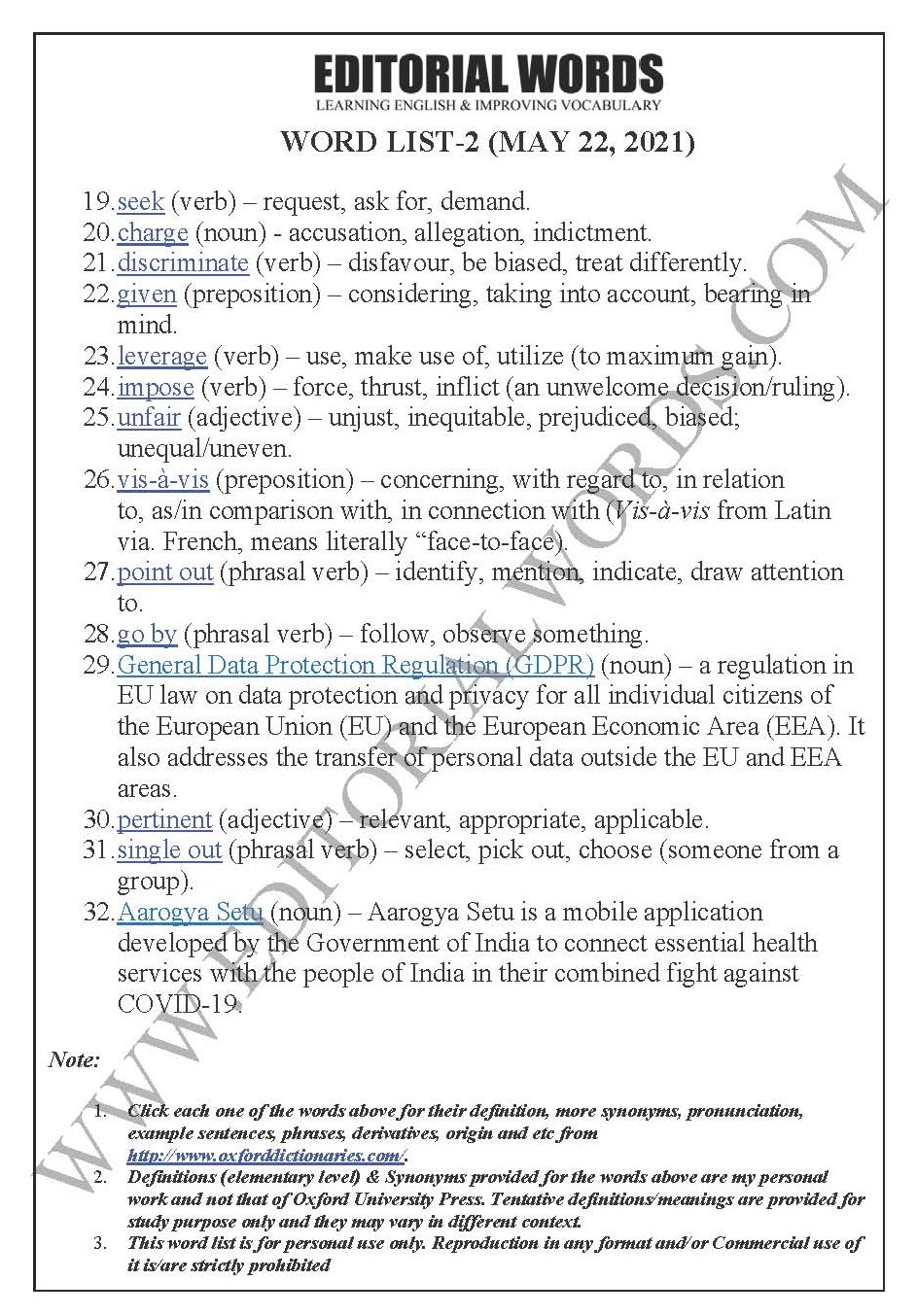 "Phrasal Verbs" We Learnt Last Week 
"Idioms & Phrases" We Learnt Last Week
"Important Definitions" We Learnt Last Week
Recent Word Lists For The Hindu Editorial Articles
Recent Advanced Word Lists For The Hindu Lead Articles