The Hindu Editorial (Felled by fire) – Jan 11, 2021
The deadly fire that snuffed out the lives of 10 infants in the Bhandara District General Hospital in Maharashtra is a shocking reminder that safety… For further reading, visit "The Hindu". Below is today's word list-2 for The Hindu Editorial (Felled by fire) – Jan 11, 2021.
To read this article, click here.
This preview is provided here with permission.
Courtesy: The Hindu
Today's word list-2 for The Hindu Editorial (Felled by fire) – Jan 11, 2021:
fell (verb) – kill

.

newborn (noun) – infant, baby, newly born child.
avert (verb) – prevent, stop, avoid.
inferno (noun) – a very intense fire; blaze, conflagration, firestorm.
address (verb) – tackle, deal with, attend to, try to sort out.
underlying (adjective) – fundamental, basic, primary.
deadly (adjective) – fatal

, lethal, life-threatening.

snuff out (phrasal verb) – kill (in a sudden manner).
norms (noun) – standard

, convention, guidelines, criterion.

facility (noun) – centre, premises.
pass muster (phrase) – be acceptable, be practical, be justifiable, be convincing, make sense.
perish (verb) – die, expire, be killed suddenly (particularly in an accident).
plunge (verb) – fall/drop, plummet, tumble, nosedive suddenly & uncontrollably.
trauma (noun) – torment, distress, suffering.
providential (adjective) – timely, well-timed, opportune, lucky.
blaze (noun) – fire

, flames, conflagration, inferno

.

underscore (verb) – underline, emphasize, highlight.
protocol (noun) – procedure, convention, rules, formalities.
institutionalise (verb) – set up a standard practice (in an organisation/culture).
legitimately (adverb) – legally, fairly, truly.
professionalism (noun) – competence, skilfulness, capability, efficiency, ability (to do a certain profession).
devastating (adjective) – destructive

, ruinous, disastrous.

casualty (noun) – victim, loss, death, fatality.
oversight (noun) – supervision

, surveillance, inspection, administration, management.

faulty (adjective) – defective, damaged, incorrect.
audit (noun) – inspection, examination, assessment, investigation.
perfunctory (adjective) – casual, uninterested, careless.
distinct (adjective) – clear-cut, definite, well defined, clearly noticeable, easily distinguishable.
entity (noun) – reality, actuality, substance, real thing.
trigger off (verb) – precipitate

, prompt, provoke, spark off, stimulate.

aggravate (verb) – make worse, worsen, exacerbate, compound, increase/intensify.
neonatal (adjective) – relating to newborn children.
site (noun) – location

, place, area, spot.

implicate (in) (verb) – imply

, suggest, intimate, say indirectly, indicate.

anesthesia (noun) – a state of temporary induced loss of sensation or awareness injection of drugs before surgical operations.
likely (adverb) – probably

, in all probability, presumably.

ignition (noun) – burning

, firing, blast, burst.

fuel (verb) – intensify, boost/encourage, fan.
audit (verb) – analyse, examine, scrutinize, investigate, appraise.

National Fire Protection Association (NFPA)

(noun) – a global self-funded nonprofit organization, established in 1896, devoted to eliminating death, injury, property, and economic loss due to fire, electrical and related hazards.
spark (verb) – emit sparks of fire, ignite, catch fire

. 

potential (noun) – possibility, potentiality.
saturated (adjective) – containing the highest possible amount of something (e.g. oxygen).
infrastructure (noun) – building.
conform to (verb) – comply with

, abide by, adhere to.

premium (noun) – regard, attention, consideration

, concern.

carnage (noun) – the killing of large numbers of people; massacre, mass killing, mass destruction.
set the bar (high) (phrase) – set/fix a very high standard.
adherence (noun) – compliance, observance

, conformity.

regulatory (adjective) – governmental, executive, supervisory, managerial.
fall in line (phrase) – conform to, adhere to, abide by (the established rules).
insight (noun) – perception, understanding, awareness, vision, revelation.
mandatorily (adverb) – compulsorily, necessarily.
hold (verb) – conduct, have, organize.
drill (noun) – rehearsal

.

strike (verb) – (of a disaster) affect, afflict, attack, come upon.
Note:
 1. Click each one of the words above for their definition, more synonyms, pronunciation, example sentences, phrases, derivatives, origin and etc from http://www.oxforddictionaries.com/.
2. Definitions (elementary level) & Synonyms provided for the words above are my personal work and not that of Oxford University Press. Tentative definitions/meanings are provided for study purpose only and they may vary in different context. 
3. This word list is for personal use only. Reproduction in any format and/or Commercial use of it is/are strictly prohibited.
Today's word list-2 The Hindu Editorial (Felled by fire) – Jan 11, 2021
: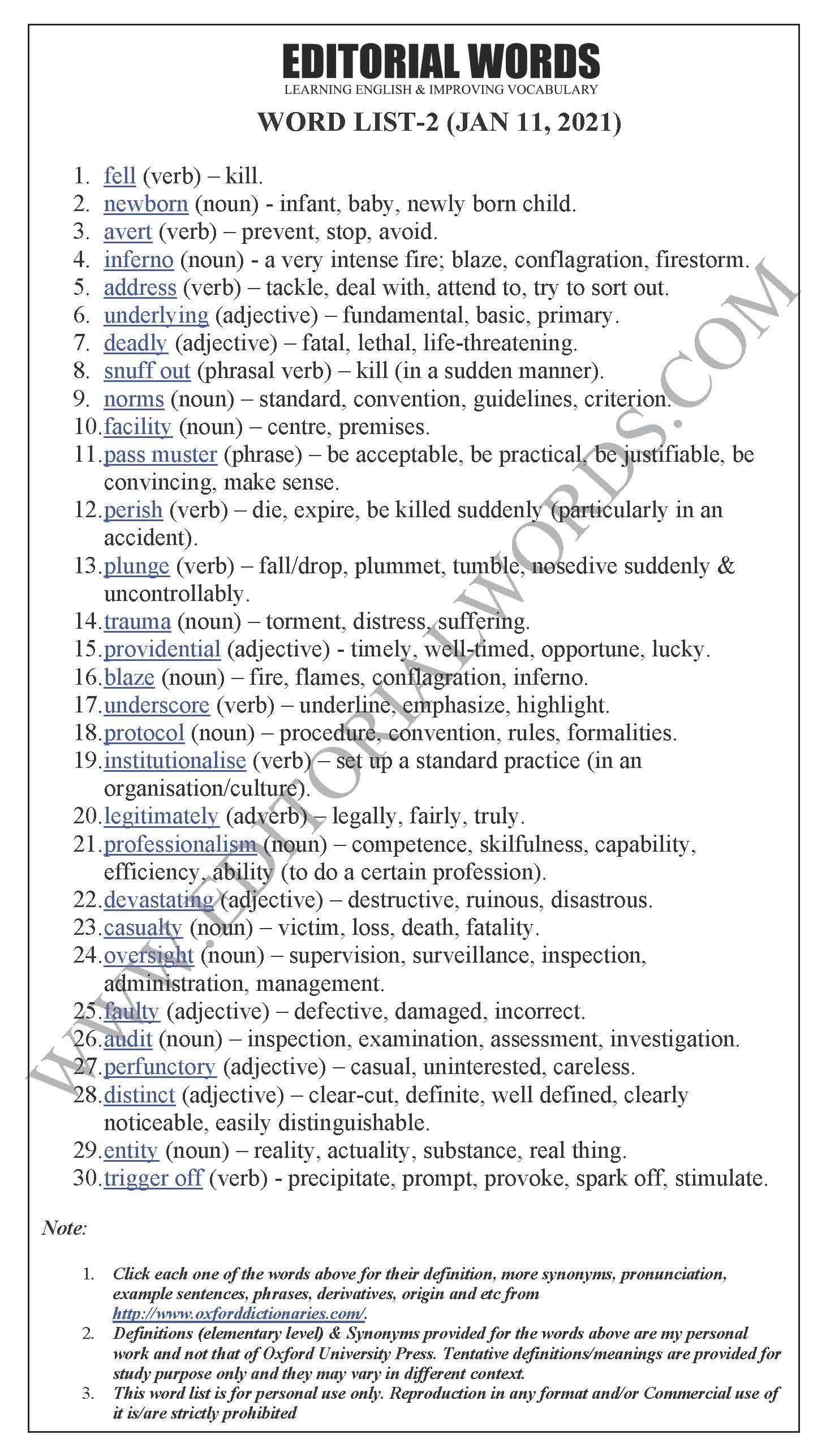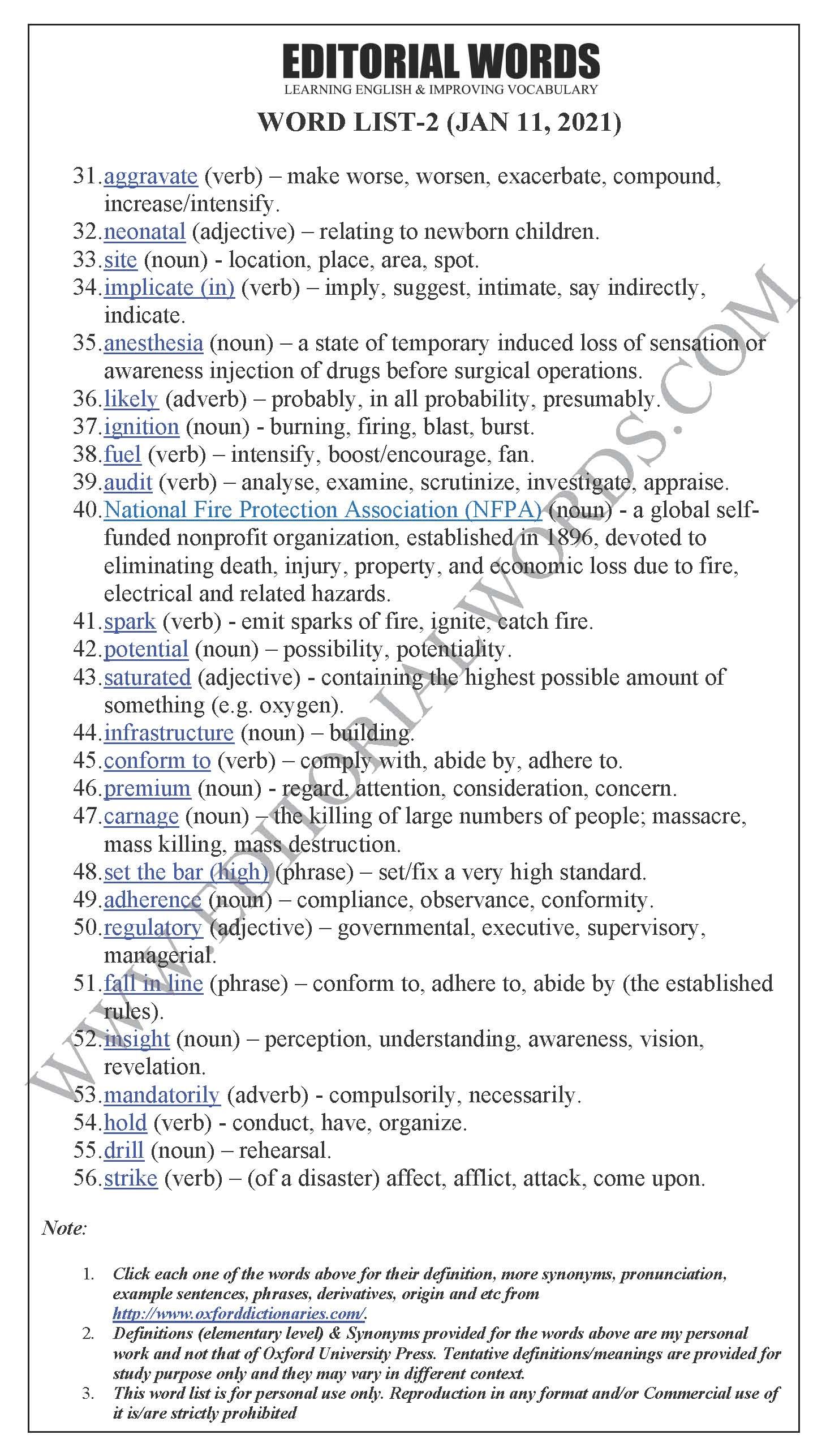 "Phrasal Verbs" We Learnt Last Week 
"Idioms & Phrases" We Learnt Last Week
"Important Definitions" We Learnt Last Week
Recent Word Lists For The Hindu Editorial Articles
Recent Advanced Word Lists For The Hindu Lead Articles