The Hindu Editorial (Examination priorities) – Apr 15, 2021
The decision to put off the CBSE Class 12 public examination and cancel the Class 10 examination at the end of a disrupted academic year brings much-needed relief to anxious… For further reading, visit "The Hindu". Below is today's word list-1 for The Hindu Editorial (Examination priorities) – Apr 15, 2021.
To read this article, click here.
This preview is provided here with permission.
Courtesy: The Hindu
The Hindu Editorial (Examination priorities) – Apr 15, 2021:
amid (preposition) – in the middle of, surrounded by; during.
pandemic (noun) – the worldwide spread of a new disease; The illness spreads around the world and typically affects a large number of people across a wide area.
vaccination (noun) – treatment with a vaccine to protect against a particular disease; immunization.
stress (noun) – trouble

, difficulty, 

strain

, pressure.

put off (phrasal verb) – postpone, delay, defer, hold off.
much-needed (adjective) – needed to a large extent.
anxious (adjective) – worried

, concerned, distressed, bothered.

on the crest of a wave (phrase) – reach the highest point of something (generally, successful outcome); at the top level of something (generally, performance/achievement).
ongoing (adjective) – current, existing, continuing, relentless.
cohort (noun) – group of people (within a particular category/classification

).

wise (adjective) – well advised

, well thought out, well judged, rational, logical.

move (noun) – measure, step, action.
out of harm's way (phrase) – free from danger, sheltered, shielded, guarded, unharmed.
possibility (noun) – chance, probability.
cluster (noun) – a group (of people/things considered as a unit).
onward (adjective) – moving forwards

, moving ahead, advancing, progressing. 

shield (verb) – protect

, save, guard.

so far (phrase) – until now, up to the present, up to this point.
onus (noun) – responsibility, duty, burden.
recognise (verb) – acknowledge

, accept, admit; realize, understand, apprehend.

growing (adjective) – increasing.
for instance (phrase) – as an example.
due to (phrase) – because of, owing to, on account of, as a result of.
under way (phrase) – in progress, happening, occurring, taking place.

get underway

(phrase) – get going, start/begin to happen/progress.
thereafter (adverb) – after that

, afterwards, subsequently.

throughout (adverb) – all through, from beginning to end.
enhancement (noun) – increase, improvement.
rollout (noun) – official launch/introduction.
vaccine (noun) – a biological preparation that improves immunity to a particular disease.
pipeline (noun) – supply chain.
in the pipeline (phrase) – in the process of being planned/developed.
undivided (adjective) – complete

/full, consistent, thorough, concentrated, dedicated.

devote (verb) – give, dedicate, commit.
enhanced (adjective) – increased, intensified, amplified, improved.
unwavering (adjective) – steady, firm, resolute; steadfast, persistent, unflagging.
pursue (verb) – engage in

, conduct, follow.

normalise (verb) – return to a normal situation.
envisage (verb) – foresee, anticipate, expect.
universal (adjective) – relating to all people; all-inclusive, all-embracing, comprehensive, general/common.
front (noun) – a particular sphere of activity.

candidate vaccine BNT162b2

 (noun) – mRNA-based vaccine candidate produced by Pfizer and BioNTech.
trial (noun) – test

, pilot study, experiment (phase 1, 2,3, and or human/clinical trial).

recipient (noun) – beneficiary

, receiver.

seek (verb) – request, ask for, appeal.
regulatory (adjective) – governmental.
authorisation (noun) – approval, sanction, permission, consent, clearance.
norms (noun) – standard, convention, guidelines, criterion.
robust (adjective) – strong, powerful.
promising (adjective) – encouraging, favourable, hopeful, optimistic, positive, heartening, reassuring.

(the) way forward

 (phrase) – something (a plan/action) that leads to success in the future.
address (verb) – tackle, deal with, attend to, try to sort out.

freedom-constrained

(adjective) – controlled/restricted to act in a particular way (by rules & regulations).
acknowledge (verb) – admit

, accept, realize.

publicise (verb) – promote, boost.

talk therapy

(noun) – it involves talking to someone who is trained to help you deal with your negative feelings.
call for (phrasal verb) – require, publicly ask/necessitate, demand.

public health

 (noun) – the branch of medicine handling public health; public health is also the science of protecting and improving the health of people and their communities through education, policy making and research for disease and injury prevention.
prioritise (verb) – make a point of, highlight, call attention to (something as very important).
Note:
 1. Click each one of the words above for their definition, more synonyms, pronunciation, example sentences, phrases, derivatives, origin and etc from http://www.oxforddictionaries.com/.
2. Definitions (elementary level) & Synonyms provided for the words above are my personal work and not that of Oxford University Press. Tentative definitions/meanings are provided for study purpose only and they may vary in a different context. 
3. This word list is for personal use only. Reproduction in any format and/or Commercial use of it is/are strictly prohibited.
The Hindu Editorial (Examination priorities) – Apr 15, 2021: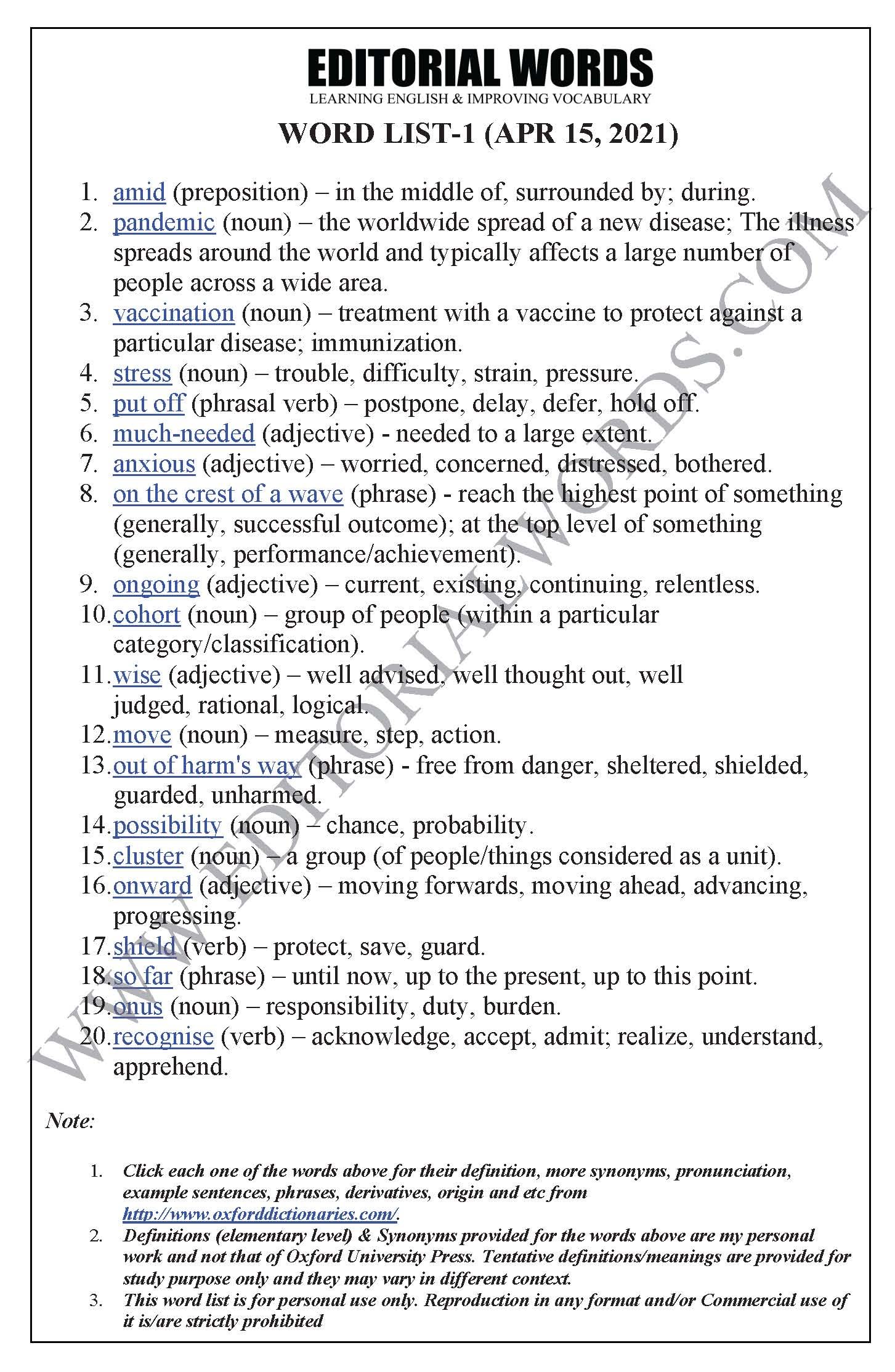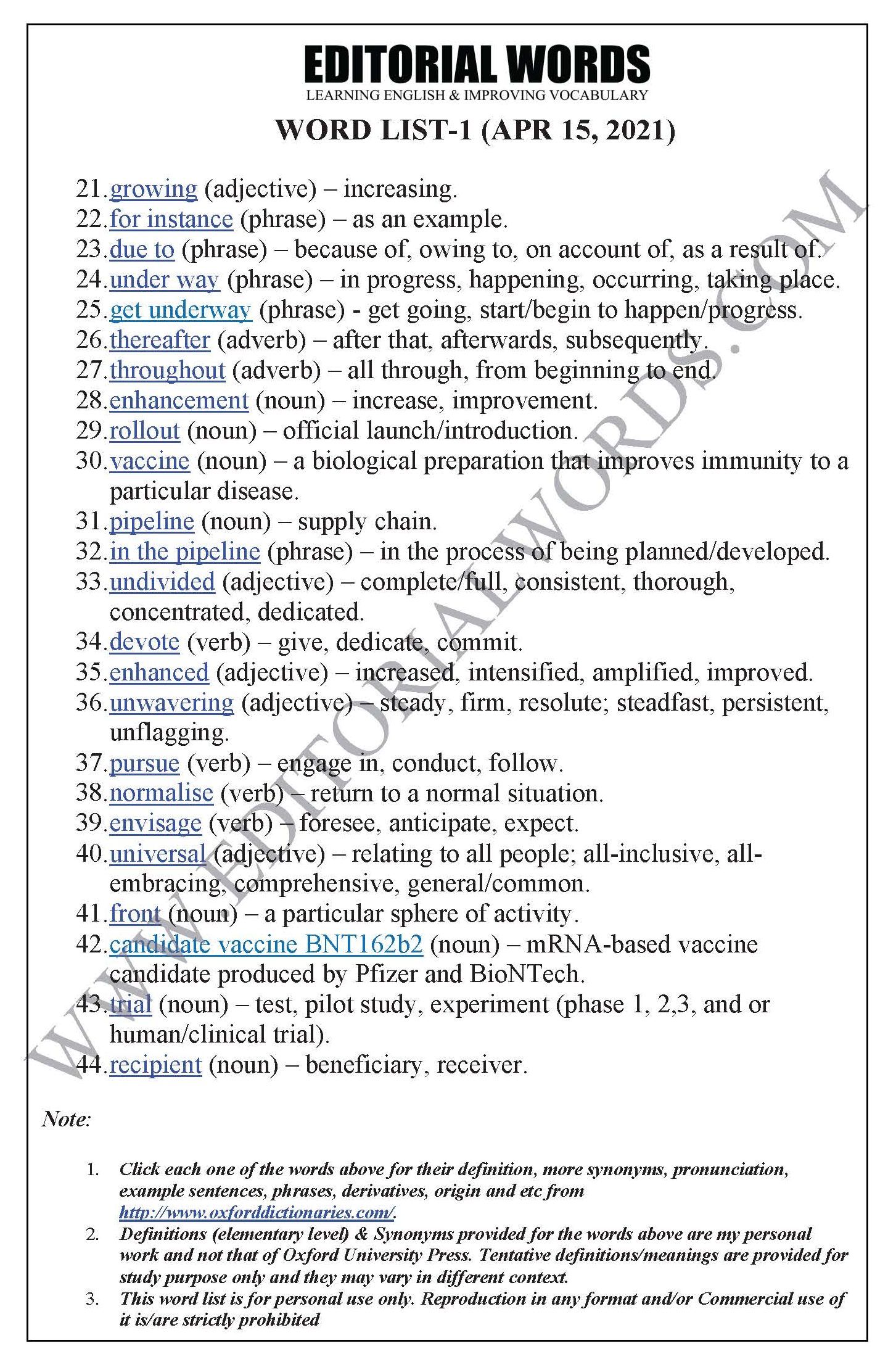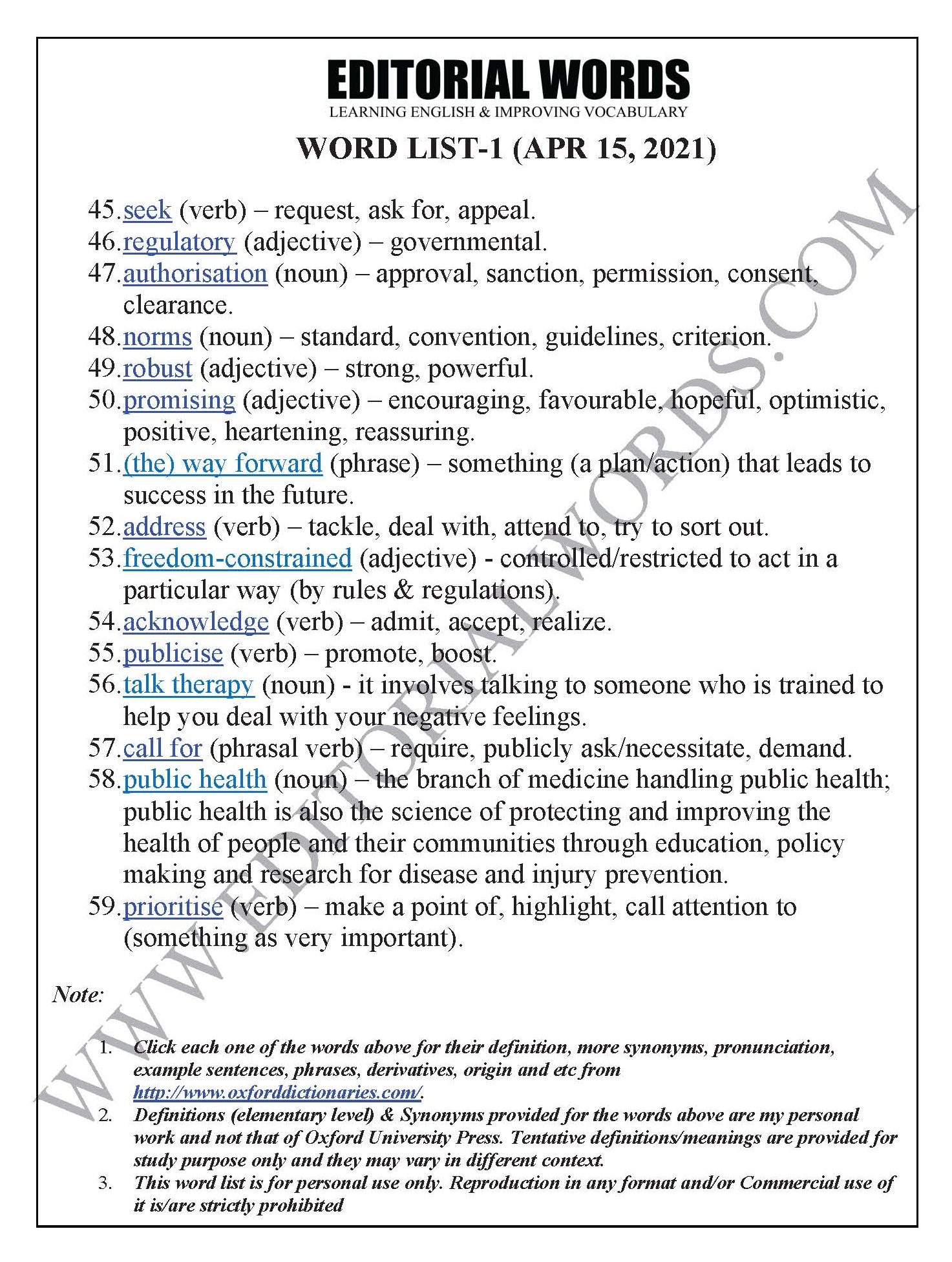 "Phrasal Verbs" We Learnt Last Week
"Idioms & Phrases" We Learnt Last Week
"Important Definitions" We Learnt Last Week
Recent Word Lists For The Hindu Editorial Articles
Recent Advanced Word Lists For The Hindu Lead Articles